Abstract
We evaluated a large collection of Tos17 mutant panel lines for their reaction to three different races of Magnaporthe oryzae and identified a lesion mimic mutant, NF4050-8, that showed lesions similar to naturally occurring spl5 mutant and enhanced resistance to all the three blast races tested. Nested modified-AFLP using Tos17-specific primers and southern hybridization experiments of segregating individuals indicated that the lesion mimic phenotype in NF4050-8 is most likely due to a nucleotide change acquired during the culturing process and not due to Tos17 insertion per se. Inheritance and genetic analyses in two japonica × indica populations identified an overlapping genomic region of 13 cM on short arm of chromosome 7 that was linked with the lesion mimic phenotype. High-resolution genetic mapping using 950 F3 and 3,821 F4 plants of NF4050-8 × CO39 delimited a 35 kb region flanked by NBARC1 (5.262 Mb) and RM8262 (5.297 Mb), which contained 6 ORFs; 3 of them were 'resistance gene related' with typical NBS–LRR signatures. One of them harbored a NB–ARC domain, which had been previously demonstrated to be associated with cell death in animals. Microarray analysis of NF4050-8 revealed significant up-regulation of numerous defense/pathogenesis-related genes and down-regulation of heme peroxidase genes. Real-time PCR analysis of WRKY45 and PR1b genes suggested possible constitutive activation of a defense signaling pathway downstream of salicylic acid but independent of NH1 in these mutant lines of rice.
Access options
Buy single article
Instant access to the full article PDF.
US$ 39.95
Tax calculation will be finalised during checkout.
Subscribe to journal
Immediate online access to all issues from 2019. Subscription will auto renew annually.
US$ 119
Tax calculation will be finalised during checkout.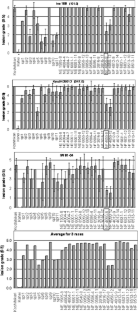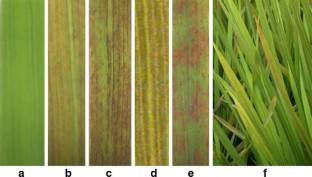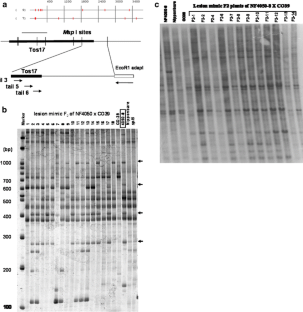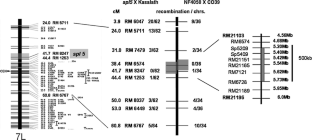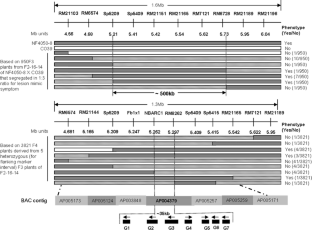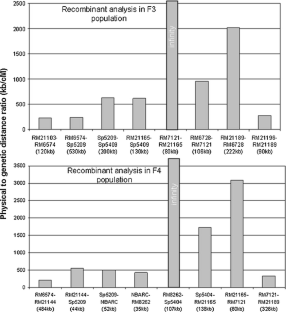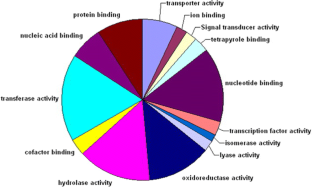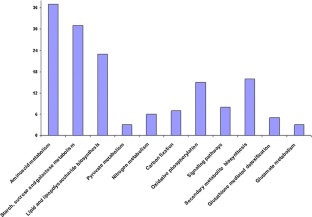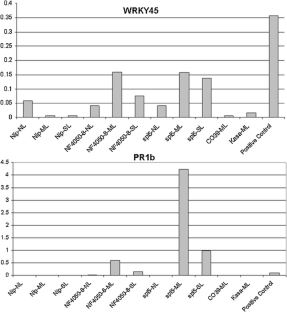 References
Agrawal GK, Yamazaki M, Kobayashi M, Hirochika R, Miyao A, Hirochika H (2001) Screening of the rice viviparous mutants generated by endogenous retrotransposon Tos17 insertion. Tagging of a zeaxanthin epoxidase gene and a novel OsTATC gene. Plant Physiol 125:1248–1257

Albrecht M, Takken FLW (2006) Update on the domain architectures of NLRs and R proteins. Biochem Biophys Res Commun 339:459–462

Altschul SF, Madden TL, Schäffer AA, Zhang J, Zhang Z, Miller W, Lipman DJ (1997) Gapped BLAST and PSI-BLAST: a new generation of protein database search programs. Nucleic Acids Res 25:3389–3402

Arase S, Zhao CM, Akimitsu K, Yamamoto M, Ichii M (2000) A recessive lesion mimic mutant of rice with elevated resistance to fungal pathogens. J Gen Plant Pathol 66:109–116

Badigannavar AM, Kale DM, Eapen S, Murty GSS (2002) Inheritance of disease lesion mimic leaf trait in groundnut. J Hered 93:50–52

Baker B, Zambryski P, Staskawicz B, Dinesh-Kumar SP (1997) Signaling in plant–microbe interactions. Science 276:726–733

Batista R, Nelson S, Tiago L, Oliveira MM (2008) Microarray analyses reveal that plant mutagenesis may induce more transcriptomic changes than transgene insertion. Proc Natl Acad Sci USA 105:3640–3645

Belkhadir Y, Subramaniam R, Dangl JL (2004) Plant disease resistance protein signaling: NBS–LRR proteins and their partners. Curr Opin Plant Biol 7:391–399

Blair MW, Hedetale V, Mccouch SR (2002) Fluorescent-labeled microsatellite panels useful for detecting allelic diversity in cultivated rice (Oryza sativa L.). Theor Appl Genet 105:449–457

Blair MW, Garris JA, Iyer AS, Chapman B, Kresovich S, Mccouch SR (2003) High resolution genetic mapping and candidate gene identification at the xa5 locus for bacterial blight resistance in rice (Oryza sativa L.). Theor Appl Genet 107:62–73

Büschges R, Hollricher K, Panstruga R, Simons G, Wolter M, Frijters A, Daelen RVAN, Van der Lee T, Diergaarde P, Groenendijk J, Topsch S, Vos P, Salamini F, Schulze-Lefert P (1997) The barley Mlo gene: a novel control element of plant pathogen resistance. Cell 88:695–705

Chen X, Temnykh S, Xu Y, Cho YG, Mccouch SR (1997) Development of a microsatellite framework map providing genome-wide coverage in rice (Oryza sativa L.). Theor Appl Genet 95:553–567

Chen X, Jianwei P, Cheng J, Jiang G, Jin Y, Gu Z, Qian Q, Zhai W, Ma B (2009) Fine genetic mapping and physical delimitation of the lesion mimic gene spotted leaf 5 (spl5) in rice (Oryza sativa L.). Mol Breed. doi:10.1007/s11032-009-9299-2

Cho RJ, Mindrinos M, Richards DR, Sapolsky RJ, Anderson M, Drenkard E, Dewdney L, Reuber TL, Stammers M, Federspiel N, Theologis A, Yang WH, Hubbell E, Au M, Chung EY, Lashkari D, Lemieux B, Dean C, Lipshutz RJ, Ausubel FM, Davis RW, Oefner PJ (1999) Genome-wide mapping with biallelic markers in Arabidopsis thaliana. Nat Genet 23:203–207

Church GM, Gilbert W (1984) Genomic sequencing. Proc Natl Acad Sci USA 81:1991–1995

Collins N, Drake J, Ayliffe M, Sun Q, Ellis J, Hulbert S, Pryora T (1999) Molecular characterization of the maize Rp1-D rust Resistance haplotype and its mutants. Plant Cell 11:1365–1376

Conesa A, Götz S (2008) Blast2GO: a comprehensive suite for functional analysis in plant genomics. Int J Plant Genomics 619832

Dangl JL, Mcdowell JM (2006) Two modes of pathogen recognition by plants. Proc Natl Acad Sci USA 103:8575–8576

Dangl JL, Dietrich RA, Richberg MH (1996) Death don't have no mercy: cell death programs in plant–microbe interactions. Plant Cell 10:1793–1807

Dietrich RA, Delaney TP, Uknes SJ, Ward ER, Ryals JA, Dangl JL (1994) Arabidopsis mutants simulating disease resistance response. Cell 77:565–577

Dietrich RA, Richberg MH, Schmidt R, Dean C, Dangl JL (1997) A novel zinc finger protein is encoded by the Arabidopsis LSD1 gene and functions as a negative regulator of plant cell death. Cell 88:685–694

Fridman E, Pleban T, Zamir D (2000) A recombination hotspot delimits a wild-species quantitative trait locus for tomato sugar content to 484 bp within an invertase gene. Proc Natl Acad Sci USA 97:4718–4723

Fuse T, Iba K, Satoh H, Nishimura M (1993) Characterization of a rice mutant having an increased susceptibility to light stress at high temperature. Physiol Plant 89:799–804

Gray J, Close PS, Briggs SP, Johal GS (1997) A novel suppressor of cell death in plants encoded by the Lls1 gene of maize. Cell 89:25–31

Gray J, Janick-Buckner D, Buckner B, Close PS, Johal GS (2002) Light-dependent death of maize lls1 cells is mediated by mature chloroplasts. Plant Physiol 130:1894–1907

Greenberg JT, Ausubel FM (1993) Arabidopsis mutants compromised for the control of cellular damage during pathogenesis and aging. Plant J 4:327–341

Greenberg JT, Guo A, Klessig DF, Ausubel FM (1994) Programmed cell death in plants: a pathogen-triggered response activated coordinately with multiple defense functions. Cell 77:551–563

Hammond-Kosack KE, Jones JDG (1997) Plant disease resistance genes. Ann Rev Plant Physiol Plant Mol Biol 48:575–607

Hayashi N (2005) MAFF microorganism genetic resources manual. In: Rice blast fungus, vol 18. National Institute of Agrobiological Sciences, Tsukuba

Hirochika H (1997) Retrotransposons of rice: their regulation and use for genome analysis. Plant Mol Biol 35:231–240

Hirochika H (2001) Contribution of the Tos17 retrotransposon to rice functional genomics. Curr Opin Plant Biol 4:118–122

Hirochika H, Sugimoto K, Otsuki Y, Tsugawa H, Kanda M (1996) Retrotransposons of rice involved in mutations induced by tissue culture. Proc Natl Acad Sci USA 93:7783–7788

Hoisington DA, Neuffer MG, Walbot V (1982) Disease lesion mimics in maize. I. Effect of genetic background, temperature, developmental age, and wounding on necrotic spot formation with Les1. Dev Biol 93:381–388

Hu G, Richter TE, Hulbert SH, Pryor T (1996) Disease lesion mimicry caused by mutations in the rust resistance gene rpl. Plant Cell 8:1367–1376

Hu G, Yalpani N, Briggs SP, Johal GS (1998) A porphyrin pathway impairment is responsible for the phenotype of a dominant disease lesion mimic mutant of maize. Plant Cell 10:1095–1106

Iwata N, Omura T, Satoh H (1978) Linkage studies in rice (Oryza sativa L.). On some mutants for physiological leaf spots. J Fac Agric Kyushu Univ 22:243–251

Johal GS (2007) Disease lesion mimic mutants of maize. APSnet. http://www.apsnet.org/online/feature/mimics/default.asp. Accessed 24 Jan 2008

Johal GS, Hulbert S, Briggs SP (1995) Disease lesion mimics of maize: a model for cell death in plants. Bioessays 17:685–692

Kawasaki S, Murakami Y (2000) Genome analysis of Lotus japonicus. J Plant Res 113:497–506

Kottapalli KR, Rakwal R, Satoh K, Shibato J, Kottapalli P, Iwahashi H, Kikuchi S (2007) Transcriptional profiling of indica rice cultivar IET8585 (Ajaya) infected with bacterial leaf blight pathogen Xanthomonas oryzae pv. oryzae. Plant Physiol Biochem 45:834–850

Larkin PJ, Scowcroft WR (1981) Somaclonal variation: a novel source of variability from cell culture for plant improvement. Theor Appl Genet 60:197–214

Lebel E, Heifetz P, Thorne L, Uknes S, Ryals J, Ward E (1998) Functional analysis of regulatory sequences controlling PR-1 gene expression in Arabidopsis. Plant J 16:223–233

Li J, Brader G, Palva ET (2004) The WRKY70 transcription factor: a node of convergence for jasmonate-mediated and salicylate-mediated signals in plant defense. Plant Cell 16:319–331

Lorrain S, Vailleau F, Balague C, Roby D (2003) Lesion mimic mutants: keys for deciphering cell death and defense pathways in plants? Trends Plant Sci 8:263–271

Lyngkjaer MF, Newton AC, Atzema JL, Baker SJ (2000) The Barley mlo-gene: an important powdery mildew resistance source. Agronomie 20:745–756

Mahalingam R, Gomez-Buitrago A, Eckardt N, Shah N, Guevara-Garcia A, Day P, Raina R, Fedoroff NV (2003) Characterizing the stress/defense transcriptome of Arabidopsis. Genome Biol 4:R20.1–R20.14

Mchale L, Tan X, Koehl P, Michelmore RW (2006) Plant NBS–LRR proteins: adaptable guards. Genome Biol 7:212

Milligan SB, Bodeau J, Yaghoobi J, Kaloshian I, Zabel P, Williamson VM (1998) The root knot nematode resistance gene Mi from tomato is a member of the leucine zipper, nucleotide binding, leucine-rich repeat family of plant genes. Plant Cell 10:1307–1319

Mizobuchi R, Hirabayashi H, Kaji R, Nishizawa Y, Yoshimura A, Satoh H, Ogawa T, Okamoto M (2002) Isolation and characterization of rice lesion-mimic mutants with enhanced resistance to rice blast and bacterial blight. Plant Sci 163:345–353

Mori M, Tomita C, Sugimoto K, Hasegawa M, Hayashi N, Dubouzet JG, Ochiai H, Sekimoto H, Hirochika H, Kikuchi S (2007) Isolation and molecular characterization of a Spotted leaf 18 mutant by modified activation-tagging in rice. Plant Mol Biol 63:847–860

Nair SK, Tomar SMS (2001) Genetical and anatomical analyses of a leaf flecking mutant in wheat. Euphytica 121:53–58

Neuffer MG, Hoisington DA, Walbot V, Pawar SE (1983) The genetic control of disease symptoms. In: Gene structure and function in higher plants. Oxford/IBH Pub. Co, New Delhi, pp 123–124

Noutoshi Y, Kuromori T, Wada T, Hirayama T, Kamiya A, Imura Y, Yasuda M, Nakashita H, Shirasu K, Shinozaki K (2006) Loss of NECROTIC SPOTTED LESIONS 1 associates with cell death and defense responses in Arabidopsis thaliana. Plant Mol Biol 62:29–42

Panaud O, Chen X, Mccouch SR (1996) Development of SSR markers and characterization of simple sequence length polymorphism (SSLP) in rice (Oryza sativa L.). Mol Gen Genet 16:597–607

Penning BW, Johal GS, Mcmullen MD (2004) A major suppressor of cell death, slm1, modifies the expression of the maize (Zea mays L.) lesion mimic mutation les23. Genome 47:961–969

Pryor AJ (1987) The origin and structure of fungal disease resistance genes in plants. Trends Genet 3:157–161

Rairdan GJ, Moffett P (2006) Distinct domains in the ARC region of the potato resistance protein Rx mediate LRR binding and inhibition of activation. Plant Cell 18:2082–2093

Robatzek S, Somssich IE (2002) Targets of AtWRKY6 regulation during plant senescence and pathogen defense. Genes Dev 16:1139–1149

Rossi M, Goggin FL, Milligan SB, Kaloshian I, Ullman DE, Williamson VM (1998) The nematode resistance gene Mi of tomato confers resistance against the potato aphid. Proc Natl Acad Sci USA 95:9750–9754

Schenk PM, Kazan K, Wilson I, Anderson PJ, Richmond T, Somerville SC, Manners JM (2000) Coordinated plant defense responses in Arabidopsis revealed by microarray analysis. Proc Natl Acad Sci USA 97:11655–11660

Shah J, Kachroo P, Klessig DF (1999) The Arabidopsis ssi1 mutation restores pathogenesis-related gene expression in npr1 plants and renders defensin gene expression salicylic acid dependent. Plant Cell 11:191–206

Sharov AA, Dudekula DB, Ko MS (2005) A web-based tool for principal component and significance analysis of microarray data. Bioinformatics 21:2548–2549

Shimono M, Sugano S, Nakayama A, Jiang CJ, Ono K, Toki S, Takatsuji H (2007) Rice WRKY45 plays a crucial role in benzothiadiazole-inducible blast resistance. Plant Cell 19:2064–2076

Shirano Y, Kachroo P, Shah J, Klessig DF (2002a) A gain-of-function mutation in an Arabidopsis Toll Interleukin1 receptor-nucleotide binding site-leucine-rich repeat type R gene triggers defense responses and results in enhanced disease resistance. Plant Cell 14:3149–3162

Shirano Y, Kachroo P, Shah J, Klessig DF (2002b) A gain-of function mutation in an Arabidopsis toll interleukin1 receptor nucleotide binding site-leucine-rich repeat type R gene triggers defense responses and results in enhanced disease resistance. Plant Cell 14:3149–3162

Takahashi A, Kawasaki T, Henmi K, Shi IK, Kodama O, SATOH H, Shimamoto K (1999) Lesion mimic mutants of rice with alterations in early signaling events of defense. Plant J 17:535–5453

Tanabe T, Chamaillard M, Ogura Y, Zhu L, Qiu S, Masumoto J, Ghosh P, Moran A, Predergast MM, Tromp G, Williams CJ, Inohara N, Núñez G (2004) Regulatory regions and critical residues of NOD2 involved in muramyl dipeptide recognition. EMBO J 23:1587–1597

Temnykh S, Park NA, Cartinhour S, Hauck N, Lipovich L, Cho YG, Ishii T, Mccouch SR (2000) Mapping and genome organization of microsatellite sequences in rice (Oryza sativa L.). Theor Appl Genet 100:697–712

Ting JP, Davis BK (2005) CATERPILLER: a novel gene family important in immunity, cell death, and diseases. Annu Rev Immunol 23:387–414

van der Biezen EA, Jones JDG (1998) The NB-ARC domain: a novel signaling motif shared by plant resistance gene products and regulators of cell death in animals. Curr Biol 8:R226–R227

van Ooijen G, Mayr G, Kasiem MMA, Albrecht M, Cornelissen BJC, Takken FLW (2008) Structure–function analysis of the NB-ARC domain of plant disease resistance proteins. J Exp Bot 59:1383–1397

Vos P, Hogers R, Bleeker M, Reijans M, van de Lee T, Hornes M, Frijters A, Pot J, Peleman J, Kuiper M (1995) AFLP: a new technique for DNA fingerprinting. Nucleic Acids Res 23:4407–4414

Vos P, Simons G, Jesse T, Wijbrandi J, Heinen L, Hogers R, Frijters A, Groenendijk J, Diergaarde P, Reijans M, Fierens-Onstenk J, de Both M, Peleman J, Liharska T, Hontelez J, Zabeau M (1998) The tomato Mi-1 gene confers resistance to both root-knot nematodes and potato aphids. Nat Biotechnol 16:1365–1369

Wolter M, Hollricher K, Salaminip F, Schulze-Lefert P (1993) The mlo resistance alleles to powdery mildew infection in barley trigger a developmentally controlled defense mimic phenotype. Mol Gen Genet 239:122–128

Wu J, Mizuno H, Hayashi-Tsugane M, Ito Y, Chiden Y, Fujisawa M, Katagiri S, Saji S, Yoshiki S, Karasawa W, Yoshihara R, Hayashi A, Kobayashi H, Ito K, Hamada M, Okamoto M, Ikeno M, Ichikawa Y, Katayose Y, Yano M, Matsumoto T, Sasaki T (2003) Physical maps and recombination frequency of six rice chromosomes. Plant J 36:720–730

Wu C, Bordeos A, Madamba MRS, Baraoidan M, Ramos M, Wang GL, Leach JE, Leung H (2008) Rice lesion mimic mutants with enhanced resistance to diseases. Mol Genet Genomics 279:605–619

Xiong L, Zhu JK (2001) Abiotic stress signal transduction in plants: molecular and genetic perspectives. Physiol Plant 112:152–166

Xu X, Kawasaki S, Fujimura T, Wang CT (2005) A protocol for high throughput extraction of DNA from rice leaves. Plant Mol Biol Rep 27:291–295

Xu X, Chen H, Fujimura T, Kawasaki S (2008) Fine mapping of a strong QTL of field resistance against rice blast, Pikahei-1(t), from upland rice Kahei, utilizing a novel resistance evaluation system in the greenhouse. Theor Appl Genet 117:997–1008

Xu X, Babu R, Fujimura T, Kawasaki S (2009) A high-throughput, low cost gel-based SNP assay for positional cloning and marker assisted breeding of useful genes in cereals. Plant Breed 128:325–331

Yamanouchi U, Yano M, Lin H, Ashikari M, Yamada K (2002) A rice spotted leaf gene, Spl7, encodes a heat stress transcription factor protein. Proc Natl Acad Sci USA 99:7530–7535

Yin Z, Chen J, Zeng L, Goh M, Leung H, Khush GS, Wang GL (2000) Characterizing rice lesion mimic mutants and identifying a mutant with broad-spectrum resistance to rice blast and bacterial blight. Mol Plant Microbe Interact 13:869–876

Yoshimura A, Ideta O, Iwata N (1997) Linkage map of phenotype and RFLP markers in rice. Plant Mol Biol 35:49–60

Yu J, Hu S, Wang J, WONG GK, Li S et al (2002) A draft sequence of the rice genome (Oryza sativa L. ssp. indica). Science 296:79–92

Zeng LR, Qu S, Bordeos A, Yang C, Baraoidan M, Yan H, Xie Q, Nahm BH, Leung H, Wang GL (2004) Spotted leaf11, a negative regulator of plant cell death and defense, encodes a U-Box/Armadillo repeat protein endowed with E3 ubiquitin ligase activity. Plant Cell 16:2795–2808

Zhang QF, Shen BZ, Dai XK, Mei MH, Maroof MAS, Li ZB (1994) Using bulked extremes and recessive class to map genes for photoperiod-sensitive genic male sterility in rice. Proc Natl Acad Sci USA 91:8675–8679
Additional information
Communicated by J.-B. Veyrieras.
About this article
Cite this article
Babu, R., Jiang, CJ., Xu, X. et al. Isolation, fine mapping and expression profiling of a lesion mimic genotype, spl NF4050-8 that confers blast resistance in rice. Theor Appl Genet 122, 831–854 (2011). https://doi.org/10.1007/s00122-010-1490-7
Received:

Accepted:

Published:

Issue Date:
Keywords
Leucine Rich Repeat

Nucleotide Binding Site

Tos17

WRKY Domain

Leucine Rich Repeat Domain