Abstract
Increasing the water use efficiency (WUE) of our major crop species is an important target of agricultural research. Rice is a major water consumer in agriculture and it is also an attractive genetic model. We evaluated leaf-level WUE in young rice seedlings using carbon isotope discrimination (∆13C) as an indicator of the trait. A survey of ∆13C was undertaken in 116 diverse germplasm accessions representing O. sativa, O. glaberrima and four wild Oryza species. O. sativa cultivars were classified into sub-populations based on SSR markers, and significant differences in ∆13C were observed among the five genetically defined groups. While individual accessions explained a greater proportion of the variation than did sub-population, indica rice varieties had the lowest ∆13C values overall, indicating superior WUE, while temperate japonica had the highest ∆13C. O sativa accessions had a similar or greater range of ∆13C values than wild Oryza species, while domesticated O. glaberrima had a narrower range. Correlation analysis identified leaf morphological and physiological traits that were significantly associated with ∆13C, including longer leaves, more drooping leaves, higher tillering ability, and lower leaf nitrogen content. These trait associations were investigated by quantitative trait locus (QTL) mapping using backcross inbred lines derived from a cross between Nipponbare (temperate japonica) and Kasalath (aus). Seven QTL for ∆13C were identified using composite interval analysis, located in five chromosomal regions. The QTL with the largest additive effect came from Kasalath and co-localized with QTL for leaf length, tiller number and nitrogen content.
Access options
Buy single article
Instant access to the full article PDF.
USD 39.95
Price includes VAT (USA)
Tax calculation will be finalised during checkout.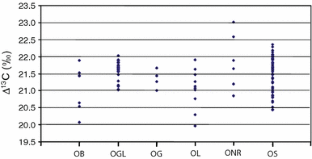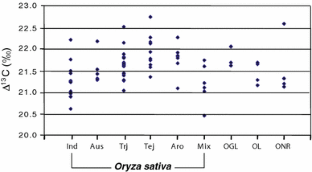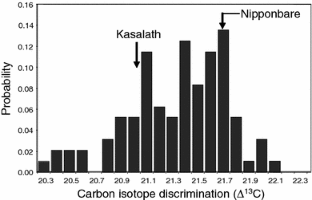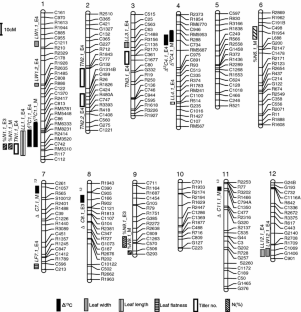 References
Araus JL, Villegas D, Aparicio N, Garcia del Moral LF, El Hani S, Rharrabti Y, Ferrio JP, Royo C (2003) Environmental factors determining carbon isotope discrimination and yield in durum wheat under Mediterranean conditions. Crop Sci 43:170–180

Barker R, Dawe D, Tuong TP, Bhuiyan SI, Guerra LC (1999) The outlook for water resources in the year 2020: challenges for research on water management in rice production. 19th session of the International Rice Commission. Food and Agriculture Organization, Cairo, pp 99–109

Brendel O, Pot D, Plomion C, Rosenberg P, Guehl JM (2002) Genetic parameters and QTL analysis of delta C-13 and ring width in maritime pine. Plant Cell Environ 25:1248–1257

Cabuslay GS, Ito O, Alejar AA (2002) Physiological evaluation of responses of rice (Oryza sativa L.) to water deficit. Pl Sci 163:815–827

Casasoli M, Pot D, Plomion C, Monteverdi MC, Barreneche T, Lauteri M, Villani F (2004) Identification of QTLs affecting adaptive traits in Castanea sativa Mill. Plant Cell Environ 27:1088–1101

Comstock JP, McCouch SR, Martin BC, Tauer CG, Vision TJ, Xu Y, Pausch R (2005) The effects of resource availability and environmental conditions on genetic rankings for carbon isotope discrimination during growth in tomato and rice. Funct Plant Biol 32:1089–1105

Condon AG, Richards RA, Farquhar GD (1987) Carbon isotope discrimination is positively correlated with grain yield and dry matter production in field-grown wheat. Crop Sci 27:996–1001

Condon AG, Farquhar GD, Richards RA (1990) Genotypic variation in carbon isotope discrimination and transpiration efficiency in wheat leaf gas exchange and whole plant studies. Aust J Plant Physiol 17:9–22

Condon AG, Richards RA, Rebetzke GJ, Farquhar GD (2002) Improving intrinsic water-use efficiency and crop yield. Crop Sci 42:122–131

Condon AG, Richards RA, Rebetzke GJ, Farquhar GD (2004) Breeding for high water-use efficiency. J Exp Bot 55:2447–2460

Cregg B, Zhang J (2000) Carbon isotope discrimination as a tool to screen for improved drought tolerance. In: 11th METRIA conference, Gresham, Oregon

Diab AA, Teulat-Merah B, This D, Ozturk NZ, Benscher D, Sorrells ME (2004) Identification of drought-inducible genes and differentially expressed sequence tags in barley. Theor Appl Genet 109:1417–1425

Dingkuhn M, Farquhar GD, De Datta SK, O'Toole JC (1991) Discrimination of 13C among upland rices having different water use efficiencies. Australian J Ag Res 42:1123–1131

Ellis RP, Forster BP, Gordon DC, Handley LL, Keith RP, Lawrence P, Meyer R, Powell W, Robinson D, Scrimgeour CM, Young G, Thomas WT (2002) Phenotype/genotype associations for yield and salt tolerance in a barley mapping population segregating for two dwarfing genes. J Exp Bot 53:1163–1176

Falush D, Stephens M, Pritchard JK (2003) Inference of population structure using multilocus genotype data: linked loci and correlated allele frequencies. Genetics 164:1567–1587

Farquhar GD, Richards RA (1984) Isotopic composition of plant carbon correlates with water use efficiency of wheat genotypes. Aust J Ag Res 11:539–552

Farquhar GD, Ehleringer JR, Hubick KT (1989) Carbon isotope discrimination and photosynthesis. In: Briggs WR (ed) Annual review of plant physiology and plant molecular biology, vol 40. Annual Reviews Inc., Palo Alto, pp 503–538

Franks PJ, Farquhar GD (1999) A relationship between humidity response, growth form and photosynthetic operating point in C3 plants. Plant Cell Environ 22:1337–1349

Franks PJ, Farquhar GD (2001) The effect of exogenous abscisic acid on stomatal development, stomatal mechanics, and leaf gas exchange in Tradescantia virginiana. Plant Physiol 125:935–942

Garris AJ, Tai TH, Coburn JR, Kresovich S, McCouch S (2005) Genetic structure and diversity in Oryza sativa L. Genetics 169:1631–1638

Geber MA, Dawson TE (1997) Genetic variation in stomatal and biochemical limitations to photosynthesis in the annual plant, Polygonum arenastrum. Oecologia 109:535–546

Glaszmann JC (1987) Isozymes and classification of asian rice varieties. Theor Appl Genet 74:21–30

Gleick PH (2003) Water use. Annu Rev Environ Resour 28:275–314

Handley LL, Nevo E, Raven JA, MartInez-Carrasco R, Scrimgeour CM, Pakniyat H, Forster BP (1994) Chromosome 4 controls potential water use efficiency (delta13C) in barley. J Exp Bot 45:1661–1663

Hausmann NJ, Juenger TE, Sen S, Stowe KA, Dawson TE, Simms EL (2005) Quantitative trait loci affecting delta13C and response to differential water availability in Arabidopsis thaliana. Evolution Int J Org Evol 59:81–96

Ishimaru K, Shirota K, Higa M, Kawamitsu Y (2001a) Identification of quantitative trait loci for adaxial and abaxial stomatal frequencies in Oryza sativa. Plant Physiol Biochem 39:173–177

Ishimaru K, Yano M, Aoki N, Ono K, Hirose T, Lin SY, Monna L, Sasaki T, Ohsugi R (2001b) Toward the mapping of physiological and agronomic characters on a rice function map: QTL analysis and comparison between QTLs and expressed sequence tags. Theor Appl Genet 102:793–800

Johnson RC (1993) Carbon isotope discrimination, water relations, and photosynthesis in Tall Fescues. Crop Sci 33:169–174

Juenger TE, McKay JK, Hausmann N, Keurentjes J, Sen S, Stowe KA, Dawson TE, Simms EL, Richards JH (2005) Identification and characterization of QTL underlying whole-plant physiology in Arabidopsis thaliana: delta C-13, stomatal conductance and transpiration efficiency. Plant Cell Environ 28:697–708

Keeling CD (1958) The concentration and isotopic abundances of atmospheric carbon dioxide in rural areas. Geochim Cosmochim Acta 13:322–334

Knight JD, Livingston NJ, van-Kessel C (1994) Carbon isotope discrimination and water-use efficiency of six crops grown under wet and dryland conditions. Plant Cell Environ 17:173–179

Kondo M, Pablico PP, Aragones DV, Agbisit R (2004) Genotypic variations in carbon isotope discrimination, transpiration efficiency, and biomass production in rice as affected by soil water conditions and N. Pl Soil 267:165–177

Lambrides CJ, Chapman SC, Shorter R (2004) Genetic variation for carbon isotope discrimination in sunflower: association with transpiration efficiency and evidence for cytoplasmic inheritance. Crop Sci 44:1642–1653

Larcher W (1995) Physiological plant ecology: ecophysiology and stress physiology of functional groups, 3rd edn. p xvi + 506p

Laza MR, Kondo M, Ideta O, Barlaan E, Imbe T (2006) Identification of quantitative trait loci from d13C and productivity in irrigated lowland rice. Crop Sci 46:763–773

Lin SY, Sasaki T, Yano M (1998) Mapping quantitative trait loci controlling seed dormancy and heading date in rice, Oryza sativa L, using backcross inbred lines. Theor Appl Genet 96:997–1003

Lu H, Redus MA, Coburn JR, Rutger JN, McCouch SR, Tai TH (2005) Population structure and breeding patterns of 145 US rice cultivars based on SSR marker analysis. Crop Sci 45:66–76

Mae T (1997) Physiological nitrogen efficiency in rice: nitrogen utilization, photosynthesis, and yield potential. Pl Soil 196:201–210

Makino A (2003) Rubisco and nitrogen relationships in rice: leaf photosynthesis and plant growth. Soil Sci Plant Nutr 49:319–327

Martin B, Nienhuis J, King G, Schaefer A (1989) Restriction fragment length polymorphisms associated with water use efficiency in tomato. Science (Wash DC) 243:1725–1728

Masle J, Gilmore SR, Farquhar GD (2005) The ERECTA gene regulates plant transpiration efficiency in Arabidopsis. Nature 436:866–870

McKay JK, Richards JH, Mitchell-Olds T (2003) Genetics of drought adaptation in Arabidopsis thaliana: I. Pleiotropy contributes to genetic correlations among ecological traits. Mol Ecol 12:1137–1151

Minhas JS, Khurana SMP, Sheshshayee MS, Kumar MU (2003) Potato varieties show genetic variability in water use efficiency based on carbon isotope discrimination. J Ind Potato Assoc 30:193–194

Monneveux P, Reynolds MP, Trethowan R, Gonzalez-Santoyo H, Pena RJ, Zapata F (2005) Relationship between grain yield and carbon isotope discrimination in bread wheat under four water regimes. Europ J Agron 22:231–242

Passioura JB (1977) Grain yield, harvest index, and water use of wheat. J Aust Inst Agric Sci 42:117–120

Peng S, Laza RC, Khush GS, Sanico AL, Visperas RM, Garcia FV (1998) Transpiration efficiencies of indica and improved tropical japonica rice grown under irrigated conditions. Euphytica 103:103–108

Price AH, Cairns JE, Horton P, Jones HG, Griffiths H (2002) Linking drought-resistance mechanisms to drought avoidance in upland rice using a QTL approach: progress and new opportunities to integrate stomatal and mesophyll responses. J Exp Bot 53:989–1004

Pritchard JK, Stephens M, Donnelly P (2000) Inference of population structure using multilocus genotype data. Genetics 155:945–959

Rosegrant MW (1998) Water and irrigation policy: prospects for the future and implications for rice production. In: Pingali P, Hossain M (eds) Impact of Rice Research Thailand Development Research Institute and International Rice Research Institute. Bangkok, Thailand, pp 83–112

Saranga Y, Flash I, Paterson AH, Yakir D (1999) Carbon isotope ratio in cotton varies with growth stage and plant organ. Pl Sci 142:47–56

Saranga Y, Jiang CX, Wright RJ, Yakir D, Paterson AH (2004) Genetic dissection of cotton physiological responses to arid conditions and their inter-relationships with productivity. Plant Cell Environ 27:263–277

Semon M, Nielsen R, Jones M, McCouch S (2005) The population structure of African cultivated rice Oryza glaberrima (Steud.): evidence for elevated levels of LD caused by admixture with O. sativa and ecological adaptation. Genetics 169:1639–1647

Sparks JP, Ehleringer JR (1997) Leaf carbon isotope discrimination and nitrogen content for riparian trees along elevational transects. Oecologia (Berlin) 109:362–367

Specht JE, Chase K, Macrander M, Graef GL, Chung J, Markwell JP, Germann M, Orf JH, Lark KG (2001) Soybean response to water: a QTL analysis of drought tolerance. Crop Sci 41:493–509

Stiller WN, Read JJ, Constable GA, Reid PE (2005) Selection for water use efficiency traits in a cotton breeding program: cultivar differences. Crop Sci 45:1107–1113

Tai TH, Tanksley SD (1990) A rapid and inexpensive method for isolation of total DNA from dehydrated tissue. Plant Mol Biol Rep 8:297–303

Takai T, Fukuta Y, Sugimoto A, Shiraiwa T, Horie T (2006) Mapping of QTLs controlling carbon isotope discrimination in the photosynthetic system using recombinant inbred lines derived from a cross between two different rice (Oryza sativa L.) cultivars. Plant Prod Sci 9:271–280

Teulat B, Merah O, Sirault X, Borries C, Waugh R, This D (2002) QTLs for grain carbon isotope discrimination in field-grown barley. Theor Appl Genet 106:118–126

Thumma BR, Naidu BP, Chandra A, Cameron DF, Bahnisch LM, Liu CN (2001) Identification of causal relationships among traits related to drought resistance in Stylosanthes scabra using QTL analysis. J Exp Bot 52:203–214

Turner NC (1993) Water use efficiency of crop plants: potential for improvement. In: Buxton DR, Shibles R, Forsberg RA, Blad BL, Asay H, Paulsen GM, Wilson RG (eds) International crop science. Crop Science Society of America, Madison, pp 75–82

Wang S, Basten CJ, Zeng Z-B (2006) Windows QTL Cartographer 2.5, 2.5 edn. Dept. of Statistics. North Carolina State University, Raleigh

Wong SC, Cowan IR, Farquhar GD (1979) Stomatal conductance correlates with photosynthetic capacity. Nature (London) 282:424–426

Wright GC, Hubick KT, Farquhar GD, Nageswara RC (1993) Genetic and environmental variation in transpiration efficiency and its correlation with carbon isotope discrimination and specific leaf area in peanut. In: Ehleringer JR, Hall AE, Farquhar GD (eds) Stable isotopes and plant carbon-water relations. Academic Press, San Diego, pp 247–267

Yan J, Zhu J, He C, Benmoussa M, Wu P (1999) Molecular marker-assisted dissection of genotype × environment interaction for plant type traits in rice (Oryza sativa L). Crop Sci 39:538–544
Acknowledgments
We wish to thank Christine F. Fleet for her dedicated data collection and analysis, Brian E. Gollands for data management, Paul S. King for coordination and mentoring of high school and undergraduate interns, Rebecca Rudicell, who collected data for the Keeling plots relating δ13C of greenhouse air to atmospheric [CO2], Anna Nowogrodski and Laura Vineyard who assisted with gas-exchange measurements, and to Masahiro Yano, from the National Institute of Agrobiological Science in Japan for sharing the populations of Nipponbare × Kasalath BILs and associated RFLP dataset. This work was supported by the National Science Foundation (Plant Genome Research Project Grant DBI-0110069, Genomic Analysis of Plant Water Use Efficiency).
Additional information
Communicated by F. van Eeuwijk.
About this article
Cite this article
Xu, Y., This, D., Pausch, R.C. et al. Leaf-level water use efficiency determined by carbon isotope discrimination in rice seedlings: genetic variation associated with population structure and QTL mapping. Theor Appl Genet 118, 1065–1081 (2009). https://doi.org/10.1007/s00122-009-0963-z
Received:

Accepted:

Published:

Issue Date:
Keywords
Quantitative Trait Locus

Quantitative Trait Locus Analysis

Quantitative Trait Locus Mapping

Tiller Number

Carbon Isotope Discrimination