Abstract
A strategy combining single backcrossing with selected bulk breeding has been successfully used in wheat improvement at CIMMYT to introgress rust resistant genes from donor parents to elite adapted cultivars. In this research, the efficiency of this breeding strategy was compared to other crossing and selection strategies through computer simulation. Results indicated this breeding strategy has advantages in retaining or improving the adaptation of the recurrent parents, and at the same time transferring most of the desired donor genes in a wide range of scenarios. Two rounds of backcrossing have advantages when the adaptation of donor parents is much poorer than that of the adapted parents, but the advantage of three rounds of backcrossing over two rounds is minimal. We recommend using the single backcrossing breeding strategy (SBBS) when three conditions are met: (1) multiple genes govern the phenotypic traits to be transferred from donor parents to adapted parents, (2) the donor parents have some favorable genes that may contribute to the improvement of adaptation in the recipient parents, and (3) conventional phenotypic selection is being applied, or individual genotypes cannot be precisely identified. We envisage that all three conditions commonly exist in modern breeding programs, and therefore believe that SBBS could be applied widely. However, we do not exclude the use of repeated backcrossing if the transferred genes can be precisely identified by closely linked molecular markers, and the donor parents have extremely poor adaptation.
Access options
Buy single article
Instant access to the full article PDF.
USD 39.95
Price includes VAT (USA)
Tax calculation will be finalised during checkout.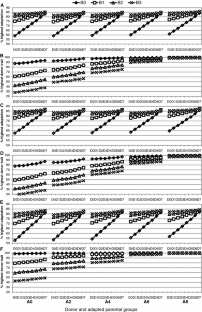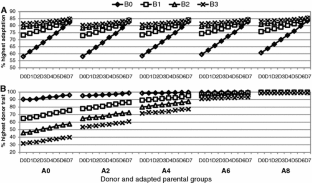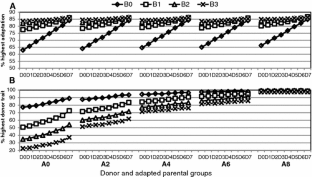 References
Allard RW (1960) Principles of plant breeding. Wiley, New York

Bernardo R (2002) Breeding for quantitative traits in plants. Stemma Press, Woodbury

Bregitzer P, Dahleen LS, Neate S, Schwarz P, Manoharan M (2008) A single backcross effectively eliminates agronomic and quality alterations caused by somaclonal variation in transgenic barley. Crop Sci 48:471–479

Frisch M, Melchinger AE (2001) Marker-assisted backcrossing for simultaneous introgression of two genes. Crop Sci 41:1716–1725

Kearsey MJ, Farquhar AGL (1998) QTL analysis; where are we now? Heredity 80:137–142

Mujeeb-Kazi A, Hettel GP (1995) Utilizing wild grass biodiversity in wheat improvement: 15 years of wide cross research at CIMMYT. CIMMYT Research Report 2. CIMMYT, D.F., Mexico

Ortiz R, Trethowan R, Ortiz Ferrara G, Iwanaga M, Dodds JH, Crouch JH, Crossa J, Braun H-J (2007) High yield potential, shuttle breeding and new international wheat improvement strategy. Euphytica 157:365–384

Pfeiffer WH, McClafferty B (2007) HarvestPlus: breeding crops for better nutrition. Crop Sci 47(S3):S88–S105

Podlich DW, Cooper M (1998) QU-GENE: a platform for quantitative analysis of genetic models. Bioinformatics 14:632–653

Rajaram S (1999) Historical aspects and future challenges of an international wheat program. In: van Ginkel M, McNab A, Krupinsky J (eds) Septoria and Stagonospora diseases of cereals: a compilation of global research. CIMMYT, D.F, Mexico, pp 1–17

Rajaram S, van Ginkel M, Fischer RA (1994) CIMMYT's wheat breeding mega-environments (ME). In: Proceedings of the 8th international wheat genetics symposium. China Agricultural Scientech. Beijing, pp 1101–1106

Reddy BVS, Comstock RE (1976) Simulation of the backcross breeding method. I. Effects of heritability and gene number on fixation of desired alleles. Crop Sci 16:825–830

Ribaut J-M, Jiang C, Hoisington D (2002) Simulation experiments on efficiencies of gene introgression by backcrossing. Crop Sci 42:557–565

Singh RP, Huerta-Espino J (2004) The use of "single-backcross selected-bulk" breeding approach for transferring minor genes based rust resistance into adapted cultivars. In: Black CK, Panozzo JF, Rebetzke GJ (eds) Proceedings of 54th Australian cereal chemistry conference and 11th wheat breeders assembly, 21–24 September, 2004, Canberra. Australia. Cereal Chemistry Division, Royal Australian Chemical Institute, North Melbourne, pp 48–51

Singh RP, Trethowan R (2007) Breeding spring bread wheat for irrigated and rainfed production systems of the developing world. In: Kang MS, Priyadarshan PM (eds) Breeding major food staples. Blackwell Publishing, Ames, pp 109–140

Singh RP, Mujeeb-Kazi A, Huerta-Espino J (1998a) Lr46: a gene conferring slow-rusting resistance to leaf rust in wheat. Phytopathology 88:890–894

Singh RP, Rajaram S, Miranda A, Huerta-Espino J, Autrique E (1998b) Comparison of two crossing and four selection schemes for yield, yield traits, and slow rusting resistance to leaf rust in wheat. Euphytica 100:35–43

Singh RP, Huerta-Espino J, Rajaram S (2000) Achieving near-immunity to leaf and stripe rusts in wheat by combining slow rusting resistance genes. Acta Phytopathologica Hungarica 35:133–139

Singh RP, Huerta-Espino J, William HM (2005) Genetics and breeding for durable resistance to leaf and stripe rusts in wheat. Turk J Agric For 29:121–127

Stoskopf NC, Tomes DT, Christie BR (1993) Plant breeding: theory and practice. Westview Press, Boulder

van Ginkel M, Trethowan R, Ammar K, Wang J, Lillemo M (2002) Guide to bread wheat breeding at CIMMYT. Wheat Special Report 5. CIMMYT, D.F, Mexico

Wang J, van Ginkel M, Podlich D, Ye G, Trethowan R, Pfeiffer W, DeLacy IH, Cooper M, Rajaram S (2003) Comparison of two breeding strategies by computer simulation. Crop Sci 43:1764–1773

Wang J, van Ginkel M, Trethowan R, Ye G, DeLacy I, Podlich D, Cooper M (2004) Simulating the effects of dominance and epistasis on selection response in the CIMMYT Wheat Breeding Program using QuCim. Crop Sci 44:2006–2018

Wang J, Eagles HA, Trethowan R, van Ginkel M (2005) Using computer simulation of the selection process and known gene information to assist in parental selection in wheat quality breeding. Aust J Agric Res 56:465–473

Wang J, Chapman SC, Bonnett DB, Rebetzke GJ, Crouch J (2007a) Application of population genetic theory and simulation models to efficiently pyramid multiple genes via marker-assisted selection. Crop Sci 47:580–588

Wang J, Wan X, Li H, Pfeiffer W, Crouch J, Wan J (2007b) Application of the identified QTL-marker associations in rice quality improvement through a design breeding approach. Theor Appl Genet 115:87–100
Acknowledgments
The authors wish to thank Dr. Rodomiro Ortiz for his critical review of the manuscript before submission, two anonymous reviewers and the editor for their constructive suggestions and comments on earlier versions of the manuscript. This research was funded by the National 863 Programs of China (grant No. 2006AA10Z1B1), the HarvestPlus and Generation Challenge Programs of the Consultative Group on International Agricultural Research (CGIAR), and Foundation of the Institute of Crop Science, Chinese Academy of Agricultural Sciences (082060302-09). Development of the simulation tool QuLine was previously funded by the Grain Research and Development Corporation (GRDC), Australia.
Additional information
Communicated by A. Charcosset.
About this article
Cite this article
Wang, J., Singh, R.P., Braun, HJ. et al. Investigating the efficiency of the single backcrossing breeding strategy through computer simulation. Theor Appl Genet 118, 683–694 (2009). https://doi.org/10.1007/s00122-008-0929-6
Received:

Accepted:

Published:

Issue Date:
Keywords
Agronomic Trait

Rust Resistance

Genetic Gain

Favorable Allele

Donor Parent