Abstract
A large panicle with numerous florets is essential for improving rice (Oryza sativa L.) yield. Rice panicle size is determined by such underlying morphogenetic processes as: (1) primary branch formation on the panicle axis; (2) floret formation on the primary branches (mainly determined by the secondary branch formation); and (3) pre-flowering abortion of florets in the panicle. We examined QTLs for these processes to understand how they are integrated into panicle size. We developed 106 backcross-inbred lines (BC1F4) from a cross between 'Akihikari' (a temperate japonica) and 'IRAT109' (a tropical japonica) and constructed a genetic map. One QTL detected on chromosome 2, with a large effect (R=0.30) on the number of florets per panicle, affected both primary branch formation on the panicle axis and floret formation on the primary branches. In addition, three QTLs that affect only one of these two processes were identified on chromosomes 4, 9, and 11, each having a subsidiary effect on the number of florets per panicle (R2=0.04–0.07). QTLs for pre-flowering floret abortion were detected at three different regions of the genome (chromosomes 1, 10, and 11). This is the first report on QTLs for pre-flowering floret abortion in grasses. The absence of a co-location between QTLs suggests that floret formation and abortion are not directly linked causally. These results demonstrate that studying the partitioning of panicle size into these underlying morphogenetic components would be helpful in understanding the complicated genetic control of panicle size.
Access options
Buy single article
Instant access to the full article PDF.
US$ 39.95
Tax calculation will be finalised during checkout.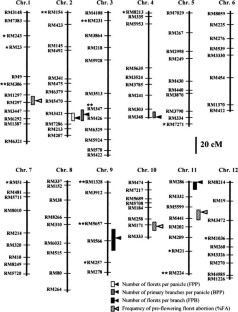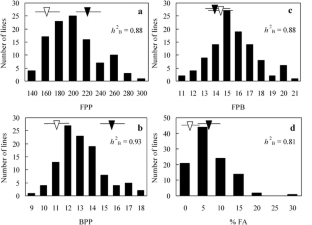 References
Akita S (1999) Agronomic and eco-physiological approach for breaking through the stagnation of rice yield. In: Horie T, Geng S, Amano T, Inanuma T, Shiraiwa T (eds) Proceedings of international symposium "World food security and crop production technologies for tomorrow," Kyoto, pp 77–80

Aoki C, Miwa M, Ashikari M, Yasui S, Kitano H, Matsuoka M, Hattori K, Nishimura T (2001) DNA preparation from large-scale samples of rice leaves and seeds for PCR by multi-beads shocker (in Japanese). Breed Res 3 [Suppl 1]:103

Chen X, Temnykh S, Xu Y, Cho YG, McCouch SR (1997) Development of a microsatellite framework map providing genome-wide coverage in rice (Oryza sativa L.). Theor Appl Genet 95:553–567

Churchill GA, Doerge RW (1994) Empirical threshold values for quantitative trait mapping. Genetics 138:963–971

Fujino K, Sekiguchi H, Sato T, Kiucih H, Nonoue Y, Takeuchi Y, Ando T, Lin SY, Yano M (2004) Mapping of quantitative trait loci controlling low-temperature germinability in rice (Oryza sativa L.). Theor Appl Genet 108:794–799

Fukuta Y, Tamura K, Sasahara H, Fukuyama T, Ashikawa I, Yagi T (1997) Genetic and breeding analysis using molecular marker 7. Development of recombinant inbred lines derived from a wide cross between an indica and japonica variety in rice (Oryza sativa L.). Breed Sci 47 [Suppl 2]:43

Harushima Y, Yano M, Shomura A, Sato M, Shimano T, Kuboki Y, Yamamoto T, Lin SY, Antonio BA, Parco A, Kajiya H, Huang N, Yamamoto K, Nagamura Y, Kurata N, Khush GS, Sasaki T (1998) A high-density rice genetic linkage map with 2,275 markers using a single F2 population. Genetics 148:479–494

Kernich GC, Halloran GN, Flood RG (1997) Variation in duration of pre-anthesis phases of development in barley (Hordeum vulgare). Aust J Agric Res 48:59–66

Khush GS (2000) New plant type of rice for increasing the genetic yield potential. In: Nanda JS (ed) Rice breeding and genetics. Science, New Hampshire, pp 99–108

Kobayashi K, Imaki T (1997) Varietal difference of rice in differentiation and degeneration of secondary rachis-branches and spikelets in terms of their nodal distribution on a rachis (in Japanese). Jpn J Crop Sci 66:578–587

Mackill DJ (1999) Genome analysis and breeding. In: Shimamoto K (ed) Molecular biology of rice. Springer, Berlin Heidelberg New York, pp 17–41

Matsushima S (1966) Crop science in rice. Fuji, Tokyo, p 365

McCouch SR, Teytelman L, Xu Y, Lobos KB, Clare K, Walton M, Fu B, Maghirang R, Li Z, Xing Y, Zhang Q, Kono I, Yano M, Fjellstorm R, DeClerck G, Schneider D, Cartinhour S, Ware D, Stein L (2002) Development and mapping of 2,240 new SSR markers for rice (Oryza sativa L.). DNA Res 31:199–207

Nagata K, Fukuta Y, Shimizu H, Yagi T, Terao T (2002) Quantitative trait loci for sink size and ripening traits in rice (Oryza sativa L.). Breed Sci 52:259–273

Otegui ME, Melon S (1997) Kernel set and flower synchrony within the ear of maize: I. Sowing date effects. Crop Sci 37:441–447

Peng S, Khush GS, Cassman KG (1994) Evolution of the new plant ideotype for increased yield potential. In: Cassman KG (ed) Breaking the yield barrier, IRRI, Los Banos, pp 5–20

Redoña ED, Mackill DJ (1996) Molecular mapping of quantitative trait loci in japonica rice. Genome 39:395–403

Senanayake N, De Datta SK, Naylor REL, Tomson WJ (1991) Lowland rice apical development: stages and cultivar differences detected by electron microscopy. Agron J 83:1013–1023

Senanayake N, Naylor REL, De Datta SK, Thomson WJ (1994) Variation in development of contrasting rice cultivars. J Agric Sci 123:35–39

Takeda T (1984) Physiological and ecological characteristics of high yielding varieties of lowland rice with special reference to the case of warmer areas in Japan. In: Proceedings of the international crop science symposium "Potential productivity and yield constraints of rice in East Asia," Fukuoka, pp 125–140

Takeuchi Y, Hayasaka H, Chiba B, Tanaka I, Shimano T, Yamagishi M, Nagano K, Sasaki T, Yano M (2001) Mapping quantitative trait loci controlling cool-temperature tolerance at booting stage in temperate japonica rice. Breed Sci 51:191–197

Temnykh A, DeClerck G, Lukashova A, Lipovich L, Cartinhour S, McCouch S (2001) Computational and experimental analysis of microsatellites in rice (Oryza sativa L.): frequency, length variation, transposon associations, and genetic marker potential. Genome Res 11:1441–1452

Ukai Y, Ohsawa R, Saito A, Hayashi T (1995) A package of computer programs for construction of DNA polymorphism linkage maps and analysis of QTL. Breed Sci 45:139–142

Wang S, Basten CJ, Zeng ZB (2003) Windows QTL Cartographer, version 2.0. Department of Statistics, North Carolina State University, Raleigh. (http://statgen.ncsu.edu/qtlcart/WQTLCart.htm)

Xiao J, Li J, Yuan L, Tanksley SD (1996) Identification of QTLs affecting traits of agronomic importance in a recombinant inbred population derived from a subspecific rice cross. Theor Appl Genet 92:230–244

Xiao J, Li J, Grandillo S, Ahn SN, Yuan L, Tanksley SD, McCouch SR (1998) Identification of trait-improving quantitative trait loci alleles from a wild rice relative, Oryza rufipogon. Genetics 150:899–909

Xu Y (2002) Global view of QTL: Rice as a model. In: Kang MS (ed) Quantitative genetics, genomics and plant breeding. CABI, Wallingford, pp 109–134

Yagi T, Nagata K, Fukuta Y, Tamura K, Ashikawa I, Terao T (2001) QTL mapping of spikelet number in rice (Oryza sativa L.). Breed Sci 51:53–56

Yamagishi M, Takeuchi Y, Kono I, Yano M (2002) QTL analysis for panicle characteristics in temperate japonica rice. Euphytica 128:219–224

Yamagishi J, Nemoto K, Mu C (2003) Diversity of the rachis-branching system in a panicle in japonica rice. Plant Prod Sci 6:59–64

Yano M, Kojima S, Takahashi Y, Lin HX, Sasaki T (2001) Genetic control of flowering time in rice, a short-day plant. Plant Physiol 127:1425–1429

Zhuang JY, Fan YY, Rao ZM, Wu JL, Xia YW, Zheng KL (2002) Analysis on additive effects and additive-by-additive epistatic effects of QTLs for yield traits in a recombinant inbred line population of rice. Theor Appl Genet 105:1137–1145
Acknowledgements
We thank Prof. Yasuo Ukai and Dr. Hiroshi Omori (The University of Tokyo) for their kind guidance for data analysis; Dr. Hideshi Yasui (Kyushu University) and Dr. Masahiro Yano (National Institute of Agrobiological Sciences) for their valuable suggestions on BIL development; Prof. Tadanobu Maeda (Utsunomiya University) for his kind help in field studies; Mr. Noboru Washizu, Mr. Ken-ichiro Ichikawa, Ms. Shizue Nakada and Mr. Hiroshi Kimura (The University of Tokyo) for their technical assistance in field management; and Mrs. Mitsuko Konno (The University of Tokyo) for her technical support. This work was supported by a Grant-in-Aid for Scientific Research (No.13556004 and No.15380013 to K.N.) the Ministry of Education, Science, Sports and Culture, Japan.
Additional information
Communicated by D. J. Mackill
About this article
Cite this article
Yamagishi, J., Miyamoto, N., Hirotsu, S. et al. QTLs for branching, floret formation, and pre-flowering floret abortion of rice panicle in a temperate japonica × tropical japonica cross. Theor Appl Genet 109, 1555–1561 (2004). https://doi.org/10.1007/s00122-004-1795-5
Received:

Accepted:

Published:

Issue Date:
Keywords
Simple Sequence Repeat Marker

Primary Branch

Tropical Japonica

Sink Capacity

Temperate Japonica