Zusammenfassung
Im Rahmen einer retrospektiven Datenanalyse über einen Zeitraum von 6 Jahren wurde an Hand von 814 operierten Hoden die Koinzidenz eines Maldescensus testis mit einer Morgagni-Hydatide untersucht. Dabei ergab sich eine Hydatidengesamtprävalenz bei erfolgter Hodenhülleneröffnung nicht-deszendierter Hoden von 62,66 %. Zusätzlich konnten wir eine Korrelation zwischen Patientenalter und Größenausprägung der Hydatiden feststellen. Entsprechend der Studienergebnisse kann die Vermutung geäußert werden, dass von einer Größenwachstumsdynamik der Hydatiden – am ehesten unter Hormoneinfluss – in Bezug zum Patientenalter ausgegangen werden kann.
Abstract
As part of a retrospective data analysis over a period of 6 years, the coincidence of undescended testis and hydatid of Morgagni (appendix testis) was examined on the basis of 814 operated testes. The overall prevalence of hydatids after opening of the testicular envelope of undescended testes was 62.66%. In addition, we were able to establish a correlation between patient age and the hydatid size. According to the results of the study, the size of the hydatid—with growth most likely to be influenced by hormones—can be assumed to be associated with the patient's age.
Access options
Buy single article
Instant access to the full article PDF.
US$ 39.95
Tax calculation will be finalised during checkout.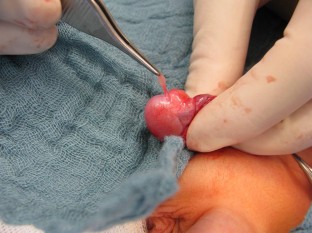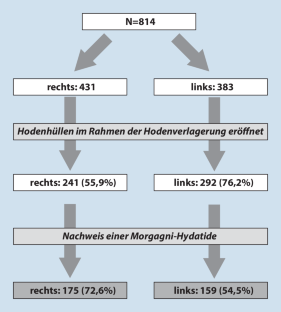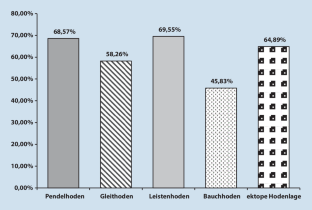 Literatur
1.

Miliaras D, Koutsoumis G, Vlahakis-Miliaras E (1995) Appendix testis and appendix epididymis—Incidental findings in inguinal hernia and cryptorchidism operations. Pediatr Surg Int 10(4):241–242

2.

Józsa T, Csízy I, Kutasy B, Cserni T, Flaskó T (2008) Decreased incidence of appendix testis in cryptorchidism with intraoperative survey. Urol Int 80(3):317–320

3.

Tostes G, Costa S, Carvalho J, Costa W, Sampaio F, Favorito L (2013) "Structural analysis of testicularappendices in patients with cryptorchidism," International Brazilian. J Urol 39(2):240–247

4.

Favorito L, Riberio H, Sampaio F (2017) Relationship between undescended testis position and prevalence of testicular appendices, epididymal anomalies, and patency of processus vaginalis. Biomed Res Int. https://doi.org/10.1155/2017/5926370

5.

Zvizdic Z, Zivkovic D, Sabanovic J, Milisic E (2018) The role of the appendix testis in normal testicular descent: is there a connection? Biomed Res Int. https://doi.org/10.1155/2018/3078031

6.

Samnakay N, Cohen R, Orford J, King P, Davies R (2003) Androgen and oestrogen receptor status of the human appendix testis. Pediatr Surg Int 19(7):520–524

7.

Klein O (1996) A longitudinal assessment of hormonal and physical alterations during normal puberty in boys II. Estrogen levels as determined by an ultrasensitive bioassay. J Clin Endocrinol Metab 81:3203–3207

8.

McAndrew H, Pemberton R, Kikiros C, Gollow (2002) The incidence and investigation of acute scrotal problems in children. Pediatr Surg Int 18(5–6):435–437

9.

Mushtaq I, Fung M, Glasson M (2003) Retrospective review of paediatric patients with acute scrotum. ANZ J Surg 73(1–2):55–58

10.

Kim J, Shin Y, Park J (2018) Clinical features of acute scrotum in childhood and adolescence: based on 17 years experiences in primary care clinic. Am J Emerg Med 36(7):1302–1303

11.

Günther P, Rübben I (2012) The acute scrotum in childhood and adolescence. Dtsch Arztbl Int 109(25):449–458

12.

Lorenz C, Becht EW, Günther P, Kabs C, Leutner A, Miller J, Rübben I, Steinborn M, Ziegenhorn K S2k-Leitlinie 006/023: Akutes Skrotum im Kindes- und Jugendalter 2015. http://www.awmf-leitlinien.de. Zugegriffen: 10.12.2020
Ethics declarations
Interessenkonflikt
D. Geiselmann und T. Meyer geben an, dass kein Interessenkonflikt besteht.
Für diesen Beitrag wurden von den Autoren keine Studien an Menschen oder Tieren durchgeführt. Für die aufgeführten Studien gelten die jeweils dort angegebenen ethischen Richtlinien.
About this article
Cite this article
Geiselmann, D., Meyer, T. Koinzidenz einer Morgagni-Hydatide mit dem Maldescensus testis: häufiger als gedacht!. Urologe (2021). https://doi.org/10.1007/s00120-021-01475-y
Schlüsselwörter
Maldescensus testis

Morgagni-Hydatide

Koinzidenz

Kinder
Keywords
Cryptorchidism

Appendix testes

Epidemiology

Children