This is a preview of subscription content, log in to check access.
Access options
Buy single article
Instant access to the full article PDF.
US$ 39.95
Price includes VAT for USA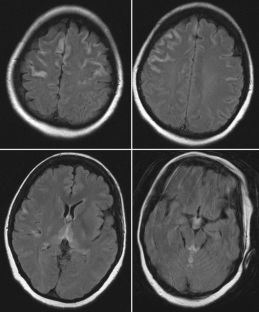 Literatur
1.

Chu K, Kang DW, Kim HJ, Lee YS, Park SH (2002) Diffusion-weighted imaging abnormalities in Wernicke encephalopathy: reversible cytotoxic edema? Arch Neurol 59(1):123–127

2.

Fei GQ, Zhong C, Jin L, Wang J, Zhang Y, Zheng X, Zhang Y, Hong Z (2008) Clinical characteristics and MR imaging features of nonalcoholic Wernicke encephalopathy. AJNR Am J Neuroradiol 29(1):164–169

3.

Fu K, Tian L, Weishuang X, Weiyu‑T (2017) Epileptic seizures as the first symptom of Wernicke's encephalopathy with cerebral cortical lesions. J Clin Neurosci 40:50–52

4.

Machado A, Ribeiro M, Soares-Fernandes J, Cerqueira J, Maré R (2010) Cortical linear lesions in Wernicke's encephalopathy: can diffusion-weighted imaging herald prognostic information? J Neuropsychiatry Clin Neurosci 22(1):123–124

5.

Manzo G, De Gennaro A, Cozzolino A, Serino A, Fenza G, Manto A (2014) MR imaging findings in alcoholic and nonalcoholic acute Wernicke's encephalopathy: a review. Biomed Res Int. https://doi.org/10.1155/2014/503596

6.

Nolli M, Barbieri A, Pinna C, Pasetto A, Nicosia F (2005) Wernicke's encephalopathy in a malnutrished surgical patient: clinical features and magnetic resonance imaging. Acta Anaesthesiol Scand 49(10):1566–1570

7.

Pereira DB, Pereira ML, Gasparetto EL (2011) Nonalcoholic Wernicke encephalopathy with extensive cortical involvement: cortical laminar necrosis and hemorrhage demonstrated with susceptibility-weighted MR phase images. AJNR Am J Neuroradiol 32(2):E37–E38

8.

Sakurai K, Sasaki S, Hara M, Yamawaki T, Shibamoto Y (2009) Wernicke's encephalopathy with cortical abnormalities: clinicoradiological features: report of 3 new cases and review of the literature. Eur Neurol 62(5):274–280

9.

Wu L, Jin D, Sun‑X, Liang L, Huang D, Dong Z, Yu S (2017) Cortical damage in Wernicke's encephalopathy with good prognosis: a report of two cases and literature review. Metab Brain Dis 32:377–384

10.

Zuccoli G, Pipitone N (2009) Neuroimaging findings in acute Wernicke's encephalopathy: review of the literature. AJR Am J Roentgenol 192(2):501–508
Ethics declarations
Interessenkonflikt
M. Friedrich, R. Herrmann und C. Klötzsch geben an, dass kein Interessenkonflikt besteht.
About this article
Cite this article
Friedrich, M., Herrmann, R. & Klötzsch, C. Verwirrtheit, Grand-mal-Serie und Laktatazidose bei 46-jähriger Frau. Nervenarzt (2020). https://doi.org/10.1007/s00115-020-00932-x