Zusammenfassung
Hintergrund
Traditionell war die Lehre im Fach Psychiatrie und Psychotherapie an der Westfälischen Wilhelms-Universität Münster mit einer hohen Anzahl an Vorlesungen auf die Vermittlung von Faktenwissen ausgerichtet. Gemäß den aktuellen Richtlinien für eine kompetenzbasierte Lehre in der Medizin wurden ab dem Wintersemester 2016/2017 entsprechende Änderungen durchgeführt und deren Umsetzung evaluiert.
Ziel der Arbeit
Im Rahmen eines Lehrprojekts wurden Vorlesungen reduziert, effektiver mit dem Praktikum verzahnt und durch die Formulierung von Lernzielen auf den Nationalen Kompetenzbasierten Lernzielkatalog Medizin (NKLM) und Entrustable Professional Activities (EPAs) fokussiert.
Material und Methoden
Die Präsenz-Vorlesungen wurden mittels E‑Learning im Sinne eines Inverted-Classroom-Konzepts multimedial aufbereitet, die theoretischen Inhalte wurden durch einen Selbsttest und ein an praktischen EPAs orientiertes Praktikum verstetigt. Die bisherige Multiple-Choice-Klausur wurde durch eine kompetenzbasierte, praktische Stationenprüfung mit Simulationspatienten ergänzt. Evaluiert wurden zwei Semesterkohorten, die je mit und ohne modernisierte Lehrform die formative Stationenprüfung durchliefen. Neben dem Leistungszuwachs auf theoretischer und praktischer Ebene wurden Einflussvariablen, wie z. B. Vorwissen und Motivation, erhoben.
Ergebnisse
Es zeigte sich eine Verbesserung der praktischen Fertigkeiten der Kohorte nach der Einführung des neuen Kurrikulums ohne eine Reduktion theoretischer Kenntnisse. Relevante Einflussvariablen ließen sich nicht eruieren.
Diskussion
Unsere Ergebnisse zeigen, dass eine kompetenzbasierte Neuausrichtung des Kurrikulums im Fach Psychiatrie und Psychotherapie zu mehr praktischen Fähigkeiten führt und so die Ausbildung zukünftiger Mediziner zu eigenverantwortlich Handelnden unterstützt.
Abstract
Background
Medical education in the discipline of psychiatry and psychotherapy at the University of Münster was traditionally focused on the transfer of knowledge via lectures. According to the current guidelines, the medical curriculum was modified as from the winter semester 2016/2017 to be more competency-based and the changes were evaluated.
Objective
Lectures and seminars were reduced to achieve a better linkage between theoretical and practical knowledge. Moreover, learning goals were formulated based on the German National Competence-based Catalogue of Learning Objectives in Medicine (NKLM) and entrustable professional activities (EPAs).
Material and methods
Almost all previous lectures are now replaced by an inverted classroom concept with e‑learning. Theoretical knowledge is deepened by immediate multiple choice (MC) examinations and a seminar, which now focusses on specific practical EPAs. At the end of the semester, the students now undergo a practical, formative examination with simulated patients (actors) in addition to the former MC test. For evaluation, a representative sample of a semester cohort which took part in the previous curriculum and a similar cohort which attended the revised curriculum were investigated. Moreover, variables which might have an impact on the results were assessed, e. g. pre-existing psychiatric knowledge and motivation.
Results
Students taught by the modified curriculum showed a significantly better practical performance and no reduction of theoretical knowledge. Relevant influencing factors were not identified.
Conclusion
The results show that a competency-based modification of the curriculum in the discipline of psychiatry and psychotherapy leads to more practical abilities and thus helps future physicians to be more self-determined.
This is a preview of subscription content, log in to check access.
Access options
Buy single article
Instant access to the full article PDF.
US$ 39.95
Tax calculation will be finalised during checkout.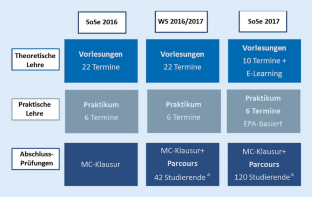 Literatur
1.

Zinski A, Blackwell KTCPW, Belue FM et al (2017) Is lecture dead? A preliminary study of medical students' evaluation of teaching methods in the preclinical curriculum. Int J Med Educ 8:326–333

2.

Bundesgesundheitsministerium (2017) Masterplan Medizinstudium 2020

3.

Boyce P, Spratt C, Davies M et al (2011) Using entrustable professional activities to guide curriculum development in psychiatry training. Bmc Med Educ 11:96-6920-11-96

4.

ten Cate O (2005) Entrustability of professional activities and competency-based training. Med Educ 39:1176–1177

5.

Vollmar HC, Mayer H, Ostermann T et al (2010) Knowledge transfer for the management of dementia: a cluster randomised trial of blended learning in general practice. Implement Sci 5:1-5908-5-1

6.

Greil W, von Stralendorff I, Mandl H (2011) Blended learning in continuing medical education. Evaluation of an innovative curriculum "bipolar and bipolar spectrum disorders". Nervenarzt 82:895–901

7.

Schäfer M, Georg W, Mühlinghaus I et al (2007) Neue Lehr- und Prufungsformen im Fach Psychiatrie. Erfahrungen mit einem reformierten Kurrikulum. Nervenarzt 78:283–293

8.

Doering S, Schneider G, Burgmer M et al (2010) Evaluation des Praktikums "Psychosomatik und Psychotherapie" mit standardisierten Patienten. Z Psychosom Med Psychother 56:385–398

9.

Ferber J, Schneider G, Havlik L et al (2014) Blended-Learning in der Psychosomatik und Psychotherapie – Erhohung der Zufriedenheit und Fachkompetenz Studierender durch Einsatz eines web-basierten E‑Learning-Tools. Z Psychosom Med Psychother 60:310–323

10.

Zhang WBM, Wing LMT, Ho CMR (2015) New paradigms for psychiatry education: an evaluation of a blended teaching and smartphone application model. Asian J Schol Teach Lern 5:164–179

11.

Weih M, Triebner S, Heckmann J et al (2008) E-Learning Demenz: Eine randomisierte Untersuchung. Fortschr Neurol Psychiatr 76:465–469

12.

Khatib HM, Ford S (1999) The virtual theory-practice gap. J Child Health Care 3:36–38

13.

Hislop S, Inglis B, Cope P et al (1996) Situating theory in practice: student views of theory-practice in Project 2000 nursing programmes. J Adv Nurs 23:171–177

14.

Schwartzstein RM, Roberts DH (2017) Saying goodbye to lectures in medical school – paradigm shift or passing fad? N Engl J Med 377:605–607

15.

Association of American Colleges (AAMC) (2018) The core Entrustable Professional activities (EPas) for entering residency

16.

El-Haddad C, Damodaran A, McNeil HP et al (2016) The ABCs of entrustable professional activities: an overview of "entrustable professional activities" in medical education. Intern Med J 46:1006–1010

17.

Hahne AK, Krause H, Pfaff H et al (2005) Lerncharakteristika, Lernstrategien und Akzeptanz computerbasierten Lernens (CBL): Konstruktion und Faktorenstruktur eines Fragebogeninstrumentes. Gms Z Med Ausbild 22:Doc14

18.

Reyes JA, Greenberg L, Amdur R et al (2016) Effect of handoff skills training for students during the medicine clerkship: a quasi-randomized study. Adv Health Sci Educ Theory Pract 21:163–173

19.

Selby C, Osman L, Davis M et al (1995) Set up and run an objective structured clinical exam. BMJ 310:1187–1190
Danksagung
Wir danken der Medizinischen Fakultät der Westfälischen Wilhelms-Universität Münster für die Unterstützung bei der Umsetzung der Lehrerneuerungen sowie den Mentoren und Kommilitonen des Studiengangs Master of Medical Education (Kohorte 12) an der Universität Heidelberg für ihre Hilfe bei der Entwicklung des Projekts. Zudem bedanken wir uns bei den Studierenden des Frederick-Sanger-Semesters und des Franziska Tiburtius-Semesters für ihr Engagement bei der Teilnahme und Evaluation unserer Lehränderungen.
Funding
Das Projekt wurde aus Qualitätsverbesserungsmitteln des Landes Nordrhein-Westfalen finanziert (QV 1135 an K. Koelkebeck und P. Ohrmann).
Ethics declarations
Interessenkonflikt
K. Koelkebeck, B. Brouwer, H. Ahrens, J.-C. Becker, M. Weih, B. Marschall, V. Arolt und P. Ohrmann geben an, dass kein Interessenkonflikt besteht.
Alle Studierenden wurden vor ihrer Teilnahme mündlich und schriftlich über die geplante Untersuchung aufgeklärt und gaben ihr schriftliches Einverständnis. Die Untersuchung wurde von der Ethikkommission der Ärztekammer Westfalen-Lippe und der Westfälischen Wilhelms-Universität Münster (2016-672‑f‑S) konsentiert.
About this article
Cite this article
Koelkebeck, K., Brouwer, B., Ahrens, H. et al. Einführung und Evaluation eines neuen Kurrikulums Psychiatrie und Psychotherapie. Nervenarzt 90, 1170–1176 (2019). https://doi.org/10.1007/s00115-019-0677-7
Schlüsselwörter
Lehre

Blended Learning

Lernspirale

E‑Learning

Moderatoren
Keywords
Medical education

Blended learning

Practice-based learning

E‑learning

Moderating factors