Zusammenfassung
Hintergrund
Der Masterplan Medizinstudium 2020 (MM2020) sieht eine Neu- und Umstrukturierung des Medizinstudiums vor. Die Prüfung soll zentrales Steuerungselement sein und Prüfungsformate elektronisch unterstützt erweitert werden.
Fragestellung
Erstmalig sollte die Darstellung psychopathologischer Phänomene durch SchauspielerInnen in Videos als Bestandteil psychiatrischer Prüfungsfragen in eine elektronisch unterstützte Prüfung (E-Prüfung) implementiert und somit Forderungen des MM2020 Rechnung getragen werden.
Methoden
Es wurden 4 Multiple-Choice (MC)-Fragen zu Videokurzsequenzen mit der Darstellung verschiedener psychopathologischer Phänomene formuliert und Medizinstudierenden im Rahmen einer E‑Prüfung präsentiert. Die MC-Fragen wurden hinsichtlich ihrer Testgütekriterien evaluiert sowie die Studierenden anschließend bezüglich ihrer Bewertung des Inhaltes und Formates der Videofragen mittels eines Fragebogens befragt.
Ergebnisse
Die Videofragen konnten den Studierenden direkt im Anschluss an die reguläre E‑Psychiatrieklausur präsentiert werden. Sechzig von 69 Studierenden nahmen an der Studie teil. Die MC-Videofragen trafen auf eine sehr hohe Akzeptanz und positive Bewertung bei den Studierenden. Bezüglich der Testgütekriterien zeigte sich eine heterogene Qualität der MC-Fragen.
Diskussion
Aufgrund ihrer vielseitigen Einsetzbarkeit und hohen Effizienz werden MC-Fragen in medizinischen Prüfungen weiterhin eine bedeutende Rolle spielen. Hier konnte dargestellt werden, dass entsprechend der Forderungen des MM2020 Wissensinhalte mithilfe von Videodarstellungen praxisnah und kompetenzorientiert in einer E‑Prüfung abgefragt werden können. Ein breiterer Einsatz von Videodarstellungen könnte zukünftig elektronisch unterstützte Prüfungsformate im Fach Psychiatrie erweitern.
Abstract
Background
The master plan for medical studies 2020 (MM2020) aims at a restructuring of medical education. The examinations should represent the key element of the evaluation and electronically supported examination methods will be expanded.
Objective
Videos of actors displaying psychopathological phenomena were implemented into examination questions for the first time through the use of an electronically supported examination (e-examination) and therefore in accordance with the aims of MM2020.
Methods
A total of four multiple choice (MC) questions referencing short video representations of different psychopathological phenomena were formulated and shown to medical students within an e‑examination. The MC questions were evaluated with respect to scientific quality criteria and the medical students were asked to fill in a questionnaire regarding their evaluation of the content and format of the MC questions after participating in the examination.
Results
The MC video questions were presented to the students directly following the regular e‑examination of the teaching module in psychiatry. Out of 69 students 60 participated in the study. The MC video questions had a high level of acceptance and positive evaluation by the students. With respect to the scientific quality criteria, the MC questions showed heterogeneous results.
Conclusion
Due to the versatile applicability and high efficiency, MC questions will continue to play an important role in medical examinations. In accordance with the aims of MM2020, it could be shown that psychiatric knowledge can be examined in a competence-oriented manner and with a practical orientation by means of video presentations in an e‑examination. A broader application of video presentations could complement electronically supported examinations in the discipline of psychiatry.
Access options
Buy single article
Instant access to the full article PDF.
US$ 39.95
Tax calculation will be finalised during checkout.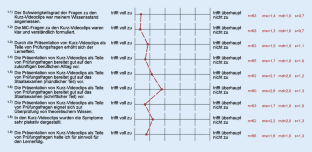 Literatur
1.

Brauns K, Schubert S (2008) Qualitätssicherung von Multiple-Choice-Prüfungen. In: Dany S, Szczyrba B, Wildt J (Hrsg) Prüfungen auf die Agenda! Hochschuldidaktische Perspektiven auf Reformen im Prüfungswesen. wbv, Bielefeld, S 92–102

2.

Kern DE, Thomas PA, Howard DM et al (1998) Curriculum development for medical education. A six-step-approach. John Hopkins University Press, Baltimore

3.

Miller GE (1990) The assessment of clinical skills/competence/performance. Acad Med 65(Suppl 9):63–67

4.

Möltner A, Schellberg D, Jünger J (2006) Grundlegende quantitative Analysen medizinischer Prüfungen. GMS Z Med Ausbild 23(3):Doc53

5.

Raupach T et al (2013) Summative assessments are more powerful drivers of student learning than resource intensive teaching. BMC Med 11:61

6.

Wass V, Van der Vleuten C, Shatzer J et al (2001) Assessment of clinical competence. Lancet 357(9260):945–949

7.

Bundesministerium für Bildung und Forschung (2018) Masterplan Medizinstudium 2020. https://www.bmbf.de/de/masterplan-medizinstudium-2020-4024.html. Zugegriffen: 9. Dez. 2018

8.

Electric Paper Evaluationssysteme (2019) Webpäsenz. https://www.evasys.de/startseite.html. Zugegriffen: 11. Febr. 2019

9.

Krebs R (2004) Anleitung zur Herstellung von MC-Fragen und MC-Prüfungen für die ärztliche Ausbildung. https://www.iml.unibe.ch/attachment/7/download/mc_anleitung.pdf. Zugegriffen: 21. Febr. 2019

10.

UCAN (2014) Webpräsenz. https://www.ucan-assess.org/cms/de/. Zugegriffen: 11. März 2019
Danksagung
Wir danken dem Studiendekanat und der Lehr-IT der Universitätsmedizin Göttingen für die Unterstützung bei der Durchführung der Studie sowie den teilnehmenden Studierenden für ihre Teilnahme und Evaluation des Projektes.
Funding
Der Lehrvideodreh wurde unterstützt durch Fördermittel des Studiendekanats der Universitätsmedizin Göttingen aus Studienqualitätsmitteln zum Zwecke der Sicherung und Verbesserung der Qualität von Studium und Lehre (an J. Signerski-Krieger).
Ethics declarations
Interessenkonflikt
S. Trost, J. Dieterle, M. Herrmann und J. Signerski-Krieger geben an, dass kein Interessenkonflikt besteht. J. Signerski-Krieger hatte Fördermittel des Studiendekanats der Universitätsmedizin Göttingen aus Studienqualitätsmitteln zum Zwecke der Sicherung und Verbesserung der Qualität von Studium und Lehre erhalten.
Patientenrechte und Tierschutzbestimmungen. Die vorliegende Pilotstudie wurde mit Zustimmung der zuständigen Ethikkommission durchgeführt. Von allen beteiligten Probanden liegt eine Einverständniserklärung vor. Die in den Videos dargestellten SchauspielerInnen haben einer Veröffentlichung der Videoausschnitte zugestimmt. Die Rechte zur Veröffentlichung von Ton und Bild liegen bei Dr. Jörg Signerski-Krieger. Dieser Beitrag beinhaltet keine Studien an Tieren.
Caption Electronic Supplementary Material
Videosequenzen zu MC‑Fragen. Videofrage 1: Videoausschnitt einer psychiatrischen Exploration (Patientendarstellung durch SchauspielerIn)
Videofrage 2: Videoausschnitt einer psychiatrischen Exploration (Patientendarstellung durch SchauspielerIn)
Videofrage 3: Videoausschnitt einer psychiatrischen Exploration (Patientendarstellung durch SchauspielerIn)
Videofrage 4: Videoausschnitt einer psychiatrischen Exploration (Patientendarstellung durch SchauspielerIn)
About this article
Cite this article
Trost, S., Dieterle, J., Herrmann, M. et al. Videodarstellungen in psychiatrischen Prüfungsfragen. Nervenarzt 91, 635–641 (2020). https://doi.org/10.1007/s00115-019-00794-y
Schlüsselwörter
E‑Prüfung

Videofragen

Multiple-Choice-Fragen

Psychopathologie

Masterplan Medizinstudium 2020
Keywords
E‑examination

Video presentation

Multiple choice questions

Psychopathology

Master plan medical studies 2020