Zusammenfassung
Geschlossene und offene Verletzungen des Streckapparats über dem proximalen Interphalangeal(PIP)-Gelenk können Mittel‑, Seitenzügel oder beide betreffen. Sie werden formal als Verletzungen in Zone III klassifiziert. Alle offenen Verletzungen auf der Streckseite des PIP-Gelenks sollten eine Verletzung der Strecksehnen vermuten lassen, die häufig übersehen wird. Die operative Strategie besteht in der Wundrevision und der Strecksehnennaht oder Refixation des Mittelzügels. Akute geschlossene Verletzungen des Mittelzügels lassen sich klinisch diagnostizieren (Elson-Test). Unverschobene Avulsionen des Mittelzügelansatzes oder Lazerationen werden nichtoperativ durch Schienung behandelt. Bei dislozierten Avulsionsfragmenten und komplexen Verletzungen ist die Behandlung operativ. Bei übersehenen Verletzungen entwickelt sich innerhalb von einer bis 2 Wochen eine typische (Knopfloch‑/Boutonniere‑)Deformität mit einem charakteristischen Streckdefizit im PIP-Gelenk und einer Hyperextension im distalen Interphalangealgelenk. In frühen Fällen, wenn die passive Streckung noch komplett ist (mobile Knopflochdeformität), kann der Mittelzügel unverzüglich rekonstruiert werden. Bei fixierten Deformitäten muss die vollständige Streckung im PIP-Gelenk präoperativ durch handtherapeutische Maßnahmen oder eine Arthrolyse wiederhergestellt werde. Je nach Verletzungsmuster und daraus resultierenden Defekten hat sich eine Reihe von Rekonstruktionstechniken etabliert, die im Folgenden zusammengefasst werden. Die funktionellen Ergebnisse können durch Sehnenverklebung, Dysbalancen im rekonstruierten Strecksehnenapparat und steife Gelenke, die sämtlich die Beweglichkeit einschränken können, begrenzt sein. Optimale Resultate erfordern unbedingt aktive Nachbehandlungsverfahren.
Abstract
Closed and open injuries of the extensor mechanism at the proximal interphalangeal (PIP) joint can involve the central slip, the lateral slips or both. They are classified as zone III injuries. All open injuries on the dorsal side of the PIP joint should raise suspicion of an extensor tendon injury that is frequently overlooked. The operative strategy consists of wound revision with extensor tendon suture or refixation of the central slip. Acute closed central slip injuries are clinically diagnosed (Elson test) after ruling out bony injuries to the joint. Nondisplaced avulsions of the central slip insertion or lacerations can be treated nonoperatively by splinting. For displaced avulsions and complex injuries the treatment is surgical. In overlooked injuries a typical deformity (buttonhole/Boutonnière deformity) develops within 1–2 weeks that is characterized by an extension lag of the PIP joint and hyperextension at the distal interphalangeal joint. In early cases, when passive extension is still complete (mobile buttonhole deformity) the central slip can be immediately reconstructed. In fixed deformities complete passive extension of the PIP joint has to be restored before surgery by hand therapeutic measures or PIP joint release. Depending on the pattern of the injury and the resulting defects, a number of reconstructive techniques have been established that are summarized in this article. The functional results can be limited by tendon adhesions, imbalance within the reconstructed extensor apparatus and stiff joints that can all restrict the range of motion. Therefore, active rehabilitation protocols are mandatory for optimal results.
Access options
Buy single article
Instant access to the full article PDF.
US$ 39.95
Tax calculation will be finalised during checkout.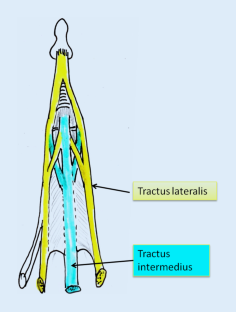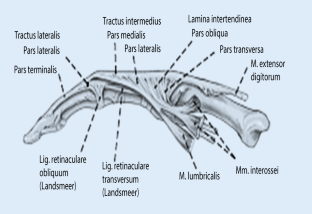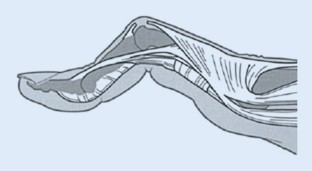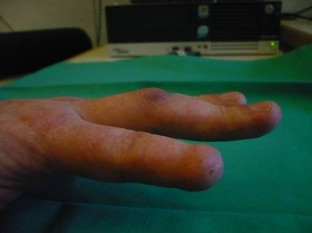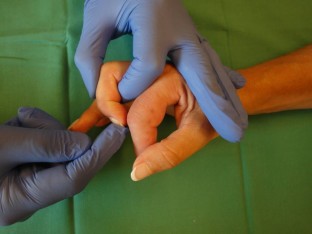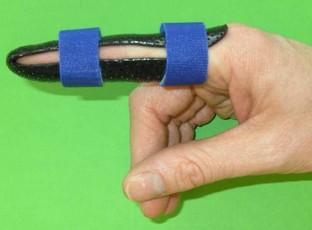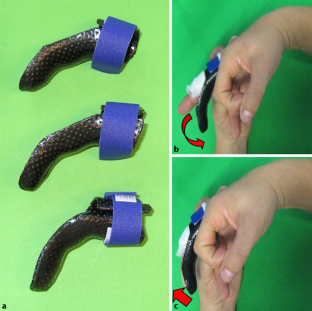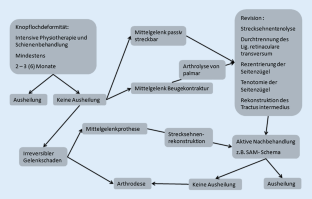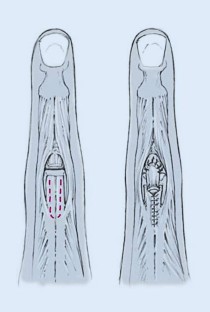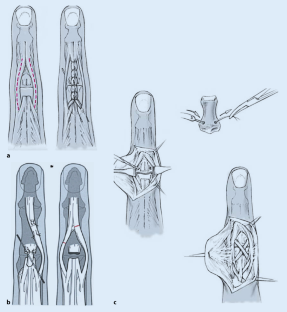 Literatur
1.

Schmidt H‑M, Lanz U (2003) Chirurgische Anatomie der Hand. Thieme, Stuttgart New York

2.

Towfigh H, Gruber P (2005) Tractus-intermedius-Durchtrennung über dem Fingermittelgelenk (sog. Knopflochdeformität). Operat Orthop Traumatol 17:66–78

3.

Newport ML (2004) Early repair of extensor tendon injuries. In: Berger RA, Weiss AP (Hrsg) Handsurgery. Lippincott, Williams & Wilkins, Philadelphia, S 737–752

4.

Vahey JW, Wegner DA, Hastings H 3rd (1998) Effect of proximal phalangeal fracture deformity on extensor tendon function. J Hand Surg Am 23:673–681

5.

Dagum AB, Mahoney JL (1994) Effect of wrist position on extensor mechanism after disruption separation. J Hand Surg Am 19:584–589

6.

Grau L, Baydoun H, Chen K et al (2018) Biomechanics of the acute boutonniere deformity. J Hand Surg Am 43:80e81–80e86

7.

Towfigh H (2001) Sehnenchirurgie. In: Schmit-Neuerburg KP, Towfigh H, Letsch R (Hrsg) Hand. Tscherne Unfallchirurgie, Bd. 7/2. Springer, Berlin, S 620–645

8.

Burton RI, Melchior JA (1988) Extensor tendons: late reconstruction. In: Green D, al (Hrsg) Greens operative hand surgery. Churchill Livingston, New York, S 2073–2116

9.

Spinner M, Choi BY (1970) Anterior dislocation of the proximal interphalangeal joint. A cause of rupture of the central slip of the extensor mechanism. J Bone Joint Surg Am 52:1329–1336

10.

Hauck T, Muller-Seubert W, Horch RE (2017) Palmare Luxation im proximalen Interphalangealgelenk und traumatische Knopflochdeformität. Unfallchirurg 120:873–884

11.

Carty MJ, Blazar PE (2013) Complex flexor and extensor tendon injuries. Hand Clin 29:283–293

12.

Pratt AL, Burr N, Grobbelaar AO (2002) A prospective review of open central slip laceration repair and rehabilitation. J Hand Surg Br 27:530–534

13.

Cluett J, Milne AD, Yang D, Morris SF (1999) Repair of central slip avulsions using Mitek Micro Arc bone anchors. An in vitro biomechanical assessment. J Hand Surg Br 24:679–682

14.

Chan JC, Purcell EM, Kelly JL (2007) Surgical repair of central slip avulsion injuries with Mitek bone anchor—retrospective analysis of a case series. Hand Surg 12:29–34

15.

Elson RA (1986) Rupture of the central slip of the extensor hood of the finger. A test for early diagnosis. J Bone Joint Surg Br 68:229–231

16.

Lin JD, Strauch RJ (2014) Closed soft tissue extensor mechanism injuries (mallet, boutonniere, and sagittal band). J Hand Surg Am 39:1005–1011

17.

Rubin J, Bozentka DJ, Bora FW (1996) Diagnosis of closed central slip injuries. A cadaveric analysis of non-invasive tests. J Hand Surg Br 21:614–616

18.

Dingle L, Field M, Rodrigues JN (2018) Systematic review of examination techniques for the central slip of the digital extensor tendon mechanism. J Hand Surg Eur 43:333–335

19.

Westerheide E, Failla JM, van Holsbeeck M, Ceulemans R (2003) Ultrasound visualization of central slip injuries of the finger extensor mechanism. J Hand Surg Am 28:1009–1013

20.

Rappold G, Mondl A (1997) Frische Verletzungen des Tractus intermedius der Streckaponeurose. Diagnostik, Einteilung und Therapie. Handchir Mikrochir Plast Chir 29:42–49

21.

Evans RB (1994) Early active short arc motion for the repaired central slip. J Hand Surg Am 19:991–997

22.

Kalb K, Prommersberger KJ (2008) Erfahrungen mit dem Short Arc Motion (SAM)-Schema in der Nachbehandlung isolierter Strecksehnenverletzungen der Zonen E und F nach Wilhelm. Handchir Mikrochir Plast Chir 40:165–168

23.

Clancy SP, Mass DP (2013) Current flexor and extensor tendon motion regimens: a summary. Hand Clin 29:295–309

24.

Meyer ZI, Goldfarb CA, Calfee RP, Wall LB (2017) The central slip fracture: results of operative treatment of volar fracture subluxations/dislocations of the proximal interphalangeal joint. J Hand Surg Am 42:572.e1–572.e6

25.

Curtis RM, Reid RL, Provost JM (1983) A staged technique for the repair of the traumatic boutonniere deformity. J Hand Surg Am 8:167–171

26.

Geldmacher J, Köckerling F (1992) Sehnenchirurgie. Urban & Schwarzenberg, München, Wien, Baltimore, S 194–195

27.

Snow JW (1976) A method for reconstruction of the central slip of the extensor tendon of a finger. Plast Reconstr Surg 57:455–459

28.

Hellmann K (1965) Die Wiederherstellung der Strecksehnen im Bereich der Fingermittelgelenke. Langenbecks Arch Klin Chir Ver Dtsch Z Chir 309:36–38

29.

Matev I, Stoycheva Y (1969) Lesions of finger aponeurosis at the level of the distal interphalangeal joint. Acta Chir Plast 11:320–327

30.

Littler JW, Eaton RG (1967) Redistribution of forces in the correction of Boutonniere deformity. J Bone Joint Surg Am 49:1267–1274

31.

Duzgun S, Duran A, Keskin E, Yigit AK, Buyukdogan H (2017) Chronic boutonniere deformity: cross-lateral band technique using palmaris longus autograft. J Hand Surg Am 42:661.e1–661.e5

32.

Ahmad F, Pickford M (2009) Reconstruction of the extensor central slip using a distally based flexor digitorum superficialis slip. J Hand Surg Am 34:930–932

33.

Dy CJ, Rosenblatt L, Lee SK (2013) Current methods and biomechanics of extensor tendon repairs. Hand Clin 29:261–268

34.

Le Bellec Y, Loy S, Touam C, Alnot JY, Masmejean E (2001) Surgical treatment for boutonniere deformity of the fingers. Retrospective study of 47 patients. Chir Main 20:362–367

35.

To P, Watson JT (2011) Boutonniere deformity. J Hand Surg Am 36:139–142
Ethics declarations
Interessenkonflikt
T. Pillukat, J. Windolf, M. Schädel-Höpfner, R. A. Fuhrmann und J. van Schoonhoven geben an, dass kein Interessenkonflikt besteht.
Für diesen Beitrag wurden von den Autoren keine Studien an Menschen oder Tieren durchgeführt. Für die aufgeführten Studien gelten die jeweils dort angegebenen ethischen Richtlinien.
Additional information
Prof. Dr. med. Ulrich Lanz zum 80. Geburtstag gewidmet.
Redaktion
M. Schädel-Höpfner, Neuss
About this article
Cite this article
Pillukat, T., Windolf, J., Schädel-Höpfner, M. et al. Strecksehnenverletzungen in Höhe des Mittelgelenks. Unfallchirurg (2021). https://doi.org/10.1007/s00113-021-00984-x
Schlüsselwörter
Fingergelenk

Biomechanik

Knopflochdeformität

Nahttechniken

Rekonstruktive Chirurgie
Keywords
Finger joint

Biomechanics

Boutonniere deformity

Suture techniques

Reconstructive surgery