Zusammenfassung
Die laterale Tibiavorderkante mit dem Tuberculum anterius tibiae (Tubercule de Tillaux-Chaput) dient als Ansatz für das Lig. tibiofibulare anterius. Sie kann auch als Malleolus anterior oder vierter Knöchel bezeichnet werden. Frakturen der lateralen Tibiavorderkante entstehen mehrheitlich durch einen Außenrotations- oder Abduktionsmechanismus im oberen Sprunggelenk. Sie werden in Röntgenaufnahmen häufig übersehen. Zur genauen Darstellung der Frakturanatomie und Therapieplanung ist eine CT erforderlich. Es können 3 prinzipielle Typen unterschieden werden: (1) extraartikuläre Avulsionen des vorderen Syndesmosenbandes, (2) Frakturen der anterolateralen distalen Tibia mit Beteiligung von Gelenk und/oder Tibiainzisur, (3) Impaktionsfrakturen des anterolateralen Tibiaplafonds. Die Osteosynthese dislozierter Frakturen der lateralen Tibiavorderkante dient der knöchernen Stabilisierung der vorderen Syndesmose, der Wiederherstellung der Incisura tibiae für die distale Fibula und Gelenkfläche. Dislozierte extraartikuläre Avulsionsfrakturen (Typ 1) werden mithilfe eines Nahtankers oder einer transossären Naht refixiert. Bei größeren Fragmenten mit Beteiligung der Gelenkfläche und Inzisur (Typ 2) erfolgt vorzugsweise eine Schraubenosteosynthese. Impressionsfrakturen des anterolateralen Tibiaplafonds (Typ 3) erfordern die Anhebung mit Wiederherstellung der Gelenkfläche, ggf. eine Spongiosaplastik und eine anteriore Plattenosteosnythese. Es existieren nur wenige Daten über die Behandlungsergebnisse von Tibiavorderkantenfrakturen bei Erwachsenen. Bei konservativer Therapie dislozierter Fragmente werden Pseudarthrosen und revisionspflichtige Fehlstellungen mit Inkongruenz der Knöchelgabel beschrieben. Nach Impaktionsverletzungen (Typ 3) können sekundäre avaskuläre Nekrosen des anterolateralen Tibiaplafonds entstehen.
Abstract
The anterolateral tibial rim with the anterior tibial tubercle (Tubercule de Tillaux-Chaput) serves as an insertion site of the anterior inferior tibiofibular ligament (AITFL). It can also be termed the anterior malleolus or fourth malleolus. Fractures of the anterolateral tibial rim typically result from an external rotation or abduction mechanism of the talus within the ankle mortise. They are frequently overlooked in plain radiographs. Computed tomography (CT) is needed for an exact visualization of the fracture anatomy and treatment planning. A total of three main types can be differentiated: (1) extra-articular avulsion fracture of the AITFL, (2) fracture of the anterolateral distal tibia with involvement of the joint and tibial incisura and (3) impaction fracture of the anterolateral tibial plafond. Surgical fixation of displaced anterolateral distal tibial fractures aims at bone-to-bone stabilization of the anterior syndesmosis, restoration of the tibial incisura for the distal fibula and joint surface. Displaced extra-articular avulsion fractures (type 1) are fixed with a suture anchor or transosseal suture. Larger fragments involving the tibial incisura and plafond (type 2) are mostly fixed with screws. Impression fractures of the anterolateral tibial plafond (type 3) necessitate elevation with restoration of the joint surface, bone grafting of the impaction zone as needed and anterior buttress plating. Only a few studies have reported the treatment results of anterolateral tibial rim fractures in adults. Conservative treatment of dislocated fragments reportedly leads to non-union and malposition of the distal fibula with incongruence of the ankle mortise requiring revision. Impaction fractures (type 3) can lead to secondary avascular necrosis of the anterolateral tibial plafond.
Access options
Buy single article
Instant access to the full article PDF.
US$ 39.95
Tax calculation will be finalised during checkout.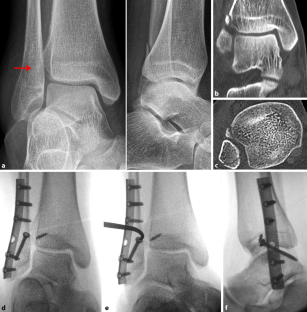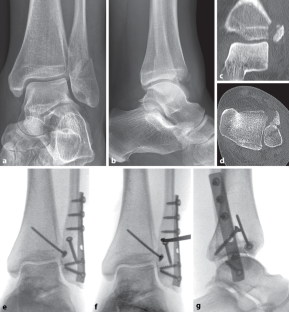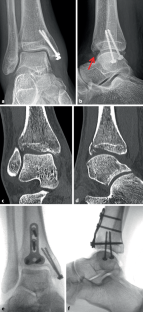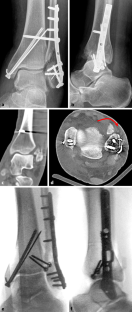 Literatur
1.

Al-Ashhab AME, Mahmoud MAA (2020) Treatment for displaced Tillaux fractures in adolescent age group. Foot Ankle Surg 26(3):295–298

2.

Andersen MR, Diep LM, Frihagen F, Castberg Hellund J, Madsen JE, Figved W (2019) Importance of syndesmotic reduction on clinical outcome after syndesmosis injuries. J Orthop Trauma 33(8):397–403

3.

Assal M, Sangeorzan B, Hansen ST (2007) Post traumatic osteonecrosis of the lateral tibial plafond. Foot Ankle Surg 13(1):24–29

4.

Bartoníček J (2003) Anatomy of the tibiofibular syndesmosis and its clinical relevance. Surg Radiol Anat 25(5-6):379–386

5.

Bartoníček J, Mittlmeier T, Rammelt S (2012) Anatomie, Biomechanik und Pathomechanik des Pilon tibiale. FussSprungg 10:3–11

6.

Bartoníček J, Rammelt S, Kostlivý K, Klika D, Trešl I (2015) Anatomy and classification of the posterior tibial fragment in ankle fractures. Arch Orthop Trauma Surg 135:505–516

7.

Baumbach SF, Herterich V, Damblemont A, Hieber F, Bocker W, Polzer H (2019) Open reduction and internal fixation of the posterior malleolus fragment frequently restores syndesmotic stability. Injury 50(2):564–570

8.

Birnie MFN, van Schilt KLJ, Sanders FRK, Kloen P, Schepers T (2019) Anterior inferior tibiofibular ligament avulsion fractures in operatively treated ankle fractures: a retrospective analysis. Arch Orthop Trauma Surg 139(6):787–793

9.

Blanke F, Loew S, Ferrat P, Valderrabano V, Ochsner PE, Majewski M (2014) Osteonecrosis of distal tibia in open dislocation fractures of the ankle. Injury 45(10):1659–1663

10.

Chaput V (1907) Les fractures malleolaires du cou-de-pieds et les accidents du travail. Masson & Cie, Paris

11.

Chohan MBY, Del Balso C, Ching M, Schmitsch E, Lawendy AR, Sanders DW (2020) Impaction fractures of the anterior tibial plafond. Ota Int 3:e76. https://doi.org/10.1097/OI9.0000000000000076

12.

Clanton TO, Williams BT, Backus JD, Dornan GJ, Liechti DJ, Whitlow SR, Saroki AJ, Turnbull TL, LaPrade RF (2017) Biomechanical analysis of the individual ligament contributions to syndesmotic stability. Foot Ankle Int 38(1):66–67

13.

Crawford AH (2012) Triplane and Tillaux fractures: is a 2 mm residual gap acceptable? J Pediatr Orthop 32(Suppl 1):S69–S73

14.

Ertl JP, Barrack RL, Alexander AH, VanBuecken K (1988) Triplane fracture of the distal tibial epiphysis. Long-term follow-up. J Bone Joint Surg Am 70(7):967–976

15.

Feng SM, Sun QQ, Wang AG, Li CK (2018) "All-inside" Arthroscopic treatment of Tillaux-Chaput fractures: clinical experience and outcomes analysis. J Foot Ankle Surg 57(1):56–59

16.

Haapamaki VV, Kiuru MJ, Koskinen SK (2004) Ankle and foot injuries: analysis of MDCT findings. AJR Am J Roentgenol 183(3):615–622

17.

Haller J, Githens M, Rothberg D, Higgins T, Barei D, Nork S (2019) Syndesmosis and syndesmotic equivalent injuries in tibial plafond fractures. J Orthop Trauma 33(3):e74–e78

18.

Haraguchi N, Toga H, Shiba N, Kato F (2007) Avulsion fracture of the lateral ankle ligament complex in severe inversion injury: incidence and clinical outcome. Am J Sports Med 35(7):1144–1152

19.

Heim U (1983) Malleolarfrakturen. Unfallheilkunde 86:248–258

20.

Heim U, Näser M (1976) Die operative Behandlung der Pilon tibial-Fraktur. Technik der Osteosynthese und Resultate bei 128 Patienten. Arch Orthop Unfallchir 86(3):341–356

21.

Höcker K, Pachucki A (1989) Die Incisura fibularis tibiae. Die Stellung der Fibula in der distalen Syndesmose am Querschnitt. Unfallchirurg 92:401–406

22.

Hönigschmied J (1877) Leichenexperimente über die Zerreißung der Bänder am Sprunggelenk mit Rücksicht auf die Entstehung der indirekten Knöchelfrakturen. Dtsch Z Chir 8:239–260

23.

Jaffe D, Vier D, Royer C (2019) Unipolar allograft reconstruction for post-traumatic avascular necrosis of the distal tibia: a review of the literature, technique, and case series. Foot Ankle Surg 25(4):425–433

24.

Kamin K, Notov D, Kleber C, Al-Sadi O, Rammelt S (2020) Versorgung der Sprunggelenkfraktur. Standards, Tipps und Fallstricke. Unfallchirurg 123:43–56

25.

Kaya A, Altay T, Ozturk H, Karapinar L (2007) Open reduction and internal fixation in displaced juvenile Tillaux fractures. Injury 38(2):201–205

26.

Klammer G, Kadakia AR, Joos DA, Seybold JD, Espinosa N (2013) Posterior pilon fractures: a retrospective case series and proposed classification system. Foot Ankle Int 34(2):189–199

27.

Kleiger B, Mankin HJ (1964) Fracture of the lateral portion of the distal tibial epiphysis. J Bone Joint Surg Am 46:25–32

28.

Kumar N, Prasad M (2014) Tillaux fracture of the ankle in an adult: a rare injury. J Foot Ankle Surg 53:757–758

29.

Kumar A, Mishra P, Tandon A, Arora R, Chadha M (2018) Effect of CT on management plan in malleolar ankle fractures. Foot Ankle Int 39(1):59–66

30.

Kose O, Yuksel HY, Guler F, Ege T (2016) Isolated adult Tillaux fracture associated with Volkmann fracture—a unique combination of injuries: report of two cases and review of the literature. J Foot Ankle Surg 55(5):1057–1062

31.

Lauge-Hansen N (1949) "Ligamentous" ankle fractures. Diagnosis and treatment. Acta Chir Scand 97:544

32.

Lauge-Hansen N (1950) Fractures of the ankle II: combined experimental/surgical and experimental roentgenologic investigation. Arch Surg 60:957–985

33.

von Laer L (1985) Classification, diagnosis, and treatment of transitional fractures of the distal part of the tibia. J Bone Joint Surg Am 67(5):687–698

34.

Lees D, Rankin KS, Marriott A, Murty AN (2013) Floppy lateral position: technique tip. Foot Ankle Int 34(10):1460–1463

35.

LeFort L (1886) Note sur une variete non-decrite de fracture verticale de la malleole externe par arrachement. Bull Gen Ther 110:193–199

36.

Lilyquist M, Shaw A, Latz K, Bogener J, Wentz B (2016) Cadaveric analysis of the distal tibiofibular syndesmosis. Foot Ankle Int 37(8):882–890

37.

Lurie B, Van Rysselberghe N, Pennock AT, Upasani VV (2020) Functional outcomes of Tillaux and triplane fractures with 2 to 5 millimeters of intra-articular gap. J Bone Joint Surg Am 102(8):679–686

38.

Marx C, Schaser KD, Rammelt S (2020) Early corrections after failed ankle fracture fixation. Z Orthop Unfallchir. https://doi.org/10.1055/a-1079-6476

39.

McGoldrick NP, Murphy EP, Kearns SR (2016) Single oblique incision for simultaneous open reduction and internal fixation of the posterior malleolus and anterior syndesmosis. J Foot Ankle Surg 55(3):664–667

40.

Miller MD (1997) Arthroscopically assisted reduction and fixation of an adult Tillaux fracture of the ankle. Arthroscopy 13:117–119

41.

Miller AN, Carroll EA, Parker RJ, Helfet DL, Lorich DG (2010) Posterior malleolar stabilization of syndesmotic injuries is equivalent to screw fixation. Clin Orthop Relat Res 468(4):1129–1135

42.

Miller MA, McDonald TC, Graves ML, Spitler CA, Russell GV, Jones LC, Replogle W, Wise JA, Hydrick J, Bergin PF (2018) Stability of the syndesmosis after posterior Malleolar fracture fixation. Foot Ankle Int 39(1):99–104

43.

Ogilvie-Harris DJ, Reed SC, Hedman TP (1994) Disruption of the ankle syndesmosis: biomechanical study of the ligamentous restraints. Arthroscopy 10(5):558–560

44.

Park JW, Kim SK, Hong JS, Park JH (2002) Anterior tibiofibular ligament avulsion fracture in weber type B lateral malleolar fracture. J Trauma 52(4):655–659

45.

Parikh SN, Denning JR (2020) Fractures and dislocations of the foot and ankle. In: Mencio GA, Frick SL (Hrsg) Green's skeletal trauma in children. Elsevier Saunders, Philadelphia

46.

Rammelt S, Bartoníček J (2020) Posterior malleolar fractures. A critical analysis review. JBJS Rev 8(8):e19.00207. https://doi.org/10.2106/JBJS.RVW.19.00207

47.

Rammelt S, Boszczyk A (2018) Computed tomography in the diagnosis and treatment of ankle fractures. JBJS Rev 6(12):e7. https://doi.org/10.2106/JBJS.RVW.17.00209

48.

Rammelt S, Zwipp H, Mittlmeier T (2013) Therapie der Sprunggelenks-Luxationsfrakturen vom Pronationstyp. Oper Orthop Traumatol 25(3):273–291

49.

Rammelt S, Bartoníček J, Kroker L, Neumann AP (2020) Surgical fixation of quadrimalleolar fractures of the ankle. J Orthop Trauma. https://doi.org/10.1097/BOT.0000000000001915

50.

Rammelt S, Bartoníček J, Schepers T, Kroker L (2021) Fixation of anterolateral distal tibial fractures: the anterior malleolus. Operat Orthop Traumatol 14: accepted Nov 13, 2020 (OOTR-D-20-00059R1)

51.

Rammelt S, Swords M, Dhillon M, Sands A (Hrsg) (2020) Manual of fracture management. Foot and ankle. Thieme, AO Foundation, Stuttgart, New York

52.

Rasmussen O, Tovborg-Jensen I, Boe S (1982) Distal tibiofibular ligaments. Analysis of function. Acta Orthop Scand 53(4):681–686

53.

Salter RB, Harris WR (1963) Injuries involving the epiphyseal plate. J Bone Joint Surg 45(3):587–622

54.

Sarsam IM, Hughes SP (1988) The role of the anterior tibio-fibular ligament in talar rotation: an anatomical study. Injury 19(2):62–64

55.

Sharma B, Reddy IS, Meanock C (2013) The adult Tillaux fracture: one not to miss. BMJ Case Rep. https://doi.org/10.1136/bcr-2013-200105

56.

Tillaux P (1872) Recherches cliniques et experimentales sur les fractures malleolaires. Rapport par Gosselin. Bull Acad Med 21:817–826

57.

Tornetta P 3rd, Yakavonis M, Veltre D, Shah A (2019) Reducing the syndesmosis under direct vision: where should I look? J Orthop Trauma 33(9):450–454

58.

Valach J (1964) Kvadrimaleolárna zlomenina predkolenia. Rozhl Chir 43:747–749

59.

Van Laarhoven CJ, Oostvogel HJ, van der Werken C (1996) Gedifferentieerd protocol voor de conservatieve/chirurgische behandling van enkelfracturen bij volwassenen. Ned Tijdschr Geneeskd 140(47):2342–2349

60.

Wagstaffe WW (1875) An unusual form of fracture of the fibula. St Thomas Hosp Rep 6:43–45

61.

Weber BG (1966) Verletzungen des oberen Sprunggelenkes. Huber, Bern, Stuttgart

62.

Williams BT, Ahrberg AB, Goldsmith MT, Campbell KJ, Shirley L, Wijdicks CA, LaPrade RF, Clanton TO (2015) Ankle syndesmosis: a qualitative and quantitative anatomic analysis. Am J Sports Med 43(1):88–97

63.

Zhang M, Chen YF, Wang L, Li F, Wei HF, Shi ZM (2018) Clinical characteristics and surgical experience of Type III Wagstaffe fractures: pay attention to concomitant chondral injury of the talus. Foot Ankle Surg 24(5):394–399

64.

Zhao J, Shu H, Li W, Liu Y, Shi B, Zheng G (2015) Clinical features and surgical effectiveness of ankle fractures involving Tillaux-Chaput in adults [Article in Chinese. Zhongguo Xiu Fu Chong Jian Wai Ke Za Zhi 29(3):288–291

65.

Zwipp H (1994) Chirurgie der Fußes. Springer, Wien, New York
Ethics declarations
Interessenkonflikt
S. Rammelt, J. Bartoníček, A.P. Neumann und L. Kroker geben an, dass kein Interessenkonflikt besteht.
Für diesen Beitrag wurden von den Autoren keine Studien an Menschen oder Tieren durchgeführt. Für die aufgeführten Studien gelten die jeweils dort angegebenen ethischen Richtlinien.
Additional information
Redaktion
H. Polzer, München
S. Rammelt, Dresden
About this article
Cite this article
Rammelt, S., Bartoníček, J., Neumann, A.P. et al. Frakturen der lateralen Tibiavorderkante. Unfallchirurg 124, 212–221 (2021). https://doi.org/10.1007/s00113-021-00959-y
Accepted:

Published:

Issue Date:
Schlüsselwörter
Sprunggelenk

Vorderer Knöchel

Syndesmosis tibiofibularis

Tillaux-Fraktur

Osteosynthese
Keywords
Ankle joint

Anterior malleolus

Tibiofibular syndesmosis

Tillaux fracture

Internal fixation