Zusammenfassung
Ziel der Arbeit war es, die Auswirkungen des neuen Verletzungsartenverzeichnisses vom 01.07.2018 für ein SAV-Zentrum zu evaluieren. Neben der Fallzahlentwicklung der Durchgangsarztverfahren(DAV)-, Verletzungsartenverfahren(VAV)- und Schwerstverletzungsartenverfahren(SAV)-Fälle sollten mögliche Veränderungen organisatorischer Aspekte wie Saalzeiten und durchschnittliche stationäre Verweildauer dargestellt werden. Weiter erfolgte eine erste kritische Beurteilung der Neuerungen des aktuellen Katalogs, insbesondere der neu eingeführten Ziffer 11 "Komplikationen".
Methodik: Es wurden retrospektiv alle stationär aufgenommenen DAV-, VAV- und SAV-Fälle eines SAV-Zentrums aus dem 2. und 3. Quartal 2018 ausgewertet. Die Entwicklung der Fallzahlen, des Case Mix Index (CMI), die Anzahl der durchschnittlichen Operationen, die Saalzeitminuten und die stationäre Verweildauer wurden analysiert. Weiterhin erfolgte eine Auswertung der SAV-Fälle hinsichtlich der Neuentwicklung mit Fokus auf die Ziffer 11 "Komplikationen".
Ergebnisse: Die Gesamtzahl der stationär behandelten berufsgenossenschaftlichen (BG) Fälle änderte sich geringfügig. Es zeigten sich eine deutliche Abnahme der DAV- und eine erhebliche Zunahme der SAV-Fälle. Die Anzahl der Operationen stieg um 15 %, die Saalzeitminuten um 36 %, die stationäre Verweildauer um 43 % und der CMI um 47 %. Umgerechnet auf eine Tagestischeinheit (TTE) von 7 h stieg die Saalzeit von 89 auf 108 TTE; die stationäre Verweildauer stieg von insgesamt 1028 auf 1358 Tage. Von den 111 SAV-Fällen des 3. Quartals wurden 52 % der Ziffer 11 "Komplikationen" zugeordnet. Im Vergleich zur Vorversion des VAV/SAV-Katalogs war es nun möglich, allen stationär behandelten Fällen eine Ziffer zuzuordnen.
Schlussfolgerung: Durch die Veränderung des VAV zeigte sich im Untersuchungszeitraum ein enormer Zuwachs der SAV-Fälle. Es bleibt abzuwarten, ob sich diese Entwicklung in den folgenden Quartalen bestätigt. Die Zunahmen des CMI, der Anzahl der erforderlichen Operationen, der Saalzeiten und der Verweildauer weisen auf die Notwendigkeit struktureller Änderungen für SAV-Häuser auf diese Neuerungen hin.
Abstract
The development of the numbers of cases involved in accident insurance consultant procedures (DAV), injury type procedures (VAV) and severe injury type procedures (SAV) after the introduction of the new injury type catalogue from 1 July 2018 is presented. Furthermore, possible alterations to organizational aspects, such as operating room times and average duration of hospitalization are presented. A first critical assessment of the modifications in the new catalogue was carried out, particularly with reference to the newly introduced section on complications (section 11).
Methods: A retrospective study of all inpatients treated in the context of the DAV, VAV and SAV procedures at a SAV center from the 2nd and 3rd quarters of 2018 was carried out. The development of the number of cases, the case mix index (CMI), the mean number of operations, the mean time in the operating room and the length of hospitalization were analyzed. Furthermore, an assessment of the SAV cases was carried out with respect to the new developments and with particularly reference to complications.
Results: The total number of inpatients in the context of the DAV, VAV, SAV procedures changed only slightly. There was a clear decrease in DAV cases and a relevant increase in SAV cases. The CMI increased by 47%, the number of surgical procedures by 15%, the mean time in the operating room by 36% and the length of hospitalization by 43%. When converted to a daily operating room unit of 7 h (Tagestischeinheit, TTE) the operating room time increased from 89 to 108 TTE and the length of hospitalization increased from 1028 to 1358 days. Of the 111 SAV cases in the 3rd quarter, 52% were assigned to the catalogue number 11 "complications". In comparison to the previous version of the VAV/SAV catalogue, it was now possible to assign all inpatients to a single category.
Conclusion: The modifications of the VAV in the observational period led to an enormous increase in SAV cases. It remains to be seen whether this development is confirmed in subsequent quarters. The increase in CMI, the number of necessary operations, operating room times and duration of hospitalization showed the necessity of these innovations on structural changes of hospitals involved in the treatment of SAV cases.
Access options
Buy single article
Instant access to the full article PDF.
US$ 39.95
Tax calculation will be finalised during checkout.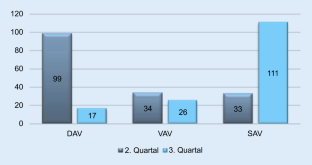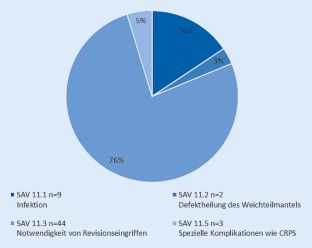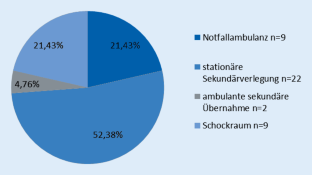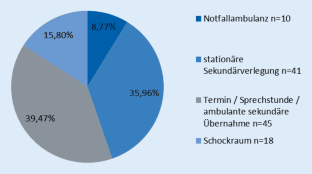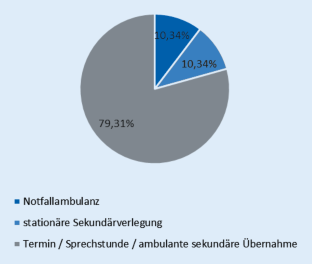 Ethics declarations
Interessenkonflikt
M.F. Lodde, J. C. Katthagen, M. Freistühler, B. Schliemann, S. Roßlenbroich, R. Hartensuer und M.J. Raschke geben an, dass kein Interessenkonflikt besteht.
Für diesen Beitrag wurden von den Autoren keine Studien an Menschen oder Tieren durchgeführt. Für die aufgeführten Studien gelten die jeweils dort angegebenen ethischen Richtlinien.
Additional information
Redaktion
W. Mutschler, München
H. Polzer, München
B. Ockert, München
About this article
Cite this article
Lodde, M.F., Katthagen, J.C., Freistühler, M. et al. Auswirkungen des neuen Verletzungsartenverzeichnisses der DGUV auf ein SAV-Zentrum. Unfallchirurg 123, 360–367 (2020). https://doi.org/10.1007/s00113-019-00714-4
Schlüsselwörter
Stationäre Heilverfahren

Verletzungsartenverzeichnis

Berufsgenossenschaft

Deutsche Gesetzliche Unfallversicherung

Schwerstverletzungsartenverfahren-Zentrum
Keywords
Inpatient treatments

Injury type catalogue

Employers' liability insurance association

German statutory accident insurance

Severity injury type proceedings center