Stabilisierung der Thoraxwand mithilfe der Plattenosteosynthese
Operationsplanung
Präoperativ sollten zur exakten Planung des Eingriffs eine
Computertomographie
(CT) des gesamten knöchernen Thorax in axialer, koronarer und sagittaler Reformation sowie eine 3D-Rekonstruktion durchgeführt werden (Abb.
1
; [
1
]).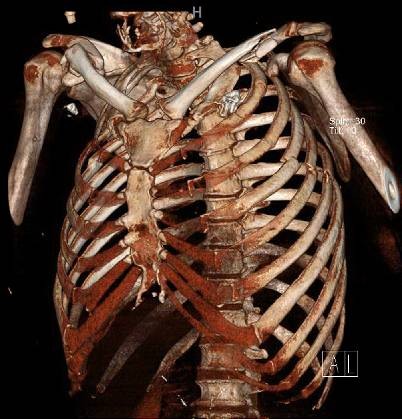 Stabilization of the chest wall with plate osteosynthesis
Notes
Einhaltung ethischer Richtlinien
Interessenkonflikt
S. Kalverkamp, J. Spillner, P. Kobbe, F. Hildebrand und P. Lichte geben an, dass kein Interessenkonflikt besteht.
Dieser Beitrag beinhaltet keine von den Autoren durchgeführten Studien an Menschen oder Tieren.
Copyright information
© Springer Medizin Verlag GmbH, ein Teil von Springer Nature 2018