Zusammenfassung
Hintergrund
Die Therapie von Hepatoomphalozelen ("Riesenomphalozelen") stellt eine Herausforderung für alle behandelnden Fachdisziplinen dar. Eine respiratorische Insuffizienz nach der Geburt ist häufig. Es gibt zwei grundsätzliche chirurgische Behandlungskonzepte: den "staged repair", der einen Bauchwandverschluss kurz nach Geburt anstrebt, und den "delayed repair", der eine primär konservative Therapie mit einem Bauchwandverschluss erst nach der Epithelialisierung der Omphalozele beinhaltet.
Ziel der Arbeit
In diesem Artikel sollen beide Therapiemethoden erläutert und verglichen werden, zudem wird eine Fallserie von primär konservativ behandelten Hepatoomphalozelen präsentiert.
Material und Methoden
Die Therapiemodalitäten und Ergebnisse von 16 primär konservativ behandelten Patienten mit Hepatoomphalozelen wurden retrospektiv ausgewertet, diskutiert und mit der Literatur verglichen.
Ergebnisse
Bei 7 von 16 Patienten bestand postpartal eine respiratorische Insuffizienz (43,7 %), die eine invasive Beatmung erforderlich machte. Bei 11 von 16 Patienten (69 %) konnte der Bauchwandverschluss in einer einzigen Operation erfolgen. Das mittlere Alter hierbei betrug 9,3 Monate (Range 3 bis 49 Monate). Ein Patient verstarb während des Follow-up, dies war jedoch nicht therapieassoziiert.
Diskussion
Die hohe Inzidenz von postpartaler respiratorischer Insuffizienz bei Patienten mit Hepatoomphalozelen sollte die Wahl der Therapiemethode zu einer interdisziplinären Entscheidung machen, da sie Einfluss auf die respiratorische Situation hat. Die regelmäßigen Verbandwechsel bis zur vollständigen Epithelialisierung der Omphalozele können ambulant durch den niedergelassenen Pädiater erfolgen, daher ist eine Kenntnis dieser Therapiemethode empfehlenswert.
Abstract
Background
The treatment of giant omphaloceles is challenging. There are two main treatment strategies: the primarily operative staged repair and the primarily nonoperative delayed repair, also known as "paint and wait". In many other countries the delayed repair is the current principal treatment strategy, whereas the standard method in Germany seems to be the staged repair.
Objective
We describe and compare both methods and present a case series of 16 patients with giant omphaloceles that were treated with a delayed repair management in our institution between 2008 and 2015.
Material and methods
We retrospectively describe the treatment modalities of 16 patients with giant omphaloceles, including conservative treatment and operative procedures and evaluate the results.
Results
Of the 16 patients with giant omphalocele 7 were respiratory insufficient at birth (43.7%) and required mechanical ventilation. In 69% of cases the abdominal wall closure could be carried out in one single operation. The mean age at closure of the abdominal wall was 9.3 months (range 3–49 months). Of the 16 patients four developed a local infection of the omphalocele, four patients developed latent hypothyroidism during povidone iodine treatment and one patient died during follow-up due to an incident unrelated to treatment.
Conclusion
We consider the delayed repair a safe and feasible method, particularly regarding the high incidence of other malformations in patients with a giant omphalocele and specifically respiratory insufficiency at birth. This has been shown to be an independent predictor of mortality. Early surgical intervention to attempt closure of the abdominal wall can aggravate respiratory insufficiency after birth. Therefore, the choice of therapeutic strategy and its implications should be made after an interdisciplinary discussion. The regular changes of wound dressings during the epithelialization period of the omphalocele sac can be carried out by the practising pediatrician.
Access options
Buy single article
Instant access to the full article PDF.
US$ 39.95
Tax calculation will be finalised during checkout.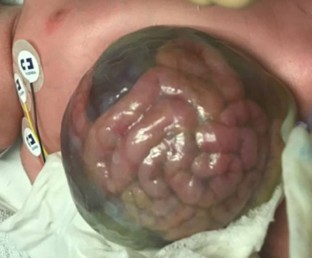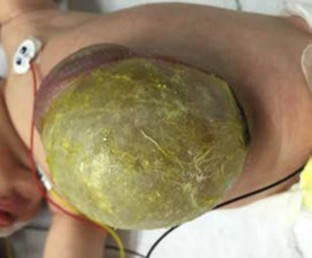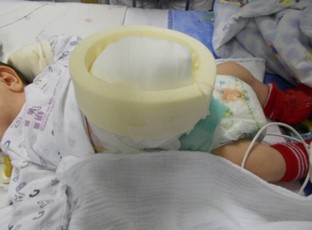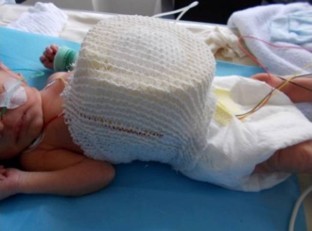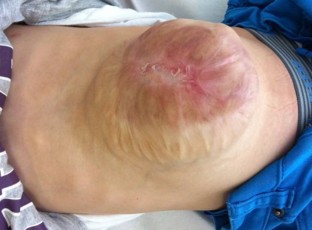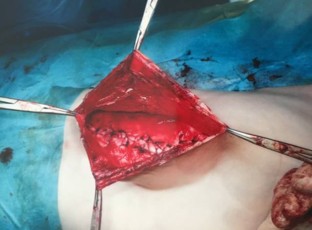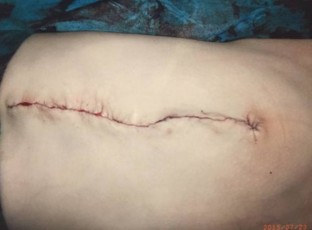 Literatur
1.

Adetayo OA, Aka AA, Ray AO (2012) The use of intra-abdominal tissue expansion for the management of giant omphaloceles: review of literature and a case report. Ann Plast Surg 69(1):104–108

2.

Akinkuotu AC, Sheikh F, Cass DL et al (2015) Are all pulmonary hypoplasias the same? A comparison of pulmonary outcomes in neonates with congenital diaphragmatic hernia, omphalocele and congenital lung malformation. J Pediatr Surg 50(1):55–59

3.

Akinkuotu AC, Sheikh F, Olutoye OO et al (2015) Giant omophaloceles: surgical management and perinatal outcomes. J Surg Res 198(2):388–392

4.

Almond S, Reyna R, Barganski N et al (2010) Nonoperative management of a giant omphalocele using a silver impregnated hydrofiber dressing: a case report. J Pediatr Surg 45(7):1546–1549

5.

AWMF Leitlinien der Deutschen Gesellschaft für Kinderchirurgie (2012) Bauchwanddefekte (Laparoschisis/ Omphalozele) (AWMF-Register Nr. 006/042, Klasse S1)

6.

Baerg JE, Thorpe DL, Sharp NE et al (2015) Pulmonary hypertension predicts mortality in infants with omphalocele. J Neonatal Perinatal Med 8(4):333–338

7.

Bauman B, Stephens D, Gershone H et al (2016) Management of giant omphaloceles: a systematic review of methods of staged surgical vs. nonoperative delayed closure. J Pediatr Surg 51(10):1725–1730

8.

Charlesworth P, Ervine E, McCullagh M (2009) Exomphalos major: the Northern Ireland experience. Pediatr Surg Int 25(1):77–81

9.

Christison-Lagay ER, Kelleher CM, Langer JC (2011) Neonatal abdominal wall defects. Semin Fetal Neonatal Med 16:164–172

10.

Danzer E, Gerdes M, D'Agostino JA et al (2010) Prospective, interdisciplinary follow-up of children with prenatally diagnosed giant omphalocele: short-term neurodevelopmental outcome. J Pediatr Surg 45(4):718–723

11.

De Ugarte DA, Asch MJ, Hedrick MH et al (2004) The use of tissue expanders in the closure of a giant omphalocele. J Pediatr Surg 39(4):613–615

12.

de Vries Reilingh TS, van Goor H, Charbon JA et al (2007) Repair of giant midline abdominal wall hernias: "component separation technique" versus prosthetic patch. World J Surg 31(4):756–763

13.

Di Cesare A (2014) Giant omphalocele: what's the way to go? J Pediatr Neonatal Care 1(4):24

14.

Divarci E, Karapinar B, Yalaz M et al (2016) Incidence and prognosis of intraabdominal hypertension and abdominal compartment syndrome in children. J Pediatr Surg 51(3):503–507

15.

Duggan E, Puligandla PS (2019) Respiratory disorders in patients with omphalocele respiratory. Semin Pediatr Surg 28:115–117

16.

Ein SH, Langer JC (2012) Delayed management of giant omphalocele using silver sulfadiazine cream: an 18-year experience. J Pediatr Surg 47(3):494–500

17.

Gamba P, Midrio P (2014) Abdominal wall defects: prenatal diagnosis, newborn management, and long-term outcomes. Semin Pediatr Surg 23(5):283–290

18.

Hershenson MB, Brouillette RT, Klemka L et al (1985) Respiratory insufficiency in newborns with abdominal wall defects. J Pediatr Surg 20(4):348–353

19.

Hutson S, Baerg J, Deming D et al (2017) High prevalence of pulmonary hypertension complicates the care of infants with omphalocele. Neonatology 112:281–286

20.

Mack AJ, Rogdo B (2016) Giant omphalocele: current perspectives. Res Rep Neonatol 6:33–39

21.

Martin AE, Khan A, Kim DS et al (2009) The use of intraabdominal tissue expanders as a primary strategy for closure of giant omphaloceles. J Pediatr Surg 44(1):178–182

22.

Mitul AR, Ferdous K (2012) Initial conservative management of exomphalos major with gentian violet. J Neonatal Surg 1(4):51

23.

Nuchtern JG, Baxter R, Hatch EI Jr (1995) Nonoperative initial management versus silon chimney for treatment of giant omphalocele. J Pediatr Surg 30(6):771–776

24.

Pacilli M, Spitz L, Kiely EM et al (2005) Staged repair of giant omphalocele in the neonatal period. J Pediatr Surg 40(5):785–788

25.

Partridge EA, Hanna BD, Panitch HB et al (2014) Pulmonary hypertension in giant omphalocele infants. J Pediatr Surg 49(12):1767–1770

26.

Saxena AK, Raicevic M (2018) Predictors of mortality in neonates with giant omphalocele. Minerva Pediatr 70(3):289–295

27.

Skarsgard ED (2019) Immediate vs staged repair of omphaloceles. Semin Pediatr Surg 28:89–94

28.

Tsakayannis DE, Zurakowski D, Lillehei CW (1996) Respiratory insufficiency at birth: a predictor of mortality for infants with omphalocele. J Pediatr Surg 31(8):1088–1091

29.

van Eijck FC, Aronson DA, Hoogeveen YL et al (2011) Past and current surgical treatment of the giant omphalocele: outcome of a questionnaire sent to authors. J Pediatr Surg 46(3):482–488

30.

Wagner JP, Cusick RA (2019) Paint and wait management of giant omphaloceles. Semin Pediatr Surg 28(2):95–100

31.

Verla ME, Style CC, Olutoye OO (2019) Prenatal diagnosis and management of omphalocele. Semin Pediatr Surg 28:84–88
Ethics declarations
Interessenkonflikt
R. Pohle, N. Marathovouniotis, T. Klein und T.M. Boemers geben an, dass kein Interessenkonflikt besteht.
Additional information
Redaktion
Berthold Koletzko, München
Thomas Lücke, Bochum
Ertan Mayatepek, Düsseldorf
Norbert Wagner, Aachen
Stefan Wirth, Wuppertal
Fred Zepp, Mainz
About this article
Cite this article
Pohle, R., Marathovouniotis, N., Klein, T. et al. Hepatoomphalozelen – eine interdisziplinäre Herausforderung. Monatsschr Kinderheilkd (2021). https://doi.org/10.1007/s00112-021-01129-5
Received:

Accepted:

Published:
Schlüsselwörter
Exomphalos major

Konservative Therapie

Bauchwanddefekt

Respiratorische Insuffizienz

Epithelialisierung
Keywords
Exomphalos major

Paint and wait

Delayed repair

Abdominal wall defect

Respiratory insufficiency