Zusammenfassung
Die monogen vererbten isolierten Alopezien umfassen eine Gruppe klinisch und genetisch heterogener Formen von Haarlosigkeit/-verlust. Die klinische Unterteilung der isolierten Alopezien erfolgt nach Erkrankungsbeginn, betroffenen Regionen und Struktur des Haarschafts. Mädchen und Jungen sind gleichermaßen betroffen; die Vererbung ist autosomal-dominant oder autosomal-rezessiv. Die modernen Technologien (z. B. "whole exome sequencing") ermöglichen eine immer genauere Einteilung in Subphänotypen.
Eine molekulargenetische Diagnostik ist v. a. dann sinnvoll, wenn es um die Sicherung der Diagnose geht, und/oder um Wiederholungsrisiken für zukünftige Schwangerschaften. Aus ethischen Gründen war es bislang Usus, bei den Alopezien – trotz erheblicher psychischer Belastung in manchen Fällen – keine Pränataldiagnostik anzubieten. Dies ändert sich, sobald weitere Symptome, wie intellektuelle Beeinträchtigung, hinzukommen.
Eine Therapie für diese seltenen Alopezieformen gibt es bislang noch nicht; dies stößt immer wieder auf frustrane Reaktionen bei den Eltern betroffener Kinder.
Abstract
The monogenic inherited isolated alopecias comprise a group of clinically and genetically heterogeneous forms of baldness or hair loss. The clinical classification of isolated alopecias is based on the onset of the disorder, the regions affected and the structure of the hair shaft. Girls and boys are equally affected and the mode of inheritance is autosomal dominant or autosomal recessive. Modern technologies (e.g. whole exome sequencing) enable an increasingly more precise classification into subphenotypes.
Molecular genetic diagnostics are particularly useful when it is necessary to confirm the diagnosis and/or to determine the risk of recurrence for future pregnancies. For ethical reasons it has so far been a common practice not to offer prenatal diagnostics for alopecia, despite considerable psychological stress in some cases. The scheme is different for cases where additional symptoms, such as intellectual disability, may accompany hair loss as a result of the causative mutation.
A treatment for these rare forms of alopecia does not yet exist, which is often met with frustration by the parents of affected children.
Access options
Buy single article
Instant access to the full article PDF.
US$ 39.95
Tax calculation will be finalised during checkout.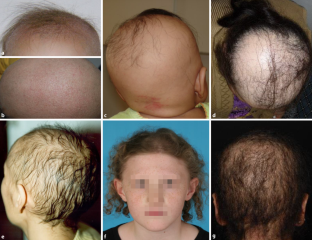 Literatur
1.

Ahmad W, Faiyaz Ul Haque M, Brancolini V et al (1998) Alopecia universalis associated with a mutation in the human hairless gene. Science 279:720–724

2.

Besnard T, Sloboda N, Goldenberg A et al (2019) Biallelic pathogenic variants in the lanosterol synthase gene LSS involved in the cholesterol biosynthesis cause alopecia with intellectual disability, a rare recessive neuroectodermal syndrome. Genet Med 21:2025–2035

3.

Betz RC (2014) Alopecia and hypotrichosis in childhood: clinical features and diagnosis. Hautarzt 65:520–526

4.

Betz RC, Cabral RM, Christiano AM et al (2012) Unveiling the roots of monogenic genodermatoses: genotrichoses as a paradigm. J Invest Dermatol 132:906–914

5.

Fujimoto A, Farooq M, Fujikawa H et al (2012) A missense mutation within the helix initiation motif of the keratin K71 gene underlies autosomal dominant woolly hair/hypotrichosis. J Invest Dermatol 132:2342–2349

6.

Kazantseva A, Goltsov A, Zinchenko R et al (2006) Human hair growth deficiency is linked to a genetic defect in the phospholipase gene LIPH. Science 314:982–985

7.

Kljuic A, Bazzi H, Sundberg JP et al (2003) Desmoglein 4 in hair follicle differentiation and epidermal adhesion: evidence from inherited hypotrichosis and acquired pemphigus vulgaris. Cell 113:249–260

8.

Levy-Nissenbaum E, Betz RC, Frydman M et al (2003) Hypotrichosis simplex of the scalp is associated with nonsense mutations in CDSN encoding corneodesmosin. Nat Genet 34:151–153

9.

Malki L, Sarig O, Cesarato N et al (2020) Loss-of-function variants in C3ORF52 result in localized autosomal recessive hypotrichosis. Genet Med 22:1227–1234

10.

Pasternack SM, Refke M, Paknia E et al (2013) Mutations in SNRPE, which encodes a core protein of the spliceosome, cause autosomal-dominant hypotrichosis simplex. Am J Hum Genet 92:81–87

11.

Pasternack SM, von Kugelgen I, Aboud KA et al (2008) G protein-coupled receptor P2Y5 and its ligand LPA are involved in maintenance of human hair growth. Nat Genet 40:329–334

12.

Romano MT, Tafazzoli A, Mattern M et al (2018) Bi-allelic mutations in LSS, encoding lanosterol synthase, cause autosomal-recessive hypotrichosis simplex. Am J Hum Genet 103:777–785

13.

Shimomura Y, Agalliu D, Vonica A et al (2010) APCDD1 is a novel Wnt inhibitor mutated in hereditary hypotrichosis simplex. Nature 464:1043–1047

14.

Shimomura Y, Wajid M, Ishii Y et al (2008) Disruption of P2RY5, an orphan G protein-coupled receptor, underlies autosomal recessive woolly hair. Nat Genet 40:335–339

15.

Shimomura Y, Wajid M, Petukhova L et al (2010) Autosomal-dominant woolly hair resulting from disruption of keratin 74 (KRT74), a potential determinant of human hair texture. Am J Hum Genet 86:632–638

16.

Unna M (1925) Über Hypotrichosis congenita hereditaria. Dermatol Wochenschr 8:1167–1178

17.

van Steensel MA, Steijlen PM, Bladergroen RS et al (2005) A missense mutation in the type II hair keratin hHb3 is associated with monilethrix. J Med Genet 42:e19

18.

Wen Y, Liu Y, Xu Y et al (2009) Loss-of-function mutations of an inhibitory upstream ORF in the human hairless transcript cause Marie Unna hereditary hypotrichosis. Nat Genet 41:228–233

19.

Williamson D, Gonzalez M, Finlay AY (2001) The effect of hair loss on quality of life. J Eur Acad Dermatol Venereol 15:137–139

20.

Winter H, Labreze C, Chapalain V et al (1998) A variable monilethrix phenotype associated with a novel mutation, Glu402Lys, in the helix termination motif of the type II hair keratin hHb1. J Invest Dermatol 111:169–172

21.

Winter H, Rogers MA, Langbein L et al (1997) Mutations in the hair cortex keratin hHb6 cause the inherited hair disease monilethrix. Nat Genet 16:372–374

22.

Zlotogorski A, Marek D, Horev L et al (2006) An autosomal recessive form of monilethrix is caused by mutations in DSG4: clinical overlap with localized autosomal recessive hypotrichosis. J Invest Dermatol 126:1292–1296
Danksagung
Die Autorin dankt der German-Israeli Foundation und der Deutschen Forschungsgemeinschaft (DFG) für die Exzellenzinitiative des Bundes und der Länder – EXC2151 – 390873048.
Ethics declarations
Interessenkonflikt
R.C. Betz gibt an, dass kein Interessenkonflikt besteht.
Für diesen Beitrag wurden von der Autorin keine Studien an Menschen oder Tieren durchgeführt. Für die aufgeführten Studien gelten die jeweils dort angegebenen ethischen Richtlinien.
Additional information
Teile dieses Beitrags stammen aus dem Artikel [3] Alopezien und Hypotrichosen im Kindesalter der Verfasserin, Hautarzt 2014 · 65:520–526 (https://doi.org/10.1007/s00105-013-2714-y).
Redaktion
P. Höger, Hamburg
F. Zepp, Mainz
About this article
Cite this article
Betz, R.C. Alopezien und Hypotrichosen im Kindesalter: Wann muss an genetische Diagnostik gedacht werden?. Monatsschr Kinderheilkd 169, 124–132 (2021). https://doi.org/10.1007/s00112-020-01104-6
Accepted:

Published:

Issue Date:
Schlüsselwörter
Atrichia congenita

Papuläre Atrichie

Monilethrix

Gene

Genprodukte
Keywords
Atrichia congenita

Papular atrichia

Monilethrix

Genes

Gene products