"Weil die Gefahr so oft verkannt, drum halte fern die Kinderhand …"
Anamnese und klinischer Befund
In der kinderchirurgischen Nothilfe wurde ein 21 Monate altes Mädchen vorgestellt. Alle Finger der rechten Hand des Kindes wiesen jeweils dorsoulnarseitige Verletzungen auf, die in ihrem Erscheinungsbild am ehesten mit Verbrennungen vereinbar waren. Palmar und auf der radialen Seite der Finger fanden sich keinerlei Läsionen (Abb.
1
). Eine exakte Anamnese mithilfe der Eltern des Kindes war aufgrund einer sprachlichen Barriere zu diesem Zeitpunkt kaum möglich. Somit stellte sich primär die Frage, wie das Kind zu einer Verbrennung gekommen war, die isoliert an der Innenseite der Finger auftrat.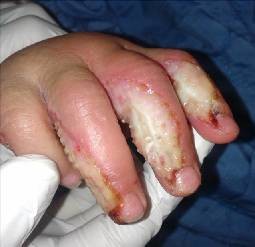 Because the danger is so often underestimated, keep the child's hand at a distance
Notes
Einhaltung ethischer Richtlinien
Interessenkonflikt
N. Lienert und C. Krohn geben an, dass kein Interessenkonflikt besteht.
Dieser Beitrag beinhaltet keine von den Autoren durchgeführten Studien an Menschen oder Tieren. Alle Patienten, die über Bildmaterial oder anderweitige Angaben innerhalb des Manuskripts zu identifizieren sind, haben hierzu ihre schriftliche Einwilligung gegeben. Im Fall von nichtmündigen Patienten liegt die Einwilligung eines Erziehungsberechtigten oder des gesetzlich bestellten Betreuers vor.
Copyright information
© Springer Medizin Verlag GmbH, ein Teil von Springer Nature 2018