Abstract
Not only in kidney glomerular physiological function but also glomerular pathology especially in diabetic condition, glomerular podocytes play pivotal roles. Therefore, it is important to increase our knowledge about the genes and proteins expressed in podocytes. Recently, we have identified a novel podocyte-expressed gene, R3h domain containing-like (R3hdml) and analyzed its function in vivo as well as in vitro. Transforming growth factor-β (TGF-β) signaling regulated the expression of R3hdml. And R3hdml inhibited p38 mitogen-activated protein kinase phosphorylation, which was induced by TGF-β, leading to the amelioration of podocyte apoptosis. Furthermore, a lack of R3hdml in mice significantly worsened glomerular function in streptozotocin (STZ)-induced diabetes, while overexpression of R3hdml ameliorated albuminuria in STZ-induced diabetes. Our results surmise that the functional analyses of R3hdml may lead to the development of novel therapeutic strategies for diabetic nephropathy in the future.
Key messages
• A novel podocyte expressed protein R3h domain containing-like was identified.
• R3HDML inhibits podocyte apoptosis by inhibiting TGF-β-mediated p38 MAPK signaling.
• Overexpression of R3HDML ameliorates albuminuria in STZ-induced diabetes mice.
• R3HDML may prove to be a novel therapeutic strategy for diabetic nephropathy.
Access options
Buy single article
Instant access to the full article PDF.
US$ 39.95
Tax calculation will be finalised during checkout.
Subscribe to journal
Immediate online access to all issues from 2019. Subscription will auto renew annually.
US$ 119
Tax calculation will be finalised during checkout.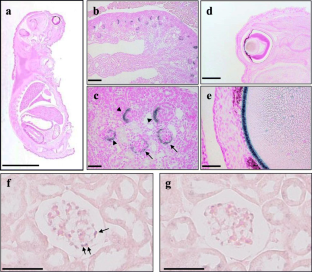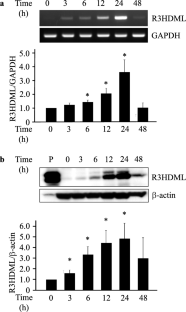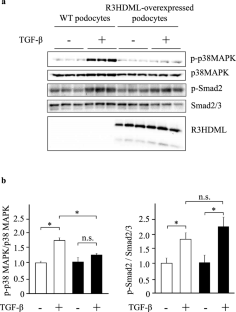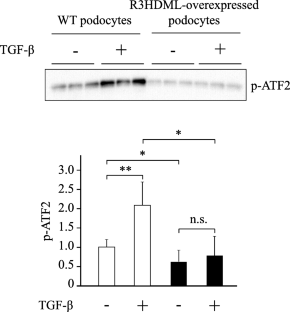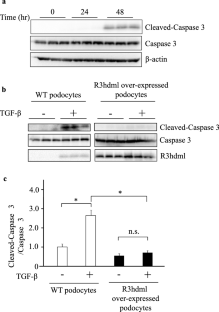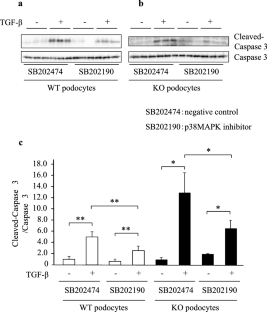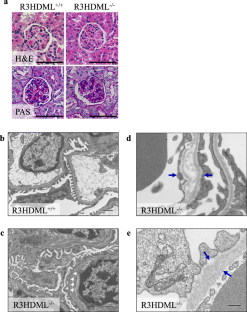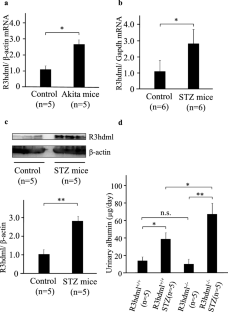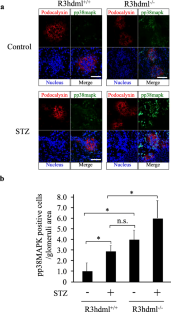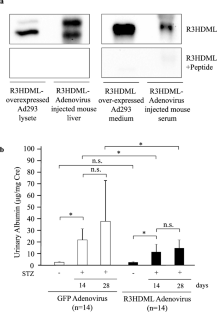 Data availability
Data and material are available upon request to the corresponding author.
References
1.

Eremina V, Baelde HJ, Quaggin SE (2007) Role of the VEGF--a signaling pathway in the glomerulus: evidence for crosstalk between components of the glomerular filtration barrier. Nephron Physiol 106:32–37

2.

Lee HS (2011) Pathogenic role of TGF-beta in the progression of podocyte diseases. Histol Histopathol 26:107–116

3.

Davis B, Dei Cas A, Long DA, White KE, Hayward A, Ku CH, Woolf AS, Bilous R, Viberti G, Gnudi L (2007) Podocyte-specific expression of angiopoietin-2 causes proteinuria and apoptosis of glomerular endothelia. J Am Soc Nephrol 18:2320–2329

4.

Pagtalunan ME, Miller PL, Jumping-Eagle S, Nelson RG, Myers BD, Rennke HG, Coplon NS, Sun L, Meyer TW (1997) Podocyte loss and progressive glomerular injury in type II diabetes. J Clin Invest 99:342–348

5.

Wiggins RC (2007) The spectrum of podocytopathies: a unifying view of glomerular diseases. Kidney Int 71:1205–1214

6.

Patrakka J, Tryggvason K (2010) Molecular make-up of the glomerular filtration barrier. Biochem Biophys Res Commun 396:164–169

7.

Garg P (2018) A review of podocyte biology. Am J Nephrol 47(Suppl 1):3–13

8.

Takemoto M, He L, Norlin J, Patrakka J, Xiao Z, Petrova T, Bondjers C, Asp J, Wallgard E, Sun Y et al (2006) Large-scale identification of genes implicated in kidney glomerulus development and function. EMBO J 25:1160–1174

9.

Betsholtz C, He L, Takemoto M (2007) The glomerular transcriptome and proteome. Nephron Exp Nephrol 106:e32–e36

10.

Ishibashi R, Takemoto M, Akimoto Y, Ishikawa T, He P, Maezawa Y, Sakamoto K, Tsurutani Y, Ide S, Ide K et al (2016) A novel podocyte gene, semaphorin 3G, protects glomerular podocyte from lipopolysaccharide-induced inflammation. Sci Rep 6:25955

11.

Wu DT, Bitzer M, Ju W, Mundel P, Böttinger EP (2005) TGF-beta concentration specifies differential signaling profiles of growth arrest/differentiation and apoptosis in podocytes. J Am Soc Nephrol 16:3211–3221

12.

Endlich K, Kriz W, Witzgall R (2001) Update in podocyte biology. Curr Opin Nephrol Hypertens 10:331–340

13.

Perico L, Conti S, Benigni A, Remuzzi G (2016) Podocyte-actin dynamics in health and disease. Nat Rev Nephrol 12:692–710

14.

Garg P, Verma R, Cook L, Soofi A, Venkatareddy M, George B, Mizuno K, Gurniak C, Witke W, Holzman LB (2010) Actin-depolymerizing factor cofilin-1 is necessary in maintaining mature podocyte architecture. J Biol Chem 285:22676–22688

15.

Gibbs GM, Roelants K, O'Bryan MK (2008) The CAP superfamily: cysteine-rich secretory proteins, antigen 5, and pathogenesis-related 1 proteins--roles in reproduction, cancer, and immune defense. Endocr Rev 29:865–897

16.

Sakamoto K, Furuichi Y, Yamamoto M et al (2019) R3hdml regulates satellite cell proliferation and differentiation. EMBO Rep 20:e47957

17.

Maezawa Y, Onay T, Scott RP, Keir LS, Dimke H, Li C, Eremina V, Maezawa Y, Jeansson M, Shan J et al (2014) Loss of the podocyte-expressed transcription factor Tcf21/Pod1 results in podocyte differentiation defects and FSGS. J Am Soc Nephrol 25:2459–2470

18.

Liu A, Dardik A, Ballermann BJ (1999) Neutralizing TGF-beta1 antibody infusion in neonatal rat delays in vivo glomerular capillary formation 1. Kidney Int 56:1334–1348

19.

Lee HS, Song CY (2010) Effects of TGF-beta on podocyte growth and disease progression in proliferative podocytopathies. Kidney Blood Press Res 33:24–29

20.

Trachtman H, Fervenza FC, Gipson DS, Heering P, Jayne DRW, Peters H, Rota S, Remuzzi G, Rump LC, Sellin LK et al (2011) A phase 1, single-dose study of fresolimumab, an anti-TGF-beta antibody, in treatment-resistant primary focal segmental glomerulosclerosis. Kidney Int 79:1236–1243

21.

Mezzano SA, Aros CA, Droguett A et al (2003) Renal angiotensin II up-regulation and myofibroblast activation in human membranous nephropathy. Kidney Int Suppl 86:S39–S45

22.

Koshizaka M, Takemoto M, Sato S et al (2012) An angiotensin II type 1 receptor blocker prevents renal injury via inhibition of the Notch pathway in Ins2 Akita diabetic mice. Exp Diabetes Res 2012:159874

23.

Fujimoto M, Maezawa Y, Yokote K, Joh K, Kobayashi K, Kawamura H, Nishimura M, Roberts AB, Saito Y, Mori S (2003) Mice lacking Smad3 are protected against streptozotocin-induced diabetic glomerulopathy. Biochem Biophys Res Commun 305:1002–1007

24.

Sato S, Kawamura H, Takemoto M, Maezawa Y, Fujimoto M, Shimoyama T, Koshizaka M, Tsurutani Y, Watanabe A, Ueda S et al (2009) Halofuginone prevents extracellular matrix deposition in diabetic nephropathy. Biochem Biophys Res Commun 379:411–416

25.

Hathaway CK, Gasim AM, Grant R et al (2015) Low TGFbeta1 expression prevents and high expression exacerbates diabetic nephropathy in mice. Proc Natl Acad Sci U S A 112:5815–5820

26.

Sayers R, Kalluri R, Rodgers KD, Shield CF, Meehan DT, Cosgrove D (1999) Role for transforming growth factor-beta1 in alport renal disease progression. Kidney Int 56:1662–1673

27.

Patek CE, Fleming S, Miles CG, Bellamy CO, Ladomery M, Spraggon L, Mullins J, Hastie ND, Hooper ML (2003) Murine Denys-Drash syndrome: evidence of podocyte de-differentiation and systemic mediation of glomerulosclerosis. Hum Mol Genet 12:2379–2394

28.

Mu Y, Gudey SK, Landstrom M (2012) Non-Smad signaling pathways. Cell Tissue Res 347:11–20

29.

Stambe C, Nikolic-Paterson DJ, Hill PA, Dowling J, Atkins RC (2004) p38 Mitogen-activated protein kinase activation and cell localization in human glomerulonephritis: correlation with renal injury. J Am Soc Nephrol 15:326–336

30.

Sakai N, Wada T, Furuichi K, Iwata Y, Yoshimoto K, Kitagawa K, Kokubo S, Kobayashi M, Hara A, Yamahana J et al (2005) Involvement of extracellular signal-regulated kinase and p38 in human diabetic nephropathy. Am J Kidney Dis 45:54–65

31.

Shao X, Zhang X, Hu J, Gao T, Chen J, Xu C, Wei C (2020) Dopamine 1 receptor activation protects mouse diabetic podocytes injury via regulating the PKA/NOX-5/p38 MAPK axis. Exp Cell Res 388:111849

32.

Lim AK, Nikolic-Paterson DJ, Ma FY et al (2009) Role of MKK3-p38 MAPK signalling in the development of type 2 diabetes and renal injury in obese db/db mice. Diabetologia 52:347–358

33.

Koshikawa M, Mukoyama M, Mori K, Suganami T, Sawai K, Yoshioka T, Nagae T, Yokoi H, Kawachi H, Shimizu F et al (2005) Role of p38 mitogen-activated protein kinase activation in podocyte injury and proteinuria in experimental nephrotic syndrome. J Am Soc Nephrol 16:2690–2701

34.

Pengal R, Guess AJ, Agrawal S, Manley J, Ransom RF, Mourey RJ, Benndorf R, Smoyer WE (2011) Inhibition of the protein kinase MK-2 protects podocytes from nephrotic syndrome-related injury. Am J Physiol Renal Physiol 301:F509–F519

35.

Connolly EC, Freimuth J, Akhurst RJ (2012) Complexities of TGF-beta targeted cancer therapy. Int J Biol Sci 8:964–978

36.

Voelker J, Berg PH, Sheetz M, Duffin K, Shen T, Moser B, Greene T, Blumenthal SS, Rychlik I, Yagil Y et al (2017) Anti-TGF-beta1 Antibody Therapy in Patients with Diabetic Nephropathy. J Am Soc Nephrol 28:953–962

37.

Yagi K, Furuhashi M, Aoki H, Goto D, Kuwano H, Sugamura K, Miyazono K, Kato M (2002) c-Myc is a downstream target of the Smad pathway. J Biol Chem 277:854–861

38.

Roberts AB, Wakefield LM (2003) The two faces of transforming growth factor beta in carcinogenesis. Proc Natl Acad Sci U S A 100:8621–8623

39.

Kobayashi K, Yokote K, Fujimoto M, Yamashita K, Sakamoto A, Kitahara M, Kawamura H, Maezawa Y, Asaumi S, Tokuhisa T et al (2005) Targeted disruption of TGF-beta-Smad3 signaling leads to enhanced neointimal hyperplasia with diminished matrix deposition in response to vascular injury. Circ Res 96:904–912

40.

Cho YS, Chen CH, Hu C, Long J, Ong RT, Sim X, Takeuchi F, Wu Y, Go MJ, Yamauchi T et al (2011) Meta-analysis of genome-wide association studies identifies eight new loci for type 2 diabetes in east Asians. Nat Genet 44:67–72

41.

Sakai K, Imamura M, Tanaka Y, Iwata M, Hirose H, Kaku K, Maegawa H, Watada H, Tobe K, Kashiwagi A et al (2013) Replication study for the association of 9 East Asian GWAS-derived loci with susceptibility to type 2 diabetes in a Japanese population. PLoS One 8:e76317

42.

Tossidou I, Starker G, Kruger J et al (2009) PKC-alpha modulates TGF-beta signaling and impairs podocyte survival. Cell Physiol Biochem 24:627–634

43.

Sekine Y, Nishibori Y, Akimoto Y, Kudo A, Ito N, Fukuhara D, Kurayama R, Higashihara E, Babu E, Kanai Y et al (2009) Amino acid transporter LAT3 is required for podocyte development and function. J Am Soc Nephrol 20:1586–1596

44.

Tsurutani Y, Fujimoto M, Takemoto M, Irisuna H, Koshizaka M, Onishi S, Ishikawa T, Mezawa M, He P, Honjo S et al (2011) The roles of transforming growth factor-beta and Smad3 signaling in adipocyte differentiation and obesity. Biochem Biophys Res Commun 407:68–73

45.

Sakamoto K, Kuno K, Takemoto M et al (2015) Pituitary adenylate cyclase-activating polypeptide protects glomerular podocytes from inflammatory injuries. J Diab Res 2015:727152

46.

Shankland SJ, Pippin JW, Reiser J, Mundel P (2007) Podocytes in culture: past, present, and future. Kidney Int 72:26–36

47.

Sakairi T, Abe Y, Jat PS, Kopp JB (2010) Cell-cell contact regulates gene expression in CDK4-transformed mouse podocytes. Am J Physiol Renal Physiol 299:F802–F809

48.

Takemoto M, Asker N, Gerhardt H, Lundkvist A, Johansson BR, Saito Y, Betsholtz C (2002) A new method for large scale isolation of kidney glomeruli from mice. Am J Pathol 161(3):799–805
Acknowledgements
We wish to thank Ms. Naoko Tomoda (Department of Endocrinology, Hematology, and Gerontology, Chiba University Graduate School of Medicine) for their valuable technical assistance and Ms. Sachie Matubara, and Ms. Junri Hayakawa (Laboratory for Electron Microscopy, Kyorin University School of Medicine) for the technical assistance with electron microscopy. This study is supported by the Grants-in Aid for Scientific Research from the Ministry of Education, Culture, Sports, Science and Technology; Ministry of Health, Labor and Welfare.
Contribution statement
T.I. performed most experiments. T.I., M.T., K.T., C.B., K.Y. conceived the ideas, designed the research. M.T. wrote the manuscript. Y.A. performed electro microscopic analysis. A.W., K.Y., K.S., Y.M., M.S., L.H.., K.T., C.B. assisted the experiments and statistics. Y.K. edited the manuscript. All authors discussed the results and commented on the manuscript.
Funding
This study is supported by the Grants-in Aid for Scientific Research from the Ministry of Education, Culture, Sports, Science and Technology; Ministry of Health, Labor and Welfare.
Ethics declarations
Disclosures
None.
Conflict of interest
All authors declare no competing interests.
Additional information
Publisher's note
Springer Nature remains neutral with regard to jurisdictional claims in published maps and institutional affiliations.
About this article
Cite this article
Ishikawa, T., Takemoto, M., Akimoto, Y. et al. A novel podocyte protein, R3h domain containing-like, inhibits TGF-β-induced p38 MAPK and regulates the structure of podocytes and glomerular basement membrane. J Mol Med (2021). https://doi.org/10.1007/s00109-021-02050-w
Received:

Revised:

Accepted:

Published:
Keywords
Apoptosis

Diabetic nephropathy

Podocyte

p38mapk

TGF-β