Abstract
In continuously beating cells like cardiac myocytes, there are rapid alterations of cytosolic Ca2+ levels. We therefore hypothesize that decoding Ca2+ signals for hypertrophic signaling requires intracellular Ca2+ microdomains that are partly independent from cytosolic Ca2+. Furthermore, there is a need for a Ca2+ sensor within these microdomains that translates Ca2+ signals into hypertrophic signaling. Recent evidence suggested that the nucleus of cardiac myocytes might be a Ca2+ microdomain and that calcineurin, once translocated into the nucleus, could act as a nuclear Ca2+ sensor. We demonstrate that nuclear calcineurin was able to act as a nuclear Ca2+ sensor detecting local Ca2+ release from the nuclear envelope via IP3R. Nuclear calcineurin mutants defective for Ca2+ binding failed to activate NFAT-dependent transcription. Under hypertrophic conditions Ca2+ transients in the nuclear microdomain were significantly higher than in the cytosol providing a basis for sustained calcineurin/NFAT-mediated signaling uncoupled from cytosolic Ca2+. Measurements of nuclear and cytosolic Ca2+ transients in IP3 sponge mice showed no increase of Ca2+ levels during diastole as we detected in wild-type mice. Nuclei, isolated from ventricular myocytes of mice after chronic Ang II treatment, showed an elevation of IP3R2 expression which was dependent on calcineurin/NFAT signaling and persisted for 3 weeks after removal of the Ang II stimulus. These data provide an explanation how Ca2+ and calcineurin might regulate transcription in cardiomyocytes in response to neurohumoral signals independently from their role in cardiac contraction control.
Key messages
• Calcineurin acts as an intranuclear Ca2+ sensor to promote NFAT activity.
• Nuclear Ca2+ in cardiac myocytes increases via IP3R2 upon Ang II stimulation.
• IP3R2 expression is directly dependent on calcineurin/NFAT.
This is a preview of subscription content, log in to check access.
Access options
Buy single article
Instant access to the full article PDF.
US$ 39.95
Price includes VAT for USA
Subscribe to journal
Immediate online access to all issues from 2019. Subscription will auto renew annually.
US$ 199
This is the net price. Taxes to be calculated in checkout.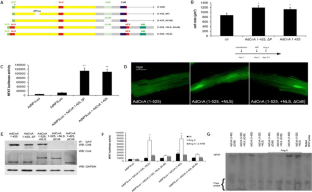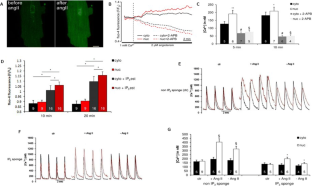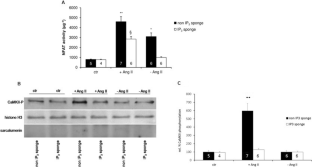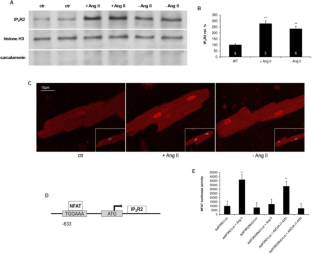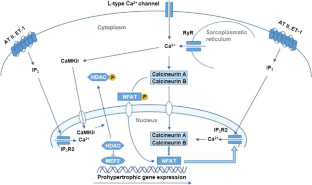 References
1.

Hallhuber M, Burkard N, Wu R, Buch MH, Engelhardt S, Hein L, Neyses L, Schuh K, Ritter O (2006) Inhibition of nuclear import of calcineurin prevents myocardial hypertrophy. Circ Res 99:626–635

2.

Zhu J, McKeon F (1999) NF-AT activation requires suppression of Crm1-dependent export by calcineurin. Nature 398:256–260

3.

Klee CB, Ren H, Wang X (1998) Regulation of the calmodulin-stimulated protein phosphatase, calcineurin. J Biol Chem 273:13367–13370

4.

Yang SA, Klee CB (2000) Low affinity Ca2+-binding sites of calcineurin B mediate conformational changes in calcineurin A. Biochemistry 39:16147–16154

5.

Heineke J, Auger-Messier M, Correll RN, Xu J, Benard MJ, Yuan W, Drexler H, Parise LV, Molkentin JD (2010) CIB1 is a regulator of pathological cardiac hypertrophy. Nat Med 16:872–879

6.

Wu X, Zhang T, Bossuyt J, Li X, McKinsey TA, Dedman JR, Olson EN, Chen J, Brown JH, Bers DM (2006) Local InsP3-dependent perinuclear Ca2+ signaling in cardiac myocyte excitation–transcription coupling. J Clin Invest 116:675–682

7.

Burkard N, Becher J, Heindl C, Neyses L, Schuh K, Ritter O (2005) Targeted proteolysis sustains calcineurin activation. Circulation 111:1045–1053

8.

Wilkins BJ, Dai YS, Bueno OF, Parsons SA, Xu J, Plank DM, Jones F, Kimball TR, Molkentin JD (2004) Calcineurin/NFAT coupling participates in pathological, but not physiological, cardiac hypertrophy. Circ Res 94:110–118

9.

Bare DJ, Kettlun CS, Liang M, Bers DM, Mignery GA (2005) Cardiac type 2 inositol 1,4,5-trisphosphate receptor: interaction and modulation by calcium/calmodulin-dependent protein kinase II. J Biol Chem 280:15912–15920

10.

Kockskamper J, Seidlmayer L, Walther S, Hellenkamp K, Maier LS, Pieske B (2008) Endothelin-1 enhances nuclear Ca2+ transients in atrial myocytes through ins(1,4,5)P3-dependent Ca2+ release from perinuclear Ca2+ stores. J Cell Sci 121:186–195

11.

Ljubojevic S, Walther S, Asgarzoei M, Sedej S, Pieske B, Kockskamper J (2011) In situ calibration of nucleoplasmic versus cytoplasmic Ca(2)+ concentration in adult cardiomyocytes. Biophys J 100:2356–2366

12.

Stemmer PM, Klee CB (1994) Dual calcium ion regulation of calcineurin by calmodulin and calcineurin B. Biochemistry 33:6859–6866

13.

Higazi DR, Fearnley CJ, Drawnel FM, Talasila A, Corps EM, Ritter O, McDonald F, Mikoshiba K, Bootman MD, Roderick HL (2009) Endothelin-1-stimulated InsP3-induced Ca2+ release is a nexus for hypertrophic signaling in cardiac myocytes. Mol Cell 33:472–482

14.

Nakayama H, Bodi I, Maillet M, DeSantiago J, Domeier TL, Mikoshiba K, Lorenz JN, Blatter LA, Bers DM, Molkentin JD (2010) The IP3 receptor regulates cardiac hypertrophy in response to select stimuli. Circ Res 107:659–666

15.

Ljubojevic S, Radulovic S, Leitinger G, Sedej S, Sacherer M, Holzer M, Winkler C, Pritz E, Mittler T, Schmidt A, Sereinigg M, Wakula P, Zissimopoulos S, Bisping E, Post H, Marsche G, Bossuyt J, Bers DM, Kockskämper J, Pieske B (2014) Early remodeling of perinuclear Ca2+ stores and nucleoplasmic Ca2+ signaling during the development of hypertrophy and heart failure. Circulation 130:244–255

16.

Wu AZ, Xu D, Yang N, Lin SF, Chen PS, MD Cala SE, Chen Z (2016) Phospholamban is concentrated in the nuclear envelope of cardiomyocytes and involved in perinuclear/nuclear calcium handling. J Mol Cell Cardiol 100:1–8

17.

Feng B, Stemmer PM (2001) Ca2+ binding site 2 in calcineurin-B modulates calmodulin-dependent calcineurin phosphatase activity. Biochemistry 40:8808–8814

18.

Perrino BA, Ng LY, Soderling TR (1995) Calcium regulation of calcineurin phosphatase activity by its B subunit and calmodulin. Role of the autoinhibitory domain. J Biol Chem 270:340–346

19.

Timmerman LA, Clipstone NA, Ho SN, Northrop JP, Crabtree GR (1996) Rapid shuttling of NF-AT in discrimination of Ca2+ signals and immunosuppression. Nature 383:837–840

20.

Sankar N, deTombe PP, Mignery GA (2014) Calcineurin-NFATc regulates type 2 inositol 1,4,5-trisphosphate receptor (InsP3R2) expression during cardiac remodeling. J Biol Chem 289:6188–6198

21.

Bootman MD, Fearnley C, Smyrnias I, MacDonald F, Roderick HL (2009) An update on nuclear calcium signalling. J Cell Sci 122:2337–2350

22.

Dolmetsch RE, Pajvani U, Fife K, Spotts JM, Greenberg ME (2001) Signaling to the nucleus by an L-type calcium channel–calmodulin complex through the MAP kinase pathway. Science 294:333–339

23.

Ledo F, Kremer L, Mellstrom B, Naranjo JR (2002) Ca2+-dependent block of CREB-CBP transcription by repressor DREAM. EMBO J 21:4583–4592
Funding
CHFC "heart failure" projects B2, C2 (BMBF), VIP0014 (BMBF), and DFG Ri1085/4-1 and Gesundheitscampus Brandenburg to O.R.
Ethics declarations
Conflicts of interest
The authors have no potential conflict of interest.
Research involving human participants and/or animals
No human participants were involved in the presented studies. All animal studies were performed in accordance with national guidelines for the care and use of animals and have been approved by the local ethics committee and the local government.
Electronic supplementary material
"Ang II" representative movie of a fluo-4 loaded isolated adult ventricular mouse cardiomyocyte. Cells were stimulated at 1 Hz. Ang II stimulation led to a marked increase in nuclear fluo-4 fluorescence that was most prominent during diastole. (WMV 591 kb)
"Ang II" representative movie of a fluo-4 loaded isolated adult ventricular mouse cardiomyocyte. Cells were stimulated at 1 Hz. Ang II stimulation led to a marked increase in nuclear fluo-4 fluorescence that was most prominent during diastole. (WMV 591 kb)
About this article
Cite this article
Olivares-Florez, S., Czolbe, M., Riediger, F. et al. Nuclear calcineurin is a sensor for detecting Ca2+ release from the nuclear envelope via IP3R. J Mol Med 96, 1239–1249 (2018). https://doi.org/10.1007/s00109-018-1701-2
Received:

Revised:

Accepted:

Published:

Issue Date:
Keywords
Calcineurin/NFAT signaling

Nuclear Ca2+

IP3R2 receptor

Heart failure

Myocardial hypertrophy