Abstract
Aquaporin (AQP) 3 expression is altered in inflammatory bowel diseases, although the exact mechanisms regulating AQP abundance are unclear. Although interferon gamma (IFNγ) is centrally involved in intestinal inflammation, the effect of this cytokine on AQP3 expression remains unknown. HT-29 human colonic epithelial cells were treated with IFNγ to assess AQP3 mRNA expression by real-time RT-PCR and functional protein expression through the uptake of radiolabelled glycerol. Transient knockdown of signal transducer and activator of transcription 1 (STAT1), STAT3, Sp1, and Sp3 were performed to determine the involvement of these transcription factors in the IFNγ-induced signalling cascade. AQP3 promoter regions involved in the response to IFNγ were assessed using a luciferase reporter system. Likewise, enteroids derived from human colonic biopsies were also treated with IFNγ to assess for changes in AQP3 mRNA expression. IFNγ decreased AQP3 mRNA expression in HT-29 cells in a time- and concentration-dependent manner and reduced functional AQP3 protein expression (decreased 3H-labelled glycerol uptake). IFNγ also reduced AQP3 expression in enteroids derived from human colonic biopsies. Knockdown of STAT1 partially prevented the IFNγ-induced downregulation of AQP3 expression, whereas STAT3 and Sp3 knockdowns resulted in increased baseline expression of AQP3 but did not alter IFNγ-induced downregulation. Constitutive transcription of AQP3 is downregulated by IFNγ as demonstrated using the luciferase reporter system, with Sp3 bound to the AQP3 promoter as shown by chromatin immunoprecipitation. AQP3 constitutive transcription in intestinal epithelial cells is downregulated by IFNγ. This response requires STAT1 that is postulated to drive the downregulation of AQP3 expression through increased acetylation or decreased deacetylation the AQP3 promoter, ultimately resulting in decreased constitutive transcription of AQP3.
Key messages
• IFNγ suppresses the expression of AQP3 in intestinal epithelial cells.
• Proximal AQP3 promoter elements are sufficient to drive constitutive expression and mediate the IFNγ-induced downregulation of AQP3 mRNA expression.
• IFNγ-induced suppression of AQP3 is dependent upon STAT1 expression, but not STAT3, Sp1, or Sp3.
Access options
Buy single article
Instant access to the full article PDF.
USD 39.95
Price includes VAT (USA)
Tax calculation will be finalised during checkout.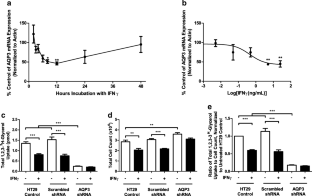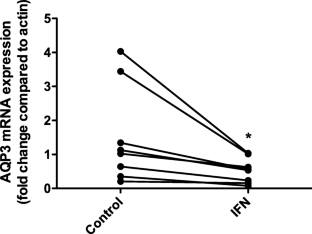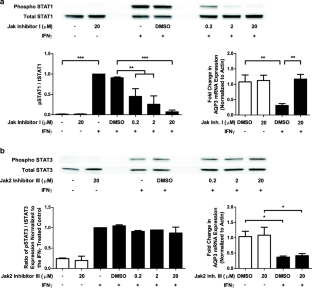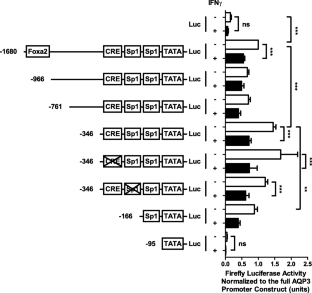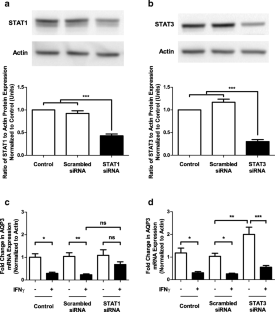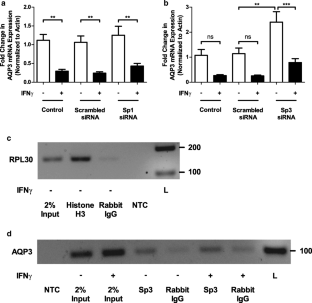 References
1.

Rai T, Sasaki S, Uchida S (2006) Polarized trafficking of the aquaporin-3 water channel is mediated by an NH2-terminal sorting signal. Am J Physiol Cell Physiol 290:C298–C304

2.

Ramirez-Lorca R, Vizuete ML, Venero JL, Revuelta M, Cano J, Ilundain AA, Echevarria M (1999) Localization of aquaporin-3 mRNA and protein along the gastrointestinal tract of Wistar rats. Pflugers Arch 438:94–100

3.

Silberstein C, Kierbel A, Amodeo G, Zotta E, Bigi F, Berkowski D, Ibarra C (1999) Functional characterization and localization of AQP3 in the human colon. Braz J Med Biol Res 32:1303–1313

4.

Ishibashi K, Sasaki S, Fushimi K, Uchida S, Kuwahara M, Saito H, Furukawa T, Nakajima K, Yamaguchi Y, Gojobori T et al (1994) Molecular cloning and expression of a member of the aquaporin family with permeability to glycerol and urea in addition to water expressed at the basolateral membrane of kidney collecting duct cells. Proc Natl Acad Sci U S A 91:6269–6273

5.

Hardin JA, Wallace LE, Wong JF, O'Loughlin EV, Urbanski SJ, Gall DG, MacNaughton WK, Beck PL (2004) Aquaporin expression is downregulated in a murine model of colitis and in patients with ulcerative colitis, Crohn's disease and infectious colitis. Cell Tissue Res 318:313–323

6.

Yuan WT, Yang HF, Zhang ZY, Liu JB (2008) Expression and significance of aquaporin 3 and aquaporin 9 in colonic mucosa of patients with functional constipation. Zhonghua Wei Chang Wai Ke Za Zhi 11:57–60

7.

Ikarashi N, Kon R, Iizasa T, Suzuki N, Hiruma R, Suenaga K, Toda T, Ishii M, Hoshino M, Ochiai W, Sugiyama K (2012) Inhibition of aquaporin-3 water channel in the colon induces diarrhea. Biol Pharm Bull 35:957–962

8.

Ikarashi N, Baba K, Ushiki T, Kon R, Mimura A, Toda T, Ishii M, Ochiai W, Sugiyama K (2011) The laxative effect of bisacodyl is attributable to decreased aquaporin-3 expression in the colon induced by increased PGE2 secretion from macrophages. Am J Physiol Gastrointest Liver Physiol 301:G887–G895

9.

Zhao G, Li J, Wang J, Shen X, Sun J (2014) Aquaporin 3 and 8 are down-regulated in TNBS-induced rat colitis. Biochem Biophys Res Commun 443:161–166

10.

Guttman JA, Samji FN, Li Y, Deng W, Lin A, Finlay BB (2007) Aquaporins contribute to diarrhoea caused by attaching and effacing bacterial pathogens. Cell Microbiol 9:131–141

11.

Zhang W, Xu Y, Chen Z, Xu Z, Xu H (2011) Knockdown of aquaporin 3 is involved in intestinal barrier integrity impairment. FEBS Lett 585:3113–3119

12.

Ito R, Shin-Ya M, Kishida T, Urano A, Takada R, Sakagami J, Imanishi J, Kita M, Ueda Y, Iwakura Y, Kataoka K, Okanoue T, Mazda O (2006) Interferon-gamma is causatively involved in experimental inflammatory bowel disease in mice. Clin Exp Immunol 146:330–338

13.

McKay DM, Watson JL, Wang A, Caldwell J, Prescott D, Ceponis PM, Di Leo V, Lu J (2007) Phosphatidylinositol 3′-kinase is a critical mediator of interferon-gamma-induced increases in enteric epithelial permeability. J Pharmacol Exp Ther 320:1013–1022

14.

Bertelsen LS, Eckmann L, Barrett KE (2004) Prolonged interferon-gamma exposure decreases ion transport, NKCC1, and Na+-K+-ATPase expression in human intestinal xenografts in vivo. Am J Physiol Gastrointest Liver Physiol 286:G157–G165

15.

Holmgren J, Fryklund J, Larsson H (1989) Gamma-interferon-mediated down-regulation of electrolyte secretion by intestinal epithelial cells: a local immune mechanism? Scand J Immunol 30:499–503

16.

Dicay MS, Hirota CL, Ronaghan NJ, Peplowski MA, Zaheer RS, Carati CA, MacNaughton WK (2015) Interferon-gamma suppresses intestinal epithelial aquaporin-1 expression via Janus kinase and STAT3 activation. PLoS One 10:e0118713

17.

Peplowski MA, Vegso AJ, Iablokov V, Dicay M, Zaheer RS, Renaux B, Proud D, Hollenberg MD, Beck PL, MacNaughton WK (2017) Tumor necrosis factor alpha decreases aquaporin 3 expression in intestinal epithelial cells through inhibition of constitutive transcription. Physiol Rep 5(19):e13451

18.

Miyoshi H, Stappenbeck TS (2013) In vitro expansion and genetic modification of gastrointestinal stem cells in spheroid culture. Nat Protoc 8:2471–2482

19.

Sato T, Stange DE, Ferrante M, Vries RG, Van Es JH, Van den Brink S, Van Houdt WJ, Pronk A, Van Gorp J, Siersema PD et al (2011) Long-term expansion of epithelial organoids from human colon, adenoma, adenocarcinoma, and Barrett's epithelium. Gastroenterology 141:1762–1772

20.

Okahira M, Kubota M, Iguchi K, Usui S, Hirano K (2008) Regulation of aquaporin 3 expression by magnesium ion. Eur J Pharmacol 588:26–32

21.

Watson AJ, Hogan A, Hahnel A, Wiemer KE, Schultz GA (1992) Expression of growth factor ligand and receptor genes in the preimplantation bovine embryo. Mol Reprod Dev 31:87–95

22.

Livak KJ, Schmittgen TD (2001) Analysis of relative gene expression data using real-time quantitative PCR and the 2(−delta delta C(T)) method. Methods 25:402–408

23.

Pfaffl MW (2001) A new mathematical model for relative quantification in real-time RT-PCR. Nucleic Acids Res 29:e45

24.

Matsunaga N, Itcho K, Hamamura K, Ikeda E, Ikeyama H, Furuichi Y, Watanabe M, Koyanagi S, Ohdo S (2014) 24-hour rhythm of aquaporin-3 function in the epidermis is regulated by molecular clocks. J Investig Dermatol 134:1636–1644

25.

Jiang YJ, Kim P, Lu YF, Feingold KR (2011) PPARgamma activators stimulate aquaporin 3 expression in keratinocytes/epidermis. Exp Dermatol 20:595–599

26.

Yang B, Verkman AS (1997) Water and glycerol permeabilities of aquaporins 1-5 and MIP determined quantitatively by expression of epitope-tagged constructs in Xenopus oocytes. J Biol Chem 272:16140–16146

27.

Ma T, Hara M, Sougrat R, Verbavatz JM, Verkman AS (2002) Impaired stratum corneum hydration in mice lacking epidermal water channel aquaporin-3. J Biol Chem 277:17147–17153

28.

Ma T, Frigeri A, Hasegawa H, Verkman AS (1994) Cloning of a water channel homolog expressed in brain meningeal cells and kidney collecting duct that functions as a stilbene-sensitive glycerol transporter. J Biol Chem 269:21845–21849

29.

Harms JS, Splitter GA (1995) Interferon-gamma inhibits transgene expression driven by SV40 or CMV promoters but augments expression driven by the mammalian MHC I promoter. Hum Gene Ther 6:1291–1297

30.

Perdue MH, McKay DM (1994) Integrative immunophysiology in the intestinal mucosa. Am J Phys 267:G151–G165

31.

Sugi K, Musch MW, Field M, Chang EB (2001) Inhibition of Na+,K+-ATPase by interferon gamma down-regulates intestinal epithelial transport and barrier function. Gastroenterology 120:1393–1403

32.

Madara JL, Stafford J (1989) Interferon-gamma directly affects barrier function of cultured intestinal epithelial monolayers. J Clin Invest 83:724–727

33.

Colgan SP, Parkos CA, Delp C, Arnaout MA, Madara JL (1993) Neutrophil migration across cultured intestinal epithelial monolayers is modulated by epithelial exposure to IFN-gamma in a highly polarized fashion. J Cell Biol 120:785–798

34.

Bruewer M, Utech M, Ivanov AI, Hopkins AM, Parkos CA, Nusrat A (2005) Interferon-gamma induces internalization of epithelial tight junction proteins via a macropinocytosis-like process. FASEB J 19:923–933

35.

Nava P, Koch S, Laukoetter MG, Lee WY, Kolegraff K, Capaldo CT, Beeman N, Addis C, Gerner-Smidt K, Neumaier I, Skerra A, Li L, Parkos CA, Nusrat A (2010) Interferon-gamma regulates intestinal epithelial homeostasis through converging beta-catenin signaling pathways. Immunity 32:392–402

36.

Schreiber R, Pavenstadt H, Greger R, Kunzelmann K (2000) Aquaporin 3 cloned from Xenopus laevis is regulated by the cystic fibrosis transmembrane conductance regulator. FEBS Lett 475:291–295

37.

Schreiber R, Nitschke R, Greger R, Kunzelmann K (1999) The cystic fibrosis transmembrane conductance regulator activates aquaporin 3 in airway epithelial cells. J Biol Chem 274:11811–11816

38.

Zhu S, Ran J, Yang B, Mei Z (2017) Aquaporins in the digestive system advances in experimental medicine and biology. Springer, Dordrecht, pp 123–130

39.

Kato T, Hayashi Y, Inoue K, Yuasa H (2005) Glycerol absorption by Na+-dependent carrier-mediated transport in the closed loop of the rat small intestine. Biol Pharm Bull 28:553–555

40.

Dauer DJ, Ferraro B, Song L, Yu B, Mora L, Buettner R, Enkemann S, Jove R, Haura EB (2005) Stat3 regulates genes common to both wound healing and cancer. Oncogene 24:3397–3408

41.

Thiagarajah JR, Zhao D, Verkman AS (2007) Impaired enterocyte proliferation in aquaporin-3 deficiency in mouse models of colitis. Gut 56:1529–1535

42.

Safe S, Abdelrahim M (2005) Sp transcription factor family and its role in cancer. Eur J Cancer 41:2438–2448

43.

Su HW, Wang SW, Ghishan FK, Kiela PR, Tang MJ (2009) Cell confluency-induced Stat3 activation regulates NHE3 expression by recruiting Sp1 and Sp3 to the proximal NHE3 promoter region during epithelial dome formation. Am J Physiol Cell Physiol 296:C13–C24

44.

Rocha F, Musch MW, Lishanskiy L, Bookstein C, Sugi K, Xie Y, Chang EB (2001) IFN-gamma downregulates expression of Na(+)/H(+) exchangers NHE2 and NHE3 in rat intestine and human Caco-2/bbe cells. Am J Physiol Cell Physiol 280:C1224–C1232

45.

Amin MR, Malakooti J, Sandoval R, Dudeja PK, Ramaswamy K (2006) IFN-gamma and TNF-alpha regulate human NHE3 gene expression by modulating the Sp family transcription factors in human intestinal epithelial cell line C2BBe1. Am J Physiol Cell Physiol 291:C887–C896
Acknowledgements
MAP received salary support in the form of graduate studentships from the Canadian Institutes of Health Research and Alberta Innovates—Health Solutions. BR was supported by a Canadian Institutes of Health Research term grant to MDH. The contributions of Gurmeet Bindra and the University of Calgary Intestinal Inflammation Tissue Bank are gratefully acknowledged.
Funding
This work was supported by a grant from the Crohn's and Colitis Foundation of Canada.
Ethics declarations
Conflict of interest
The authors declare that they have no conflict of interest.
About this article
Cite this article
Peplowski, M.A., Dicay, M., Baggio, C.H. et al. Interferon gamma decreases intestinal epithelial aquaporin 3 expression through downregulation of constitutive transcription. J Mol Med 96, 1081–1093 (2018). https://doi.org/10.1007/s00109-018-1681-2
Received:

Revised:

Accepted:

Published:

Issue Date:
Keywords
Transcriptional repression

Inflammatory bowel disease

Signal transducer and activator of transcription (STAT)