Zusammenfassung
Hintergrund
Zum Auslösen einer protektiven T‑Zell-Immunantwort werden zwei Signale benötigt: Signal 1 entsteht durch die Aktivierung des T‑Zell-Rezeptors (TZR), Signal 2 durch die Stimulation des CD28-Moleküls. Die sogenannte Kostimulation von CD28 und TZR ist notwendig, da der TZR zwar sehr gut körpereigene und -fremde Strukturen (Antigene) unterscheiden kann, aber nicht alle körperfremden Antigene (beispielsweise die aus Lebensmitteln) für den Körper gefährlich sind. Das heißt, ein starkes CD28-Signal vermittelt der T‑Zelle, dass Gefahr droht und eine Immunantwort erfolgen muss. Zur Vermeidung von Autoimmunität und überschießenden Antworten benötigt das Immunsystem allerdings eine weitere Ebene der Regulation, die der Immuncheckpoints.
Ziel der Arbeit
Einführung in die Immunregulation auf Ebene der Checkpointmoleküle.
Material und Methoden
Auswertung grundlagenwissenschaftlicher Arbeiten und Berichte klinischer Studien.
Ergebnisse
Die am besten erforschten Checkpointmoleküle "cytotoxic T lymphocyte-associated protein 4" (CTLA-4) und "programmed cell death 1" (PD-1) schwächen beide physiologisch das kostimulatorische CD28-Signal ab. Im pathologischen Kontext machen sich Malignome die Wirkung von Immuncheckpoints zunutze, indem sie etwa Liganden für PD‑1 an der Zelloberfläche exprimieren und dadurch eine Attacke durch T‑Zellen abwehren. Die Kenntnis dieser regulatorischen Rückkopplungsmechanismen führte zur Entwicklung von Immuncheckpointinhibitoren, die bereits sehr erfolgreich Eingang in die klinische Versorgung von Patienten mit Tumorerkrankung gefunden haben.
Schlussfolgerung
Das Konzept der Krebsimmuntherapie erhielt durch den Erfolg der Immuncheckpointinhibitoren massiven Rückenwind. Es besteht die berechtigte Hoffnung, dass noch viele weitere klinische Erfolge in der Krebsbehandlung mittels Immuntherapie erzielt werden können.
Abstract
Background
The induction of protective T cell responses requires two signals: Signal 1 is generated by activation of the T cell receptor (TCR) and signal 2 results from ligation of the CD28 molecule. Costimulation of the TCR and CD28 is necessary, as the TCR is very good at discriminating between endogenous and foreign structures (antigens), but not all foreign antigens (such as food antigens) are dangerous to the body. A strong CD28 signal, thus, indicates to the T cell that there is indeed a threat and that an immune response is urgently required. However, to avoid autoimmunity and excessive immune responses, further regulatory circuits, provided by immune checkpoints, are necessary.
Objectives
To provide an introduction to immunoregulation mediated by checkpoint molecules.
Materials and methods
Review of basic science papers and reports on clinical studies.
Results
The most prominent and best characterized checkpoint molecules, cytotoxic T lymphocyte-associated protein‑4 (CTLA-4) and programmed cell death‑1 (PD-1), both physiologically dampen CD28-mediated costimulation. Pathologically, malignancies exploit the immunoregulatory function of checkpoint molecules by, for example, expressing ligands for PD‑1 on the cell surface, thus, avoiding being attacked by T cells. Our understanding of these negative feedback regulations has led to the development of checkpoint inhibitors, which have already become part of routine clinical care of cancer patients.
Conclusions
Due to the clinical success of checkpoint inhibitors, the concept of cancer immunotherapy has received a massive boost and hopes are high that many more clinical advancements in cancer therapy can be achieved with novel forms of immunotherapy.
This is a preview of subscription content, log in to check access.
Access options
Buy single article
Instant access to the full article PDF.
US$ 39.95
Price includes VAT for USA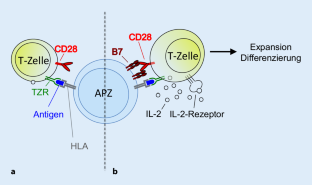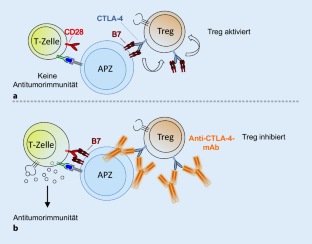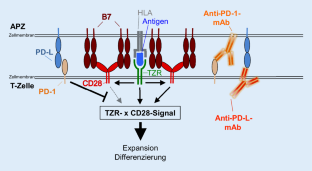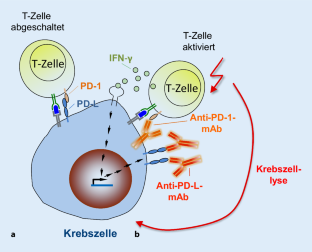 Literatur
1.

Barber DL, Wherry EJ, Masopust D et al (2006) Restoring function in exhausted CD8 T cells during chronic viral infection. Nature 439:682–687

2.

Barzaghi F, Passerini L, Bacchetta R (2012) Immune dysregulation, polyendocrinopathy, enteropathy, x‑linked syndrome: a paradigm of immunodeficiency with autoimmunity. Front Immunol 3:211

3.

Carthon BC, Wolchok JD, Yuan J et al (2010) Preoperative CTLA‑4 blockade: tolerability and immune monitoring in the setting of a presurgical clinical trial. Clin Cancer Res 16:2861–2871

4.

Chen L, Flies DB (2013) Molecular mechanisms of T cell co-stimulation and co-inhibition. Nat Rev Immunol 13:227–242

5.

Curran MA, Montalvo W, Yagita H et al (2010) PD‑1 and CTLA‑4 combination blockade expands infiltrating T cells and reduces regulatory T and myeloid cells within B16 melanoma tumors. Proc Natl Acad Sci U S A 107:4275–4280

6.

Ehrenstein MR, Evans JG, Singh A et al (2004) Compromised function of regulatory T cells in rheumatoid arthritis and reversal by anti-TNFalpha therapy. J Exp Med 200:277–285

7.

Garcia-Diaz A, Shin DS, Moreno BH et al (2017) Interferon receptor signaling pathways regulating PD-L1 and PD-L2 expression. Cell Rep 19:1189–1201

8.

Garon EB, Rizvi NA, Hui R et al (2015) Pembrolizumab for the treatment of non-small-cell lung cancer. N Engl J Med 372:2018–2028

9.

Gubin MM, Zhang X, Schuster H et al (2014) Checkpoint blockade cancer immunotherapy targets tumour-specific mutant antigens. Nature 515:577–581

10.

Hellmann MD, Ciuleanu TE, Pluzanski A et al (2018) Nivolumab plus ipilimumab in lung cancer with a high tumor mutational burden. N Engl J Med 378:2093–2104

11.

Herbst RS, Soria JC, Kowanetz M et al (2014) Predictive correlates of response to the anti-PD-L1 antibody MPDL3280A in cancer patients. Nature 515:563–567

12.

Hodi FS, O'Day SJ, McDermott DF et al (2010) Improved survival with ipilimumab in patients with metastatic melanoma. N Engl J Med 363:711–723

13.

Huang AC, Postow MA, Orlowski RJ et al (2017) T‑cell invigoration to tumour burden ratio associated with anti-PD‑1 response. Nature 545:60–65

14.

Ishida Y, Agata Y, Shibahara K et al (1992) Induced expression of PD‑1, a novel member of the immunoglobulin gene superfamily, upon programmed cell death. Embo J 11:3887–3895

15.

Joffre O, Nolte MA, Sporri R et al (2009) Inflammatory signals in dendritic cell activation and the induction of adaptive immunity. Immunol Rev 227:234–247

16.

Klocke K, Sakaguchi S, Holmdahl R et al (2016) Induction of autoimmune disease by deletion of CTLA‑4 in mice in adulthood. Proc Natl Acad Sci U S A 113:E2383–E2392

17.

Krummel MF, Allison JP (1995) CD28 and CTLA‑4 have opposing effects on the response of T cells to stimulation. J Exp Med 182:459–465

18.

Leach DR, Krummel MF, Allison JP (1996) Enhancement of antitumor immunity by CTLA‑4 blockade. Science 271:1734–1736

19.

Malek TR (2008) The biology of interleukin‑2. Annu Rev Immunol 26:453–479

20.

Nishimura H, Nose M, Hiai H et al (1999) Development of lupus-like autoimmune diseases by disruption of the PD‑1 gene encoding an ITIM motif-carrying immunoreceptor. Immunity 11:141–151

21.

Nishimura H, Okazaki T, Tanaka Y et al (2001) Autoimmune dilated cardiomyopathy in PD‑1 receptor-deficient mice. Science 291:319–322

22.

Owen DL, Mahmud SA, Sjaastad LE et al (2019) Thymic regulatory T cells arise via two distinct developmental programs. Nat Immunol 20:195–205

23.

Ribas A, Hamid O, Daud A et al (2016) Association of pembrolizumab with tumor response and survival among patients with advanced melanoma. JAMA 315:1600–1609

24.

Robert C, Thomas L, Bondarenko I et al (2011) Ipilimumab plus dacarbazine for previously untreated metastatic melanoma. N Engl J Med 364:2517–2526

25.

Snyder A, Makarov V, Merghoub T et al (2014) Genetic basis for clinical response to CTLA‑4 blockade in melanoma. N Engl J Med 371:2189–2199

26.

Ueda H, Howson JM, Esposito L et al (2003) Association of the T‑cell regulatory gene CTLA4 with susceptibility to autoimmune disease. Nature 423:506–511

27.

Walker LS, Sansom DM (2011) The emerging role of CTLA4 as a cell-extrinsic regulator of T cell responses. Nat Rev Immunol 11:852–863

28.

Waterhouse P, Penninger JM, Timms E et al (1995) Lymphoproliferative disorders with early lethality in mice deficient in Ctla‑4. Science 270:985–988

29.

Weber JS, D'Angelo SP, Minor D et al (2015) Nivolumab versus chemotherapy in patients with advanced melanoma who progressed after anti-CTLA‑4 treatment (CheckMate 037): a randomised, controlled, open-label, phase 3 trial. Lancet Oncol 16:375–384

30.

Wing K, Onishi Y, Prieto-Martin P et al (2008) CTLA‑4 control over Foxp3+ regulatory T cell function. Science 322:271–275
Danksagung
Die Autoren danken Thomas Hünig für das kritische Gegenlesen des Manuskripts und dem Bundesministerium für Bildung und Forschung (BMBF) für die finanzielle Unterstützung (031L0156C).
Ethics declarations
Interessenkonflikt
N. Beyersdorf und T. Kerkau geben an, dass kein Interessenkonflikt besteht.
Für diesen Beitrag wurden von den Autoren keine Studien an Menschen oder Tieren durchgeführt. Für die aufgeführten Studien gelten die jeweils dort angegebenen ethischen Richtlinien.
About this article
Cite this article
Beyersdorf, N., Kerkau, T. CD28-Kostimulation und Checkpointblockade in T-Zellen. Internist 61, 652–659 (2020). https://doi.org/10.1007/s00108-020-00813-0
Schlüsselwörter
T‑Zell-Kostimulation

Immuncheckpointinhibitoren

"Cytotoxic T lymphocyte-associated protein 4" (CTLA-4)

"Programmed cell death 1" (PD-1)

Tumorerkrankungen
Keywords
T cell costimulation

Immune checkpoint inhibitors

Cytotoxic T lymphocyte-associated protein 4 (CTLA-4), human

Programmed cell death 1 (PD-1)

Neoplasms