Zusammenfassung
Hintergrund
Der immunmodulatorische Ansatz der Checkpointblockade trägt der Rolle des immunsuppressiv wirkenden Mikromilieus ("microenvironment") beim klassischen Hodgkin-Lymphom (cHL) und dabei insbesondere der Interaktion der Hodgkin-Zellen und Makrophagen mit umgebenden T‑ und natürlichen Killerzellen über "programmed cell death 1 ligand 1" (PD-L1) und "programmed cell death 1" (PD-1) Rechnung.
Ziel der Arbeit
Erarbeitung der Rolle und des Potenzials der Checkpointblockade beim cHL vor dem Hintergrund der Resultate der standardmäßigen Chemo- und Strahlentherapiekonzepte.
Methoden
Analyse der präklinischen und klinischen Daten (Phase-I- und Phase-II-Studien) der Checkpointblockade beim cHL.
Ergebnisse und Diskussion
Bei 60–70 % der Patienten mit chemotherapierefraktärem cHL kann durch die PD-1-Blockade ein Ansprechen erzielt werden; ein persistierendes Ansprechen ist selten, die Überlebensdaten sind dennoch exzellent. Daher stellt die Anwendung von Anti-PD-1-Antikörpern einen wichtigen Bestandteil der Rezidivtherapie des cHL entsprechend den Zulassungsempfehlungen dar. Die Daten in der Erstlinientherapie sind noch vorläufig; erste Phase-II-Studien, in denen der Anti-PD-1-Antikörper Nivolumab in Kombination mit Doxorubicin (=Adriamycin), Vinblastin und Dacarbazin (AVD) in den intermediären bzw. fortgeschrittenen Stadien angewandt wurde, ergaben Ansprechraten von 90 % bzw. 67 % und deuten darauf hin, dass durch Implementierung des immunmodulatorischen Ansatzes der PD-1-Blockade die erforderliche Chemotherapieintensität signifikant gesenkt werden kann. Dies würde einen Paradigmenwechsel in der Therapie des cHL bedeuten.
Abstract
Background
Checkpoint blockade contributes to the immunosuppressive microenvironment in classical Hodgkin lymphoma (cHL) and in particular the interaction of Hodgkin cells and macrophages with T‑cells and natural killer cells via programmed cell death 1 (PD-1) and programmed cell death 1 ligand 1 (PD-L1).
Objectives
The aim of this article is the evaluation the role and potential of checkpoint blockade in cHL as compared with the results of standard chemo- and radiotherapy.
Methods
We analyzed preclinical and clinical data from phase I and phase II studies with checkpoint blockade in cHL.
Results and discussion
In 60–70% of patients with chemotherapy-refractory cHL, PD‑1 blockade results in responses. Overall survival is excellent and a small number of patients achieve persistent response. Thus, the use of anti-PD‑1 monoclonal antibodies has become an important treatment approach in relapsed cHL in line with the label. The results of first-line therapy are still preliminary; initial phase II studies using nivolumab in combination with doxorubicin (=adriamycin), vinblastin and dacarbazin (AVD) in early unfavorable or advanced stages showed response rates of up to 90%. Thus, implementing immunomodulatory approaches using PD 1‑blockade have resulted in a significant reduction of chemotherapy. This might represent a paradigm shift in the therapy of cHL.
This is a preview of subscription content, log in to check access.
Access options
Buy single article
Instant access to the full article PDF.
US$ 39.95
Price includes VAT for USA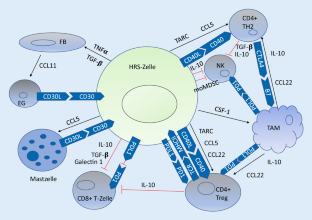 Literatur
1.

Ansell SM, Lesokhin AM, Borrello I et al (2015) PD‑1 blockade with nivolumab in relapsed or refractory Hodgkin's lymphoma. N Engl J Med 372:311–319

2.

Armand P, Engert A, Younes A et al (2018) Nivolumab for relapsed/refractory classic Hodgkin Lymphoma after failure of Autologous Hematopoietic cell transplantation: extended follow-up of the Multicohort single-arm phase II checkmate 205 trial. J Clin Oncol 36:1428–1439

3.

Armand P, Shipp MA, Ribrag V et al (2016) Programmed death‑1 blockade with Pembrolizumab in patients with classical Hodgkin Lymphoma after Brentuximab Vedotin failure. J Clin Oncol 34:3733–3739

4.

Borchmann P, Goergen H, Kobe C et al (2018) PET-guided treatment in patients with advanced-stage Hodgkin's lymphoma (HD18): Final results of an open-label, international, randomised phase 3 trial by the German Hodgkin Study Group. Lancet 390:2790–2802

5.

Brockelmann PJ, Borchmann P, Engert A (2016) Current and future immunotherapeutic approaches in Hodgkin lymphoma. Leuk Lymphoma 57:2014–2024

6.

Bröckelmann et al (2020) Efficacy of Nivolumab and AVD in Early-Stage Unfavorable Classic Hodgkin Lymphoma. The Randomized Phase 2 German Hodgkin Study Group NIVAHL Trial. JAMA Oncol. https://doi.org/10.1001/jamaoncol.2020.0750

7.

Chen R, Zinzani PL, Fanale MA et al (2017) Phase II study of the efficacy and safety of Pembrolizumab for relapsed/refractory classic Hodgkin Lymphoma. J Clin Oncol 35:2125–2132

8.

Fuchs M, Goergen H, Kobe C et al (2019) Positron emission Tomography-guided treatment in early-stage favorable Hodgkin Lymphoma: final results of the international, randomized phase III HD16 trial by the German Hodgkin Study Group. J Clin Oncol 37:2835–2845

9.

Green MR, Monti S, Rodig SJ et al (2010) Integrative analysis reveals selective 9p24.1 amplification, increased PD‑1 ligand expression, and further induction via JAK2 in nodular sclerosing Hodgkin lymphoma and primary mediastinal large B‑cell lymphoma. Blood 116:3268–3277

10.

Green MR, Rodig S, Juszczynski P et al (2012) Constitutive AP‑1 activity and EBV infection induce PD-L1 in Hodgkin lymphomas and posttransplant lymphoproliferative disorders: implications for targeted therapy. Clin Cancer Res 18:1611–1618

11.

Herrera AF, Moskowitz AJ, Bartlett NL et al (2018) Interim results of brentuximab vedotin in combination with nivolumab in patients with relapsed or refractory Hodgkin lymphoma. Blood 131:1183–1194

12.

Ijaz A, Khan AY, Malik SU et al (2019) Significant risk of graft-versus-host disease with exposure to checkpoint inhibitors before and after Allogeneic transplantation. Biol Blood Marrow Transplant 25:94–99

13.

Kuppers R (2009) The biology of Hodgkin's lymphoma. Nat Rev Cancer 9:15–27

14.

Momotow J, Goergen H, Behringer K et al (2019) Nivolumab in relapsed/refractory classical Hodgkin Lymphoma—extended follow-up of 30 patients treated within the checkmate 205 trial in a single-center. HemaSphere 3:e293

15.

Moskowitz CH, Walewski J, Nademanee A et al (2018) Five-year PFS from the AETHERA trial of brentuximab vedotin for Hodgkin lymphoma at high risk of progression or relapse. Blood 132:2639–2642

16.

Patel SS, Weirather JL, Lipschitz M et al (2019) The microenvironmental niche in classic Hodgkin lymphoma is enriched for CTLA-4-positive T cells that are PD-1-negative. Blood 134:2059–2069

17.

Ramchandren R, Domingo-Domenech E, Rueda A et al (2019) Nivolumab for newly diagnosed advanced-stage classic Hodgkin Lymphoma: safety and efficacy in the phase II checkmate 205 study. J Clin Oncol 37:1997–2007

18.

Rossi C, Gilhodes J, Maerevoet M et al (2018) Efficacy of chemotherapy or chemo-anti-PD‑1 combination after failed anti-PD‑1 therapy for relapsed and refractory Hodgkin lymphoma: a series from Lysa centers. Am J Hematol. https://doi.org/10.1002/ajh.25154

19.

Sasse S, Brockelmann PJ, Goergen H et al (2017) Long-term follow-up of contemporary treatment in early-stage Hodgkin Lymphoma: updated analyses of the German Hodgkin study group HD7, HD8, HD10, and HD11 trials. J Clin Oncol 35:1999–2007

20.

Sibon D, Morschhauser F, Resche-Rigon M et al (2016) Single or tandem autologous stem-cell transplantation for first-relapsed or refractory Hodgkin lymphoma: 10-year follow-up of the prospective H96 trial by the LYSA/SFGM-TC study group. Haematologica 101:474–481

21.

Sureda A, Canals C, Arranz R et al (2012) Allogeneic stem cell transplantation after reduced intensity conditioning in patients with relapsed or refractory Hodgkin's lymphoma. Results of the HDR-ALLO study—a prospective clinical trial by the Grupo Espanol de Linfomas/Trasplante de Medula Osea (GEL/TAMO) and the Lymphoma Working Party of the European Group for Blood and Marrow Transplantation. Haematologica 97:310–317

22.

Vari F, Arpon D, Keane C et al (2018) Immune evasion via PD-1/PD-L1 on NK cells and monocyte/macrophages is more prominent in Hodgkin lymphoma than DLBCL. Blood 131:1809–1819

23.

Von Tresckow B, Kreissl S, Goergen H et al (2018) Intensive treatment strategies in advanced-stage Hodgkin's lymphoma (HD9 and HD12): analysis of long-term survival in two randomised trials. Lancet Haematol 5:e462–e473

24.

Von Tresckow B, Plutschow A, Fuchs M et al (2012) Dose-intensification in early unfavorable Hodgkin's lymphoma: final analysis of the German Hodgkin Study Group HD14 trial. J Clin Oncol 30:907–913

25.

Wein F, Weniger MA, Hoing B et al (2017) Complex immune evasion strategies in classical Hodgkin Lymphoma. Cancer Immunol Res 5:1122–1132

26.

Younes A, Santoro A, Shipp M et al (2016) Nivolumab for classical Hodgkin's lymphoma after failure of both autologous stem-cell transplantation and brentuximab vedotin: a multicentre, multicohort, single-arm phase 2 trial. Lancet Oncol 17:1283–1294

27.

Zinzani PL, Lee HJ, Armand P et al (2019) Three-year follow-up of keynote-087: Pembrolizumab Monotherapy in relapsed/refractory classic Hodgkin Lymphoma. Blood 134:240
Ethics declarations
Interessenkonflikt
S. Sasse und J. Momotow geben an, dass kein Interessenkonflikt besteht. A. Engert: Beratungs- und Gutachtertätigkeit: Takeda/Millennium, BMS, MSD, Affimed.
Für diesen Beitrag wurden von den Autoren keine Studien an Menschen oder Tieren durchgeführt. Für die aufgeführten Studien gelten die jeweils dort angegebenen ethischen Richtlinien.
About this article
Cite this article
Sasse, S., Momotow, J. & Engert, A. Checkpoint-Inhibitoren bei Hodgkin-Lymphom. Internist 61, 660–668 (2020). https://doi.org/10.1007/s00108-020-00811-2
Schlüsselwörter
Chemotherapierefraktäres Hodgkin-Lymphom

Immunmodulation

Immunsuppressives Tumormikromilieu

"Programmed cell death 1" (PD-1)

Nivolumab
Keywords
Hodgkin disease, chemotherapy-refractory

Immunomodulation

Tumor microenvironment, immunosuppressive

Programmed cell death 1 (PD-1)

Nivolumab