Abstract
The bamboo scrimber has been widely used in building materials and interior decoration. However, the bamboo scrimber is very vulnerable to mold due to the rich nutrients in bamboo parenchyma cells. In this study, a thermal treatment with saturated vapor was employed to improve the mold-proof property of bamboo scrimber. Four kinds of mold (Botryodiplodia theobromae, Aspergillus niger, Penicillium citrinum, Trichoderma viride) were respectively used to infect the original bamboo scrimber (OBS) and thermally treated bamboo scrimber (TBS). The TBS presents better mold-proof property than the OBS, especially to T. viride. After 28-day infection, the TBSs infected area ratio reached 10.3 % with a remarkable decline compared with the OBS (45 %). In addition, no obvious discoloration was observed on the TBS after infection by B. theobromae. The obtained results show that the degradation of hemicellulose in bamboo bundles during thermal treatment mainly contributes to the enhancement of mold-proof property. The TBSs enhanced hydrophobicity also takes responsibility for slowing down the growth of mycelium. This study exhibits a simple, green and cost-effective method to effectively improve the mold-proof property for the bamboo scrimber without any extra mold inhibitors.
Access options
Buy single article
Instant access to the full article PDF.
US$ 39.95
Tax calculation will be finalised during checkout.
Subscribe to journal
Immediate online access to all issues from 2019. Subscription will auto renew annually.
US$ 119
Tax calculation will be finalised during checkout.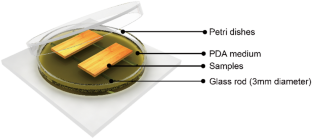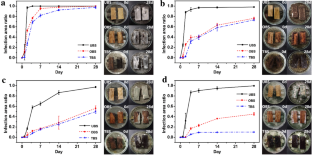 References
Bhuiyan MTR, Hirai N, Sobue N (2000) Changes of crystallinity in wood cellulose by heat treatment under dried and moist conditions. J Wood Sci 46(6):431–436

Brischke C, Welzbacher CR, Brandt K, Rapp AO (2007) Quality control of thermally modified timber: Interrelationship between heat treatment intensities and CIE L~*a~*b~* color data on homogenized wood samples. Holzforschung 61(1):19–22

Cademartori PHG, Santos PSBD, Serrano L, Labidi J, Gatto DA (2013) Effect of thermal treatment on physicochemical properties of gympie messmate wood. Ind Crop Prod 45:360–366

Campana R, Sabatini L, Frangipani E (2020) Moulds on cementitious building materials—problems, prevention and future perspectives. Appl Microbiol Biot 104(2):509–514

Chen WM, Wang X, Liu CZ, Luo M, Yang P, Zhou XY (2019) Rapid single-step synthesis of porous carbon from an agricultural waste for energy storage application. Waste Manage 102:330–339

Chen WM, Luo M, Yang K, Zhou XY (2020a) Simple pyrolysis of alginate-based hydrogel cross-linked by bivalent ions into highly porous carbons for energy storage. Int J Biol Macromol 158:265–274

Chen WM, Luo M, Yang K, Zhou XY (2020b) Microwave-assisted KOH activation from lignin into hierarchically porous carbon with super high specific surface area by utilizing the dual roles of inorganic salts: microwave absorber and porogen. Micropor Mesopor Mat. https://doi.org/10.1016/j.micromeso.2020.110178

Cheng D, Jiang SX, Zhang QS (2013) Mould resistance of moso bamboo treated by two step heat treatment with different aqueous solutions. Eur J Wood Prod 71:143–145

Colla WA, Beraldo AL, Brito JO (2011) Effects of thermal treatment on the physicochemical characteristics of giant bamboo. Cerne 17(3):361–367

Croitoru C, Spirchez C, Lunguleasa A, Cristea D, Roata IC, Pop MA, Bedo T, Stanciu EM, Pascu A (2018) Surface properties of thermally treated composite wood panels. Appl Surf Sci 438:114–126

Faix O (1988) Practical uses of FTIR spectroscopy in wood science and technology. Microchim Acta 94(1–6):21–25

Fatrawana A, Maulana S, Nawawi DS et al (2019) Changes in chemical components of steam-treated betung bamboo strands and their effects on the physical and mechanical properties of bamboo-oriented strand boards. Eur J Wood Prod 77(5):731–739

Hakkou M, Mathieu P, Zoulalian A, Gérardin P (2005) Investigation of wood wettability changes during heat treatment on the basis of chemical analysis. Polym Degrad Stabil 89(1):1–5

He S, Xu J, Wu ZX, Yu H, Chen YH, Song JG (2018) Effect of bamboo bundle knitting on enhancing properties of bamboo scrimber. Eur J Wood Prod 76(3):1071–1078

Huang WD, Wang CJ, Duan HM, Bi YL, Wu DG, Du JL, Yu HB (2018) Synergistic antifungal effect of biosynthesized silver nanoparticles combined with fungicides. Int J Agric Biol 20(5):1225–1229. https://doi.org/10.17957/IJAB/15.0595

Huang YX, Ji YH, Yu WJ (2019) Development of bamboo scrimber: a literature review. J Wood Sci 65:25

Jarusombuti S, Ayrilmis N, Fueangvivat V, Bauchongkol P (2011) Effect of thermal treatment of fast growing wood fibers on physical and mechanical properties of light medium density fiberboard. High Temp Mat Pr-Isr 30(3):241–246

Kačíková D, Kačík F, Cabalova I, Durkovic J (2013) Effects of thermal treatment on chemical, mechanical and colour traits in Norway spruce wood. Bioresour Technol 144:669–674

Li MF, Li X, Bian J, Xu JK, Yang S, Sun RC (2015) Influence of temperature on bamboo torrefaction under carbon dioxide atmosphere. Ind Crop Prod 76:149–157

Liu YD, Liu WJ (2010) Research progress on the bamboo timber preservation. Adv Mater Res 159:216–221. https://doi.org/10.4028/www.scientific

Liu QS, Zheng T, Wang P, Guo L (2010) Preparation and characterization of activated carbon from bamboo by microwave-induced phosphoric acid activation. Ind Crop Prod 31(2):233–238

Malandrakis AA, Kavroulakis N, Chrysikopoulos CV (2019) Use of copper, silver and zinc nanoparticles against foliar and soil-borne plant pathogens. Sci Total Environ 670(20):292–299

Okahisa Y, Yoshimura T, Imamura Y (2005) An application of the alkaline extraction-glucoamylase hydrolysis method to analyze starch and sugar contents of bamboo. J Wood Sci 51(5):542–545

Pandey KK (1999) A study of chemical structure of soft and hardwood and wood polymers by FTIR spectroscopy. J Appl Polym Sci 71(12):1969–1975

Reinprecht L, Kmet'ová L (2014) Fungal resistance and physical–mechanical properties of beech plywood having durable veneers or fungicides in surfaces. Eur J Wood Prod 72:433–443

Salim R, Wahab R, Ashaari Z (2009) Effect of oil heat treatment on chemical constituents of semantan bamboo (Gigantochloa scortechinii Gamble). J Sust 1(2):91–98

Sharma B, Gatóo A, Bock M, Ramage M (2015) Engineered bamboo for structural applications. Constr Build Mater 81:66–73

Sun FL, Bao BF, Ma LF, Chen AL, Duan XF (2012) Mould-resistance of bamboo treated with the compound of chitosan-copper complex and organic fungicides. J Wood Sci 58(1):51–56

Tang TKH, Schmidt O, Liese W (2012) Protection of bamboo against mould using environment-friendly chemicals. J Trop For Sci 24(2):285–290. https://www.jstor.org/stable/23617085

Wang XZ, Chen XZ, Xie XQ, Wu Y, Zhao LG, Li YJ, Wang SQ (2018) Effects of thermal modification on the physical, chemical and micromechanical properties of Masson pine wood (Pinus massoniana Lamb.). Holzforschung 72(12):1063–1070

Wang XZ, Cheng D, Huang X, Song L, Gu W, Liang X, Li Y, Xu B (2020) Effect of high–temperature saturated steam treatment on the physical, chemical, and mechanical properties of moso bamboo. J Wood Sci 66(1):55

Xie GJ, Zhou YD, Cao YJ, Li LM (2018) Anti-mildew properties of copper cured heat-treated wood. Bio Res 13(3):5643–5655

Yang TH, Lee CH, Lee CJ, Cheng YW (2016) Effects of different thermal modification media on physical and mechanical properties of moso bamboo. Constr Build Mater 119:251–259

Yu W, Xu B, Fan B, Zhang Y, Wang X (2019) Effects of saturated steam treatment on the cell-wall mechanics and moisture sorption properties of kenaf fibers. BioResources 15(1):159–171

Zhang JY, Zhang B, Chen XF, Mi BB, Wei PL, Fei BH, Mu XD (2017) Antimicrobial bamboo materials functionalized with ZnO and graphene oxide nanocomposites. Materials 10(3):239–250
Acknowledgements
The author would like to appreciate the National Key Research & Development Program of China (2017YFD0601200), and Hunan Key Research & Development Program (2017SK2334) for funding this project, and thanks to all research partners in this project for their cooperation and collaboration.
Additional information
Publisher's note
Springer Nature remains neutral with regard to jurisdictional claims in published maps and institutional affiliations.
About this article
Cite this article
Yang, K., Li, X., Wu, Y. et al. A simple, effective and inhibitor‐free thermal treatment for enhancing mold‐proof property of bamboo scrimber. Eur. J. Wood Prod. (2021). https://doi.org/10.1007/s00107-021-01655-9
Received:

Accepted:

Published: