Abstract
Lignocellulosic micro-fines (LCMFs) were prepared from pine wood meal by glycol ether liquefaction using microwave irradiation for 90 s. The recovery method and reusability of the solvent (glycol ether) for the liquefaction process were examined. When the volume of the dehydrated recovered solvent was compared with that of the original solvent, the recovery rate was about 97% and this recovery rate remained similar even when solvent recycling was repeated. IR spectrum of the dewatered recovered reagent was very similar to that of the virgin reagent. The yield and residual lignin content of LCMFs prepared by primary and secondary recycled solvents were almost the same as those obtained using virgin solvents. Similarly, no difference was found in the particle size distribution, crystallographic index, and chemical properties of these LCMFs. In conclusion, LCMFs can easily be prepared by rapid microwave irradiation with glycol ether. Furthermore, wood liquefaction for LCMFs using glycol ether is a very economical method because the solvent can be recycled very simply.
This is a preview of subscription content, log in to check access.
Access options
Buy single article
Instant access to the full article PDF.
US$ 39.95
Price includes VAT for USA
Subscribe to journal
Immediate online access to all issues from 2019. Subscription will auto renew annually.
US$ 199
This is the net price. Taxes to be calculated in checkout.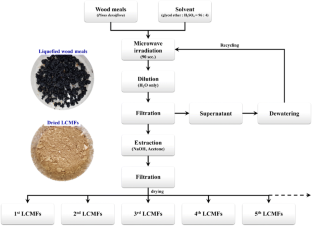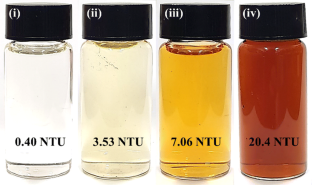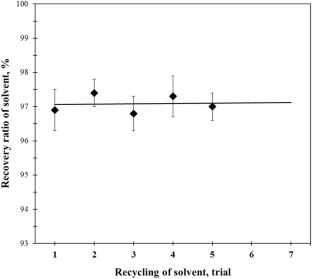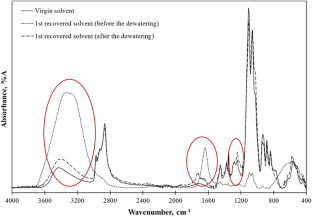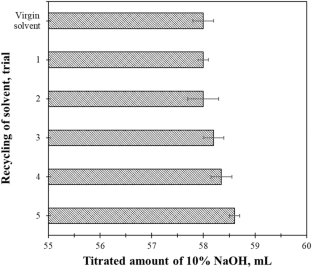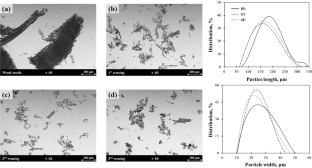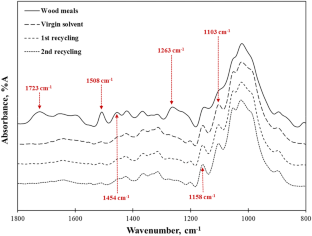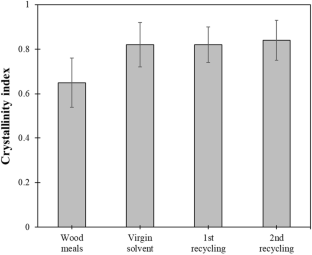 References
Aguilar-Reynosa A, Romaní A, Rodríguez-Jasso RM, Aguilar CN, Garrote G, Ruiz HA (2017) Microwave heating processing as alternative of pretreatment in second-generation biorefinery: an overview. Energy Convers Manag 136:50–65

Billa E, Tollier M-T, Monties B (1996) Characterisation of the monomeric composition of in situ wheat straw lignins by alkaline nitrobenzene oxidation: effect of temperature and reaction time. J Sci Food Agric 72:250–256

Colom X, Carrillo F, Nogués F, Garriga P (2003) Structural analysis of photodegraded wood by means of FTIR spectroscopy. Polym Degrad Stabil 80:534–549

Cowie GL, Hedges JI (1984) Determination of neutral sugars in plankton, sediments, and wood by capillary gas chromatography of equilibrated isomeric mixtures. Anal Chem 56:497–504

Demirbaş A (2001) Biomass resource facilities and biomass conversion processing for fuels and chemicals. Energy Convers Manag 42:1357–1378

Huang Y, Wang L, Chao Y, Nawawi DS, Akiyama T, Yokoyama T, Matsumoto Y (2012) Analysis of lignin aromatic structure in wood based on the IR spectrum. J Wood Chem Technol 32:294–303

Imam SH, Gordon SH, Mao L, Chen L (2001) Environmentally friendly wood adhesive from renewable plant polymer: characteristics and optimization. Polym Degrad Stabil 73:529–533

TAPPI (2011) Acid-insoluble lignin in wood and pulp. TAPPI T 222 om-11, Technical Association of the Pulp and Paper Industry

Jones TM, Albersheim P (1972) A gas chromatographic method for the determination of aldose and uronic acid constituents of plant cell wall polysaccharides. Plant Physiol 49:926–936

Kappe CO (2008) Microwave dielectric heating in synthetic organic chemistry. Chem Soc Rev 37:1127–1139

Kim KJ, Nah GB, Ryu JA, Eom TJ (2017) Preparation of lignin rich micro-cellulose fines (LMCFs) by chemical micronization method and characteristics of LMCFs handsheet. J Korea TAPPI 49(3):109–117

Kim KJ, Nah GB, Ryu JA, Eom TJ (2018) Low temperature, atmospheric pressure and short reaction times (LAS) pulping of Korean mixed oak with glycol ether. J Korea TAPPI 50(2):44–51

Kobayashi M, Asano T, Kajiyama M, Tomita B (2004) Analysis on residue formation during wood liquefaction with polyhydric alcohol. J Wood Sci 50:407–414

Kržan A, Kunaver M (2006) Microwave heating in wood liquefaction. J Appl Polym Sci 101:1051–1056

Kržan A, Žagar E (2009) Microwave driven wood liquefaction with glycols. Bioresour Technol 100:3143–3146

Liang CY, Marchessault RH (1959) Infrared spectra of crystalline polysaccharides. I. Hydrogen bond in native cellulose. J Polym Sci Part A: Polym Chem 37:385–395

Mašek O, Budarin V, Gronnow M, Crombie K, Brownsort P, Fitzpatrick E, Hurst P (2013) Microwave and slow pyrolysis biochar-Comparison of physical and functional properties. J Annal Appl Pyrol 100:41–48

Miura M, Kaga H, Sakurai A, Kakuchi T, Takahashi K (2004) Rapid pyrolysis of wood block by microwave heating. J Annal Appl Pyrol 71:187–199

Nah GB, Ryu JA, Lee JM, Eom TJ (2017) Chemical micronization of woody biomass using the microwave. J Korea TAPPI 49(4):150–158

Ramsurn H, Gupta RB (2012) Production of biocrude from biomass by acidic subcritical water followed by alkaline supercritical water two-step liquefaction. Energy Fuels 26:2365–2375

Schwanninger M, Rodrigues JC, Pereira H, Hinterstoisser B (2004) Effects of short-time vibratory ball milling on the shape of FT-IR spectra of wood and cellulose. J Vib Spec 36:23–40

Shi Z, Yang Q, Kuga S, Matsumoto Y (2015) Dissolution of wood pulp in aqueous NaOH/urea solution via dilute acid pretreatment. J Agric Food Chem 63:6113–6119

Ṧiroký J, Blackburn RS, Bechtold T, Taylor J, White P (2010) Attenuated total reflectance Fourier-transform Infrared spectroscopy analysis of crystallinity changes in lyocell following continuous treatment with sodium hydroxide. Cellulose 17:103–115

Wei YP, Cheng F, Li HP, Yu JG (2004) Synthesis and properties of polyurethane resins based on liquefied wood. J Appl Polym Sci 92:351–356

Yamada T, Aratani M, Kubo S, Ono H (2007) Chemical analysis of the product in acid-catalyzed solvolysis of cellulose using polyethylene glycol and ethylene carbonate. J Wood Sci 53:487–493

Zhang M, Pang H, Shi J, Fu T, Liao B (2012) Investigation of liquefied wood residues based on cellulose, hemicellulose, and lignin. J Appl Polym Sci 123:850–856
Acknowledgements
This study was supported by the 2019 Individual Basic Science Program (NRF-2019R1I1A3A01051948 and NRF-2019R1I1A1A01055532), hosted by the National Research Foundation (NRF), Ministry of Science, ICT and Future Planning, Republic of Korea.
Ethics declarations
Conflict of interest
On behalf of all authors, the corresponding author states that there is no conflict of interest.
Additional information
Publisher's Note
Springer Nature remains neutral with regard to jurisdictional claims in published maps and institutional affiliations.
About this article
Cite this article
Kim, K., Ryu, J., Choi, S.R. et al. Evaluation of solvent recyclability in fast microwave liquefaction with glycol ether of pine wood for preparation of lignocellulosic micro-fines. Eur. J. Wood Prod. 78, 821–829 (2020). https://doi.org/10.1007/s00107-020-01550-9
Received:

Published:

Issue Date: