Zusammenfassung
Hintergrund
Ein in unserer Klinik neu angewandter Algorithmus zur medikamentösen Prophylaxe venöser Thromboembolien (VTE) bei Kopf-Hals-Operationen rät zu einer restriktiven Gabe. Ziel der vorliegenden Arbeit ist es, anhand einer retrospektiven Inzidenzstudie die Auswirkung einer veränderten Indikationsstellung auf das venöse Thromboembolie- und Blutungsrisiko von operativ behandelten Patienten zu untersuchen.
Material und Methoden
Die Inzidenzen von venösen thromboembolischen Ereignissen (tiefe Venenthrombosen oder Lungenembolien) sowie von operativen Revisionen aufgrund von Nachblutungen wurden bei allen in unserer Klinik operativ behandelten Patienten in einem Zeitraum von 36 Monaten retrospektiv ausgewertet. Die Inzidenzen vor (Gruppe I) und nach (Gruppe II) Verschärfung der Indikationsstellung zur Verabreichung medikamentöser Prophylaxe wurden verglichen.
Ergebnisse
Es wurden 9276 Patienten in die Studie eingeschlossen. Die Inzidenzen einer VTE (0,12 %) und von operativen Revisionen aufgrund von Nachblutungen (1,4 %) waren gering. Die Inzidenz venöser thromboembolischer Ereignisse war in Gruppe II nicht signifikant höher (0,16 %) als in Gruppe I (0,08 %; p > 0,45; Chi-Quadrat-Test). Eine Fallanalyse zeigte, dass der Unterschied zwischen beiden Gruppen nicht auf die Änderung des Algorithmus zurückzuführen war. Die Inzidenzen von operativen Revisionen aufgrund von Nachblutungen waren in beiden Gruppen identisch (1,4 %).
Schlussfolgerung
Nach Verschärfung der Indikationsstellung zur Anwendung medikamentöser Thromboseprophylaxe zeigte sich kein Unterschied in der Inzidenz von thromboembolischen Ereignissen oder operativen Revisionen aufgrund von Nachblutungen. Der angewandte Algorithmus stellt somit eine kostengünstige und risikoarme Methode zur Prophylaxe venöser Thromboembolien dar.
Abstract
Background
In the authors' department, a newly implemented clinical algorithm for application of perioperative thrombosis prophylaxis in head and neck surgery recommends restrictive handling of anticoagulants. This retrospective study aims to evaluate the algorithm by comparing incidences of venous thromboembolic events (VTE) and surgical revisions due to postoperative hemorrhage.
Materials and methods
Perioperative incidences of deep vein thrombosis and pulmonary embolism as well as surgical revisions due to postoperative hemorrhage after head and neck surgery were determined based on all patients operated in the department over a period of 36 months. The incidences before (group I) and after (group II) implementation of the restrictive algorithm were compared.
Results
A total of 9276 patients were included. The incidences of VTE (0.12%) and surgical revisions due to postoperative hemorrhage (1.4%) were low. Incidences of VTE were non-significantly higher in group II (0.16%) than in group I (0.08%; p > 0.45, chi-square-test). Case analysis revealed that this difference was not due to implementation of the restrictive algorithm. The incidence of surgical revision due to postoperative hemorrhage was identical in the two groups (1.4%).
Conclusion
After restricting the indication for thrombosis prophylaxis, the incidence of VTE or surgical revision due to postoperative hemorrhage did not change significantly. The provided clinical algorithm represents a low-risk and low-cost strategy of perioperative risk stratification.
Access options
Buy single article
Instant access to the full article PDF.
US$ 39.95
Tax calculation will be finalised during checkout.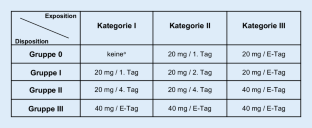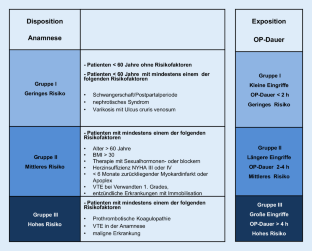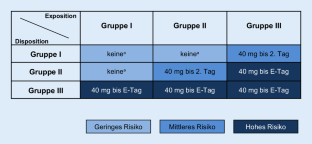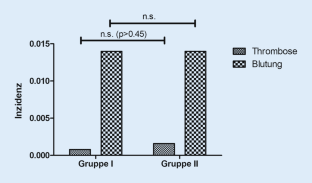 Literatur
1.

Virchow RLK (1856) Gesammelte Abhandlungen zur Wissenschaftlichen Medicine. Meidinger Sohn, Frankfurt

2.

Pape H‑C, Kurtz A, Silbernagl S (2014) Physiologie. Thieme, Stuttgart

3.

Zhan C, Miller MR (2003) Excess length of stay, charges, and mortality attributable to medical injuries during hospitalization. JAMA 290(14):1868–1874

4.

Garritano FG, Andrews GA (2016) Current practices in venous thromboembolism prophylaxis in otolaryngology-head and neck surgery. Head Neck 38(Suppl 1):E341–E345

5.

Garritano FG, Lehman EB, Andrews GA (2013) Incidence of venous thromboembolism in otolaryngology-head and neck surgery. JAMA Otolaryngol Head Neck Surg 139(1):21–27

6.

Chiesa Estomba C, Rivera Schmitz T, Ossa Echeverri CC, Betances Reinoso FA, Osorio Velasquez A, Santidrian Hidalgo C (2015) The risk of venous thromboembolism in ENT and head & neck surgery. Otolaryngol Pol 69(3):31–36

7.

Bahl V, Shuman AG, Hu HM, Jackson CR, Pannucci CJ, Alaniz C, Chepeha DB, Bradford CR (2014) Chemoprophylaxis for venous thromboembolism in otolaryngology. JAMA Otolaryngol Head Neck Surg 140(11):999–1005

8.

Bick RL, Frenkel EP, Walenga J, Fareed J, Hoppensteadt DA (2005) Unfractionated heparin, low molecular weight heparins, and pentasaccharide: Basic mechanism of actions, pharmacology, and clinical use. Hematol Clin N Am 19(1):1

9.

Gavriel H, Thompson E, Kleid S, Chan S, Sizeland A (2013) Safety of thromboprophylaxis after oncologic head and neck surgery. Study of 1018 patients. Head Neck 35(10):1410–1414

10.

Blank SJ, Grindler DJ, Zerega J, Blinder M, Nussenbaum B (2014) Systemic effects of subcutaneous heparin use in otolaryngology patients. Otolaryngol Head Neck Surg 151(6):967–971

11.

AWMF (2015) S3-Leitlinie Prophylaxe der venösen Thromboembolie (VTE) (2. Überarbeitete Version vom 15.10.2015)

12.

Hoing B, Geisthoff UW, Dempfle CE, Lang S, Stuck BA (2017) Prophylaxis of venous thromboembolic events in head and neck surgery. HNO 65(11):894–900

13.

Clayburgh DR, Stott W, Cordiero T, Park R, Detwiller K, Buniel M, Flint P, Schindler J et al (2013) Prospective study of venous thromboembolism in patients with head and neck cancer after surgery. JAMA Otolaryngol Head Neck Surg 139(11):1143–1150

14.

Samama MM, Cohen AT, Darmon JY, Desjardins L, Eldor A, Janbon C, Leizorovicz A, Nguyen H et al (1999) A comparison of enoxaparin with placebo for the prevention of venous thromboembolism in acutely ill medical patients. Prophylaxis in Medical Patients with Enoxaparin Study Group. N Engl J Med 341(11):793–800

15.

Wille-Jorgensen P, Rasmussen MS, Andersen BR, Borly L (2001) Heparins and mechanical methods for thromboprophylaxis in colorectal surgery. Cochrane Database Syst Rev. https://doi.org/10.1002/14651858.CD001217

16.

Ho KM, Tan JA (2013) Stratified meta-analysis of intermittent pneumatic compression of the lower limbs to prevent venous thromboembolism in hospitalized patients. Circulation 128(9):1003–1020

17.

Eppsteiner RW, Shin JJ, Johnson J, van Dam RM (2010) Mechanical compression versus subcutaneous heparin therapy in postoperative and posttrauma patients: a systematic review and meta-analysis. World J Surg 34(1):10–19

18.

Goldhaber SZ, Hirsch DR, MacDougall RC, Polak JF, Creager MA, Cohn LH (1995) Prevention of venous thrombosis after coronary artery bypass surgery (a randomized trial comparing two mechanical prophylaxis strategies). Am J Cardiol 76(14):993–996
Danksagung
Die Autoren danken Herrn Dr. Robert Lensing, DRG-Kodierung HNO-Klinik, sowie Herrn H. Braitsch, Medizincontrolling, für deren Hilfe bei der Datenanalyse.
Ethics declarations
Interessenkonflikt
B. Höing, T. Hussain, O. Kanaan, B.A. Stuck, S. Mattheis, S. Lang und S. Hansen geben an, dass kein Interessenkonflikt besteht.
Für diesen Beitrag wurden von den Autoren keine Studien an Menschen oder Tieren durchgeführt. Für die aufgeführten Studien gelten die jeweils dort angegebenen ethischen Richtlinien.
About this article
Cite this article
Höing, B., Hussain, T., Kanaan, O. et al. Medikamentöse Thromboseprophylaxe bei Kopf-Hals-Operationen. HNO (2021). https://doi.org/10.1007/s00106-021-01003-6
Schlüsselwörter
Heparin

Tiefe Beinvenenthrombose

HNO-Operationen

Enoxaparin

Perioperative Komplikationen
Keywords
Heparin

Enoxaparin

Deep vein thrombosis

Ent-surgery

Perioperative complication