Abstract
An infracochlear cholesteatoma of the petrous apex with direct contact to the internal carotid artery (ICA) is rare. Due to the risk of cochlear injury with consecutive deafness or injury of the ICA, precise preoperative planning of the approach and strategy is recommended, as well as thorough preoperative counseling of the patient for their informed consent. This case report presents navigated endoscopically controlled transtympanic resection of such a cholesteatoma recurrence. Hearing capacity was not impaired and the patient shows no signs of recurrence.
Access options
Buy single article
Instant access to the full article PDF.
US$ 39.95
Tax calculation will be finalised during checkout.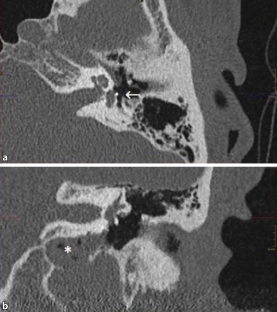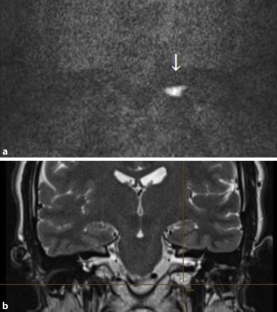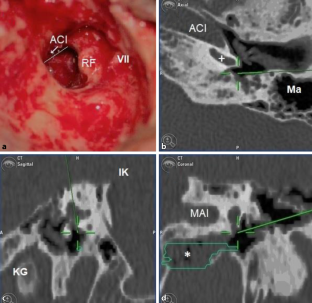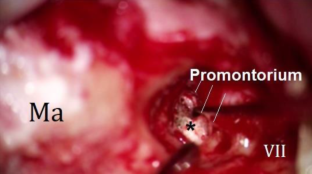 References
1.

Nomura Y (1982) Effective photography in otolaryngology-head and neck surgery: endoscopic photography of the middle ear. Otolaryngol Head Neck Surg 90(4):395–398

2.

Takahashi H, Honjo I, Fujita A, Kurata K (1990) Transtympanic endoscopic findings in patients with otitis media with effusion. Arch Otolaryngol Head Neck Surg 116(10):1186–1189

3.

Mc Kennan KX (1993) Endoscopic 'second look' mastoidoscopy to rule out residual epitympanic/mastoid cholesteatoma. Laryngoscope 103(7):810–814

4.

Kapadiya M, Tarabichi M (2019) An overview of endoscopic ear surgery in 2018. Laryngoscope Investig Otolaryngol 4(3):365–373

5.

Giddings NA, Brackmann DE, Kwartler JA (1991) Transcanal infracochlear approach to the petrous apex. Otolaryngol Head Neck Surg 104(1):29–36

6.

Plontke SK, Kösling S, Schilde S, Wittlinger J, Kisser U (2019) The infracochlear approach for diagnostic petrous apicotomy. HNO 67(10):791–795

7.

Marchioni D, Alicandri-Ciufelli M, Rubini A, Presutti L (2015) Endoscopic transcanal corridors to the lateral skull base: initial experiences. Laryngoscope 125(Suppl 5):S1–S13
Ethics declarations
Conflict of interest
M. C. Ketterer, S. Arndt, A. Knopf, T. F. Jakob, R. Beck and A. Aschendorff declare that they have no competing interests.
For this article no studies with human participants or animals were performed by any of the authors. All studies performed were in accordance with the ethical standards indicated in each case. Additional written informed consent was obtained from all individual participants or their legal representatives for whom identifying information is included in this article.
The supplement containing this article is not sponsored by industry.
About this article
Cite this article
Ketterer, M.C., Arndt, S., Knopf, A. et al. Navigated, endoscopically controlled, transtympanic resection of an infracochlear cholesteastoma recurrence. HNO 69, 31–33 (2021). https://doi.org/10.1007/s00106-020-00978-y
Accepted:

Published:

Issue Date:
Keywords
Endoscopic skull base surgery

Internal carotid artery

Navigation

Middle ear surgery

Inner ear surgery