Zusammenfassung
Hintergrund
Unheilbare Kopf-Hals-Tumoren führen zu quälenden Symptomen, wodurch die Lebensqualität der Patienten erheblich reduziert wird.
Ziel
Ziel dieses Artikels ist es, die chirurgischen Möglichkeiten und deren Grenzen im palliativen Setting aufzuzeigen.
Material und Methoden
Es erfolgte eine Literaturrecherche, die mit eigenen Erfahrungen ergänzt wurde.
Ergebnis
Zur Erreichung des Ziels der Palliativmedizin, die Symptome des Patienten zu lindern und die Lebensqualität zu erhöhen, sind sowohl kleinere endoskopische Eingriffe zum Tumordebulking als auch zur Blutstillung möglich. Zur Erhaltung der Schluckfunktion und der Atmung ist die Insertion von Stents eine Alternative zum Tracheostoma. Aber auch größere Tumorresektionen mit Rekonstruktion durch gestielte oder freie Transplantate können ihre Berechtigung haben.
Schlussfolgerung
Da im palliativen Setting besonders der Patient mit seinen individuellen Beschwerden im Vordergrund steht, sind die Indikationen zu chirurgischen Maßnahmen kritisch, am besten interdisziplinär, mit dem Patienten und seinem Umfeld, zu diskutieren. Aufgrund erheblicher Fortschritte insbesondere im Bereich der medikamentösen Tumortherapie verlieren insbesondere größere Operationen mit Rekonstruktion in der Palliativsituation etwas an Bedeutung.
Abstract
Background
Incurable head and neck cancer causes distressing symptoms that significantly reduce patients' quality of life.
Objective
The aim of this article is to present the surgical possibilities and their limitations in a palliative setting.
Materials and methods
A literature review was performed and supplemented with the authors' own experiences.
Results
Smaller endoscopic procedures for tumor debulking or hemostasis are possible to reduce symptoms and improving quality of life, which should be the aim of palliative care. To preserve swallowing function and breathing, the insertion of stents is a feasible alternative to tracheotomy. However, even larger tumor resections with reconstruction by pedicled or free grafts may be justified.
Conclusion
Especially in the palliative setting, patients and their individual complaints are the primary focus. Therefore, the indications for surgery should be discussed with the patient and his relatives, preferentially interdisciplinarily. Due to considerable progress, particularly in the field of systemic tumor therapy, extended surgical procedures with reconstruction are losing some of their importance in the palliative situation.
This is a preview of subscription content, log in to check access.
Access options
Buy single article
Instant access to the full article PDF.
US$ 39.95
Price includes VAT for USA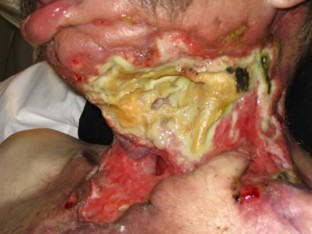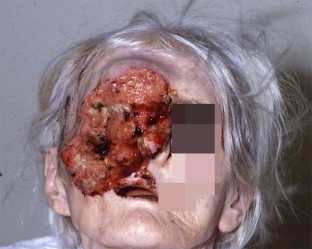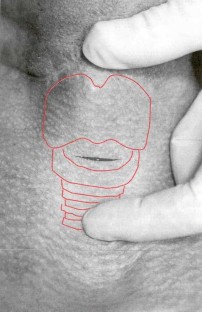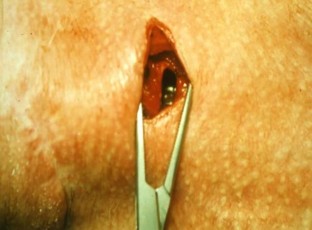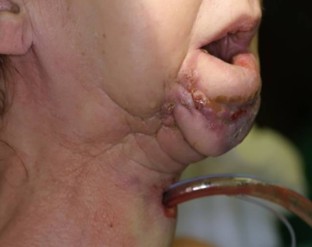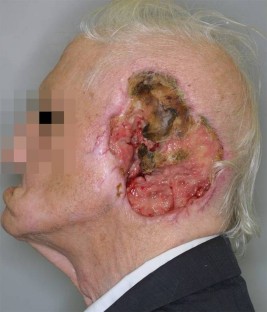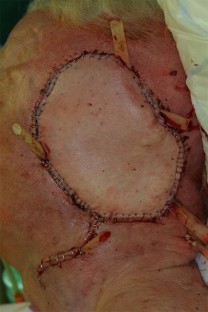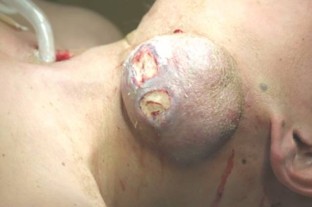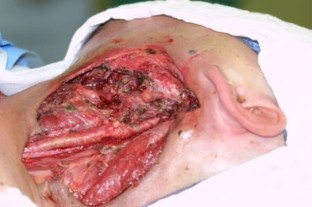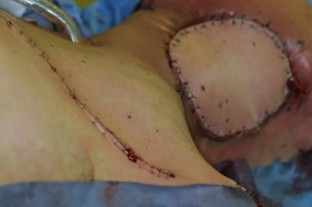 Literatur
1.

Chan JYW et al (2013) Quality of dying in head and neck cancer patients: the role of surgical palliation. Eur Arch Otorhinolaryngol 270:681–688

2.

Cocks H et al (2016) Palliative and supportive care in head and neck cander: United Kingdom national multidisciplinary guidlines. J Laryngol Otol 130:S198–S207

3.

Hankemeier UB, Krizanits FH, Schüle-Hein K (2004) Tumorschmerztherapie, 2. Aufl. Springer, Heidelberg

4.

Jang DW (2013) Pallitativ surgery for head and neck cancer with extensive skin involvement. Laryngoscope 123:1173–1177

5.

Miglani A et al (2016) Palliativ reconstruction for the management of incurable head and neck cancer. J Reconstr Microsurg 32:226–232

6.

Nasir BS (2016) Palliation of concomitant tracheobronchial and esophageal disease using a combined airway and esophageal approach. Ann Thorac Surg 102(2):400–406. https://doi.org/10.1016/j.athoracsur.2016.03.021

7.

Patel TD et al (2015) Utility of surgery/radiotherapy in distant metastatic head and neck squamous cell carcinoma: a population-based approach. Otolaryngol Head Neck Surg. https://doi.org/10.1177/0194599815627637

8.

Roland NJ et al (2014) The role of surgery in palliation of head and neck cancer. Curr Opin Otolaryngol Head Neck Surg 22:101–108

9.

Schuss U et al (2010) Passagere Koniotomie im Airway-Management. HNO 58:1112–1115

10.

Suarez C et al (2018) Carotid blowout syndrome: modern trends in management. Cancer Manag Res 10:5617–5628

11.

Taylor K et al (2019) Langzeitlebensqualität bei Patienten mit Kopf-Hals-Tumoren. Onkologe 25:253–261

12.

Tjahjono R et al (2018) Tracheobronchial stents in palliative care: a case series and literature review. BMJ Support Pallitat Care. https://doi.org/10.1136/bmjspcare-2018-001522

13.

van der Bogt RD et al (2018) Palliation of dysphagia. Best Pract Res Clin Gastroenterol 36-37:97–103. https://doi.org/10.1016/j.bpg.2018.11.010

14.

Wienecke A et al (2019) Epidemiologie von Kopf-Hals-Tumoren in Deutschland. Onkologe 25:190–200

15.

Yamamoto Y et al (2013) Simple palliative mediastinal tracheostomy. Ann Thorac Surg 95:2185–2187
Ethics declarations
Interessenkonflikt
F. Weber, U. Schuss und C. Sittel geben an, dass kein Interessenkonflikt besteht.
Für diesen Beitrag wurden von den Autoren keine Studien an Menschen oder Tieren durchgeführt. Für die aufgeführten Studien gelten die jeweils dort angegebenen ethischen Richtlinien. Für Bildmaterial oder anderweitige Angaben innerhalb des Manuskripts, über die Patienten zu identifizieren sind, liegt von ihnen und/oder ihren gesetzlichen Vertretern eine schriftliche Einwilligung vor.
About this article
Cite this article
Weber, F., Schuss, U. & Sittel, C. Möglichkeiten und Grenzen der Palliativchirurgie im Kopf-Hals-Bereich. HNO 68, 498–502 (2020). https://doi.org/10.1007/s00106-020-00817-0
Schlüsselwörter
Kopf-Hals-Tumoren

Schmerzen

Operative Palliativtherapie

Stents

Blutung
Keywords
Head and neck neoplasms

Pain

Palliative surgery

Stents

Bleeding