Zusammenfassung
Hintergrund
Nagelveränderungen im Kindesalter stellen den behandelnden Arzt diagnostisch oft vor große Herausforderungen. Macht man sich jedoch mit der Anatomie und der klinisch-pathophysiologischen Einteilung vertraut, lassen sich viele dieser Veränderungen leichter einordnen.
Ziel der Arbeit
Die Autoren möchten dem interessierten Leser den Zugang zu kindlichen Nagelveränderungen durch Erklärung anatomischer Grundlagen und kategorialer Einordnung erleichtern.
Material und Methode
Es erfolgten eine Auswertung der Literatur und Integration eigener Erfahrung anhand klinischer Beispiele.
Ergebnisse
Nach einer Erläuterung der anatomischen Besonderheiten des Nagelorgans folgt die Darstellung häufiger oder wichtiger Nagelveränderungen im Kindesalter. Diese werden unter klinischen Aspekten in transiente, kongenitale (genetisch und durch Umweltfaktoren bedingte), infektiöse Nagelerkrankungen, Nagelveränderungen im Rahmen entzündlicher Dermatosen, dunkle Streifen und Flecken, Tumoren und traumatisch bedingte Nagelveränderungen unterteilt.
Abstract
Background
Correct diagnosis of nail changes in childhood may be challenging. Knowing the anatomy of the nail apparatus and some pathophysiologic principles helps to categorize nail disorders correctly.
Objectives
This article gives a structured overview of nail disorders in childhood, thus, facilitating correct diagnosis of nail abnormalities in childhood.
Materials and methods
A review of literature and our own experience are presented.
Results
In the first part we present fundamental anatomical characteristics of the nail apparatus based on embryonal development of the nails. In the main part we categorize nail disorders according to clinical presentation: transient nail changes, congenital nail abnormalities, infectious diseases of the nails, nail changes in the context of chronic inflammatory skin diseases, pigmented nail changes, tumors and nail changes due to trauma.
Access options
Buy single article
Instant access to the full article PDF.
US$ 39.95
Tax calculation will be finalised during checkout.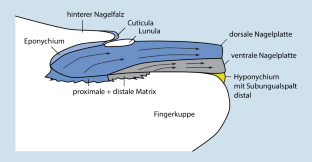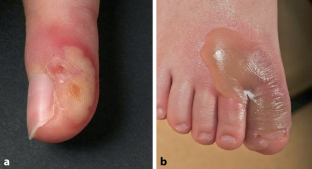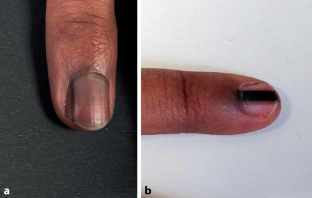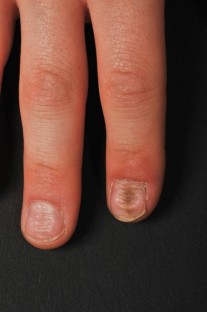 Literatur
1.

Singal A, Bisherwal Melanonychia K (2020) Etiology, diagnosis, and treatment. Indian Dermatol Online J 11(1):1–11

2.

de Berker D (2006) Childhood nail diseases. Dermatol Clin 24(3):355–363

3.

Cappelle D, Neels H, De Keukeleire S, Fransen E, Dom G, Vermassen A, Covaci A, Crunelle CL, van Nuijs ALN (2017) Ethyl glucuronide in keratinous matrices as biomarker of alcohol use: a correlation study between hair and nails. Forensic Sci Int 279:187–191

4.

Daniel CR III, Piraccini BM, Tosti A (2004) The nail  and hair in forensic science. J Am Acad Dermatol 50:258–261

5.

Gordon KA, Vega JM, Tosti A (2011) Trachyonychia: a comprehensive review. Indian J Dermatol Venereol Leprol 77:640–645

6.

Hackenberg B, Horváth O, Petachti M, Schult R, Yenigün N, Bannenberg P (2020) Scabies therapy in Germany : results of a nationwide survey with a special focus on the efficacy of first-line therapy with permethrin. Hautarzt 71:374–379

7.

Haneke E (2013) Krankheiten der Nägel. Ästhet Dermatol 4:28–37

8.

Haneke E (2014) Anatomy, biology, physiology and basic pathology of the nail organ. Hautarzt 65(4):282–290

9.

Higashi N (1968) Melanocytes of nail matrix and nail pigmentation. Arch Dermatol 97:570–574

10.

Iorizzo M, Tosti A, Di Chiacchio N, Hirata SH, Misciali C, Michalany N, Domiguez J, Toussaint S (2008) Nail melanoma in children: differential diagnosis and management. Dermatol Surg 34(7):974–978

11.

Leachman SA, Kaspar RL, Fleckman P, Florell SR, Smith FJ, McLean WH, Lunny DP, Milstone LM, van Steensel MA (2005) Clinical and pathological features of pachyonychia congenita. J Investing Dermatol Symp Proc 10:3–17

12.

Löser C, Mayser PA (2014) Dark nail: clinical findings, diagnostics and therapy of melanonychia. Hautarzt 65(4):327–336

13.

Madry MM, Steuer AE, Hysek CM, Liechti ME, Baumgartner MR, Kraemer T (2016) Evaluation of drug incorporation into hair segments and nails by enantiomeric analysis following controlled single MDMA intakes. Anal Bioanal Chem 408(2):545–556

14.

Morgan AM, Baran R, Haneke E (2001) Anatomy of the nail unit in relation to the distal digit. In: Krull E, Zook E, Baran R, Haneke E (Hrsg) Nail surgery: a text and atlas. Lippincott Williams & Wilkins, Philadelphia, S 1–28

15.

Nanda A, Al-Essa FH, El-Shafei WM, Alsaleh QA (2010) Congenital yellow nail syndrome: a case report and its relationship to nonimmune fetal hydrops. Pediatr Dermatol 27(5):533–534

16.

Reddy K, Lowenstein EJ (2011) Forensics in dermatology. Part II. J Am Acad Dermatol 64:811–824

17.

Richert B, Andre J (2011) Nail disorders in children: diagnosis and management. Am J Clin Dermatol 12:101–112

18.

Sehgal VN (2007) Twenty nail dystrophy trachyonychia: an overview. J Dermatol 34(6):361–366

19.

Tosti A, Piraccini BM (2001) Warts of the nail unit: surgical and nonsurgical approaches. Dermatol Surg 27:235–239

20.

Wagner G, Sachse MM (2011) Congenital malalignment of the big toe nail. J Dtsch Dermatol Ges 10(5):326–330

21.

Zaias N (1963) Embryology of human nail. Arch Dermatol 87:37–53
Ethics declarations
Interessenkonflikt
K. Gresset-Kaliebe, N. Garzorz-Stark, C. Schnopp und A. Weins geben an, dass kein Interessenkonflikt besteht.
Für diesen Beitrag wurden von den Autoren keine Studien an Menschen oder Tieren durchgeführt. Für die aufgeführten Studien gelten die jeweils dort angegebenen ethischen Richtlinien. Für Bildmaterial oder anderweitige Angaben innerhalb des Manuskripts, über die Patienten zu identifizieren sind, liegt von ihnen und/oder ihren gesetzlichen Vertretern eine schriftliche Einwilligung vor.
About this article
Cite this article
Gresset-Kaliebe, K., Garzorz-Stark, N., Schnopp, C. et al. Differenzialdiagnose häufiger Nagelveränderungen im Kindesalter. Hautarzt (2021). https://doi.org/10.1007/s00105-021-04762-z
Schlüsselwörter
Transient

Anatomie

Tumor

Trauma

Entzündung
Keywords
Transient

Anatomy

Neoplasms

Trauma

Inflammation