Zusammenfassung
Chronischer Pruritus ist ein häufiges und sehr belastendes Symptom in der gesamten Medizin. Die Versorgung von Patienten mit chronischem Pruritus ist nicht nur aufgrund der hohen Prävalenz, sondern auch wegen des multifaktoriellen Charakters des Pruritus, der zum Teil stark ausgeprägten reaktiven Folgeerscheinungen und nicht zuletzt wegen kaum zugelassener Therapien sehr komplex. Neben dem Hauptziel, keinen Pruritus mehr zu empfinden, wünschen sich die Patienten von ihrer Behandlung, die Ursache des chronischen Pruritus zu finden. Dieser Beitrag schließt klinische Shortcuts ein, die aufgrund der Anamnese bzw. der Lokalisation des Pruritus Hinweise auf die zugrunde liegende Ursache des chronischen Pruritus geben können, um eine detaillierte Diagnostik anzustreben bzw. überflüssige Diagnostik zu vermeiden. Sollten klinische Shortcuts nicht vorliegen, empfehlen wir eine strukturierte Anamnese, die in diesem Beitrag ebenfalls thematisiert wird.
Abstract
Chronic pruritus is a common and burdensome symptom in medicine. The care of patients with chronic pruritus is very complex not only because of the high prevalence, but also because of the multifactorial character of itch and the lack of approved therapies. In addition to the main patient need to alleviate the pruritus, patients wish to find the cause of chronic pruritus. This article summarizes some clinical shortcuts. Simple procedures such as taking a detailed medical history can provide clues to the underlying cause of chronic pruritus in order to achieve targeted diagnostic workup or to avoid unnecessary testing. If clinical shortcuts are not identified, we recommend a structured medical history, which is also discussed in this article.
This is a preview of subscription content, log in to check access.
Access options
Buy single article
Instant access to the full article PDF.
US$ 39.95
Price includes VAT for USA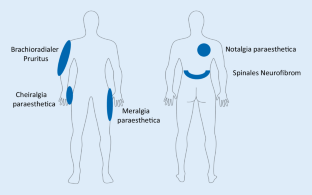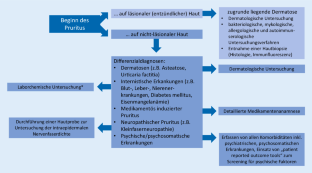 Ethics declarations
Interessenkonflikt
C. Zeidler und S. Ständer geben an, dass kein Interessenkonflikt besteht.
Für diesen Beitrag wurden von den Autoren keine Studien an Menschen oder Tieren durchgeführt. Für die aufgeführten Studien gelten die jeweils dort angegebenen ethischen Richtlinien.
About this article
Cite this article
Zeidler, C., Ständer, S. Klinische Shortcuts in der Differenzialdiagnostik von Pruritus. Hautarzt 71, 493–499 (2020). https://doi.org/10.1007/s00105-020-04606-2
Schlüsselwörter
Brachioradialer Pruritus

Notalgia paraesthetica

Cholestatischer Pruritus

Diagnostik

Strukturierte Anamnese
Keywords
Brachioradial pruritus

Notalgia paresthetica

Cholestatic pruritus

Diagnostic techniques

Structured medical history taking