Zusammenfassung
Hintergrund
"Enhanced recovery after surgery" (ERAS) ist ein multidisziplinäres Behandlungsmodell mit dem Ziel, einen komplikationsärmeren Krankheitsverlauf durch den Erhalt bzw. die frühzeitige Wiederherstellung der patientenspezifischen Homöostase zu gewährleisten. Aus Sicht der Anästhesie ergeben sich in allen 3 Bereichen der perioperativen Phase wesentliche Aspekte, die es umzusetzen gilt, um im Sinne eines vollständigen Behandlungskonzeptes einen optimalen Effekt für den Patienten zu erlangen.
Fragestellung
Perioperativ gibt es ein Bündel an anästhesiologischen Maßnahmen, die das ERAS-Konzept zu dem machen, was es heute ist. An dieser Stelle soll insbesondere auf die präoperative Vorbereitung und Optimierung der Patienten sowie auf das intra- und postoperative Flüssigkeitsmanagement eingegangen werden.
Material und Methoden
Es wurde eine selektive Literaturrecherche in den Datenbanken Medline und The Cochrane Library durchgeführt, und nationale und internationale Leitlinien wurden berücksichtigt.
Ergebnisse
Aus anästhesiologischer Sicht ergeben sich in allen 3 Säulen der perioperativen Phase relevante Aspekte, deren Einhaltung das Outcome der Patienten verbessern wird: präoperativ eine umfassende Risikoevaluierung sowie der Verzicht auf sedierende Medikamente; intraoperativ die individualisierte Flüssigkeitstherapie im Sinne einer zielorientierten Optimierung; postoperativ die frühe enterale Flüssigkeits- und Nahrungsaufnahme und der Verzicht auf intravenöse Flüssigkeitsgaben, wenn vertretbar.
Schlussfolgerung
ERAS-Konzepte in den klinischen Alltag zu implementieren und mit einem hohen Maß an Protokolltreue auf die Patienten zu übertragen stellt eine große interdisziplinäre Herausforderung dar, die dringend weiter verfolgt werden muss.
Abstract
Background
Enhanced recovery after surgery (ERAS) is a multidisciplinary treatment model with the aim of guaranteeing a reduction of postoperative complications by the maintenance or early restoration of the patient-specific homoeostasis. From the anesthesiologist's perspective in all three areas of the perioperative phases there are important aspects that need to be addressed in the sense of a holistic treatment concept in order to achieve the highest possible benefit for the patient.
Objective
In the perioperative period there is a bundle of anesthesiological measures, which make the ERAS concept into what it is now. At this point the focus is on the preoperative preparation and optimization of the patient and on the intraoperative and postoperative fluid management.
Material and methods
A selective literature search was carried out in the Medline and Cochrane Library databases including consideration of national and international guidelines.
Results
From an anesthesiological perspective there are relevant aspects in all three pillars of the perioperative phase, the adherence of which will improve the outcome of the patient: a comprehensive risk evaluation in the preoperative period and the avoidance of any sedative drugs; intraoperative individualized fluid management in the sense of a target-oriented optimization; early postoperative enteral nutrition and the avoidance of intravenous fluid administration, whenever justifiable.
Conclusion
Implementing the ERAS concept in the daily clinical routine in combination with maintaining a high compliance with the protocols is a demanding interdisciplinary challenge that urgently needs to be continued.
Access options
Buy single article
Instant access to the full article PDF.
US$ 39.95
Tax calculation will be finalised during checkout.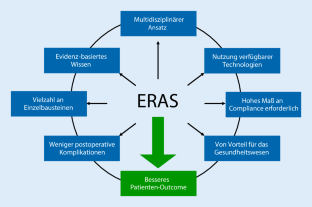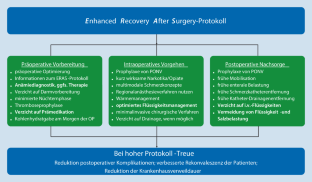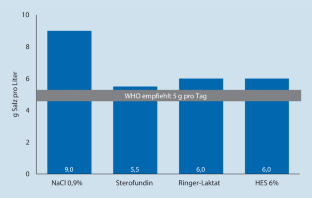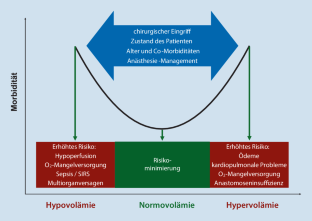 Literatur
1.

Bardram L, Funch-Jensen P, Jensen P et al (1995) Recovery after laparoscopic colonic surgery with epidural analgesia, and early oral nutrition and mobilisation. Lancet 345:763–764

2.

Bedford PD (1955) Adverse cerebral effects of anaesthesia on old people. Lancet 269:259–263

3.

Bundgaard-Nielsen M, Secher NH, Kehlet H (2009) 'Liberal' vs. 'restrictive' perioperative fluid therapy—a critical assessment of the evidence. Acta Anaesthesiol Scand 53:843–851

4.

Eddy DM (1982) Clinical policies and the quality of clinical practice. N Engl J Med 307:343–347

5.

Fearon KC, Ljungqvist O, Von Meyenfeldt M et al (2005) Enhanced recovery after surgery: a consensus review of clinical care for patients undergoing colonic resection. Clin Nutr 24:466–477

6.

Jacob M, Chappell D, Rehm M (2009) The 'third space'—fact or fiction? Best Pract Res Clin Anaesthesiol 23:145–157

7.

Kehlet H, Wilmore DW (2008) Evidence-based surgical care and the evolution of fast-track surgery. Ann Surg 248:189–198

8.

Kehlet H (1997) Multimodal approach to control postoperative pathophysiology and rehabilitation. Br J Anaesth 78:606–617

9.

Lassen K, Soop M, Nygren J et al (2009) Consensus review of optimal perioperative care in colorectal surgery: enhanced Recovery After Surgery (ERAS) Group recommendations. Arch Surg 144:961–969

10.

Levy N, Mills P, Mythen M (2016) Is the pursuit of DREAMing (drinking, eating and mobilising) the ultimate goal of anaesthesia? Anaesthesia 71:1008–1012

11.

Maessen J, Dejong CH, Hausel J et al (2007) A protocol is not enough to implement an enhanced recovery programme for colorectal resection. Br J Surg 94:224–231

12.

Marik PE, Cavallazzi R, Vasu T et al (2009) Dynamic changes in arterial waveform derived variables and fluid responsiveness in mechanically ventilated patients: a systematic review of the literature. Crit Care Med 37:2642–2647

13.

Melnyk M, Casey RG, Black P et al (2011) Enhanced recovery after surgery (ERAS) protocols: time to change practice? Can Urol Assoc J 5:342–348

14.

Meregalli A, Oliveira RP, Friedman G (2004) Occult hypoperfusion is associated with increased mortality in hemodynamically stable, high-risk, surgical patients. Crit Care 8:R60–R65

15.

Meybohm P, Fischer D, Schnitzbauer A et al (2016) Patient blood management: current state of the literature. Chirurg 87:40–46

16.

Monk TG, Weldon BC, Garvan CW et al (2008) Predictors of cognitive dysfunction after major noncardiac surgery. Anesthesiology 108:18–30

17.

Mueller MM, Van Remoortel H, Meybohm P et al (2019) Patient blood management: recommendations from the 2018 frankfurt consensus conference. JAMA 321:983–997

18.

Musallam KM, Tamim HM, Richards T et al (2011) Preoperative anaemia and postoperative outcomes in non-cardiac surgery: a retrospective cohort study. Lancet 378:1396–1407

19.

Mythen MG (2005) Postoperative gastrointestinal tract dysfunction. Anesth Analg 100:196–204

20.

Pearse RM, Moreno RP, Bauer P et al (2012) Mortality after surgery in Europe: a 7 day cohort study. Lancet 380:1059–1065

21.

Rasmussen LS, Steentoft A, Rasmussen H et al (1999) Benzodiazepines and postoperative cognitive dysfunction in the elderly. ISPOCD Group. International Study of Postoperative Cognitive Dysfunction. Br J Anaesth 83:585–589

22.

Ripolles-Melchor J, Ramirez-Rodriguez JM, Casans-Frances R et al (2019) Association between use of enhanced recovery after surgery protocol and postoperative complications in colorectal surgery: the postoperative outcomes within enhanced recovery after surgery protocol (POWER) study. JAMA Surg 154:725–736

23.

Schwenk W (2009) Fast track rehabilitation in visceral surgery. Chirurg 80:690–701

24.

Spahn DR, Goodnough LT (2013) Alternatives to blood transfusion. Lancet 381:1855–1865

25.

Srinivasa S, Lemanu DP, Singh PP et al (2013) Systematic review and meta-analysis of oesophageal Doppler-guided fluid management in colorectal surgery. Br J Surg 100:1701–1708

26.

Thacker JK, Mountford WK, Ernst FR et al (2016) Perioperative fluid utilization variability and association with outcomes: considerations for enhanced recovery efforts in sample US surgical populations. Ann Surg 263:502–510

27.

Wainwright TW, Immins T, Middleton RG (2016) Enhanced recovery after surgery (ERAS) and its applicability for major spine surgery. Best Pract Res Clin Anaesthesiol 30:91–102

28.

Watson X, Cecconi M (2017) Haemodynamic monitoring in the peri-operative period: the past, the present and the future. Anaesthesia 72(Suppl 1):7–15

29.

Wellge BE, Trepte CJ, Zollner C et al (2020) Perioperative fluid management. Chirurg 91:121–127

30.

White PF, Kehlet H, Neal JM et al (2007) The role of the anesthesiologist in fast-track surgery: from multimodal analgesia to perioperative medical care. Anesth Analg 104:1380–1396 (table of contents)
Ethics declarations
Interessenkonflikt
J. Renner, L. Moikow und U. Lorenzen geben an, dass kein Interessenkonflikt besteht.
Für diesen Beitrag wurden von den Autoren keine Studien an Menschen oder Tieren durchgeführt. Für die aufgeführten Studien gelten die jeweils dort angegebenen ethischen Richtlinien.
Additional information
Redaktion
U. Settmacher, Jena
About this article
Cite this article
Renner, J., Moikow, L. & Lorenzen, U. "Enhanced recovery after surgery" (ERAS): Weniger ist mehr. Chirurg (2021). https://doi.org/10.1007/s00104-021-01360-6
Schlüsselwörter
Anästhesie

Flüssigkeitsmanagement

Zielorientierte Therapie

Perioperativ

Homöostase
Keywords
Anesthesia

Fluid management

Target-oriented treatment

Perioperative

Homeostasis