Zusammenfassung
Periprothetische Frakturen (PPFx) besitzen aufgrund der steigenden Zahlen von Endoprothesenimplantationen an den großen Gelenken einen zunehmenden Stellenwert im orthopädisch-unfallchirurgischen Klinikalltag. Mit dem Unified Classification System (UCS) wurden zahlreiche historische Klassifikationssysteme ersetzt und in Anlehnung an die AO- und Vancouver-Klassifikation ein neues Klassifikationssystem etabliert. Die Therapie der PPFx ist individuell unter Berücksichtigung patientenabhängiger und patientenunabhängiger Faktoren zu treffen. Die konservative Behandlung der PPFx stellt eher die Ausnahme dar. Hingegen ist für die Wahl der operativen Behandlung und Entscheidung zwischen Osteosynthese oder Revisionsendoprothese besonders die Beurteilung der Stabilität des Implantates wichtig. Um eine Frakturkonsolidierung mit darüber hinaus gutem funktionellem Outcome zu erreichen, ist die Kenntnis über biomechanische Grundprinzipien der operativen (osteosynthetischen oder endoprothetischen) Versorgung periprothetischer Frakturen notwendig.
Abstract
Periprosthetic fractures (PPFx) are becoming an increasingly important topic in orthopedics and trauma surgery due to the rising number of endoprosthetic joint replacements. The recently published unified classification system (UCS) has replaced numerous historical classification systems and can be applied to all PPFx regardless of the bone or joint involved. The treatment of PPFx requires individual therapeutic concepts taking patient-dependent and patient-independent factors into consideration. The conservative treatment of PPFx is only justified in exceptional situations. In contrast, the choice between operative treatment and deciding between osteosynthesis or revision arthroplasty is particularly based on the assessment of the implant stability. In order to achieve fracture consolidation and also a good functional outcome, knowledge of the basic biomechanical principles of operative (osteosynthesis or endoprosthesis) treatment of periprosthetic fractures is necessary.
This is a preview of subscription content, log in to check access.
Access options
Buy single article
Instant access to the full article PDF.
US$ 39.95
Price includes VAT for USA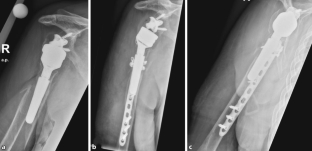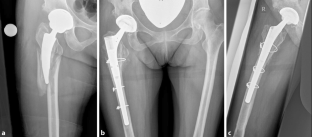 Literatur
1.

Garcia P, Domnick C, Lodde G, Raschke MJ (2018) Operative Versorgung in Orthopädie und Unfallchirurgie. Unfallchirurg 121:20–29

2.

Lindahl H, Garellick G, Regnér H, Herberts P, Malchau H (2006) Three hundred and twenty-one Periprosthetic femoral fractures. J Bone Joint Surg 88:1215–1222

3.

Fath R (2018) Knie-Totalendoprothesen Ein anspruchsvoller Gelenkersatz. Dtsch Arztebl 115(8):A-332 https://www.aerzteblatt.de/int/article.asp?id=196421

4.

García-Fernández C, Lópiz-Morales Y, Rodríguez A, López-Durán L, Martínez FM (2015) Periprosthetic humeral fractures associated with reverse total shoulder arthroplasty: incidence and management. Int Orthop 39:1965–1969

5.

Peterson CA, Lewallen DG (1996) Periprosthetic fracture of the acetabulum after total hip arthroplasty. J Bone Joint Surg 78:1206–1213

6.

Rocca GJD, Leung KS, Pape H‑C (2011) Periprosthetic fractures: epidemiology and future projections. J Orthop Trauma 25(Suppl 2):S66–S70

7.

Kenny P, Rice J, Quinlan W (1998) Interprosthetic fracture of the femoral shaft. J Arthroplasty 13:361–364

8.

Agten CA, Sutter R, Pfirrmann CWA (2014) CT and MRI of hip arthroplasty. Radiologe (54):715–725 (quiz 726). https://doi.org/10.1007/s00117-014-2693-8

9.

Valle CJD, Momberger NG, Paprosky WG (2003) Periprosthetic fractures of the acetabulum associated with a total hip arthroplasty. Instr Course Lect 52:281–290

10.

Davidson D, Pike J, Garbuz D, Duncan CP, Masri BA (2008) Intraoperative periprosthetic fractures during total hip arthroplasty. Evaluation and management. J Bone Joint Surg Am 90:2000–2012

11.

Callaghan JJ, Kim YS, Pederson DR, Brown TD (1999) Periprosthetic fractures of the acetabulum. Orthop Clin North Am 30:221–234

12.

Letournel E (1980) Acetabulum fractures: classification and management. Clin Orthop Relat Res 151:81–106

13.

Duncan CP, Masri BA (1995) Fractures of the femur after hip replacement. Instr Course Lect 44:293–304

14.

Johansson JE, McBroom R, Barrington TW, Hunter GA (1981) Fracture of the ipsilateral femur in patients wih total hip replacement. J Bone Joint Surg Am 63:1435–1442

15.

Whittaker RP, Sotos LN, Ralston EL (1974) Fractures of the femur about femoral endoprostheses. J Trauma 14:675–694

16.

Mont MA, Maar DC (1994) Fractures of the ipsilateral femur after hip arthroplasty. A statistical analysis of outcome based on 487 patients. J Arthroplasty 9:511–519

17.

Rorabeck CH, Taylor JW (1999) Classification of periprosthetic fractures complicating total knee arthroplasty. Orthop Clin North Am 30:209–214

18.

Kim K‑I, Egol KA, Hozack WJ, Parvizi J (2006) Periprosthetic fractures after total knee arthroplasties. Clin Orthop Relat Res 446:167–175

19.

Su ET, DeWal H, Cesare PED (2004) Periprosthetic femoral fractures above total knee replacements. J Am Acad Orthop Surg 12:12–20

20.

Fakler JKM et al (2017) A new classification of TKA periprosthetic femur fractures considering the implant type. BMC Musculoskelet Disord 18:490

21.

Felix NA, Stuart MJ, Hanssen AD (1997) Periprosthetic fractures of the tibia associated with total knee arthroplasty. Clin Orthop Relat Res 345:113–124

22.

Goldberg VM et al (1988) Patellar fracture type and prognosis in condylar total knee arthroplasty. Clin Orthop Relat Res 236:115–122

23.

Ortiguera CJ, Berry DJ (2002) Patellar fracture after total knee arthroplasty. J Bone Joint Surg Am 84-A:532–540

24.

Pires RES et al (2014) Interprosthetic femoral fractures: proposed new classification system and treatment algorithm. Injury 45(Suppl 5):S2–S6

25.

Platzer P et al (2010) Management and outcome of interprosthetic femoral fractures. Injury 42:1219–1225

26.

Wright TW, Cofield RH (1995) Humeral fractures after shoulder arthroplasty. J Bone Joint Surg Am 77:1340–1346

27.

Worland RL, Kim DY, Arredondo J (1999) Periprosthetic humeral fractures: management and classification. J Shoulder Elbow Surg 8:590–594

28.

Campbell JT, Moore RS, Iannotti JP, Norris TR, Williams GR (1998) Periprosthetic humeral fractures: mechanisms of fracture and treatment options. J Shoulder Elbow Surg 7:406–413

29.

Duncan CP, Haddad FS (2014) The unified classification system (UCS): improving our understanding of periprosthetic fractures. Bone Joint J 96-B:713–716

30.

Schütz M, Perka C (2013) Periprosthetic fracture management https://doi.org/10.1055/b-0034-91696

31.

Moran MC, Brick GW, Sledge CB, Dysart SH, Chien EP (1996) Supracondylar femoral fracture following total knee arthroplasty. Clin Orthop Relat Res 324:196–209

32.

Culp RW et al (1987) Supracondylar fracture of the femur following prosthetic knee arthroplasty. Clin Orthop Relat Res: 212–222

33.

Stolberg-Stolberg J, Domnick C, Raschke M (2019) Periprothetische Frakturen am Knie. Knie J 1:123–136

34.

Siekmann H et al (2020) Konservative Therapie periprothetischer Humerusfrakturen Jahre nach zementierter Frakturprothese. Unfallchirurg 123:29–35

35.

Fulkerson E (2006) Fixation of periprosthetic femoral shaft fractures associated with cemented femoral stems. J Orthop Trauma 20:89–93

36.

Chatziagorou G, Lindahl H, Kärrholm J (2019) Lower reoperation rate with locking plates compared with conventional plates in Vancouver type C periprosthetic femoral fractures: a register study of 639 cases in Sweden. Injury 50:2292–2300

37.

Gautier E, Sommer C (2003) Guidelines for the clinical application of the LCP. Injury 34:63–76

38.

Stoffel K, Dieter U, Stachowiak G, Gächter A, Kuster MS (2003) Biomechanical testing of the LCP—how can stability in locked internal fixators be controlled? Injury 34:11–19

39.

Lenz M, Lehmann W, Wähnert D (2016) Periprosthetic fracture fixation in osteoporotic bone. Injury 47(Suppl 2):S44–S50

40.

Lenz M et al (2012) Biomechanical performance of different cable and wire cerclage configurations. Int Orthop 37:125–130

41.

Wähnert D, Lenz M, Schlegel U, Perren S, Windolf M (2011) Cerclage handling for improved fracture treatment. A biomechanical study on the twisting procedure. Acta Chir Orthop Traumatol Cech 78:208–214

42.

Gwinner C et al (2015) Bicortical screw fixation provides superior biomechanical stability but devastating failure modes in periprosthetic femur fracture care using locking plates. Int Orthop 39:1749–1755

43.

Hoffmann MF et al (2014) Biomechanical evaluation of fracture fixation constructs using a variable-angle locked periprosthetic femur plate system. Injury 45:1035–1041

44.

Lenz M et al (2012) The locking attachment plate for proximal fixation of periprosthetic femur fractures—a biomechanical comparison of two techniques. Int Orthop 36:1915–1921

45.

Giesinger K et al (2013) Can plate osteosynthesis of periprosthethic femoral fractures cause cement mantle failure around a stable hip stem? A biomechanical analysis. J Arthroplasty 29:1308–1312

46.

Kampshoff J, Stoffel KK, Yates PJ, Erhardt JB, Kuster MS (2009) The treatment of periprosthetic fractures with locking plates: effect of drill and screw type on cement mantles: a biomechanical analysis. Arch Orthop Trauma Surg 130:627–632

47.

Wähnert D et al (2017) Double plating in Vancouver type B1 periprosthetic proximal femur fractures: A biomechanical study. J Orthop Res 35:234–239

48.

Lenz M et al (2016) Enhancing fixation strength in periprosthetic femur fractures by orthogonal plating—A biomechanical study. J Orthop Res 34:591–596

49.

Lee J‑M, Kim T, Kim T (2018) Treatment of periprosthetic femoral fractures following hip arthroplasty. Hip Pelvis 30:78–85

50.

Müller FJ, Galler M, Füchtmeier B (2014) Clinical and radiological results of patients treated with orthogonal double plating for periprosthetic femoral fractures. Int Orthop 38:2469–2472

51.

Medda S, Snoap T, Carroll EA (2019) Setting yourself up for success. J Orthop Trauma 33:S29–S32

52.

Lehmann W et al (2012) What is the risk of stress risers for interprosthetic fractures of the femur? A biomechanical analysis. Int Orthop 36:2441–2446

53.

Weiser L et al (2014) The role of inter-prosthetic distance, cortical thickness and bone mineral density in the development of inter-prosthetic fractures of the femur. Bone Joint J 96-B:1378–1384

54.

Soenen M, Baracchi M, Corte RD, Labey L, Innocenti B (2013) Stemmed TKA in a femur with a total hip arthroplasty: is there a safe distance between the stem tips? J Arthroplasty 28:1437–1445

55.

Shin Y‑S, Kim H‑J, Lee D‑H (2016) Similar outcomes of locking compression plating and retrograde intramedullary nailing for periprosthetic supracondylar femoral fractures following total knee arthroplasty: a meta-analysis. Knee Surg Sports Traumatol Arthrosc 25:2921–2928

56.

Cohen S, Flecher X, Parratte S, Ollivier M, Argenson JN (2018) Influence of treatment modality on morbidity and mortality in periprosthetic femoral fracture. A comparative study of 71 fractures treated by internal fixation or femoral implant revision. Orthop Traumatol Surg Res 104:363–367

57.

Langenhan R et al (2012) Weight bearing reduced mortality

58.

Perrin A et al (2018) The benefit of the systematic revision of the acetabular implant in favor of a dual mobility articulation during the treatment of periprosthetic fractures of the femur: a 49 cases prospective comparative study. Eur J Orthop Surg Traumatol 28:239–246

59.

Bozic KJ, Freiberg AA, Harris WH (2004) The high hip center. Clin Orthop Relat Res 420:101–105

60.

Wirtz C, Niethard FU (1997) Ursachen, Diagnostik und Therapie der aseptischen Hüftendoprothesenlockerung – eine Standortbestimmung. Z Orthop Unfall 135(4):270–280. https://doi.org/10.1055/s-2008-1039388

61.

Dohmae Y, Bechtold JE, Sherman RE, Puno RM, Gustilo RB (1988) Reduction in cement-bone interface shear strength between primary and revision arthroplasty. Clin Orthop Relat Res 236:214–220
Ethics declarations
Interessenkonflikt
J. Everding, B. Schliemann und M.J. Raschke geben an, dass kein Interessenkonflikt besteht.
Für diesen Beitrag wurden von den Autoren keine Studien an Menschen oder Tieren durchgeführt. Für die aufgeführten Studien gelten die jeweils dort angegebenen ethischen Richtlinien.
About this article
Cite this article
Everding, J., Schliemann, B. & Raschke, M.J. Periprothetische Frakturen: Grundlagen, Klassifikation und Therapieprinzipien. Chirurg (2020). https://doi.org/10.1007/s00104-020-01219-2
Schlüsselwörter
Unified Classification System

Risikofaktoren

Konservative Therapie

Osteosynthese

Revisionsendoprothetik
Keywords
Unified classification system

Risk factors

Conservative treatment

Osteosynthesis

Revision arthroplasty