Zusammenfassung
Die Technik der Hybridösophagektomie mit systematischer 2‑Feld-Lymphadenektomie beim Ösophaguskarzinom zeigte in einer aktuell publizierten prospektiv-randomisierten Studie eine signifikante Reduktion der postoperativen Morbidität. In unserem Videobeitrag stellen wir das abdominothorakale Hybridvorgehen mit (1.) laparoskopischer Gastrolyse und ischämischer Konditionierung des Magens und (2.) zweizeitiger transthorakaler Ösophagektomie mit Magenhochzug, intrathorakaler Schlauchmagenbildung und Anastomosierung dar. Das intraoperative Hyperspektral-Imaging (HSI) während des thorakalen Teils der Operation dient der Identifikation der ideal perfundierten Anastomosenregion.
Abstract
The technique of hybrid esophagectomy with systematic 2‑field lymphadenectomy for esophageal cancer showed a significant reduction in postoperative morbidity in a recently published prospective randomized study. This video publication presents the abdominothoracic hybrid procedure with (i) laparoscopic gastrolysis and ischemic conditioning of the stomach and (ii) 2-stage transthoracic esophagectomy with gastric pull-up, intrathoracic gastric tube formation and anastomosis. Intraoperative hyperspectral imaging (HSI) during the thoracic part of the operation is used for identification of the ideally perfused anastomotic region.
Access options
Buy single article
Instant access to the full article PDF.
US$ 39.95
Tax calculation will be finalised during checkout.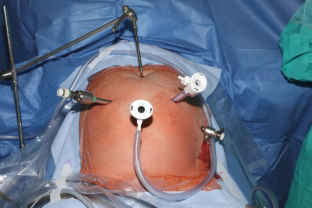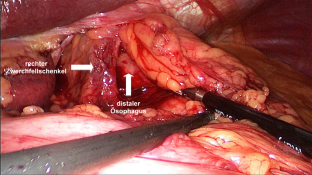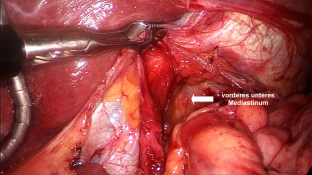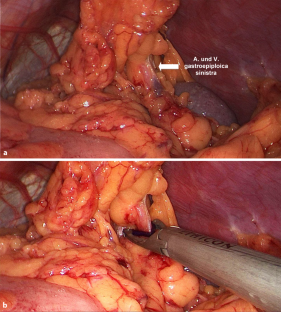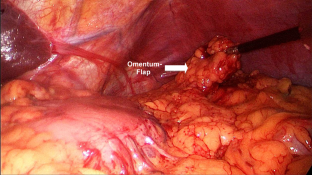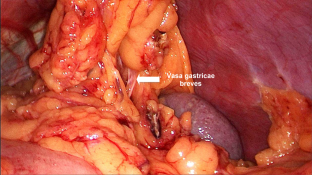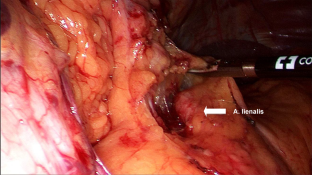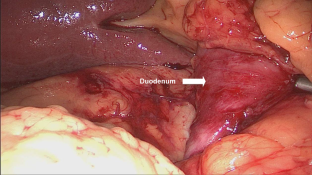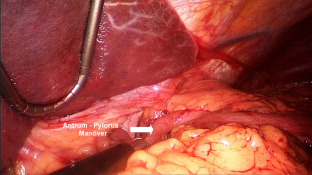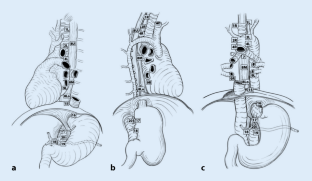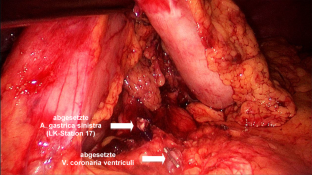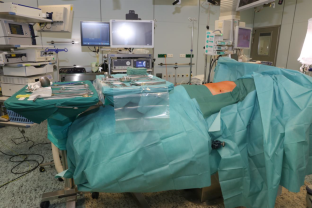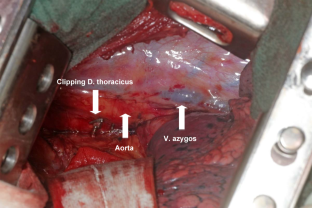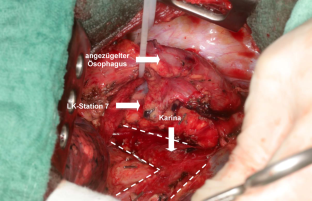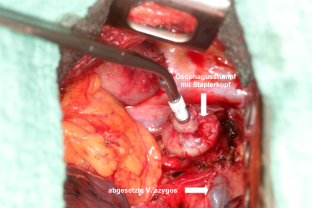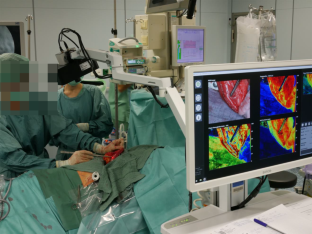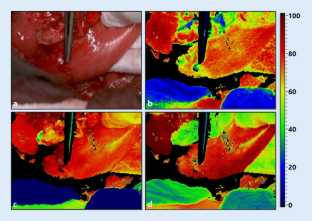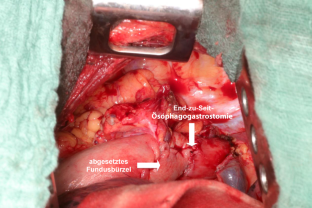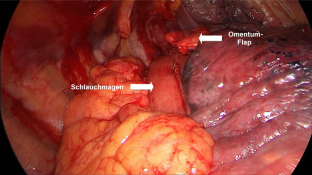 Notes
1.

Dieses Risiko ist möglicherweise bei der "klassischen" Hybridösophagektomie ohne ischämische Konditionierung des Magens massebedingt geringer, da hier der Schlauchmagen bereits während der abdominellen Phase gebildet und nicht der komplette Magen in den Thorax transponiert wird.
Ethics declarations
Interessenkonflikt
Y. Moulla, M. Reifenrath, K. Rehmet, S. Niebisch, B. Jansen-Winkeln, R. Sucher, A. Hoffmeister, N. Kreuser, H. Köhler und I. Gockel geben an, dass kein Interessenkonflikt besteht.
Für diesen Beitrag wurden von den Autoren keine Studien an Menschen oder Tieren durchgeführt. Für die aufgeführten Studien gelten die jeweils dort angegebenen ethischen Richtlinien. Für Bildmaterial oder anderweitige Angaben innerhalb des Manuskripts, über die Patienten zu identifizieren sind, liegt von ihnen und/oder ihren gesetzlichen Vertretern eine schriftliche Einwilligung vor.
Additional information
Y. Moulla and M. Reifenrath contributed first author equally. H. Köhler and I. Gockel contributed senior author equally.
Caption Electronic Supplementary Material
Die Online-Version dieses Beitrages enthält ein Video.
About this article
Cite this article
Moulla, Y., Reifenrath, M., Rehmet, K. et al. Hybridösophagektomie mit intraoperativem Hyperspektral-Imaging. Chirurg 91, 1–12 (2020). https://doi.org/10.1007/s00104-020-01139-1
Schlüsselwörter
Hybridösophagektomie

Ösophaguskarzinom

Ischämische Konditionierung des Schlauchmagens

Hyperspektral-Imaging

Ideale Anastomosenregion
Keywords
Hybrid esophagectomy

Esophageal cancer

Ischemic conditioning of the gastric tube

Hyperspectral imaging

Ideal anastomotic region