Zusammenfassung
Hintergrund
Ziel dieser Untersuchung war die Evaluation von Beanspruchung und Stress im engen zeitlichen Verlauf während der Vorbereitung zur Allgemeinanästhesie für geplante operative Eingriffe.
Patienten und Methode
In einer prospektiven Untersuchung wurden bei 52 Patientinnen, die für einen operativen gynäkologischen Eingriff in Allgemeinanästhesie vorgesehen waren, hämodynamische (Herzfrequenz und Blutdruck) und endokrine Stressparameter [Kortisolkonzentration in Serum und Speichel sowie Prolaktin und Dehydroepiandrosteronsulfat (DHEA-S) im Serum] bestimmt. Das subjektive Stressempfinden wurde mit dem Kurzantwortbogen zur aktuellen Beanspruchung (KAB) innerhalb kurzer Retestintervalle perioperativ und mit dem ersten Teil des Spielberger-State-Trait-Angstinventars (STAI-X1) prä- und postoperativ beurteilt. Postoperativ wurden alle Patientinnen zur ihrem Urteil über die periprozedurale Qualität und ihren Gesamteindruck während der Narkosevorbereitung befragt.
Ergebnisse
Die subjektiv empfundene Beanspruchung während der Narkosevorbereitung und die präoperativ empfundene Angst ließen sich mit standardisierten Fragebögen einschätzen. Hierbei korrelierte die Selbstauskunft mit der Dignität der Grunderkrankung. Dagegen ließen hämodynamische und endokrine Messparameter keine Rückschlüsse auf das aktuelle Befinden zu. Das postoperative Patientenurteil korrelierte nicht mit dem Verlauf der Beanspruchung.
Schlussfolgerung
In zukünftigen Untersuchungen zum perioperativen Patienten- und Qualitätsmanagement sollten standardisierte Testbögen – anstelle von vegetativen Messparametern allein – zur Evaluation der subjektiven Beanspruchung und des Stressempfindens bei Patienten mit operativen Eingriffen eingesetzt werden.
Abstract
Background
The aim of this investigation was to assess the extent of stress and demands in patients during preparation for general anesthesia for elective surgical procedures.
Patients and methods
A total of 52 female patients scheduled for elective gynecological surgery under general anesthesia were included in this prospective study. The extent and time course of actual demands describing perceived emotional stress was assessed at close intervals using the German version of the Questionnaire for Actual Demands (KAB). Pre-operative and postoperative anxiety was assessed using part one of Spielberger's state-trait-anxiety inventory (STAI-X1). This was compared to hemodynamic (heart rate und blood pressure) and endocrinal stress parameters [cortisol concentration in serum and saliva, prolactin and dehydroepiandrosteronesulfate (DHEA-S) in serum]. Postoperatively, all patients were asked to rate the quality of care during preparation for general anesthesia.
Results
The extent of patients' demands and stress during preparation for general anesthesia could be quantified by the short questionnaire for the actual demands (KAB). So-called objective stress parameters like hemodynamic and endocrinal data alone did not correlate with perceived stress. However, the subjective information correlated with the nature of the underlying diagnosis. The postoperative assessment of quality of care during preparation for general anesthesia did not correlate with the course of actual demands and stress.
Conclusion
In future studies assessing the perioperative management of patients and quality of care, standardized testing questionnaires should be preferred, instead of vegetative parameters alone, to reliably evaluate perioperative demands and stress in surgical patients.
This is a preview of subscription content, log in to check access.
Access options
Buy single article
Instant access to the full article PDF.
US$ 39.95
Price includes VAT for USA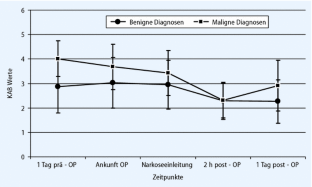 Literatur
1.

Apfel CC, Roewer N (2004) Postoperative Übelkeit und Erbrechen. Anaesthesist 53: 377–389

2.

Bakkejord E (1989) Operation delayed 5 times: mental terror. Interview by Bjorn Arild Ostby. J Sykepleien 77: 18–19

3.

Birbaumer N, Schmidt RF (1991) Biologische Psychologie. Springer, Berlin Heidelberg New York

4.

Broadbent E, Petrie KJ, Alley PG, Booth RJ (2003) Psychological stress impairs early wound repair following surgery. Psychosom Med 65: 865–869

5.

Cannon W (1929) Bodily changes in pain, hunger, fear and rage: an account of recent researches into the function of emotional excitement. Appleton, New York

6.

Constantopoulos A, Papadaki-Papandreou U, Papaconstantinou E (1995) Increased beta-endorphin but not Leu-enkephalin in plasma due to preoperative stress. Experientia 51: 16–18

7.

Danino AM, Sultan SD, Weber ID et al. (2006) Effect of image information before anesthetic surgery of the abdominal wall: a randomised trial. Ann Chir Plast Esthet 51: 517–524

8.

Doenicke A (1997) Optimizing preparation for surgical intervention. Anasthesiol Intensivmed Notfallmed Schmerzther 32: S309–312

9.

Domar AD, Everett LL, Keller MG (1989) Preoperative anxiety: is it a predictable entity? Anesth Analg 69: 763–767

10.

Garden AL, Merry AF, Holland RL, Petrie KJ (1996) Anaesthesia information – what patients want to know. Anaesth Intensive Care 24: 594–598

11.

Grabsch B, Clarke DM, Love A et al. (2006) Psychological morbidity and quality of life in women with advanced breast cancer: a cross-sectional survey. Palliat Support Care 4: 47–56

12.

Haas CE, Kaufman DC, Jones CE et al. (2003) Cytochrome P450 3A4 activity after surgical stress. Crit Care Med 31: 1338–1346

13.

Hering K, Harvan J, Dangelo M, Jasinski D (2005) The use of a computer website prior to scheduled surgery (a pilot study): impact on patient information, acquisition, anxiety level, and overall satisfaction with anesthesia care. AANA J 73: 29–33

14.

Hofmann M, Kleemann PP (1991) Free fatty acids as an indicator of preoperative stress and effects of premedication with flunitrazepam, morphine and promethazine on blood fatty acid level. Infusionstherapie 18: 227–230

15.

Hüppe M (1997) Angst im Alter am Tag vor operativen Eingriffen. Anaesthesiol Intensivmed Notfallmed Schmerzther 32: 348–354

16.

Hüppe M, Uhlig T, Heinze J et al. (2000) Management and methodological approaches for the assessment of emotional states in anesthesiology. Anaesthesiol Intensivmed Notfallmed Schmerzther 35: 3–11

17.

Hüppe M, Beckhoff M, Klotz KF et al. (2003) Reliability and validity of the Anaesthesiological Questionnaire for electively operated patients. Anaesthesist 52: 311–320

18.

Kaaks R, Rinaldi S, Key TJ et al. (2005) Postmenopausal serum androgens, oestrogens and breast cancer risk: the European prospective investigation into cancer and nutrition. Endocr Relat Cancer 12: 1071–1082

19.

Kain ZN, Sevarino F, Alexander GM et al. (2000) Preoperative anxiety and postoperative pain in women undergoing hysterectomy. A repeated-measures design. J Psychosom Res 49: 417–422

20.

Kallus K (1997) Indikatoren von Angst und Streß: Probleme der Reaktivität. Anaesthesiol Intensivmed Notfallmed Schmerzther 32: 342–347

21.

Kallus KW (1992) Beanspruchung und Ausgangszustand. In: Fortschritte der psychologischen Forschung. Psychologie Verlags Union, Weinheim

22.

Kanto J, Scheinin M (1991) Biochemical assessment of preoperative stress: a study with diazepam and measurement of monoamine metabolites and catecholamines in cerebrospinal fluid and plasma. Br J Anaesth 66: 587–590

23.

Krohne HW, Schmukle SC, Bruin J de (2005) The Inventory "State-Trait Operation Anxiety" (STOA): construction and empirical findings. Psychother Psychosom Med Psychol 55: 209–220

24.

Laux L, Glanzmann P, Schaffner P, Spielberger C (1981) Das State-Trait-Angstinventar-Manual. Beltz Test GmbH, Weinheim

25.

Lazarus RS, Folkman S (1987) Transactional theory and research on emotions and coping. Eur J Pers 1: 141–169

26.

Lee A, Gin T (2005) Educating patients about anaesthesia: effect of various modes on patients' knowledge, anxiety and satisfaction. Curr Opin Anaesthesiol 18: 205–208

27.

Lee HW, Lee KC, Kim HO et al. (1990) A study on the effect of waiting time for operations in the operating room on preoperative patients. Taehan Kanho 29: 36–48

28.

Madrigal Garcia I, Moreno Cuesta J, Rubio Vitaller A et al. (2005) Response to presurgical stress in outpatient surgery: effects on lymphocyte populations of psychological treatment to prevent surgical anxiety. Rev Esp Anestesiol Reanim 52: 383–388

29.

Maranets I, Kain ZN (1999) Preoperative anxiety and intraoperative anesthetic requirements. Anesth Analg 89: 1346–1351

30.

McCleane GJ, Watters CH (1990) Pre-operative anxiety and serum potassium. Anaesthesia 45: 583–585

31.

Moerman N, Dam FS van, Muller MJ, Oosting H (1996) The Amsterdam Preoperative Anxiety and Information Scale (APAIS). Anesth Analg 82: 445–451

32.

Müller B, Basler H (1993) Kurzfragebogen zur aktuellen Beanspruchung. Beltz Test GmbH, Weinheim

33.

Neuhaus W, Zok C, Gohring UJ, Scharl A (1994) A prospective study concerning psychological characteristics of patients with breast cancer. Arch Gynecol Obstet 255: 201–209

34.

Pasquini M, Biondi M, Costantini A et al. (2006) Detection and treatment of depressive and anxiety disorders among cancer patients: feasibility and preliminary findings from a liaison service in an oncology division. Depress Anxiety 23: 441–448

35.

Pei D, Chen TW, Kuo YL et al. (2003) The effect of surgical stress on insulin sensitivity, glucose effectiveness and acute insulin response to glucose load. J Endocrinol Invest 26: 397–402

36.

Ricci V, Dalpane A, Lolli E et al. (1995) Operative stress and neuroendocrine changes: influence of anxiety, pain, and drugs. Minerva Med 86: 81–87

37.

Seehaus D, Korell M, Osterauer S, Hepp H (1997) Selbsteinschätzung der Lebensqualität nach gynäkologischen Eingriffen. Gynakologe 30: 439–446

38.

Selye H (1953) Einführung in die Lehre vom Adaptationssyndrom. Thieme, Stuttgart

39.

Shafer A, Fish MP, Gregg KM et al. (1996) Preoperative anxiety and fear: a comparison of assessments by patients and anesthesia and surgery residents. Anesth Analg 83: 1285–1291

40.

Slangen K, Krohne HW, Stallrecht S, Kleemann PP (1993) Dimensionen perioperativer Belastung und ihre Auswirkungen auf intra- und postoperative Anpassung von Chirurgiepatienten. Z Gesundheitspsychol 1: 123–142

41.

Tolksdorf W (1984) Das präoperative Befinden. Fortschr Med 102: 342–345

42.

Tolksdorf W (1997) Der präoperative Streß: Forschungsansätze und Behandlungsmethoden. Anasthesiol Intensivmed Notfallmed Schmerzther 32: 318–324

43.

Vena C, Parker K, Allen R et al. (2006) Sleep-wake disturbances and quality of life in patients with advanced lung cancer. Oncol Nurs Forum 33: 761–769

44.

Visser MR, Lanschot JJ van, Velden J van der et al. (2006) Quality of life in newly diagnosed cancer patients waiting for surgery is seriously impaired. J Surg Oncol 93: 571–577

45.

Wallace LM (1985) Surgical patients' expectations of pain and discomfort: does accuracy of expectations minimise post-surgical pain and distress? Pain 22: 363–373
Danksagung
Die Autoren danken Frau Doris Klarner, Leitung Anästhesiepflege OP05, Klinikum der Universität München, Großhadern, und ihrem Team für die Unterstützung bei der Durchführung dieser Untersuchung. Ein Dank gilt allen Mitarbeitern/Innen der Stationen der Klinik und Poliklinik für Frauenheilkunde und Geburtshilfe, Klinikum der Universität München, Großhadern.
Interessenkonflikt
Es besteht kein Interesssenkonflikt. Der korrespondierende Autor versichert, dass keine Verbindungen mit einer Firma, deren Produkt in dem Artikel genannt ist oder einer Firma, die ein Konkurrenzprodukt vertreibt, bestehen.
Additional information
Korrespondenzadresse
Dr. B. Gauter-Fleckenstein
Duke University Medical Center
Box 3455
Durham/NC 27701
USA
bhauter@gmx.de
About this article
Cite this article
Gauter-Fleckenstein, B., Kaviani, R., Weiß, C. et al. Perioperatives Patientenmanagement. Anaesthesist 56, 562–570 (2007). https://doi.org/10.1007/s00101-007-1176-y
Schlüsselwörter
Qualitätsmanagement

Elektive operative Eingriffe

Stress

Postoperatives Patientenurteil

Spielberger-State-Trait-Angstinventar X1

Kurzantwortbogen zur aktuellen Beanspruchung
Keywords
Quality management

Elective surgery

Stress

Stress response

Postoperative demands

Spielberger's State-Trait-Anxiety-Inventory X1

Questionnaire for Actual Demands