Abstract
Introduction
In addition to abrasion-induced osteolysis and ensuing instabilities, the polyethylene (PE) abrasion of total hip arthroplasty (THA) inlays can also cause gait instability due to the decentralization of the hip joint. The current literature yields, as yet, insufficient findings whether these two factors are linked directly or indirectly to a higher risk for periprosthetic proximal femoral fractures (PPFF). The aim of our retrospective evaluation is to analyse the impact of PE abrasion on the pathology of PPFF in patients with THA.
Material and methods
The retrospective evaluation comprises all PPFF in patients with THA in the period from 01/2010 up to 12/2016. The study group (SG) included 66 cases (n = 66). The control group (CG) was comprised of patients with asymptomatic THA (n = 66), who were treated by our outpatient department including routine check-ups and X-ray examinations. We used the matched-pair methodology to scale the period of postsurgical care of the CG to the lifetime of the implant up to PPFF in the SG. We included epidemiologic data, radiological femoral head decentralization, osteolysis (Gruen classification), instabilities, acetabular cup position, and implant properties in our analysis. For the SG, we also included intra-operative signs of abrasion.
Findings
The SG showed significantly higher numbers of decentralized THA as signs of inlay erosion with 73% compared to only 41% in the CG (p > 0.001). The SG showed 1 ± 0.68 mm hip joint decentralization as to 0.5 ± 0.59 mm in the CG (p = 0.004). We found significantly more cases of osteolysis in the SG (n = 25) than in the CG (n = 13) (p = 0.003). We found no notable differences in acetabular cup inclination or anteversion as well as cup size. However, differences were significant in femoral head size (SG 32 ± 2.3 mm, CG 36 ± 2.4 mm; p = 0.042) and head material. We found more widespread use of metal femoral heads in the SG than in the CG (SG 1:1, CG 1:21; p = 0.001).
Conclusion
PPFF patients showed significantly higher rates of inlay erosion, resulting in femoral head decentralization and osteolysis. The higher rate of fracture is likely caused by the increasing instability of the implant fixation due to abrasion-induced osteolysis and the associated degradation of bone quality. It is conceivable that the abrasion and decentralization of the THA can also lead to gait instability, and thus, a higher proneness to falls. Gait instability can also be aggravated by increased granulation tissue and effusion due to the inlay abrasion. Although this cannot be substantiated by the investigation. In patients with decentralization of the THA and osteolysis, a radiological follow-up should be performed, and in case of gait instability (femoral head and) inlay replacements should be considered.
We're sorry, something doesn't seem to be working properly.
Please try refreshing the page. If that doesn't work, please contact support so we can address the problem.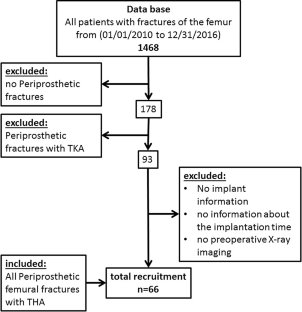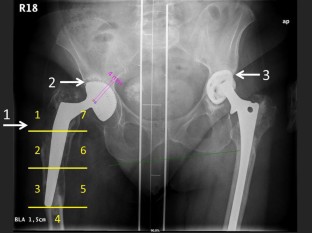 Availability of data and materials
The datasets used and/or analyzed during the current study are available from the corresponding author upon reasonable request.
References
1.

Müller M, Wassilew G, Perka C. Diagnostik und Behandlung von Abrieberkrankungen in der Hüftendoprothetik. Z Orthop Unfall. 2015;153:213–29. https://doi.org/10.1055/s-0035-1545827.

2.

Maltese JT, Laban MM, Gorab K, Maltese JC. Particle disease osteolysis of the pelvis and the hip after hip arthroplasty. Am J Phys Med Rehabil. 2014;93:453–4. https://doi.org/10.1097/PHM.0b013e3182a92e01.

3.

Murray PJ, Hwang KL, Imrie SN, Huddleston JI, Goodman SB. Polyethylene wear and osteolysis is associated with high revision rate of a small sized porous coated THA in patients with hip dysplasia. J Arthroplasty. 2014;29:1373–7. https://doi.org/10.1016/j.arth.2014.02.027.

4.

Sheth NP, Nelson CL, Paprosky WG. Femoral bone loss in revision total hip arthroplasty: evaluation and management. J Am Acad Orthop Surg. 2013;21:601–12. https://doi.org/10.5435/JAAOS-21-10-601.

5.

Cross M, Bostrom M. Periprosthetic fractures of the femur. Orthopedics. 2009. https://doi.org/10.3928/01477447-20090728-11.

6.

Franklin J, Malchau H. Risk factors for periprosthetic femoral fracture. Injury. 2007;38:655–60. https://doi.org/10.1016/j.injury.2007.02.049.

7.

Kurtz SM, Gawel HA, Patel JD. History and systematic review of wear and osteolysis outcomes for first-generation highly crosslinked polyethylene. Clin Orthop Relat Res. 2011;469:2262–77. https://doi.org/10.1007/s11999-011-1872-4.

8.

Peng Y, Arauz P, An S, Kwon Y-M. In vivo sliding distance on the metal-on-polyethylene total hip arthroplasty articulation using patient-specific gait analysis. J Orthop Res. 2018. https://doi.org/10.1002/jor.24113.

9.

Ardestani MM, Amenábar Edwards PP, Wimmer MA. Prediction of polyethylene wear rates from gait biomechanics and implant positioning in total hip replacement. Clin Orthop Relat Res. 2017;475:2027–42. https://doi.org/10.1007/s11999-017-5293-x.

10.

Lindahl H. Epidemiology of periprosthetic femur fracture around a total hip arthroplasty. Injury. 2007;38:651–4. https://doi.org/10.1016/j.injury.2007.02.048.

11.

Hoffmann MF, Burgers TA, Mason JJ, Williams BO, Sietsema DL, Jones CB. Biomechanical evaluation of fracture fixation constructs using a variable-angle locked periprosthetic femur plate system. Injury. 2014;45:1035–41. https://doi.org/10.1016/j.injury.2014.02.038.

12.

Colman M, Choi L, Chen A, Crossett L, Tarkin I, McGough R. Proximal femoral replacement in the management of acute periprosthetic fractures of the hip: a competing risks survival analysis. J Arthroplasty. 2014;29:422–7. https://doi.org/10.1016/j.arth.2013.06.009.

13.

Gruen TA, McNeice GM, Amstutz HC. "Modes of failure" of cemented stem-type femoral components: a radiographic analysis of loosening. Clin Orthop Relat Res. 1979;141:17–27.

14.

Chiang PP, Burke DW, Freiberg AA, Rubash HE. Osteolysis of the pelvis: evaluation and treatment. Clin Orthop Relat Res. 2003;417:164–74. https://doi.org/10.1097/01.blo.0000096816.78689.e5.

15.

Green TR, Fisher J, Matthews JB, Stone MH, Ingham E. Effect of size and dose on bone resorption activity of macrophages by in vitro clinically relevant ultra high molecular weight polyethylene particles. J Biomed Mater Res. 2000;53:490–7.

16.

Green TR, Fisher J, Stone M, Wroblewski BM, Ingham E. Polyethylene particles of a 'critical size' are necessary for the induction of cytokines by macrophages in vitro. Biomaterials. 1998;19:2297–302.

17.

Cross MB, Nam D, Mayman DJ. Ideal femoral head size in total hip arthroplasty balances stability and volumetric wear. HSS J. 2012;8:270–4. https://doi.org/10.1007/s11420-012-9287-7.

18.

Hall RM, Siney P, Unsworth A, Wroblewski BM. The association between rates of wear in retrieved acetabular components and the radius of the femoral head. Proc Inst Mech Eng H. 1998;212:321–6. https://doi.org/10.1243/0954411981534097.

19.

Clarke IC, Gustafson A. Clinical and hip simulator comparisons of ceramic-on-polyethylene and metal-on-polyethylene wear. Clin Orthop Relat Res. 2000;379:34–40.

20.

Hernigou P, Auregan JC, Bastard C, Housset V, Flouzat-Lachaniette CH, Dubory A. Higher prevalence of periprosthetic fractures with ceramic on polyethylene hip bearing compared with ceramic on ceramic on the contralateral side: a forty year experience with hip osteonecrosis. Int Orthop. 2018;42:1457–61. https://doi.org/10.1007/s00264-018-3863-5.

21.

Tsukamoto M, Ohnishi H, Mori T, Kawasaki M, Uchida S, Sakai A. Fifteen-year comparison of wear and osteolysis analysis for cross-linked or conventional polyethylene in cementless total hip arthroplasty for hip dysplasia-a retrospective cohort study. J Arthroplasty. 2017;32(161–165):e1. https://doi.org/10.1016/j.arth.2016.06.008.

22.

Graves SE, Davidson DC, de Steiger R, Lewis P, Stoney J, Tomkins A, Vial R, Griffith E, Lorimer M, Liu Y, Stanford T, Cuthbert A, Kelly L, O'Donohue G Harvard 44th Annual Advances in Arthroplasty Course, October 7–10, 2014, Massachusetts

23.

Premnath V, Harris WH, Jasty M, Merrill EW. Gamma sterilization of UHMWPE articular implants: an analysis of the oxidation problem ultra high molecular weight poly ethylene. Biomaterials. 1996;17:1741–53.

24.

Cole JC, Lemons JE, Eberhardt AW. Gamma irradiation alters fatigue-crack behavior and fracture toughness in 1900H and GUR 1050 UHMWPE. J Biomed Mater Res. 1900H;63:559–66. https://doi.org/10.1002/jbm.10335.

25.

Lerf R, Zurbrügg D, Delfosse D. Use of vitamin E to protect cross-linked UHMWPE from oxidation. Biomaterials. 2010;31:3643–8. https://doi.org/10.1016/j.biomaterials.2010.01.076.

26.

Maloney WJ, Wadey VMR. Management of acetabular bone loss. Instr Course Lect. 2006;55:279–85.
Acknowledgements
We acknowledge the support of the German Research Foundation (DFG) and the University Hospital Leipzig within the program of Open Access Publishing.
Funding
This study was funded by the non-profit German Research Foundation (DFG) and the University Hospital Leipzig within the program of Open Access Publishing. The funding body had no impact on the design of the study, collection, analysis and interpretation of data as well as writing the manuscript.
Ethics declarations
Conflict of interests
The authors declare no competing interests.
Ethics approval
The ethics committee of the University Hospital Leipzig in Germany granted ethical approval (ref. no. 044/14032016). The committee is listed in the Institutional Review Board (IRB) of the Office for Human Research Protections (OHRP) IORG0001320, IRB00001750.
Informed consent
Before the beginning of the study all patients were informed and gave their written consent to treatment contract, the study as well as to the publication of their anonymised data.
About this article
Cite this article
Zajonz, D., Lang, N., Pönick, C. et al. The impact of polyethylene abrasion on the occurrence of periprosthetic proximal femoral fractures in patients with total hip arthroplasty. Eur J Trauma Emerg Surg 47, 211–216 (2021). https://doi.org/10.1007/s00068-019-01222-1
Received:

Accepted:

Published:

Issue Date:
Keywords
Polyethylene abrasion

Periprosthetic proximal femoral fractures

Total hip arthroplasty

THA