Abstract
Purpose
Tibial plateau fractures with the involvement of the posterior column are an important prognostic factor towards poor functional outcome. We aimed to assess the sporting abilities postoperatively with special emphasis on the type of sports and sport-specific movements, as well as time needed to resume sports, restricting factors in sports engagement, and patient satisfaction. We aimed to provide prognostic information on return to sports.
Methods
Demographic, clinical and radiological variables were retrospectively collected from 82 multicentric patients between 2014 and 2016. Prospectively, sporting abilities before and after surgery were determined using questionnaires at a mean follow-up of 33 months postoperatively.
Results
Involvement in sports significantly decreased, with only 68.4% of patients resuming sports (p < 0.001). The mean time needed to partially or fully resume sports was 6–9 and 9–12 months, respectively. The ability to resume at the pre-injury level of effort and performance was 22% and 12%, respectively. Restricting factors were pain (66%), fear of re-injury (37%), limited range of motion (26%), and instability (21%). The majority (59%) of patients were unsatisfied with their physical abilities. Significantly worse outcomes were observed in patients playing high-impact sports, experiencing knee pain during physical activity, suffering from extension/valgus or flexion/varus trauma.
Conclusions
Tibial plateau fractures with the involvement of the posterior column significantly hamper the patients' sporting abilities, leaving the majority of patients unsatisfied. Preoperative counseling about prognosis, setting realistic expectations, optimizing rehabilitation and pain management postoperatively, and advising low-impact sports might improve engagement in physical activities and emotional impact on patients.
Level of evidence
3.
Access options
Buy single article
Instant access to the full article PDF.
US$ 39.95
Tax calculation will be finalised during checkout.
Subscribe to journal
Immediate online access to all issues from 2019. Subscription will auto renew annually.
US$ 159
Tax calculation will be finalised during checkout.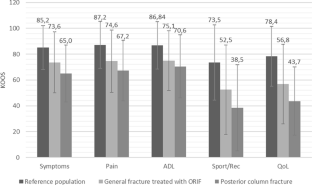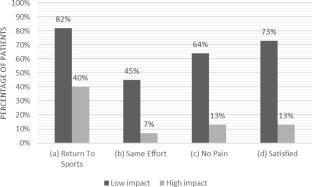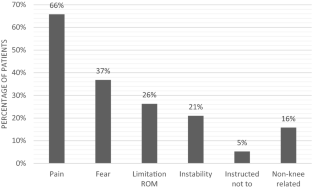 References
1.

Court-Brown CM, Caesar B. Epidemiology of adult fractures: a review. Injury. 2006;37(8):691–7.

2.

Manidakis N, Dosani A, Dimitriou R, Stengel D, Matthews S, Giannoudis P. Tibial plateau fractures: functional outcome and incidence of osteoarthritis in 125 cases. Int Orthop. 2010;34(4):565–70.

3.

Timmers TK, van der Ven DJ, de Vries LS, van Olden GD. Functional outcome after tibial plateau fracture osteosynthesis: a mean follow-up of 6 years. Knee. 2014;21(6):1210–5.

4.

van Dreumel RL, van Wunnik BP, Janssen L, Simons PC, Janzing HM. Mid- to long-term functional outcome after open reduction and internal fixation of tibial plateau fractures. Injury. 2015;46(8):1608–12.

5.

van den Berg J, Reul M, Nunes Cardozo M, Starovoyt A, Geusens E, Nijs S, et al. Functional outcome of intra-articular tibial plateau fractures: the impact of posterior column fractures. Int Orthop. 2017;41(9):1865–73.

6.

Garber CE, Blissmer B, Deschenes MR, Franklin BA, Lamonte MJ, Lee IM, et al. American College of Sports Medicine position stand. Quantity and quality of exercise for developing and maintaining cardiorespiratory, musculoskeletal, and neuromotor fitness in apparently healthy adults: guidance for prescribing exercise. Med Sci Sports Exerc. 2011;43(7):1334–599.

7.

Hamar B, Coberley CR, Pope JE, Rula EY. Impact of a senior fitness program on measures of physical and emotional health and functioning. Popul Health Manag. 2013;16(6):364–72.

8.

Haskell WL, Lee IM, Pate RR, Powell KE, Blair SN, Franklin BA, et al. Physical activity and public health: updated recommendation for adults from the American College of Sports Medicine and the American Heart Association. Med Sci Sports Exerc. 2007;39(8):1423–34.

9.

Jordan CO, Slater M, Kottke TE. Preventing chronic disease risk factors: rationale and feasibility. Medicina (Kaunas). 2008;44(10):745–50.

10.

Kraus TM, Martetschläger F, Müller D, Braun KF, Ahrens P, Siebenlist S, et al. Return to sports activity after tibial plateau fractures: 89 cases with minimum 24-month follow-up. Am J Sports Med. 2012;40(12):2845–52.

11.

Kugelman DN, Qatu AM, Haglin JM, Konda SR, Egol KA. Participation in recreational athletics after operative fixation of tibial plateau fractures: predictors and functional outcomes of those getting back in the game. Orthop J Sports Med. 2017;5(12):2325967117743916.

12.

Loibl M, Bäumlein M, Massen F, Gueorguiev B, Glaab R, Perren T, et al. Sports activity after surgical treatment of intra-articular tibial plateau fractures in skiers. Am J Sports Med. 2013;41(6):1340–7.

13.

Hoekstra H, Kempenaers K, Nijs S. A revised 3-column classification approach for the surgical planning of extended lateral tibial plateau fractures. Eur J Trauma Emerg Surg. 2017;43(5):637–43.

14.

de Groot IB, Favejee MM, Reijman M, Verhaar JA, Terwee CB. The Dutch version of the Knee Injury and Osteoarthritis Outcome Score: a validation study. Health Qual Life Outcomes. 2008;6:16.

15.

Ornetti P, Parratte S, Gossec L, Tavernier C, Argenson JN, Roos EM, et al. Cross-cultural adaptation and validation of the French version of the Knee injury and Osteoarthritis Outcome Score (KOOS) in knee osteoarthritis patients. Osteoarthr Cartil. 2008;16(4):423–8.

16.

Collins NJ, Misra D, Felson DT, Crossley KM, Roos EM. Measures of knee function: International Knee Documentation Committee (IKDC) Subjective Knee Evaluation Form, Knee Injury and Osteoarthritis Outcome Score (KOOS), Knee Injury and Osteoarthritis Outcome Score Physical Function Short Form (KOOS-PS), Knee Outcome Survey Activities of Daily Living Scale (KOS-ADL), Lysholm Knee Scoring Scale, Oxford Knee Score (OKS), Western Ontario and McMaster Universities Osteoarthritis Index (WOMAC), Activity Rating Scale (ARS), and Tegner Activity Score (TAS). Arthritis Care Res (Hoboken). 2011;63(Suppl 11):S208–S228228.

17.

Marx RG, Stump TJ, Jones EC, Wickiewicz TL, Warren RF. Development and evaluation of an activity rating scale for disorders of the knee. Am J Sports Med. 2001;29(2):213–8.

18.

Tilley ST, Thomas N. What knee scoring system? J Bone Joint Surg Br. 2010. https://pdfs.semanticscholar.org/d0ed/1706e373ccb3b723873963cd96c40b508c2d.pdf. Accessed 30 Jan 2019.

19.

Paradowski PT, Bergman S, Sundén-Lundius A, Lohmander LS, Roos EM. Knee complaints vary with age and gender in the adult population. Population-based reference data for the Knee injury and Osteoarthritis Outcome Score (KOOS). BMC Musculoskelet Disord. 2006;7:38.

20.

Kuster MS. Exercise recommendations after total joint replacement: a review of the current literature and proposal of scientifically based guidelines. Sports Med. 2002;32(7):433–45.

21.

Hall JA, Beuerlein MJ, McKee MD, Society COT. Open reduction and internal fixation compared with circular fixator application for bicondylar tibial plateau fractures. Surgical technique. J Bone Jt Surg Am. 2009;91(Suppl 2 Pt 1):74–88.

22.

Ahearn N, Oppy A, Halliday R, Rowett-Harris J, Morris SA, Chesser TJ, et al. The outcome following fixation of bicondylar tibial plateau fractures. Bone Jt J. 2014;96-B(7):956–62.

23.

Erdil M, Yildiz F, Kuyucu E, Sayar Ş, Polat G, Ceylan HH, et al. The effect of sagittal plane deformities after tibial plateau fractures to functions and instability of knee joint. Acta Chir Orthop Traumatol Cech. 2016;83(1):43–6.

24.

Papagelopoulos PJ, Partsinevelos AA, Themistocleous GS, Mavrogenis AF, Korres DS, Soucacos PN. Complications after tibia plateau fracture surgery. Injury. 2006;37(6):475–84.

25.

Rademakers MV, Kerkhoffs G, Sierevelt IN, Raaymakers ELFB, Marti R. Operative treatment of 109 tibial plateau fractures: five- to 27-year follow-up results. J Orthop Trauma. 2007;21:5–10.
Funding
There is no funding source.
Ethics declarations
Conflict of interest
The authors declare that they have no conflict of interest.
Ethical approval
This study was completed in compliance with national legislation and the guidelines of the Ethische Commissie Onderzoek UZ/KU Leuven, Commissie Medische Ethiek and Medische Ethische Toetsings Commissie Erasmus MC. The rights of the subjects were protected.
Informed consent
Informed consent was obtained from all individual participants included in the study.
Statement of human rights
All procedures performed in studies involving human participants were in accordance with the ethical standards of the institutional and/or national research committee and with the 1964 Helsinki declaration and its later amendments or comparable ethical standards.
About this article
Cite this article
Quintens, L., Van den Berg, J., Reul, M. et al. Poor sporting abilities after tibial plateau fractures involving the posterior column: how can we do better?. Eur J Trauma Emerg Surg 47, 201–209 (2021). https://doi.org/10.1007/s00068-019-01220-3
Received:

Accepted:

Published:

Issue Date:
Keywords
Knee

Trauma

Fracture

Posterior column

Physical activity

Sports