Abstract
Purpose
Biomechanical studies of the pelvis are usually performed using dissected pelvic specimens or synthetic bones. Thereby the stabilising effect of the surrounding soft tissues is analysed insufficiently. Biomechanical data for isolated anterior pelvic ring fractures are currently missing. Therefore, the purpose of this study was to develop a novel testing device for biomechanical analyses of the pelvis and to investigate two different anterior pelvic ring fractures in a cadaveric model with intact peripelvic soft tissues.
Methods
A new biomechanical table construction which enables the fixation and testing of complete cadaveric specimens was developed. It was used to investigate the relative motion and stiffness changes due to unilateral osteotomy of the superior and inferior pubic ramus. Five cadavers with a mean age of 55.6 years (± 15.53 years) were included and loaded with a sinusoidal, cyclic (1 Hz), compressive force of up to 365 N over ten cycles for each condition.
Results
Biomechanical testing of the pelvis with complete appended soft tissues was feasible. Native stiffness without a pelvic fracture was 64.31 N/mm (± 8.33 N/mm). A standardised unilateral osteotomy of the superior pubic ramus reduced the stiffness under isolated axial load by 2% (63.05 N/mm ± 7.45 N/mm, p = 0.690). Additional osteotomy of the inferior pubic ramus caused a further, statistically not significant, decrease by 5% (59.57 N/mm ± 6.84 N/mm, p = 0.310).
Conclusions
The developed test device was successfully used for biomechanical analyses of the pelvis with intact peripelvic soft tissues. In a first study, isolated unilateral fractures of the anterior pelvic ring showed no relevant biomechanical variation compared to the intact situation under isolated axial load. Only 7% of the measured stiffness was created by both unilateral pubic rami. Therefore, the clinical practice to treat unilateral anterior pelvic ring fractures conservatively is supported by the results of this study.
Access options
Buy single article
Instant access to the full article PDF.
US$ 39.95
Tax calculation will be finalised during checkout.
Subscribe to journal
Immediate online access to all issues from 2019. Subscription will auto renew annually.
US$ 159
Tax calculation will be finalised during checkout.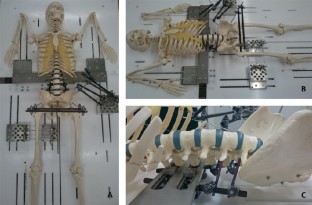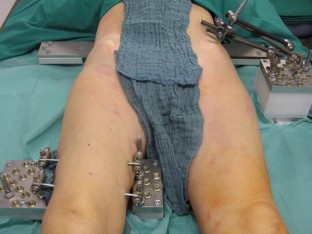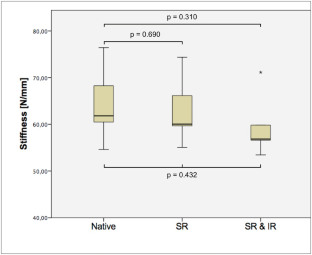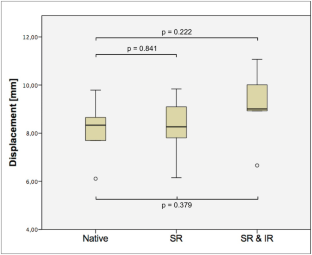 References
1.

Rommens PM, Ossendorf C, Pairon P, Dietz SO, Wagner D, Hofmann A. Clinical pathways for fragility fractures of the pelvic ring: personal experience and review of the literature. J Orthop Sci. 2015;20(1):1–11.

2.

Wagner D, Ossendorf C, Gruszka D, Hofmann A, Rommens PM. Fragility fractures of the sacrum: how to identify and when to treat surgically? Eur J Trauma Emerg Surg. 2015;41(4):349–62.

3.

Krappinger D, Kammerlander C, Hak DJ, Blauth M. Low-energy osteoporotic pelvic fractures. Arch Orthop Trauma Surg. 2010;130(9):1167–75.

4.

Vanderschot P. Treatment options of pelvic and acetabular fractures in patients with osteoporotic bone. Injury. 2007;38(4):497–508.

5.

Abdelfattah A, Moed BR. Ligamentous contributions to pelvic stability in a rotationally unstable open-book injury: a cadaver study. Injury. 2014;45(10):1599–603.

6.

Schildhauer TA, Ledoux WR, Chapman JR, Henley MB, Tencer AF, Routt MLC. Triangular osteosynthesis and iliosacral screw fixation for unstable sacral fractures: a cadaveric and biomechanical evaluation under cyclic loads. J Orthop Trauma. 2003;17(1):22–31.

7.

Sagi HC, Ordway NR, DiPasquale T. Biomechanical analysis of fixation for vertically unstable sacroiliac dislocations with iliosacral screws and symphyseal plating. J Orthop Trauma. 2004;18(3):138–43.

8.

van Zwienen CM, van den Bosch EW, Snijders CJ, Kleinrensink GJ, van Vugt AB. Biomechanical comparison of sacroiliac screw techniques for unstable pelvic ring fractures. J Orthop Trauma. 2004;18(9):589–95.

9.

Zwienen CM, Bosch EW, Dijke GAH, Snijders CJ, Vugt AB. Cyclic loading of sacroiliac screws in tile C pelvic fractures. J Trauma. 2005;58(5):1029–34.

10.

Agarwal Y, Doebele S, Windolf M, Shiozawa T, Gueorguiev B, Stuby FM. Two-leg alternate loading model—a different approach to biomechanical investigations of fixation methods of the injured pelvic ring with focus on the pubic symphysis. J Biomech. 2014;47(2):380–6.

11.

Tabaie SA, Bledsoe JG, Moed BR. Biomechanical comparison of standard iliosacral screw fixation to transsacral locked screw fixation in a type C zone II pelvic fracture model. J Orthop Trauma. 2013;27(9):521–6.

12.

Giraldez-Sanchez MA, Lazaro-Gonzalvez A, Martinez-Reina J, Serrano-Toledano D, Navarro-Robles A, Cano-Luis P, Fragkakis EM, Giannoudis PV. Percutaneous iliosacral fixation in external rotational pelvic fractures. Biomech Anal Injury. 2015;46(2):327–32.

13.

McLachlin S, Lesieur M, Stephen D, Kreder H, Whyne C. Biomechanical analysis of anterior ring fixation of the ramus in type C pelvis fractures. Eur J Trauma Emerg Surg. 2018;44(2):185–90.

14.

Camino Willhuber G, Zderic I, Gras F, Wahl D, Sancineto C, Barla J, Windolf M, Richards RG, Gueorguiev B. Analysis of sacro-iliac joint screw fixation: does quality of reduction and screw orientation influence joint stability? A biomechanical study. Int Orthop. 2016;40(7):1537–43.

15.

Berber O, Amis AA, Day AC. Biomechanical testing of a concept of posterior pelvic reconstruction in rotationally and vertically unstable fractures. J Bone Jt Surg Br. 2011;93(2):237–44.

16.

Yinger K, Scalise J, Olson SA, Bay BK, Finkemeier CG. Biomechanical comparison of posterior pelvic ring fixation. J Orthop Trauma. 2003;17(7):481–7.

17.

Vigdorchik JM, Jin X, Sethi A, Herzog DT, Oliphant BW, Yang KH, Vaidya R. A biomechanical study of standard posterior pelvic ring fixation versus a posterior pedicle screw construct. Injury. 2015;46(8):1491–6.

18.

Gansslen A. Biomechanical principles for treatment of osteoporotic fractures of the pelvis. Unfallchirurg. 2010;113(4):272–80.

19.

Loggers SAI, Joosse P, Jan Ponsen K. Outcome of pubic rami fractures with or without concomitant involvement of the posterior ring in elderly patients. Eur J Trauma Emerg Surg. 2018. https://doi.org/10.1007/s00068-018-0971-2.

20.

Nuchtern JV, Hartel MJ, Henes FO, Groth M, Jauch SY, Haegele J, Briem D, Hoffmann M, Lehmann W, Rueger JM, Grossterlinden LG. Significance of clinical examination, CT and MRI scan in the diagnosis of posterior pelvic ring fractures. Injury. 2015;46(2):315–9.

21.

Scheyerer MJ, Osterhoff G, Wehrle S, Wanner GA, Simmen HP, Werner CM. Detection of posterior pelvic injuries in fractures of the pubic rami. Injury. 2012;43(8):1326–9.

22.

Studer P, Suhm N, Zappe B, Bless N, Jakob M. Pubic rami fractures in the elderly—a neglected injury? Swiss Med Wkly. 2013;143:w13859.

23.

Culemann U, Scola A, Tosounidis G, Pohlemann T, Gebhard F. Concept for treatment of pelvic ring injuries in elderly patients. A challenge. Unfallchirurg. 2010;113(4):258–71.

24.

Krappinger D, Struve P, Schmid R, Kroesslhuber J, Blauth M. Fractures of the pubic rami: a retrospective review of 534 cases. Arch Orthop Trauma Surg. 2009;129(12):1685–90.

25.

Pueschel K. Teaching and research on corpses. Mortui Vivos Docent Rechtsmedizin. 2016;26(2):115–8.

26.

American College of Radiology. ACR–SPR–SSR practice parameter for the performance of quantitative computed tomography (QCT) bone densitometry. https://www.acr.org/-/media/ACR/Files/Practice-Parameters/QCT.pdf. Revised 2018 (Resolution 9).

27.

Bohme J, Lingslebe U, Steinke H, Werner M, Slowik V, Josten C, Hammer N. The extent of ligament injury and its influence on pelvic stability following type II anteroposterior compression pelvic injuries—a computer study to gain insight into open book trauma. J Orthop Res. 2014;32(7):873–9.

28.

McCormack R, Strauss EJ, Alwattar BJ, Tejwani NC. Diagnosis and management of pelvic fractures. Bull NYU Hosp Jt Dis. 2010;68(4):281–91.
Acknowledgements
Funding from the State of Hamburg is kindly acknowledged.
Ethics declarations
Conflict of interest
The authors declare that they have no conflicts of interest in relation to this article.
Ethical approval
The project was approved by the local ethics committee.
About this article
Cite this article
Fensky, F., Weiser, L., Sellenschloh, K. et al. Biomechanical analysis of anterior pelvic ring fractures with intact peripelvic soft tissues: a cadaveric study. Eur J Trauma Emerg Surg 47, 187–193 (2021). https://doi.org/10.1007/s00068-019-01213-2
Received:

Accepted:

Published:

Issue Date:
Keywords
Biomechanics

Pelvis

Peripelvic soft tissues

Anterior pelvic ring