Abstract
Purpose
Trauma patients often suffer for long time after their injury with physical and psychological problems. Patient-reported outcome measurements (PROM) help us to understand outcomes beyond mortality. The aim of the study was to describe a sample of Swedish trauma patients, regarding their physical function, psychological morbidity, and quality of life after trauma.
Methods
The study population was sourced from the Swedish Trauma Register: taking 1 month of data from five hospitals, over three consecutive years. 218 patients met the inclusion criteria, 147 data sets were used. Inclusion criteria included: age ≥ 18; New Injury Severity Scale (NISS) ≥ 9; and discharged alive. Data were collected at 3, 6, and 12 months after the trauma. EuroQol-5D (EQ-5D), Posttraumatic Symptom Scale-10 (PTSS-10) questionnaires and Glasgow Outcome Score (GOS) instrument were used with additional questions about pain and return to work.
Results
12 months after the trauma: full functional recovery (GOS 5) was seen in 68% of the patients; 59% reported difficult or moderate pain or discomfort; and 44.5% of the patients had returned to work. In EQ-5D mobility dimension, no recovery was evident between 6 and 12 months. Twenty percent of the patients had significant symptoms for PTSD after 6 months and 16% after 3 months and 12 months.
Conclusion
Trauma patients had decreased physical function and psychological morbidity up to 1 year after the initial injury. Incorporating PROM in the follow-up after trauma is important to understand the patient's perspective of care and treatment.
Access options
Buy single article
Instant access to the full article PDF.
US$ 39.95
Tax calculation will be finalised during checkout.
Subscribe to journal
Immediate online access to all issues from 2019. Subscription will auto renew annually.
US$ 159
Tax calculation will be finalised during checkout.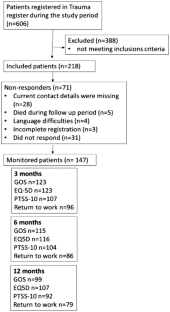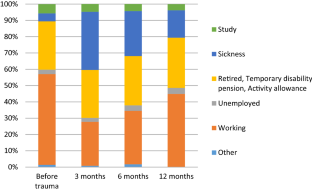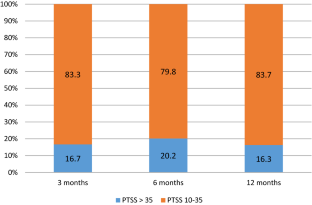 References
1.

Haagsma JA, Graetz N, Bolliger I, et al. The global burden of injury: incidence, mortality, disability-adjusted life years and time trends from the Global Burden of Disease study 2013. Injury Prev. 2016;22(1):3–18.

2.

Swedish Board of Health and Welfare. Causes of death 2017. https://www.socialstyrelsen.se. Accessed 24 Nov 2018.

3.

Brattstrom O, Eriksson M, Larsson E, et al. Socio-economic status and co-morbidity as risk factors for trauma. Eur J Epidemiol. 2015;30(2):151–7.

4.

Annual report from the swedish trauma registry (SweTrau) 2017. http://rcsyd.se/swetrau/wp-content/uploads/sites/10/2018/09/Årsrapport-SweTrau-2017.pdf. Accessed 24 Nov 2018.

5.

Gabbe BJ, Cameron PA, Hannaford AP, et al. Routine follow up of major trauma patients from trauma registries: what are the outcomes? J Trauma. 2006;61(6):1393–9.

6.

Nilsson E, Orwelius L, Kristenson M. Patient-reported outcomes in the Swedish National Quality Registers. J Intern Med. 2016;279(2):141–53.

7.

Gabbe BJ, Simpson PM, Sutherland AM, et al. Functional measures at discharge: are they useful predictors of longer term outcomes for trauma registries? Ann Surg. 2008;247(5):854–9.

8.

Gabbe BJ, Sutherland AM, Hart MJ, et al. Population-based capture of long-term functional and quality of life outcomes after major trauma: the experiences of the Victorian State Trauma Registry. J Trauma. 2010;69(3):532–6 (discussion 6).

9.

Dinh MM, Cornwall K, Bein KJ, et al. Health status and return to work in trauma patients at 3 and 6 months post-discharge: an Australian major trauma centre study. Eur J Trauma Emerg Surg. 2016;42(4):483–90.

10.

Holbrook TL, Hoyt DB, Stein MB, et al. Perceived threat to life predicts posttraumatic stress disorder after major trauma: risk factors and functional outcome. J Trauma. 2001;51(2):287–92 (discussion 92–93).

11.

Kreis BE, Castano NJ, Tuinebreijer WE, et al. Characteristics of polytrauma patients with posttraumatic stress disorder in a level 1 trauma center. Eur J Trauma Emerg Surg. 2011;37(3):269–75.

12.

Burstrom K, Johannesson M, Rehnberg C. Deteriorating health status in Stockholm 1998–2002: results from repeated population surveys using the EQ-5D. Qual Life Res. 2007;16(9):1547–53.

13.

Stoll C, Kapfhammer HP, Rothenhausler HB, et al. Sensitivity and specificity of a screening test to document traumatic experiences and to diagnose post-traumatic stress disorder in ARDS patients after intensive care treatment. Intensive Care Med. 1999;25(7):697–704.

14.

Wilson L, Pettigrew L, Teasdale G. Structured interviews for the Glasgow Outcome Scale and the Extended Glasgow Outcome Scale: guidelines for the use. J Neurotrauma. 1998;15(8):573–85.

15.

Dolan P. Modeling valuations for EuroQol health states. Med Care. 1997;35(11):1095–108.

16.

Bouillon B, Kreder HJ, Eypasch E, et al. Quality of life in patients with multiple injuries—basic issues, assessment, and recommendations. Restor Neurol Neurosci. 2002;20(3–4):125–34.

17.

Van Beeck EF, Larsen CF, Lyons RA, et al. Guidelines for the conduction of follow-up studies measuring injury-related disability. J Trauma. 2007;62(2):534–50.

18.

Weisaeth L. Torture of a Norwegian ship's crew. The torture, stress reactions and psychiatric after-effects. Acta Psychiatrica Scandinavica Supplementum. 1989;355:63–72.

19.

Jubran A, Lawm G, Duffner LA, et al. Post-traumatic stress disorder after weaning from prolonged mechanical ventilation. Intensive Care Med. 2010;36(12):2030–7.

20.

Hawthorn G. The effect of different methods of collecting data: mail, telephone and filter data collection issues in utility measurement. Qual Life Res. 2003;12:1081–8.

21.

Gabbe BJ, Simpson PM, Sutherland AM, et al. Evaluating time points for measuring recovery after major trauma in adults. Ann Surg. 2013;257(1):166–72.

22.

Brattstrom O, Granath F, Rossi P, et al. Early predictors of morbidity and mortality in trauma patients treated in the intensive care unit. Acta Anaesthesiol Scand. 2010;54(8):1007–17.

23.

Haagsma J, Ringburg A, van Lieshout E. Prevalence rate, predictors and long-term course of probable posttraumatic stress disorder after major trauma: a prospective cohort study. BMC Psychiatry. 2012;12:236.

24.

Harris IA, Young JM, Rae H, et al. Predictors of post-traumatic stress disorder following major trauma. ANZ J Surg. 2008;78(7):583–7.
Acknowledgements
We would like to thank the trauma registry nurses at the five hospitals that participated in the study and made it possible. We also are grateful to all the patients who answered the questions and a great thank you to Elizabeth Mårtenson for her help with language review.
Ethics declarations
Approval was obtained from the Regional Ethics Committee in Stockholm, August 2016. Reference 2016/1333-31/2.
Conflict of interest
The authors GW, LS, TT, OB declare that they have no conflict of interest.
About this article
Cite this article
Wihlke, G., Strömmer, L., Troëng, T. et al. Long-term follow-up of patients treated for traumatic injury regarding physical and psychological function and health-related quality of life. Eur J Trauma Emerg Surg 47, 129–135 (2021). https://doi.org/10.1007/s00068-019-01170-w
Received:

Accepted:

Published:

Issue Date:
Keywords
Trauma

Outcome

Quality of life

PTSS-10

EQ-5D