Abstract
Purpose
The activity and metabolism of fracture healing can be monitored quantitatively by measuring bone turnover markers (BTMs) in serum or urine. However, in osteoporotic bone, the exact metabolism processes during the healing of metaphyseal fractures remain unknown. There is no diagnostic approach which currently allows dynamic insight into the fracture healing processes in order to monitor the progression of healing and to assist in therapeutic decision making.
Methods
Between March 2007 and February 2009, 30 patients over 50 years of age who suffered a metaphyseal fracture were included in our study. The levels of the osteoanabolic marker BAP (bone-specific alkaline phosphatase) and osteocatabolic marker β-CTX [crosslinked C-(CTX)-telopeptide-of-type-I-collagen] were monitored during the fracture healing of osteoporotic and nonosteoporotic fractures for a duration of 8 weeks.
Results
After an initial decrease of BAP in the first week, the BAP level steadily increased through the fourth week in both groups. The levels of BAP in the osteoporotic group surpassed the healthy group. β-CTX steadily increased in healthy bone up to the fourth week; in osteoporotic bone, β-CTX first increased and, thereafter, decreased from the first week onwards.
Conclusions
In this work, the first molecular biological aspects of osteoporotic fracture healing have been uncovered, helping to explain the mechanisms of delayed fracture healing in osteoporotic bone. The early decrease of reduced β-CTX as well as elevated BAP during the healing process may be the first aspects within the delayed healing of osteoporotic bone. Further studies are necessary in order to achieve more detailed insight to fracture healing and to ascertain the progression of fracture healing as being essential (criteria) for therapeutic decision making.
Access options
Buy single article
Instant access to the full article PDF.
US$ 39.95
Tax calculation will be finalised during checkout.
Subscribe to journal
Immediate online access to all issues from 2019. Subscription will auto renew annually.
US$ 159
Tax calculation will be finalised during checkout.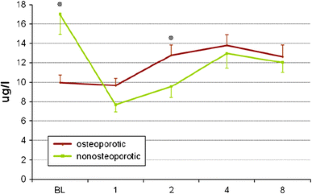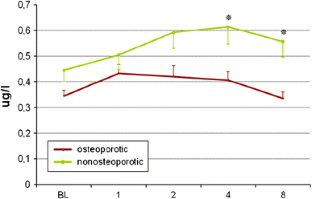 References
1.

Ivaska KK, Gerdhem P, Akesson K, Garnero P, Obrant KJ. Effect of fracture on bone turnover markers: a longitudinal study comparing marker levels before and after injury in 113 elderly women. J Bone Miner Res. 2007;22:1155–64.

2.

Pagani F, Francucci CM, Moro L. Markers of bone turnover: biochemical and clinical perspectives. J Endocrinol Invest. 2005;28:8–13.

3.

Glover SJ, GArnero P, Naylor K, Rogers A, Eastell R. Establishing a reference range for bone turnover markers in young, healthy women. Bone. 2008;42:623–30.

4.

Yoshimura N, Muraki S, Oka H, Kawaguchi H, Nakamura K, Akune T. Biochemical markers of bone turnover as predictors of osteoporosis and osteoporotic fractures in men and women: 10-year follow-up of the Taiji cohort. Mod Rheumatol. 2011;21:608–20.

5.

Garnero P. Biomarkers for osteoporosis management: utility in diagnosis, fracture risk prediction and therapy monitoring. Mol Diagn Ther. 2008;12:157–70.

6.

Garnero P, Delmas PD. Contribution of bone mineral density and bone turnover markers to the estimation of risk of osteoporotic fracture in postmenopausal women. J Musculoskelet Neuronal Interact. 2004;4:50–63.

7.

Joerring S, Jensen LT, Andersen GR, Johansen JS. Types I and III procollagen extension peptides in serum respond to fracture in humans. Arch Orthop Trauma Surg. 1992;111:265–7.

8.

Joerring S, Krogsgaard M, Wilbek H, Jensen LT. Collagen turnover after tibial fractures. Arch Orthop Trauma Surg. 1994;113:334–6.

9.

Akesson K, Vergnaud P, Delmas PD, Obrant KJ. Serum osteocalcin increases during fracture healing in elderly women with hip fracture. Bone. 1995;16:427–30.

10.

Kurdy NM, Bowles S, Marsh DR, Davies A, France M. Serology of collagen types I and III in normal healing of tibial shaft fractures. J Orthop Trauma. 1998;12:122–6.

11.

Obrant KJ, Ivaska KK, Gerdhem P, Alatalo SL, Pettersson K, Väänänen HK. Biochemical markers of bone turnover are influenced by recently sustained fracture. Bone. 2005;36:786–92.

12.

Ingle BM, Hay SM, Bottjer HM, Eastell R. Changes in bone mass and bone turnover following distal forearm fracture. Osteoporos Int. 1999;10:399–407.

13.

Ingle BM, Hay SM, Bottjer HM, Eastell R. Changes in bone mass and bone turnover following ankle fracture. Osteoporos Int. 1999;10:408–15.

14.

Veitch SW, Findlay SC, Hamer AJ, Blumsohn A, Eastell R, Ingle BM. Changes in bone mass and bone turnover following tibial shaft fracture. Osteoporos Int. 2006;17:364–72.

15.

Obrant KJ. Trabecular bone changes in the greater trochanter after fracture of the femoral neck. Acta Orthop Scand. 1984;55:78–82.

16.

Nyman MT, Paavolainen P, Forsius S, Lamberg-Allardt C. Clinical evaluation of fracture healing by serum osteocalcin and alkaline phosphatase. Ann Chir Gynaecol. 1991;80:289–93.

17.

Kurdy NM. Serology of abnormal fracture healing: the role of PIIINP, PICP, and BsALP. J Orthop Trauma. 2000;14:48–53.

18.

Heiss C, Hoesel LM, Pausch M, Meissner SA, Horas U, Kilian O, Wehr U, Rambeck WA, Schnettler R. Biochemische knochenresorptionsmarker in der heilungsphase osteoporotischer frakturen. Unfallchirurg. 2008;111:695–702.

19.

Kanis JA, Johnell O, Oden A, Dawson A, De Laet C, Jonsson B. Ten year probabilities of osteoporotic fractures according to BMD and diagnostic thresholds. Osteoporos Int. 2001;12:989–95.

20.

Lill CA, Gerlach UV, Eckhardt C, Goldhahn J, Schneider E. Bone changes due to glucocorticoid application in an ovariectomized animal model for fracture treatment in osteoporosis. Osteoporos Int. 2002;13:407–14.

21.

Savoca S, D'Agosta S, Lombardo G. Evaluation of the hematochemical parameters and bone mineral density of women in physiological menopause treated with hormone replacement therapy with nomegestrol acetate and surgical menopause treated with estrogen replacement. Part II. Minerva Ginecol. 2007;59:215–22.

22.

Thompson DD, Simmons HA, Pirie CM, Ke HZ. FDA guidelines and animal models for osteoporosis. Bone. 1995;17:125S–33S.

23.

Curtis R, Goldhahn J, Schwyn R, Regazzoni P, Suhm N. Fixation principles in metaphyseal bone—a patent based review. Osteoporos Int. 2005;16:S54–64.

24.

Ahlborg HG, Johnell O, Turner CH, Rannevik G, Karlsson MK. Bone loss and bone size after menopause. N Engl J Med. 2003;349:327–34.

25.

Iwaniec UT, Moore K, Rivera MF, Myers SE, Vanegas SM, Wronski TJ. A comparative study of the bone-restorative efficacy of anabolic agents in aged ovariectomized rats. Osteoporos Int. 2008;18:351–62.

26.

Claes L, Veeser A, Göckelmann M, Simon U, Ignatius A. A novel model to study metaphyseal bone healing under defined biomechanical conditions. Arch Orthop Trauma Surg. 2009;129:923–8.

27.

Mallmin H, Ljunghall S, Larsson K. Biochemical markers of bone metabolism in patients with fracture of the distal forearm. Clin Orthop Rel Res. 1993;295:259–63.

28.

Hoesel LM, Wehr U, Rambeck WA, Schnettler R, Heiss C. Biochemical bone markers are useful to monitor fracture repair. Clin Orthop Rel Res. 2005;440:226–32.

29.

Hoshino H, Takahashi M, Kushida K, Ohishi T, Inoue T. Urinary excretion of type I collagen degradation products in healthy women and osteoporotic patients with vertebral and hip fractures. Calcif Tissue Int. 1998;62:36–9.

30.

Sato Y, Kaji M, Higuchi F, Yanagida I, Oishi K, Oizumi K. Changes in bone and calcium metabolism following hip fracture in elderly patients. Osteoporos Int. 2001;12:445–9.

31.

Emami A, Larsson A, Petrén-Mallmin M, Larsson S. Serum bone markers after intramedullary fixed tibial fractures. Clin Orthop Relat Res. 1999;368:220–9.

32.

Ohishi T, Takahashi M, Kushida K, Hoshino H, Tsuchikawa T, Naitoh K, Inoue T. Changes of biochemical markers during fracture healing. Arch Orthop Trauma Surg. 1998;118:126–30.
Conflict of interest
All authors disclose no conflict of interest.
Additional information
H. Schmidt-Gayk: Deceased.
About this article
Cite this article
Kolios, L., Hitzler, M., Moghaddam, A. et al. Characteristics of bone metabolism markers during the healing of osteoporotic versus nonosteoporotic metaphyseal long bone fractures: a matched pair analysis. Eur J Trauma Emerg Surg 38, 457–462 (2012). https://doi.org/10.1007/s00068-012-0190-1
Received:

Accepted:

Published:

Issue Date:
Keywords
Bone turnover markers (BTMs)

BAP (bone-specific alkaline phosphatase)

β-CTX [crosslinked C-(CTX)-telopeptide-of-type-I-collagen]

Osteoporosis

Osteoporotic fracture

Fracture healing