Abstract
Objective
Minimally invasive temporary internal wrist arthrodesis as an alternative treatment method in complex distal radius fractures.
Indications
Complex distal radius fractures with dorsal and/or palmar comminution and little to no reconstruction possibilities, radiocarpal ligamentous injury, need for early weight bearing through the affected wrist (walking aids).
Contraindications
Complex hand injuries limiting the possibility to safely secure the plate at either the metacarpal or the radial shaft.
Surgical technique
Percutaneous or open reduction and fixation of the distal radius fracture. Determine the location for the two stab incisions under fluoroscopy; one over the distal radial diaphysis and one over the second or third metacarpal. A third incision over Lister's tubercle allows transposition of the extensor pollicis longus (EPL) tendon, excision of the posterior interosseous nerve and dorsal arthrotomy. Retrograde insertion of the spanning plate. Placement of a first nonlocking screw through the glide hole into the metacarpal shaft. Under traction, a proximal screw hole is filled with a nonlocking screw into the radial diaphysis. Tightening of the cortical screws under lateral fluoroscopic view. The remaining screw holes at both the distal and proximal ends of the plate are filled with locking screws. Layered wound closure.
Postoperative management
A removable wrist splint is worn during 2 weeks. Weight bearing through the injured wrist is immediately allowed. Removal of the spanning plate is scheduled at 3 months after radiographic evidence of fracture consolidation.
Results
In total, twelve distal radius fractures were treated by dorsal spanning plate fixation between January 2018 and January 2019. Average age was 53.3 ± 24.5 years (range 22–95 years). Both 3.5 mm and 2.4/2.7 mm plates were used. All twelve fractures were healed after 3 months. The mean Disabilities of Arm, Shoulder and Hand (DASH) score was 36.4 (range 8.3–70.0). There was one EPL tendon rupture, one case with extensor tendon adhesions, one periosteosynthetic fracture of the radial shaft and one complex regional pain syndrome. There was no implant failure and no infection.
Zusammenfassung
Ziel
Minimal-invasive temporäre Handgelenkarthrodese als alternative Behandlungsmöglichkeit bei komplexen distalen Radiusfrakturen.
Indikationen
Komplexe distale Radiusfrakturen mit dorsaler und/oder palmarer Trümmerzone und limitierten Rekonstruktionsmöglichkeiten, radiokarpale ligamentäre Begleitverletzungen, erforderliche frühe Belastungsfähigkeit des Handgelenks (Gehhilfen).
Kontraindikationen
Komplexe Handverletzung mit eingeschränkter Verankerungsmöglichkeit an Metakarpale oder Radiusschaft.
Operationstechnik
Perkutane oder offene Reposition und Fixation der Radiusfraktur. Lokalisation der 2 Stichinzisionen unter Durchleuchtung; über dem distalen Radiusschaft und über dem zweiten oder dritten Metakarpale. Eine dritte Inzision über dem Lister-Tuberkel erlaubt die Transposition des M. extensor pollicis longus (EPL), die Exzision des N. interosseus posterior und eine dorsale Arthrotomie. Retrogrades Einführen der Platte. Einbringen einer Kortikalisschraube durch ein Gleitloch in den Metakarpaleschaft. Unter axialem Zug wird eine zweite Kortikalisschraube durch ein proximales Schraubenloch eingebracht. Anziehen beider Schrauben unter seitlicher Durchleuchtung. Die verbleibenden Schraubenlöcher proximal und distal werden mit winkelstabilen Schrauben versorgt. Schichtweiser Wundverschluss.
Weiterbehandlung
Entfernbare Handgelenkorthese für 2 Wochen. Die Belastung des betroffenen Handgelenks ist sofort erlaubt. Entfernung der "spanning plate" 3 Monate postoperativ nach radiologisch gesicherter Frakturheilung.
Ergebnisse
Zwölf distale Radiusfrakturen wurden zwischen Januar 2018 und Januar 2019 mit einer "spanning plate" versorgt. Das mittlere Alter lag bei 53,3 ± 24,5 Jahren (22–95 Jahre). Sowohl 3,5-mm- als auch 2,4/2,7-mm-Platten wurden verwendet. Alle zwölf Frakturen waren nach 3 Monaten geheilt. Die mittlere Punktzahl des "Disabilities of Arm, Shoulder and Hand (DASH)" Scores lag bei 36,4 (8,3–70,0). Es zeigte sich eine EPL-Ruptur, ein Fall mit Adhäsionen der Extensorensehnen, eine periosteosynthetische Radiusschaftfraktur und ein komplexes regionales Schmerzsyndrom. Es lag kein Implantatversagen und kein Infekt vor.
Access options
Buy single article
Instant access to the full article PDF.
US$ 39.95
Tax calculation will be finalised during checkout.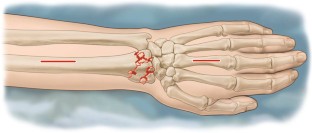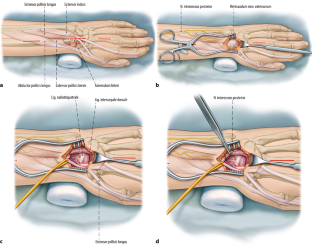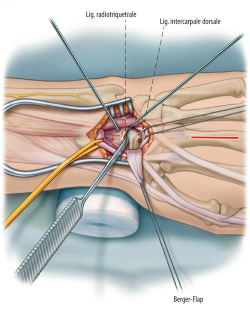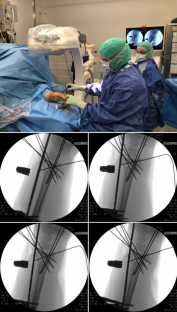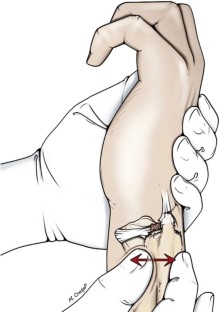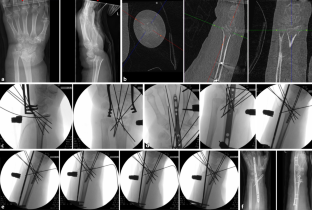 References
1.

Mellstrand Navarro C, Ahrengart L, Törnqvist H, Ponzer S (2016) Volar locking plate or external fixation with optional addition of k‑wires for dorsally displaced distal radius fractures. J Orthop Trauma 30:217–224. https://doi.org/10.1097/BOT.0000000000000519

2.

Hammer O‑L, Clementsen S, Hast J, Šaltytė Benth J, Madsen JE, Randsborg P‑H (2019) Volar locking plates versus augmented external fixation of intra-articular distal radial fractures: functional results from a randomized controlled trial. J Bone Joint Surg Am 101:311–321. https://doi.org/10.2106/JBJS.18.00014

3.

Gouk CJC, Bindra RR, Tarrant DJ, Thomas MJE (2017) Volar locking plate fixation versus external fixation of distal radius fractures: a meta-analysis. J Hand Surg. https://doi.org/10.1177/1753193417743936

4.

Sa-Ngasoongsong P, Rohner-Spengler M, Delagrammaticas DE, Babst RH, Beeres FJP (2019) Comparison of fracture healing and long-term patient-reported functional outcome between dorsal and volar plating for AO C3-type distal radius fractures. Eur J Trauma Emerg Surg. https://doi.org/10.1007/s00068-019-01100-w

5.

Hodel S, Schraner C, Oehme F, van Leeuwen R, Link B‑C, Babst R et al (2019) Factors predicting adverse outcome in complete intra-articular distal radius fractures. Eur J Trauma Emerg Surg. https://doi.org/10.1007/s00068-019-01102-8

6.

Burke EF, Singer RM (1998) Treatment of comminuted distal radius with the use of an internal distraction plate. Tech Hand Up Extrem Surg 2:248–252

7.

Ruch DS, Ginn TA, Yang CC, Smith BP, Rushing J, Hanel DP (2005) Use of a distraction plate for distal radial fractures with metaphyseal and diaphyseal comminution. J Bone Joint Surg 87:945–954

8.

Hanel DP, Lu TS, Weil WM (2006) Bridge plating of distal radius fractures: the Harborview method. Clin Orthop Relat Res 445:91–99. https://doi.org/10.1097/01.blo.0000205885.58458.f9

9.

Hanel DP, Ruhlman SD, Katolik LI, Allan CH (2010) Complications associated with distraction plate fixation of wrist fractures. Hand Clin 26:237–243. https://doi.org/10.1016/j.hcl.2010.01.001

10.

Richard MJ, Katolik LI, Hanel DP, Wartinbee DA, Ruch DS (2012) Distraction plating for the treatment of highly comminuted distal radius fractures in elderly patients. J Hand Surg Am 37:948–956. https://doi.org/10.1016/J.JHSA.2012.02.034

11.

Jain MJ, Mavani KJ (2016) A comprehensive study of internal distraction plating, an alternative method for distal radius fractures. J Clin Diagnostic Res 10:RC14–RC17. https://doi.org/10.7860/JCDR/2016/21926.9036

12.

Dodds SD, Save AV, Yacob A (2013) Dorsal spanning plate fixation for distal radius fractures. Tech Hand Up Extrem Surg 17:1–7

13.

Hyatt BT, Hanel DP, Saucedo JM (2019) Bridge plating for distal radius fractures in low-demand patients with assist devices. J Hand Surg Am 44:507–513. https://doi.org/10.1016/j.jhsa.2018.08.014

14.

Fernandez DL (2001) Distal radius fracture: the rationale of a classification. Chir Main 20:411–425. https://doi.org/10.1016/S1297-3203(01)00067-1

15.

Becton JL, Colborn GL, Goodrich JA (1998) Use of an internal fixator device to treat comminuted fractures of the distal radius: report of a technique. Am J Orthop 27:619–623

16.

Pryce JC (1980) The wrist position between neutral and ulnar deviation that facilitates the maximum power grip strength. J Biomech 13:505–511. https://doi.org/10.1016/0021-9290(80)90343-7

17.

Hazelton FT, Smidt GL, Flatt AE, Stephens RI (1975) The influence of wrist position on the force produced by the finger flexors. J Biomech 8:301–306. https://doi.org/10.1016/0021-9290(75)90082-2

18.

Alluri RK, Bougioukli S, Stevanovic M, Ghiassi A (2017) A biomechanical comparison of distal fixation for bridge plating in a distal radius fracture model. J Hand Surg Am 42:748.e1–748.e8. https://doi.org/10.1016/j.jhsa.2017.05.010

19.

Zollinger PE, Kreis RW, van der Meulen HG, van der Elst M, Breederveld RS, Tuinebreijer WE (2010) No higher risk of CRPS after external fixation of distal radial fractures - subgroup analysis under randomised vitamin C prophylaxis. Open Orthop J 4:71–75. https://doi.org/10.2174/1874325001004020071

20.

Fernandez Dell'Oca A, Perren S, Regazzoni P, Jupiter JB (2019) ICUC n. d. https://www.icuc.net/. Accessed 15 Mar 2019

21.

Atzei A, Luchetti R (2011) Foveal TFCC tear classification and treatment. Hand Clin 27(3):263–272. https://doi.org/10.1016/j.hcl.2011.05.014
Ethics declarations
Conflict of interest
F. J. P. Beeres, R. Liechti, B.-C. Link and R. Babst declare that they have no competing interests.
For this article no studies with human participants or animals were performed by any of the authors. All studies performed were in accordance with the ethical standards indicated in each case.
Additional information
Disclaimer: The views expressed in the submitted article are not an official position of the institution or funder.
The authors Frank J. P. Beeres and Rémy Liechti share equal first authorship.
Editor
F. Unglaub, Bad Rappenau
Illustrator
H. Konopatzki, Heidelberg
About this article
Cite this article
Beeres, F.J.P., Liechti, R., Link, BC. et al. Role of a spanning plate as an internal fixator in complex distal radius fractures. Oper Orthop Traumatol 33, 77–88 (2021). https://doi.org/10.1007/s00064-020-00686-4
Received:

Revised:

Accepted:

Published:

Issue Date:
Keywords
Dorsal spanning plate

Temporary wrist arthrodesis

Internal fixator

Distal radius luxation fracture

Comminuted distal radius fracture
Schlüsselwörter
Dorsale "spanning plate"

Temporäre Handgelenksarthrodese

Fixateur interne

Distale Radiustrümmerfraktur

Distale Radiusluxationsfraktur