Abstract
Objective
Technical description of minimally invasive double-plating of the distal femur.
Indications
Peri- and interprosthetic distal femur fractures with limited (periprosthetic) bone stock in geriatric patients. Re-operations (delayed and non-unions; infected non-unions) of the distal femur. Distal femoral fractures or femoral shaft fractures that do not qualify for femoral nailing and where the patient is unable to comply with weight-bearing restrictions.
Contraindications
Peri- and interprosthetic femoral fractures with unstable knee prosthesis and local soft tissue infection. Peri- and interprosthetic fractures of the proximal femur.
Surgical technique
Supine position on a radiolucent table with both legs draped free. Support the knee to release traction on the distal fragment by the gastrocnemius muscle. Reduction and fixation of the fracture using a minimally invasive lateral approach. To reduce stress riser zones in interprosthetic fractures, the fixation device should overlap both the prosthesis by at least twice the diameter of the femoral diaphysis. Control plate position and reduction with special emphasis on length, rotation and longitudinal axes, using the healthy side as a reference. After sufficient reduction and fixation of the fracture, one proceeds to the medial plate fixation of the femur. Pre- or intraoperative contouring of a narrow large fragment locking compression plate into a helical shaped plate should be performed, using bending irons and a saw bone of a standard femur. The helical shaped plate is introduced submuscular and epiperiosteal in a minimally invasive fashion and fixed with bicortical locking screws.
Postoperative management
Unrestricted weight bearing with walker or crutches under supervision of physiotherapist.
Results
Between 2015 and December 2018, minimally invasive double-plate osteosynthesis using a medial helical shaped plate was performed in 11 patients. In 6 cases it was applied in patients (81 years ± 7 SD) with a supracondylar peri- or interprosthetic femoral fracture. No implant failure or loss of reduction was seen after postoperative unrestricted weight bearing. In the additional 5 cases double-plating was used in salvage procedures ([infected] non-unions, hardware failure). One of these patients developed a fracture-related infection for which all material was removed. The fracture healed after a new attempt of antegrade nailing combined with an additional locking plate. In the remaining patients complete bone healing without hardware failure was seen.
Zusammenfassung
Operationsziel
Technische Beschreibung der minimal-invasiven Doppelplattenosteosynthese des distalen Femurs.
Indikationen
Peri- und interprothetische distale Femurfrakturen mit limitiertem (periprothetischem) Knochensubstrat bei geriatrischen Patienten. Revisionseingriffe (verzögerte Frakturheilung, Pseudarthrose und infizierte Pseudarthrose) am distalen Femur. Distale Femurfrakturen und Femurschaftfrakturen bei Patienten, die eine Teilbelastung nicht einhalten können und bei denen keine Versorgung mittels Marknagelung möglich ist.
Kontraindikationen
Peri- und interprothetische Femurfrakturen mit instabiler Knietotalendoprothese und lokaler Weichteilinfektion. Peri- und interprothetische proximale Femurfrakturen.
Operationstechnik
Rückenlagerung des Patienten auf röntgenstrahlendurchlässigem Tisch; beiden Beine frei gelagert; Rolle unter distalem Femur des frakturierten Beines. Primäre Reposition und Fixation der Fraktur erfolgt über minimal-invasiven lateralen Zugang. Um die Zone erhöhter mechanischer Beanspruchung möglichst zu minimieren muss das Osteosynthesematerial das Prothesenmaterial um mindestens den doppelten Durchmesser der Femurdiaphyse überragen. Kontrolle von Plattenlage und Reposition mit besonderem Augenmerk auf Länge, Rotation und Achse anhand des gesunden Beins. Nach suffizienter Reposition und Fixation der Fraktur erfolgt die mediale Plattenosteosynthese. Prä- oder intraoperatives Vorbiegen einer schmalen winkelstabilen Großfragmentkompressionsplatte in eine Helixform unter Zuhilfenahme von Schränkeisen und eines Standardfemurs aus Kunstknochen. Nun minimal-invasives submuskuläres epiperiostales Einschieben der Helixplatte mit anschließender bikortikaler winkelstabiler Verschraubung.
Weiterbehandlung
Uneingeschränkte Vollbelastung an Unterarmgehhilfen oder am Rollator unter physiotherapeutischer Instruktion.
Ergebnisse
Zwischen 2015 und Dezember 2018 wurde bei 11 Patienten eine minimal-invasive Doppelplattenosteosynthese unter Verwendung einer Helixplatte durchgeführt. In 6 Fällen wurde sie bei Patienten (81 Jahre ± 7 SD) mit einer suprakondylären peri- oder interprothetischen Femurfraktur angewendet. Es trat kein Implantatversagen und kein sekundärer Repositionsverlust bei postoperativer Vollbelastung auf. In 5 weiteren Fällen wurde die Doppelplattenosteosynthese als Revisionseingriff ([infizierte]) Pseudarthrose und Implantatversagen) durchgeführt. Einer dieser Patienten erlitt eine postoperative Infektion mit konsekutiver vollständiger Osteosynthesematerialentfernung. Nach Ausheilung des Infektes erfolgte eine erneute Osteosynthese mittels antegrader Marknagelung und Zusatzplatte, durch welche die Heilung erzielt werden konnte. In den restlichen Fällen konnte die Fraktur komplikationslos ausheilen.
This is a preview of subscription content, log in to check access.
Access options
Buy single article
Instant access to the full article PDF.
US$ 39.95
Price includes VAT for USA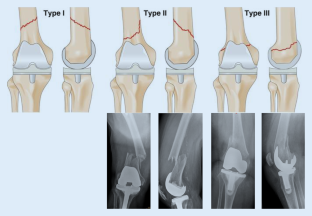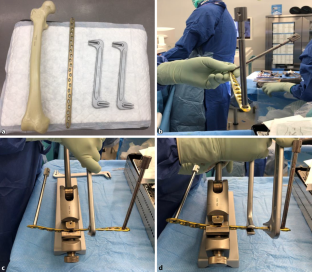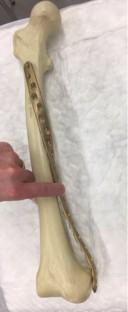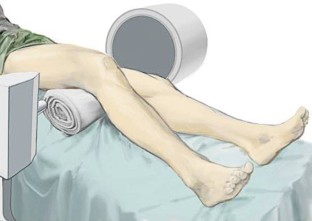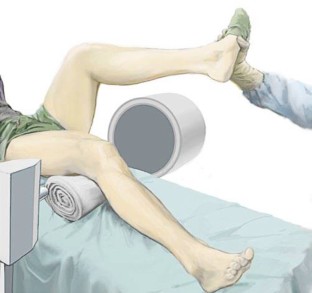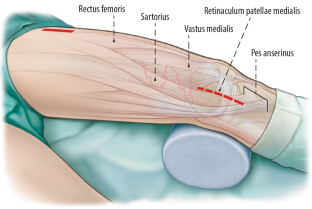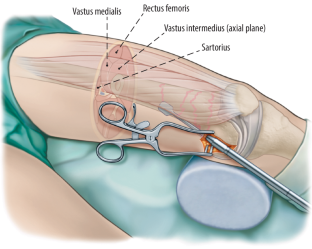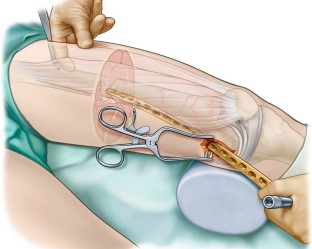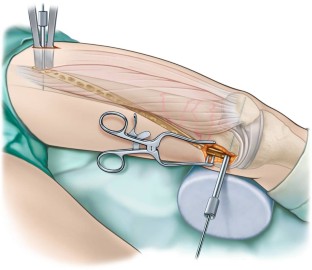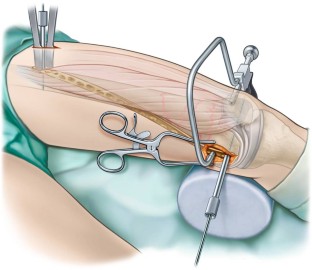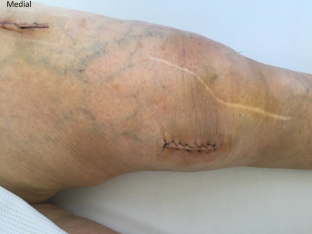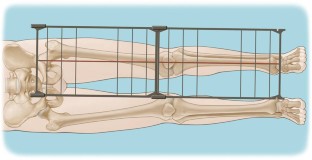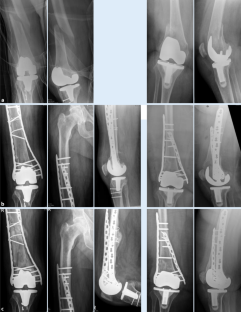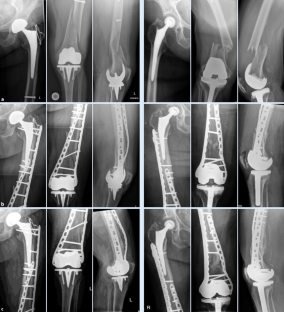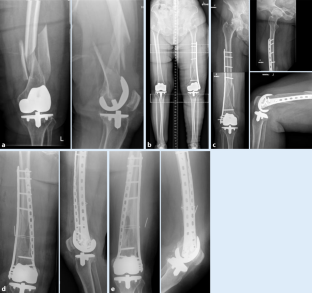 References
1.

Link BC, Rosenkranz J, Winkler J, Babst R (2012) Minimally invasive plate osteosynthesis of the distal femur. Oper Orthop Traumatol 24(4–5):324–334

2.

Begue T, Tricoire JL, Veillard D, Ingels A, Thomazeau H (2006) Periprosthetic fractures around total hip and knee arthroplasty. Therapeutic algorithm for periprosthetic fractures after total knee arthroplasties. Rev Chir Orthop Reparatrice Appar Mot 92(5 Suppl):2S90–2S96

3.

Kenny P, Rice J, Quinlan W (1998) Interprosthetic fracture of the femoral shaft. J Arthroplasty 13(3):361–364

4.

Bhattacharyya T, Chang D, Meigs JB, Estok DM, Malchau H (2007) Mortality after periprosthetic fracture of the femur. J Bone Joint Surg Am 89(12):2658–2662

5.

Zuurmond RG, van WW, van Raay JJ, Bulstra SK (2010) High incidence of complications and poor clinical outcome in the operative treatment of periprosthetic femoral fractures: an analysis of 71 cases. Injury 41(6):629–633

6.

Ehlinger M, Adam P, Moser T, Delpin D, Bonnomet F (2010) Type C periprosthetic fractures treated with locking plate fixation with a mean follow up of 2.5 years. Orthop Traumatol Surg Res 96(1):44–48

7.

Ehlinger M, Czekaj J, Adam P, Brinkert D, Ducrot G, Bonnomet F (2013) Minimally invasive fixation of type B and C interprosthetic femoral fractures. Orthop Traumatol Surg Res 99(5):563–569

8.

Ebraheim NA, Liu J, Hashmi SZ, Sochacki KR, Moral MZ, Hirschfeld AG (2012) High complication rate in locking plate fixation of lower periprosthetic distal femur fractures in patients with total knee arthroplasties. J Arthroplasty 27(5):809–813

9.

Lehmann W, Rupprecht M, Hellmers N (2010) Biomechanical evaluation of peri- and interprosthetic fractures of the femur. J Trauma 68(6):1459–1463

10.

Ebraheim N, Carroll T, Moral MZ, Lea J, Hirschfeld A, Liu J (2014) Interprosthetic femoral fractures treated with locking plate. Int Orthop 38(10):2183–2189

11.

Farouk O, Krettek C, Miclau T, Schandelmaier P, Guy P, Tscherne H (1997) Minimally invasive plate osteosynthesis and vascularity: preliminary results of a cadaver injection study. Injury 28(Suppl 1):A7–A12

12.

Farouk O, Krettek C, Miclau T, Schandelmaier P, Guy P, Tscherne H (1999) Minimally invasive plate osteosynthesis: Does percutaneous plating disrupt femoral blood supply less than the traditional technique? J Orthop Trauma 13(6):401–406

13.

Zlowodzki M, Williamson S, Cole PA, Zardiackas LD, Kregor PJ (2004) Biomechanical evaluation of the less invasive stabilization system, angled blade plate, and retrograde intramedullary nail for the internal fixation of distal femur fractures. J Orthop Trauma 18(8):494–502

14.

Hoffmann MF, Jones CB, Sietsema DL, Koenig SJ, Tornetta P III (2012) Outcome of periprosthetic distal femoral fractures following knee arthroplasty. Injury 43(7):1084–1089

15.

Hoffmann MF, Lotzien S, Schildhauer TA (2016) Clinical outcome of interprosthetic femoral fractures treated with polyaxial locking plates. Injury 47(4):934–938

16.

Sah AP, Marshall A, Virkus WV, Estok DM, Della Valle CJ (2010) Interprosthetic fractures of the femur: treatment with a single-locked plate. J Arthroplasty 25(2):280–286

17.

Henderson CE, Kuhl LL, Fitzpatrick DC, Marsh JL (2011) Locking plates for distal femur fractures: Is there a problem with fracture healing? J Orthop Trauma 25(Suppl 1):S8–S14

18.

Tank JC, Schneider PS, Davis E, Galpin M, Prasarn ML, Choo AM, Munz JW, Achor TS, Kellam JF, Gary JL (2016) Early mechanical failures of the synthes variable angle locking distal femur plate. J Orthop Trauma 30(1):e7–e11

19.

Kubiak EN, Beebe MJ, North K, Hitchcock R, Potter MQ (2013) Early weight bearing after lower extremity fractures in adults. J Am Acad Orthop Surg 21(12):727–738

20.

Ottesen TD, McLynn RP, Galivanche AR, Bagi PS, Zogg CK, Rubin LE, Grauer JN (2018) Increased complications in geriatric patients with a fracture of the hip whose postoperative weight-bearing is restricted. Bone Joint J 100-B(10):1377–1384

21.

Sanders R, Swiontkowski M, Rosen H, Helfet D (1991) Double-plating of comminuted, unstable fractures of the distal part of the femur. J Bone Joint Surg Am 73(3):341–346

22.

Adams JD, Coonse GK (1948) Complete rigid internal fixation by double plating fractures of long bones. Proc Inst Med Chic 17(4):98

23.

Holzman MA, Hanus BD, Munz JW, O'Connor DP, Brinker MR (2016) Addition of a medial locking plate to an in situ lateral locking plate results in healing of distal femoral nonunions. Clin Orthop Relat Res 474(6):1498–1505

24.

Perren SM, Cordey J, Rahn BA, Gautier E, Schneider E (1988) Early temporary porosis of bone induced by internal fixation implants. A reaction to necrosis, not to stress protection? Clin Orthop Relat Res 232:139–151

25.

Jiamton C, Apivatthakakul T (2015) The safety and feasibility of minimally invasive plate osteosynthesis (MIPO) on the medial side of the femur: a cadaveric injection study. Injury 46(11):2170–2176

26.

Fernandez Dell'Oca AA (2002) The principle of helical implants. Unusual ideas worth considering. Injury 33(Suppl 1):SA1–SA27

27.

Perren SM, Regazzoni P, Fernandez AA (2014) Biomechanical and biological aspects of defect treatment in fractures using helical plates. Acta Chir Orthop Traumatol Cech 81(4):267–271

28.

Perren SM, Fernandez AA, Regazzoni P (2018) Biomechanical aspects of double plating using cases of the ICUC app

29.

Perren SM, Regazzoni P, Lenz M, Fernandez AA (2018) Double locking plate, surgical trauma and construct stiffness improved by the helical plate

30.

Regazzoni P, Perren SM, Fernandez AA (2018) MIO helical plate: technically easy, improving biology and mechanics of "double plating"

31.

Regazzoni P, Perren SM, Fernandez AA (2016) Fatigue resistance. ICUC one-page paper

32.

Rorabeck CH, Taylor JW (1999) Classification of periprosthetic fractures complicating total knee arthroplasty. Orthop Clin North Am 30(2):209–214

33.

Su ET, Kubiak EN, Dewal H, Hiebert R, Di Cesare PE (2006) A proposed classification of supracondylar femur fractures above total knee arthroplasties. J Arthroplasty 21(3):405–408

34.

Buckley R, Mohanty K, Malish D (2011) Lower limb malrotation following MIPO technique of distal femoral and proximal tibial fractures. Injury 42(2):194–199

35.

Link BC, Apivatthakakul T, Hill BW, Cole PA, Babst R (2014) Minimally invasive plate osteosynthesis (MIPO) of periprosthetic femoral fractures with percutaneous cerclage wiring for fracture reduction: tips and technique. JBJS Essent Surg Tech 4(3):e13

36.

Rosenkranz J, Babst R (2003) New minimally invasive methods of stabilizing distal femoral fractures. Ther Umsch 60(12):757–761

37.

Babst R, Beeres FJP, Link BC (2018) Definitionen und Erklärungen zum Thema Frakturreposition. Unfallchirurg 122(2):88–94

38.

Waterson HB, Barnett AJ, Toms AH (2015) 13 periprosthetic fractures following total knee replacement. In: Hirschmann M, Becker R (eds) The unhappy total knee replacement. Springer, Cham
Ethics declarations
Conflict of interest
F.J.P. Beeres, B.L. Emmink, K. Lanter, B.-C. Link and R. Babst declare to have no commercial relations that might pose a conflict of interest in connection with the manuscript. No funding or any other support was received for this study.
Informed oral and written consent was obtained from all patients for the blinded use of their data.
Additional information
Shared first authorship: F.J.P. Beeres and B.L. Emmink
Redaktion
U. Bosch, Hannover
Zeichnungen
H. Konopatzki, Heidelberg
Caption Electronic Supplementary Material
ESM1: Direct postoperative full-weight bearing after double plating of a supracondylar interprosthetic fracture (Su type II). Patient 3 (female, age 78, ASA III, BMI 36) full weight bearing with a single crutch
ESM2: Direct postoperative full-weight bearing after double plating of a supracondylar interprosthetic fracture (Su type II). Patient 4 (female, age 95, ASA III, BMI 30) full weight bearing with a walker
About this article
Cite this article
Beeres, F.J.P., Emmink, B.L., Lanter, K. et al. Minimally invasive double-plating osteosynthesis of the distal femur. Oper Orthop Traumatol (2020). https://doi.org/10.1007/s00064-020-00664-w
Received:

Revised:

Accepted:

Published:
Keywords
Bone fractures

Peri- and interprosthetic fractures

Knee prosthesis

Geriatrics

Helical shaped plate
Schlüsselwörter
Knochenfrakturen

Peri- und interprothetische Frakturen

Knieendoprothese

Geriatrie

Helikal geformte Platte