Zusammenfassung
Operationsziel
Langstreckige Dekompression des N. medianus durch vollständige Spaltung des Retinaculum flexorum einschließlich des Übergangs in die distale Fascia antebrachii. Im Revisionsfall ggf. Einbettung des N. medianus in narbenfreies Gewebe.
Indikationen
Die Indikation zur Karpaldachspaltung besteht nach entsprechender diagnostischer Abklärung bei schmerzhaften Parästhesien sowie bei anhaltenden sensiblen oder motorischen Ausfällen mit beispielsweise Nachlassen der Abduktions- und Oppositionskraft des Daumens. Die Hypothenarfettlappenplastik kann indiziert sein im Revisionsfall, falls die Schaffung einer suffizienten, vitalen Abdeckung des N. medianus im Karpaltunnel notwendig ist und zur Wiederherstellung der Nervengleitfähigkeit.
Kontraindikationen
Allgemeine operative Kontraindikationen im Falle der Karpaldachspaltung. Die Hypothenarfettlappenplastik ist im Revisionsfall kontraindiziert, wenn die Medianusirritation nicht durch Vernarbungen des Nervens an seine Umgebung verursacht wird, sondern etwa durch primäre Nervenläsionen oder Synovialitiden der Beugesehnen.
Operationstechnik
Longitudinaler Hautschnitt in der proximalen Hohlhand in Richtung des dritten Interdigitalraums. Spreizen der Subkutis. Längsspaltung der Palmaraponeurose. Möglichst weit ulnarseitiges Eröffnen des Retinaculum flexorum. Weichteilschonendes Spalten der distalen und proximalen Retinakulumanteile sowie des distalen Anteils der Unterarmfaszie. Inspektion des N. medianus und Austasten des Karpaltunnels und ggf. Resektion komprimierender Strukturen. Im Revisionsfall, bei Bedarf, Heben eines Hypothenarfettlappens. Spannungsfreie Mobilisierung des Lappens nach radial über den N. medianus. Fixieren des Lappens an die radiale Wand des Karpaltunnels.
Weiterbehandlung
Frühfunktionelle Mobilisierung; eine ggf. mehrtägige Ruhigstellung ist optional. Nach Revision und Hypothenarfettlappenplastik wird die Ruhigstellung für 1 Woche empfohlen.
Abstract
Objective
Decompression of the median nerve by complete release of the flexor retinaculum and the distal antebrachial fascia. In the case of revision surgery providing of a scar-free covering of the median nerve, if necessary.
Indications
Carpal tunnel release is indicated for symptomatic patients with painful paraesthesia or neurological deficits after adequate diagnostic evaluation. The hypothenar fat flap is indicated in revision surgery if a sufficient nerve bed of the median nerve is needed and to restore nerve gliding.
Contraindications
General operative limitations. The hypothenar fat flap is not indicated in revision surgery if median nerve irritation is not caused by surrounding scaring but other reasons like tendonitis.
Surgical technique
Proximal longitudinal incision of the palm. Subcutaneous dissection and incision of the palmar aponeurosis. Careful ulnar incision of the transverse carpal ligament. Considerate release of the distal and proximal parts of the retinaculum as well as the distal part of the antebrachial fascia. Exploration of the median nerve and palpation of the carpal tunnel and resection of compressive structures, if necessary. In case of revision surgery, if required, the hypothenar fat flap is raised. The fat flap is transposed without tension palmar to the median nerve and fixed to the radial side of the carpal tunnel.
Postoperative management
Early functional mobilization. Immobilization for a short period is optional. After revision surgery and hypothenar fat flap, splinting for one week is recommended.
This is a preview of subscription content, log in to check access.
Access options
Buy single article
Instant access to the full article PDF.
US$ 39.95
Price includes VAT for USA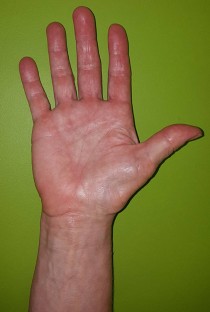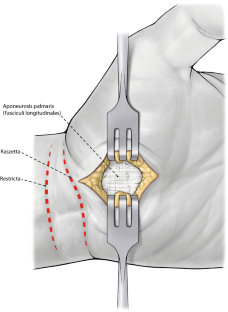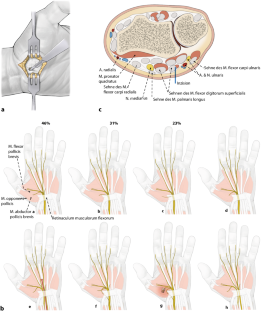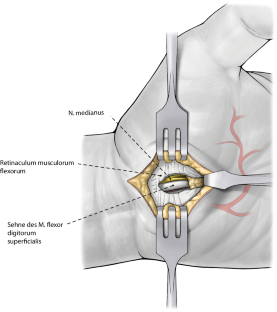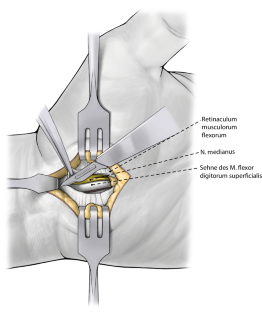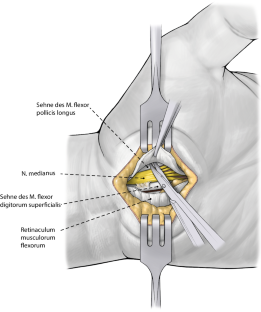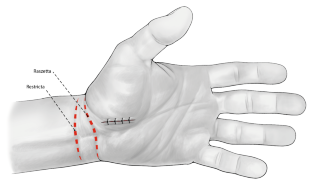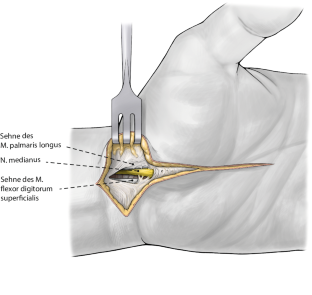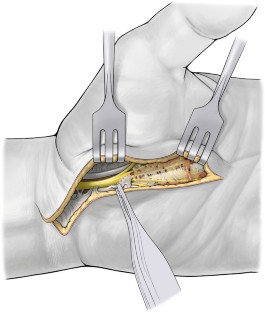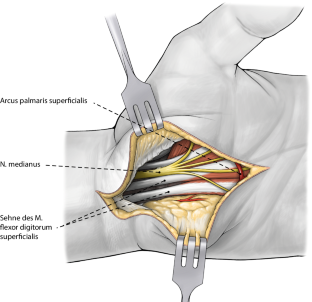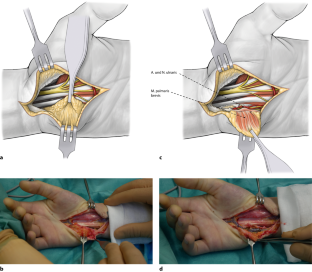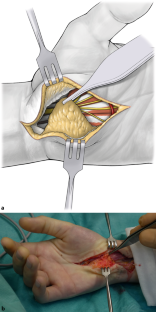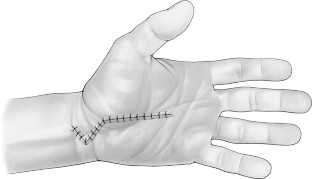 Literatur
1.

Atroshi I, Gummesson C, Johnsson R et al (1999) Prevalence of carpal tunnel syndrome in a general population. JAMA 282:153–158

2.

American Association of Electrodiagnostic Medicine, American Academy of Neurology, American Academy of Physical Medicine and Rehabilitation et al (2002) Practice parameter for electrodiagnostic studies in carpal tunnel syndrome: summary statement. Muscle Nerve 25:918–922

3.

Assmus H, Antoniadis G, Bischoff C et al (2007) Diagnostik und Therapie des Karpaltunnelsyndroms – Leitlinie der deutschen Gesellschaften für Handchirurgie, Neurochirurgie, Neurologie, Orthopädie und Orthopädische Chirurgie unter Beteiligung der Gesellschaften für Unfallchirurgie, Klinischen Neurophysiologie und Funktionelle Bildgebung sowie plastische, Rekonstruktive und Ästhetische Chirurgie. Handchir Mikrochir Plast Chir 39:276–288

4.

Kart I, Sauerbier M, Eisenschenk A et al (2014) Die Handchirurgie. Elsevier, München

5.

De Kleermaeker FGCM, Meulstee J, Claes F et al (2017) Treatment outcome in patients with clinically defined carpal tunnel syndrome but normal electrodiagnostic test results: a randomized controlled trial. J Neurol 264:2394–2400

6.

Mackenzie SP, Stone OD, Jenkins PJ et al (2019) Carpal tunnel decompression in patients with normal nerve conduction studies. J Hand Surg Eur Vol. https://doi.org/10.1177/1753193419866646

7.

Lee EY, Lim AYT (2019) Nerve compression in the upper limb. Clin Plast Surg 46:285–293

8.

Giersiepen K, Spallek M (2011) Karpaltunnelsyndrom als Berufskrankheit. Dtsch Arztebl Int 108:238–242

9.

Bromley GS (1994) Minimal-incision open carpal tunnel decompression. J Hand Surg Am 19:119–120

10.

Richter VM, Bruser P (1996) Die operative Behandlung des Karpaltunnelsydroms: Ein Vergleich zwischen langer und kurzer Schnittführung sowie endoskopischer Spaltung. Handchir Mikrochir Plast Chir 28:160–166

11.

Wilson KM (1994) Double incision open technique for carpal tunnel release: an alternative to endoscopic release. J Hand Surg Am 19:907–912

12.

Scholten RJ, Gerritsen AA, Uitdehaag BM et al (2004) Surgical treatment options for carpal tunnel syndrome. Cochrane Database Syst Rev. https://doi.org/10.1002/14651858.CD003905

13.

Boeckstyns ME, Sorensen AI (1999) Does endoscopic carpal tunnel release have a higher rate of complications than open carpal tunnel release? An analysis of published series. J Hand Surg Br 24:9–15

14.

Reale F, Ginanneschi F, Sicurelli F et al (2003) Protocol of outcome evaluation for surgical release of carpal tunnel syndrome. Neurosurgery 53:343–350 (discussion 350–351)

15.

Rosenbaum RB, Ochoa JL (1993) Carpal tunnel syndrome and other disorders of the median nerve. Butterworth-Heinemann, Boston

16.

Klauser AS, Halpern EJ, De Zordo T et al (2009) Carpal tunnel syndrome assessment with US: value of additional cross-sectional area measurements of the median nerve in patients versus healthy volunteers. Radiology 250:171–177

17.

Beekman R, Visser LH (2003) Sonography in the diagnosis of carpal tunnel syndrome: a critical review of the literature. Muscle Nerve 27:26–33

18.

Bagga B, Sinha A, Khandelwal N et al (2019) Comparison of magnetic resonance imaging and ultrasonography in diagnosing and grading carpal tunnel syndrome: a prospective study. Curr Probl Diagn Radiol 49(2):102–115

19.

El Miedany YM, Aty SA, Ashour S (2004) Ultrasonography versus nerve conduction study in patients with carpal tunnel syndrome: substantive or complementary tests? Rheumatology 43:887–895

20.

Kaiser P, Keller M, Dörler J et al (2018) Wide-awake-Technik in der Handchirurgie anhand von Anwendungsbeispielen. Oper Orthop Traumatol 30:195–209

21.

Panchal AP, Trzeciak MA (2010) The clinical application of Kaplan's cardinal line as a surface marker for the superficial palmar arch. Hand 5:155–159

22.

Siegmeth AW, Hopkinson-Woolley JA (2006) Standard open decompression in carpal tunnel syndrome compared with a modified open technique preserving the superficial skin nerves: a prospective randomized study. J Hand Surg Am 31:1483–1489

23.

Nigst H (1989) Die Operation des Karpaltunnelsyndroms. Oper Orthop Traumatol 1:17–24

24.

Von Lanz T, Wachsmuth W (2003) Lanz/Wachsmuth Praktische Anatomie. Arm: Ein Lehr- und Hilfsbuch der anatomischen Grundlagen ärztlichen Handelns. Springer, Berlin

25.

Rosenbaum RB, Ochoa JL (2002) Carpal tunnel syndrome and other disorders of the median nerve. Butterworth/Heinemann, Woburn, MA

26.

Vortrag von Dr. med. Oeckenpöhler, Klinik für Unfall-, Hand und Wiederherstellungschirurgie, Universitätsklinik Münster: https://www6.billrothhaus.at/podcasts/2017/dah/02_oeckenpoehler_270.mp4

27.

Assmus H, Hashemi B (2000) Die operative Behandlung des Karpaltunnelsyndroms in der Schwangerschaft Erfahrungsbericht anhand von 314 Fällen. Der Nervenarzt 71:470–473

28.

Grundberg AB, Reagan DS (1991) Compression syndromes in reflex sympathetic dystrophy. The Journal of hand surgery 16:731–736

29.

Cebesoy O, Kose KC, Kuru I et al (2007) Use of a splint following open carpal tunnel release: a comparative study. Adv Therapy 24:478–484

30.

Martins RS, Siqueira MG, Simplício H (2006) Wrist immobilization after carpal tunnel release: a prospective study. Arq Neuro-Psiquiatr 64:596–599

31.

Haupt WF, Wintzer G, Schop A et al (1993) Long-term results of carpal tunnel decompression: assessment of 60 cases. J Hand Surg Eur Vol 18:471–474

32.

Muhlau G, Both R, Kunath H (1984) Carpal tunnel syndrome—course and prognosis. J Neurol 231:83–86

33.

Verdugo RJ, Salinas RA, Castillo JL et al (2008) Surgical versus non-surgical treatment for carpal tunnel syndrome. Cochrane Database Syst Rev. https://doi.org/10.1002/14651858.CD001552

34.

Tung TH, Mackinnon SE (2001) Secondary carpal tunnel surgery. Plast Reconstr Surg 107(7):1830–1933. https://doi.org/10.1007/978-3-540-49008-1_40

35.

Unglaub F, Goldbach C, Hahn P (2005) Reoperation bei Karpaltunnelsyndrom. Nervenarzt 76:1506–1514. https://doi.org/10.1007/s00115-005-1984-8

36.

Cobb TK, Amadio PC (1996) Reoperation for carpal tunnel syndrome. Hand Clin 12:313–323

37.

Stutz N, Gohritz A, Van Schoonhoven J et al (2006) Revision surgery after carpal tunnel release—analysis of the pathology in 200 cases during a 2 year period. J Hand Surg Br 31:68–71

38.

Urbaniak JR, Desai SS (1996) Complications of nonoperative and operative treatment of carpal tunnel syndrome. Hand Clin 12:325–335

39.

Urbaniak JR, Rowan PR (1999) The hypothenar fat flap for revision carpal tunnel surgery. Tech Hand Up Extrem Surg 3:265–268

40.

Zhang D, Earp BE, Blazar P (2019) Evaluation and management of unsuccessful carpal tunnel release. J Hand Surg Am 44:779–786

41.

Dy CJ, Aunins B, Brogan DM (2018) Barriers to epineural scarring: role in treatment of traumatic nerve injury and chronic compressive neuropathy. J Hand Surg Am 43:360–367

42.

Sotereanos DG, Giannakopoulos PN, Mitsionis GI et al (1995) Vein-graft wrapping for the treatment of recurrent compression of the median nerve. Microsurgery 16:752–756

43.

Dellon AL, Mackinnon SE (1984) The pronator quadratus muscle flap. J Hand Surg Am 9:423–427

44.

Ulmer J, Buck-Gramcko D (1988) The neurovascular pedicled abductor digiti minimi muscle flap for covering the median nerve or its branches. Handchir Mikrochir Plast Chir 20:338–341

45.

Giunta R, Frank U, Lanz U (1998) The hypothenar fat-pad flap for reconstructive repair after scarring of the median nerve at the wrist joint. Chir Main 17:107–112

46.

Craft RO, Duncan SFM, Smith AA (2007) Management of recurrent carpal tunnel syndrome with microneurolysis and the hypothenar fat pad flap. Hand 2:85–89

47.

Cramer L (1985) Local fat coverage for median nerve. ASSH correspondence newsletter, Bd. 35

48.

Strickland JW, Idler RS, Lourie GM et al (1996) The hypothenar fat pad flap for management of recalcitrant carpal tunnel syndrome. J Hand Surg Am 21:840–848
Ethics declarations
Interessenkonflikt
Gemäß den Richtlinien des Springer Medizin Verlags werden Autoren und Wissenschaftliche Leitung im Rahmen der Manuskripterstellung und Manuskriptfreigabe aufgefordert, eine vollständige Erklärung zu ihren finanziellen und nichtfinanziellen Interessen abzugeben.
Autoren
A. Ayache gibt an, dass kein finanzieller Interessenkonflikt besteht. Nichtfinanzielle Interessen: Angestellter Facharzt für Orthopädie und Unfallchirurgie, Abteilung für Handchirurgie, Vulpius Klinik, Bad Rappenau. F. Unglaub: Finanzielle Interessen: Forschungsförderung zur persönlichen Verfügung: Richard und Annemarie Wolf-Stiftung, Knittlingen. – Referentenhonorar oder Kostenerstattung als passiver Teilnehmer: IBRA, Basel, Kongress DGH 2016–2018. Nicht-Finanzielle Interessen: Chefarzt Handchirurgie, Vulpius Klinik GmbH, Bad Rappenau. M.F. Langer: A. Finanzielle Interessen: M.F. Langer gibt an, dass kein finanzieller Interessenkonflikt besteht. – B. Nichtfinanzielle Interessen: Leiter der Sektion Handchirurgie der Klinik für Unfall-, Hand- und Wiederherstellungschirurgie des Universitätsklinikums Münster | Mitgliedschaften: Deutsche Gesellschaft für Handchirurgie (Vorstandsmitglied, Beirat), Deutschsprachige Gesellschaft für Handchirurgie, DAH (Präsident des Jahreskongresses, Münster 2017), Deutsche Gesellschaft für Handchirurgie, DGH (Präsident des Jahreskongresses, Münster 2020 (wenn er im Oktober stattfinden sollte)), Council (Historian) der Federation of European Societies for Surgery of the Hand (FESSH). L.P. Müller: Finanzielle Interessen: Bezahlter Berater/interner Schulungsreferent/Gehaltsempfänger o. Ä.: Fa. Arthrex, Fa. Medartis. Nichtfinanzielle Interessen: Leiter Schwerpunkt Unfall‑, Hand- und Ellenbogenchirurgie, Klinik und Poliklinik für Orthopädie und Unfallchirurgie, Universitätsklinikum Köln. J. Oppermann gibt an, dass kein finanzieller Interessenkonflikt besteht. Nichtfinanzielle Interessen: Oberarzt an der Klinik und Poliklinik für Orthopädie und Unfallchirurgie, Uniklinik Köln | Mitgliedschaften: MWE, DGOU, DKG. S. Löw gibt an, dass kein finanzieller Interessenkonflikt besteht. Nichtfinanzielle Interessen: seit 10/2017 niedergelassener Chirurg, Unfallchirurg, Handchirurg | zuvor Leiter der Sektion Handchirurgie und Oberarzt in der Klinik für Orthopädie und Unfallchirurgie, Caritas-Krankenhaus, Bad Mergentheim | Mitgliedschaft: Deutsche Gesellschaft für Handchirurgie. C.K. Spies gibt an, dass kein finanzieller Interessenkonflikt besteht. Nichtfinanzielle Interessen: Handchirurg, Leitender Oberarzt an der Vulpius Klinik Bad Rappenau | Mitgliedschaften: DAH, DGH, IBRA.
Wissenschaftliche Leitung
Die vollständige Erklärung zum Interessenkonflikt der Wissenschaftlichen Leitung finden Sie am Kurs der zertifizierten Fortbildung auf www.springermedizin.de/cme.
Der Verlag
erklärt, dass für die Publikation dieser CME-Fortbildung keine Sponsorengelder an den Verlag fließen.
Der Beitrag enthält keine Studien an Menschen oder Tieren.
Additional information
Wissenschaftliche Leitung
K. Dresing, Göttingen
F. Unglaub, Bad Rappenau
Zeichnungen
H.J. Schütze, Köln
CME-Fragebogen
CME-Fragebogen
Ein 60-jähriger übergewichtiger Buchhalter stellt sich bei Ihnen mit klinischem Verdacht auf Karpaltunnelsyndrom zur weiteren Abklärung vor. Anamnestisch besteht seit mehreren Jahren eine Gonarthrose beidseits. Unter Einnahme von Ibuprofen komme er damit aber gut zurecht. Was ist bei diesem Patienten am ehesten ein Risikofaktor für die Ausbildung eines Karpaltunnelsyndroms?
Männliches Geschlecht
Regelmäßige Ibuprofen-Einnahme
Gonarthrose beidseits
Übergewicht
Stattgehabte Fingerfraktur
In Ihrer Sprechstunde stellt sich eine 55-jährige Patientin mit Verdacht auf Karpaltunnelsyndrom rechts vor. Sie berichtet über sehr belastende schmerzhafte Parästhesien v. a. nachts und eine deutliche Kraftminderung im rechten Daumen. In der klinischen Untersuchung zeigt sich eine deutliche Atrophie der radialseitigen Thenarmuskulatur mit Abspreizschwäche des Daumens. Welche Werte erwarten Sie bei diesem klinischen Befund am ehesten in der distal-motorischen Latenzuntersuchung (Distanz 6,5 cm)?
>4,2 ms rechts
>4,2 ms links
<49 m/s rechts
>49 m/s links
>8 mV
Sie bereiten einen Patienten für eine Karpaldachspaltung vor. Welcher der folgenden Faktoren stellt am ehesten eine Kontraindikation für die Operation dar?
Physiologische Nervenleitgeschwindigkeit
Großflächige Schürfwunde im Operationsgebiet
Bereits seit über 1 Jahr bestehende Muskelatrophie
Begleitendes manifestes komplexes regionales Schmerzsyndrom
Hohes Patientenalter
Welche Aussage zur Technik der Karpaldachspaltung trifft nicht zu?
Den Operationszugang kreuzende Seitenäste des Ramus palmaris sollten geschont werden, eine aufwendige Präparation kleiner Hautnerven ist aber nicht notwendig.
Das Retinaculum flexorum wird möglichst radial eröffnet, um den motorische Ast des N. medianus zu schonen.
Atypische Muskulatur am distalen Ende des Karpaltunnels kann ein Indikator für einen atypischen Abgang des motorischen Astes des Medianus sein.
Eine regelhafte Darstellung des motorischen Astes ist nicht zwingend notwendig.
Atypische im Karpaltunnel verlaufende Muskeln können reseziert werden.
Was ist ein häufiger Grund für einen Revisionseingriff nach Karpaldachspaltung?
Iatrogene Nervenschäden
Postoperative Infektionen
Inkomplette Retinakulumspaltung
Persistierende pathologische elektrophysiologische Befunde bei verbessertem klinischem Befund
Iatrogene Sehnenverletzungen
In welcher Situation besteht am ehesten die Indikation zur Hypothenarfettlappenplastik?
Die Indikation besteht beim Revisionseingriff immer dann, wenn eine Nerventransplantation notwendig ist.
Beim Primäreingriff, bei Patienten mit ausgeprägter rheumatoider Arthritis und klinisch ausgeprägtem Karpaltunnelsyndrom
Bei postoperativ nach offener Karpaltunnelspaltung nicht normalisiertem elektrophysiologischem Befund, auch wenn sich die Beschwerden des Patienten gebessert haben
Die Indikation besteht im Revisionsfall, wenn aufgrund der Weichteilsituation die Schaffung einer vitalen, gleitfähigen Nervenabdeckung notwendig ist.
Bei Verdacht auf erhöhte Narbenbildung zur möglichen Rezidivvermeidung direkt im Primäreingriff
In Ihrer Sprechstunde stellt sich eine 28-jährige schwangere Patientin im 2. Trimenon vor und berichtet über nächtliche stark schmerzhafte Kribbelparästhesien der rechten Hand, die sich in den letzten Wochen zudem verschlechtert hätten und nun auch tagsüber immer wieder auftreten. Welche Maßnahme leiten Sie am ehesten ein?
Röntgen des Handgelenks
Laborchemische Diagnostik
Elektrophysiologische Diagnostik
Physiotherapeutische Behandlung
Keine Maßnahmen erforderlich
Was ist bei der postoperativen Nachbehandlung eines Patienten nach offener Retinakulumspaltung zu beachten?
Eine elektrophysiologische Kontrolluntersuchung sollte postoperativ routinemäßig nach ca. 3 Wochen durchgeführt werden.
Strangulierende Verbände vermeiden
Beginn der Bewegungsübungen frühestens nach 1 Woche
Bewegungsübungen ausschließlich aktiv durchführen
Bei postoperativ persistierender Kraftminderung sofortige Indikation zur Revision
Wie sollte der Patient zur Durchführung der Hypothenarfettlappenplastik am ehesten gelagert werden?
Bauchlage mit Armtisch
Beach-Chair-Lagerung
Rückenlage mit Armtisch
Seitlage auf der betroffenen Seite
Seitlage auf der nichtbetroffenen Seite
Sie klären einen Patienten zur Karpaldachspaltung auf. Welche Aussage ist falsch?
Nächtliche schmerzhafte Kribbelparästhesien mildern sich meist kurzfristig nach der Operation.
Sensibilitätsstören mildern sich je nach präoperativer Symptomdauer innerhalb von Wochen bis Monaten.
Stark belastete Handwerker können postoperativ eine vorübergehende Kraftminderung der Hand bemerken.
Postoperativ kann es zu Beschwerden im Narbenbereich kommen. Diese sind meist im Verlauf selbstlimitierend.
Zur Operation ist zumindest eine Regionalanästhesie notwendig. Die Durchführung der Karpaldachspaltung in Wide-awake-Technik ist nicht möglich.
About this article
Cite this article
Ayache, A., Unglaub, F., Langer, M.F. et al. Operative Behandlung des Karpaltunnelsyndroms: offene Retinakulumspaltung und Hypothenarfettlappenplastik beim Rezidiv. Oper Orthop Traumatol 32, 219–235 (2020). https://doi.org/10.1007/s00064-020-00662-y
Received:

Revised:

Accepted:

Published:

Issue Date:
Schlüsselwörter
Nervus medianus

Offene Karpaldachspaltung

Hypothenarfettlappenplastik

Nervenkompressionssyndrom

Revisionseingriff
Keywords
Median nerve

Carpal tunnel release

Hypothenar fat flap

Nerve entrapment

Revision surgery