Zusammenfassung
Operationsziel
Wiederherstellung der posterioren Kniestabilität nach tibialer knöcherner Avulsion des hinteren Kreuzbands (HKB) in arthroskopischer Technik mit Faden-Button-Konstrukt.
Indikationen
Solide dislozierte monofragmentäre tibiale HKB-Avulsionen.
Kontraindikationen
Mehrfragmentäre und chronische Fraktursituation, chronische posteriore Instabilität, fortgeschrittene Gonarthrose, hochgradige Weichteilverletzung, Infektion.
Operationstechnik
Rückenlage, Standardarthroskopieportale, posteromediales und -laterales Portal, transseptaler Zugang zum tibialen Ansatz des HKB, Reposition des Avulsionsfragments über HKB-Zielgerät, 2‑fache Bohrung durch den Tibiakopf und das Frakturfragment mit kanüliertem 2,4-mm-Bohrer über HKB-Zielgerät, Einführen eines SutureLasso™ durch den Tibiakopf und das Fragment, Einziehen eines FiberTape™ und Dog Bone, Verknoten des FiberTape über dem anterioren tibialen Dog-Bone-Plättchen.
Weiterbehandlung
Kniestreckschiene mit posteriorem tibialen Support für 6 Wochen, 20 kg Teilbelastung und limitierte Flexion bis 90°, Physiotherapie in Bauchlage ab dem 1. postoperativen Tag, Übergang zur Vollbelastung nach radiologischer und klinischer Kontrolle 6 Wochen postoperativ.
Ergebnisse
Seit 2016 wurden 8 tibiale Avulsionsverletzungen des HKB operativ versorgt. Bei 6 Patienten erfolgte eine Fixation in Fadenankertechnik mit einer modifizierten SutureBridge™ aufgrund einer sehr kleinen oder mehrfragmentären Avulsion. Bei 2 Patienten konnte die hier beschriebene arthroskopische Faden-Button-Technik komplikationslos angewandt werden. Voraussetzung war eine solide monofragmentäre Fraktur. Komplikationen traten nicht auf. Generell macht die arthroskopische Technik eine offene posteriore Präparation unnötig. Sie bietet gering bessere objektive und postoperative Werte bei einer leicht erhöhten Arthrofibroserate verglichen mit offenen Operationstechniken.
Abstract
Objective
To restore the posterior stability of the knee after a tibial posterior cruciate ligament (PCL) avulsion with a suture–button construct.
Indications
Acute solid and monofragment bony avulsion of the tibial PCL insertion.
Contraindications
Chronic condition of avulsion fractures or posterior instability, multifragment avulsions, thin bone pieces, advanced knee osteoarthritis, high-grade soft tissue injury, infection.
Surgical technique
Supine position, all-arthroscopic treatment via posteromedial and posterolateral portal, arthroscopic visualization and fracture reduction, transtibial drilling with a cannulated 2.4 mm drill, reduction of the fragment via FiberTape™ and Dog Bone. Knotting of the tapes against an additional Dog Bone at the anterior aspect of the tibia. Intraoperative x‑ray.
Postoperative management
Knee extension brace with posterior tibial support for 6 weeks, 20 kg partial weight-bearing and restricted flexion up to 90° for 6 weeks, physiotherapy in prone position from the first postoperative day. Full weight bearing after x‑ray and clinical control after 6 weeks.
Results
Since 2016 eight tibial PCL avulsions were treated. In 6 patients a suture–bridge technique via a mini-open approach was performed due to a small or comminuted fracture fragment. In 2 patients an all-arthroscopic technique was performed. No complications. The all-arthroscopic technique requires a solid fragment and enables the surgeon to treat additional pathologies. In general, the arthroscopic technique makes the open posterior approach unnecessary. The arthroscopic techniques achieve slightly higher objective and subjective values compared to the open procedure, despite a higher rate of arthrofibrosis.
Access options
Buy single article
Instant access to the full article PDF.
US$ 39.95
Tax calculation will be finalised during checkout.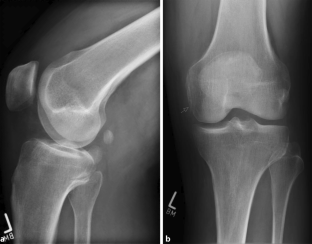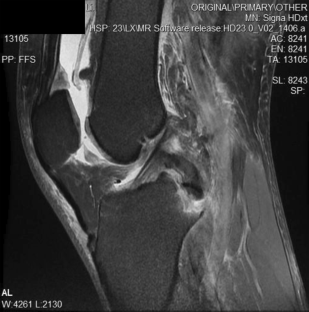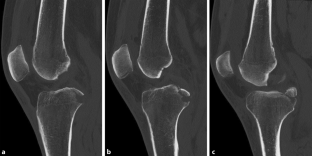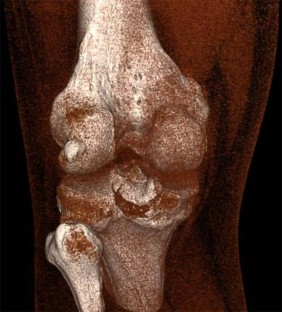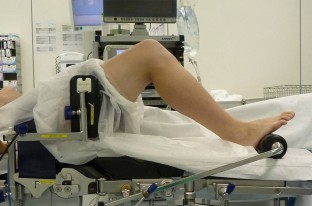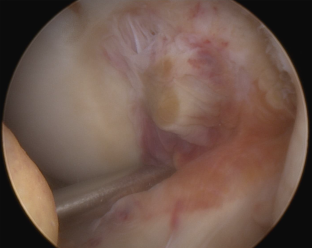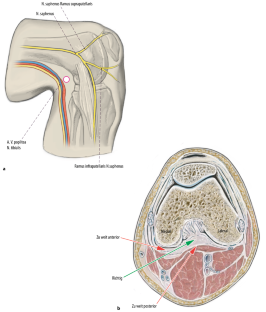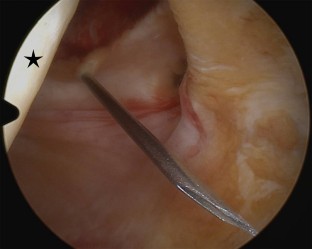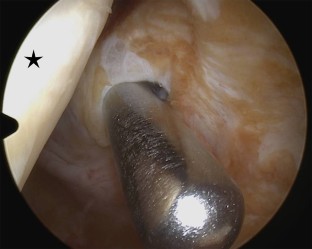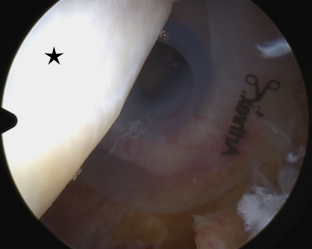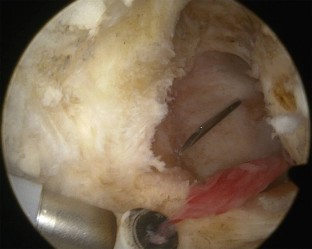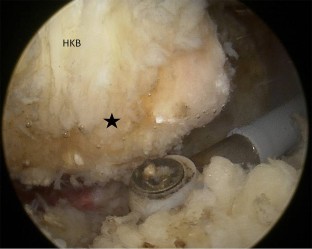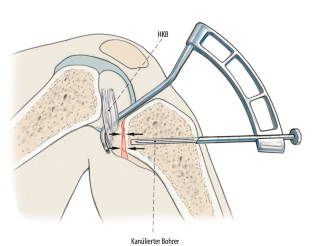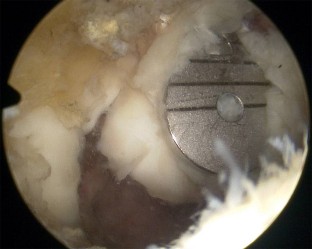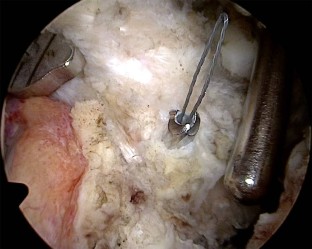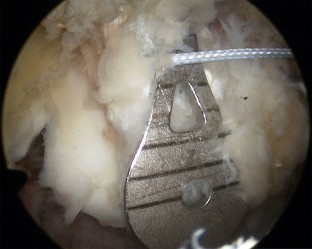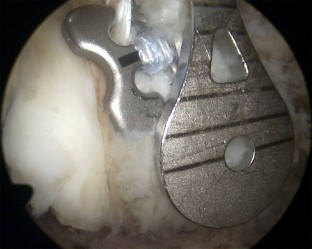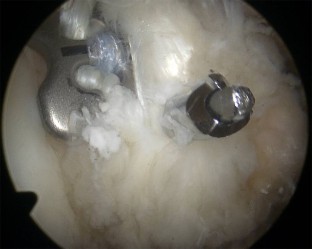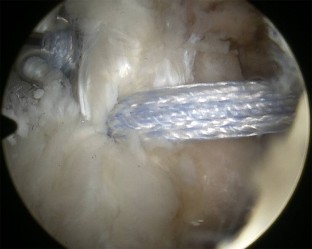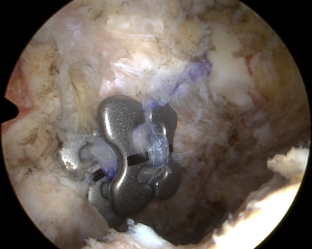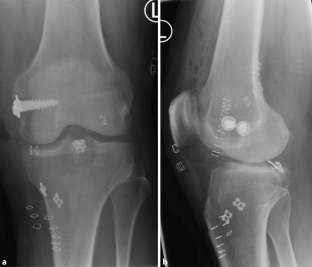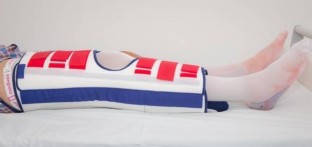 Literatur
1.

Willinger L et al (2019) Fixation of bony avulsions of the posterior cruciate ligament by a suture-bridge technique. Oper Orthop Traumatol 31(1):3–11. https://doi.org/10.1007/s00064-018-0582-4

2.

Hooper PO 3rd et al (2018) Management of posterior cruciate ligament tibial avulsion injuries: A systematic review. Am J Sports Med 46(3):734–742

3.

Gwinner C et al (2016) All-arthroscopic treatment of tibial avulsion fractures of the posterior cruciate ligament. GMS Interdiscip Plast Reconstr Surg DGPW 5:Doc2. https://doi.org/10.3205/iprs000081

4.

Gwinner C et al (2014) Arthroscopic treatment of acute tibial avulsion fracture of the posterior cruciate ligament using the tightrope fixation device. Arthrosc Tech 3(3):e377–e382

5.

Yastrebov O, Lobenhoffer P (2010) Refixation of tibial bony avulsions of the posterior cruciate ligament with a hook plate. Oper Orthop Traumatol 22(4):347–353

6.

Yoon JR, Park CD, Lee DH (2018) Arthroscopic suture bridge fixation technique with multiple crossover ties for posterior cruciate ligament tibial avulsion fracture. Knee Surg Sports Traumatol Arthrosc 26(3):912–918

7.

Zhang X et al (2013) A minimally invasive postero-medial approach with suture anchors for isolated tibial avulsion fracture of the posterior cruciate ligament. Knee 20(2):96–99

8.

Zhao J, He Y, Wang J (2006) Arthroscopic treatment of acute tibial avulsion fracture of the posterior cruciate ligament with suture fixation technique through Y‑shaped bone tunnels. Arthroscopy 22(2):172–181

9.

Domnick C et al (2016) Biomechanical properties of different fixation techniques for posterior cruciate ligament avulsion fractures. Arthroscopy 32(6):1065–1071

10.

Ahn JH, Ha CW (2000) Posterior trans-septal portal for arthroscopic surgery of the knee joint. Arthroscopy 16(7):774–779

11.

Kim SJ et al (2011) The safe establishment of a transseptal portal in the posterior knee. Knee Surg Sports Traumatol Arthrosc 19(8):1320–1325

12.

Makridis KG et al (2013) Neurovascular anatomic relationships to arthroscopic posterior and transseptal portals in different knee positions. Am J Sports Med 41(7):1559–1564

13.

Ahn JH et al (2011) The relationship of neural structures to arthroscopic posterior portals according to knee positioning. Knee Surg Sports Traumatol Arthrosc 19(4):646–652

14.

Burks RT, Schaffer JJ (1990) A simplified approach to the tibial attachment of the posterior cruciate ligament. Clin Orthop Relat Res 254:216–219

15.

Frosch K et al (2012) Treatment of bony avulsions of the posterior cruciate ligament (PCL) by a minimally invasive dorsal approach. Oper Orthop Traumatol 24(4–5):348–353

16.

Walz L et al (2008) The anatomic reconstruction of acromioclavicular joint dislocations using 2 TightRope devices: A biomechanical study. Am J Sports Med 36(12):2398–2406

17.

Jin C et al (2018) Biomechanical comparisons of current suspensory fixation devices for anterior cruciate ligament reconstruction. Int Orthop 42(6):1291–1296

18.

Seppel G, Lenich A, Imhoff AB (2014) Distal clavicle fracture. Oper Orthop Traumatol 26(3):254–262

19.

Imhoff A, Feucht M (2017) Atlas sportorthopädisch-sporttraumatologische Operationen, 2. Aufl. Springer, Berlin, Heidelberg
Ethics declarations
Interessenkonflikt
A.B. Imhoff steht in beratender Funktion für Arthrex und medi GmbH. P. Forkel, A. Achtnich und L. Willinger geben an, dass kein Interessenkonflikt besteht.
Für diesen Beitrag wurden von den Autoren keine Studien an Menschen oder Tieren durchgeführt. Für die aufgeführten Studien gelten die jeweils dort angegebenen ethischen Richtlinien.
Additional information
Redaktion
W. Petersen, Berlin
Zeichnungen
R. Himmelhan, Mannheim
Caption Electronic Supplementary Material
Video zur Operationstechnik. (Genauere Beschreibung s. Manuskriptanhang. Mit freundlicher Genehmigung der Abteilung für Sportorthopädie, Klinikum rechts der Isar der TU München)
Anhang
Anhang
Videolegende
Die MRT- und auch die CT-Untersuchung des Kniegelenks zeigen die tibiale knöcherne Avulsion. In der MRT-Untersuchung ist die vollständige Integrität des hinteren Kreuzbands erkennbar.
Die dynamische Untersuchung des Kniegelenks zeigt in der arthroskopischen Betrachtung das "floppy ACL sign" als Hinweis auf eine hintere Kreuzbandinstabilität. Das Tibiaplateau lässt sich aufgrund der HKB-Insuffizienz nach posterior schieben. Dadurch besteht ein Spannungsverlust des vorderen Kreuzbands (VKB). Dieses Phänomen darf nicht als VKB-Verletzung missinterpretiert werden.
Nach Anlage eines tiefen anteromedialen Portals wird ein Wechselstab unter dem HKB durch die Fossa intercondylaris geschoben. Darüber können der Trokar und die Kamera nach posterior geführt werden. Dies ermöglicht die Visualisierung des posteromedialen Gelenkraums und die unter Sicht durchzuführende Anlage eines posteromedialen Portals (Kanülentechnik).
Eine Verweilkanüle (z. B. PassPort™, Arthrex, Naples, USA) sichert den Zugang. Anschließend erfolgen die Präparation des tibialen Avulsionsfragments und die Darstellung des HKB. Das Septum wird dabei mit einem Hochfrequenzgerät reseziert. So wird eine Verbindung in den posterolateralen Gelenkraum geschaffen. Anschließend kann ebenfalls unter Sicht ein zusätzliches posterolaterales Portal angelegt werden. Dies ermöglicht ein rein posteriores Arbeiten mit einer ständigen Visualisierung des Fragments über das posteromediale Portal und ein unkompliziertes Fadenmanagement über das posterolaterale Portal.
Durch die Fossa intercondylaris hindurch wird dann der HKB-Zielbügel nach posterior geführt. Über diesen lässt sich nun das Fragment stufenlos in das Frakturbett reponieren und die HKB-Fasern können wieder gespannt werden.
Mit einem kanülierten 2,4-mm-Bohrer wird der Tibiakopf von anterior bis durch das reponierte Avulsionsfragment durchbohrt und durch den Bohrer ein Drahtlasso nach intraartikulär geführt. Dies wird mit einer Fasszange nach posterolateral ausgeführt. Außerhalb des Kniegelenks wird zunächst ein FiberLink (Arthrex, Naples, USA) anstelle des Drahtlassos und über diesen dann ein breites reißfestes und doppelt gelegtes FiberTape eingezogen. An seinem U‑förmigen Schlaufenende ist ein Dog Bone-Button (Arthrex, Naples, USA) eingeklemmt. Durch Zug an den nach anterior ausgeführten Tapefäden reponiert das Dog-Bone-Button-Konstrukt das Fragment in die Avulsionszone. Im Fall größerer Fragmente (wie in diesem Fall) ist ein 2. Tunnel für ein weiteres Faden-Button-Konstrukt möglich. Anterior werden die Tapefäden jeweils über einem Dog Bone verknotet.
Die abschließende Arthroskopie erlaubt die nochmalige dynamische Untersuchung. Diese zeigt die Aufhebung der posterioren Schublade und des provozierbaren Phänomens des "floppy ACL". Die postoperative Röntgenuntersuchung weist die stufenfreie Reposition und korrekte Lage der Fixationsmaterialen nach.
About this article
Cite this article
Forkel, P., Imhoff, A.B., Achtnich, A. et al. Arthroskopische Refixation tibialer knöcherner Avulsionsverletzungen des hinteren Kreuzbands mit Faden-Button-Konstrukt. Oper Orthop Traumatol 32, 236–247 (2020). https://doi.org/10.1007/s00064-019-00626-x
Received:

Revised:

Accepted:

Published:

Issue Date:
Schlüsselwörter
Bänderverletzung

Tibia

Avulsionsfraktur

Fixationshilfsmittel

Orthopädische Verfahren
Keywords
Ligament injuries

Tibia

Fracture, avulsion

Fixation devices

Orthopedic procedures