Zusammenfassung
Hintergrund
Jodinduzierte Schilddrüsendysfunktionen sind trotz ihres seltenen Auftretens wichtige Krankheitsbilder, deren umgehendes Erkennen das Abwenden ernsthafter Konsequenzen bedeuten kann. Wichtige Auslöser können jodhaltige Kontrastmittel, Amiodaron oder jodhaltige Desinfektionsmittel sein. Zu unterscheiden sind die jodinduzierte Hypo- und Hyperthyreose, wobei erst genannte meist selbstlimitierend verläuft.
Ziel der Arbeit
Ziel des Artikels ist die Darstellung aktueller Erkenntnisse in der Pathogenese, Therapie und Prophylaxe der jodinduzierten Schilddrüsendysfunktion.
Material und Methoden
Wir führten eine Literaturrecherche zu den aktuellen Publikationen des Themengebietes durch und verknüpften diese mit der täglichen klinischen Erfahrung.
Ergebnisse und Diskussion
Bei der jodinduzierten Hyperthyreose werden in erster Linie Thyreostatika wie Thiamazol und Perchlorat eingesetzt um die Schilddrüsenhormonsynthese und eine weitere Jodaufnahme in die Schilddrüse zu bremsen. Zur Prophylaxe einer röntgenkontrastmittelinduzierten Hyperthyreose kann die Gabe von Perchlorat, bei hohem Risiko in Kombination mit Thiamazol, möglichst beginnend einen Tag vor der Jodexposition, erfolgen.
Abstract
Background
Iodine-induced thyroid dysfunctions are, despite their rare occurrence, important clinical syndromes. Their immediate recognition can avoid serious consequences. Important triggers can be iodine-containing contrast agents, amiodarone or iodine-containing disinfectants. Iodine-induced hypothyroidism and hyperthyroidism need to be distinguished, whereby the former is usually self-limiting.
Objectives
The aim of this article is to present current knowledge on the pathogenesis, therapy, and prophylaxis of iodine-induced thyroid dysfunction.
Materials and methods
We performed a literature search of current publications and linked them to daily clinical experience.
Results and conclusion
In iodine-induced hyperthyroidism, antithyroid drugs and perchlorate are primarily used to decrease thyroid hormone synthesis and further iodine uptake into the thyroid. For the prophylaxis of x‑ray contrast agent-induced hyperthyroidism, perchlorate can be administered in high-risk settings in combination with antithyroid drugs, if possible starting one day before the iodine exposure.
This is a preview of subscription content, log in to check access.
Access options
Buy single article
Instant access to the full article PDF.
US$ 39.95
Price includes VAT for USA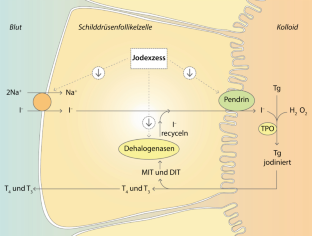 Literatur
1.

Akamizu T, Satoh T, Isozaki O et al (2012) Diagnostic criteria, clinical features, and incidence of thyroid storm based on nationwide surveys. Thyroid 22:66

2.

Burch HB, Wartofsky L (1993) Life-threatening thyrotoxicosis. Thyroid storm. Endocrinol Metab Clin North Am 22:263–277

3.

De Leo S, Braverman LE (2019) Iodine-induced thyroid dysfunction. In: Luster M et al (Hrsg) The thyroid and its diseases. Springer, Heidelberg, Berlin, New York, S 435–452

4.

De Souza EC, Dias GF, Cardoso RC et al (2015) MCT8 is downregulated by short time overload in the thyroid gland of rats. Horm Metab Res 47:910–915

5.

Dietrich JW (2012) Thyreotoxische Krise. Med Klin Intensivmed Notfmed 107:448–453

6.

Dugrillon A (1996) Iodolactones and iodoaldehydes—mediators of iodine in thyroid autoregulation. Exp Clin Endocrinol Diabetes 104(suppl 4):41–45

7.

Emricht D, Bähre M (1978) Autonomy in euthyroid goitre. Maladaptation to iodine deficiency. Clin Endocrinol (Oxf) 8:257–265

8.

Eng PH, Cardona GR, Fang SL et al (1999) Ecape from the acute Wolff-Chaikoff effect is associated with a decrease in thyroid sodium/iodide symporter messenger ribonucleid acid and protein. Endocrinology 140:3404–3410

9.

Farfan H, Albulushi A, Tagi A et al (2013) Incidence and pattern of thyroid dysfunction in patients on chronic amiodarone therapy: expercience at a tertiary care centre in Oman. Open Cardiovasc Med J 7:122–126

10.

Gärtner R (2012) Thyreotoxische Krise. In: Gärtner R (Hrsg) Schilddrüsenerkrankungen. Wissenschaftliche Verlagsgesellschaft, Stuttgart, S 216–220

11.

Herrmann J (1978) Neuere Aspekte in der Therapie der thyreotoxischen Krise. Dtsch Med Wochenschr 103:166–174

12.

Hörmann R (2004) Amiodaron und Schilddrüsenfunktion. Nuklearmediziner 27:78–85

13.

Hörmann R (2005) Schilddrüsenkrankheiten. Leitfaden für Klinik und Praxis, 4. Aufl. ABW Wissenschaftsverlag, Berlin

14.

Hüfner M (2013) Jodinduzierte Hyperthyreose. In: Rothmund M et al (Hrsg) Endokrine Chirurgie. Springer, Heidelberg, Berlin, New York, S 126–131

15.

Karger S, Führer D (2008) Thyreotoxische Krise – ein Update. Dtsch Med Wochenschr 133(10):479–484

16.

Lederbogen S, Reinwein D (1992) Epidemiologische Daten zur thyreotoxischen Krise, eine retrospektive Untersuchung. Aktuel Endokrinol Stoffwechsel 13:82–84

17.

Leung A, Braverman LE (2014) Consequences of exess iodine. Nat Rev Endocrinol 10(3):136–142

18.

Martino E, Bartanela L, Bogazzi F et al (2001) The effects of amiodarone on the thyroid. Endocr Rev 22:240–254

19.

Pramyothin P, Leung AM, Pearce EN et al (2011) Clinical problem-solving: a hidden solution. N Engl J Med 365(22):2123–2127

20.

Rendl J, Imöhl B, Jenett M et al (1999) In vivo deiodination of nonionic contrast media (CM). 72 nd Annual Meeting of the American Thyroid Association, Palm Beach, Florida (Abstract No 141)

21.

Rendl J, Imöhl B, Jenett M et al (2000) Quantitative Daten zur Freisetzung von Iodid nach intravenöser Applikation nichtionischer Röntgenkontrastmittel. Nuklearmedizin 39:A30

22.

Rendl J, Saller B (2001) Schilddrüse und Röntgenkontrastmittel. Dtsch Arztebl 98(7):A402–A406

23.

Uchida T, Kasai T, Takagi A et al (2014) Prevalence of amiodarone-induced thyrotoxicosis and associated risk factors in Japanese patients. Int J Endocrinol. https://doi.org/10.1155/2014/534904

24.

Wartkofsky L, Klubo-Gwiedzinska J (2019) Thyroid storm (thyrotoxic crisis). In: Luster M et al (Hrsg) The thyroid and its diseases. Springer, Heidelberg, Berlin, New York, S 357–366

25.

Wolff J, Chaikoff IL (1948) Plasma iodine as a homeostatic regulator of thyroid function. J Biol Chem 174:555–564

26.

Yanai H, Hakoshima M, Katsuyama H (2019) Clinical, biochemical, hematological, endokrinological and immunological differences between graves'disease patients with and without thyroid storm. J Clin Med Res 11(6):452–457
Ethics declarations
Interessenkonflikt
F. Eilsberger, M. Luster und J. Feldkamp geben an, dass kein Interessenkonflikt besteht.
Für diesen Beitrag wurden von den Autoren keine Studien an Menschen oder Tieren durchgeführt. Für die aufgeführten Studien gelten die jeweils dort angegebenen ethischen Richtlinien.
Additional information
Redaktion
M. Buerke, Siegen
About this article
Cite this article
Eilsberger, F., Luster, M. & Feldkamp, J. Jodinduzierte Schilddrüsendysfunktion. Med Klin Intensivmed Notfmed (2020). https://doi.org/10.1007/s00063-020-00699-8
Received:

Revised:

Accepted:

Published:
Schlüsselwörter
Hyperthyreose

Röntgenkontrastmittel

Thiamazol

Amiodaron

Thyreotoxische Krise
Keywords
Hyperthyroidism

Contrast agents

Thiamazole

Amiodarone

Thyroid storm