Zusammenfassung
Hintergrund
Die endotracheale Intubation (ET) galt lange Zeit als Goldstandard bei der Atemwegssicherung. Die aktuellen Leitlinien empfehlen hingegen supraglottische Atemwegssicherungen wie den Larynxtubus (LT) als gleichwertiges Instrument, insbesondere, wenn bei Notärzten und Rettungsdienstpersonal keine ausreichende Praxis in der endotrachealen Intubation besteht. Eine zunehmende Häufigkeit mit LT-beatmeter Notfallpatienten ist daher seit Jahren die Folge. Allerdings bleibt unklar, ob die zunehmende Verbreitung dieses vergleichsweise einfach und vor allem schnell zu handhabendenden Devices nicht möglicherweise einen negativen Einfluss ausübt, beispielsweise auf die Prognose präklinisch reanimierter Patienten.
Methoden
Ziel dieser Arbeit ist eine retrospektive Analyse des Überlebens nach außerklinischem Herz-Kreislauf-Stillstand (OHCA) bei konventionell endotracheal intubierten (ET-Gruppe, n = 160) vs. mit Larynxtubus beatmeten Patienten (LT-Gruppe, n = 48), welche zwischen 2006 und 2014 im Universitätsklinikum Frankfurt am Main behandelt wurden.
Ergebnisse
Die Gesamtmortalität in der Gruppe der präklinisch mit LT beatmeten Patienten betrug 85 % vs. 84 % in der präklinisch mit ET intubierten Patienten (p = 0,86). Es zeigte sich kein Unterschied in der innerklinischen Mortalität zwischen beiden Gruppen sowohl in der univariaten als auch in der multivariaten Analyse (HR = 0,98; 95 % Konfidenzintervall [KI] 0,69–1,39; p = 0,92; adjustierte HR = 1,01; 95 % KI 0,76–1,56; p = 0,62). Auch nach 3:1 Pseudorandomisierung mittels "propensity score matching" (PSM) zeigte sich ein vergleichbares Überleben bis zur Krankenhausentlassung zwischen beiden Patientengruppen (PSM-adjustierte HR = 0,99; 95 % KI 0,65–1,51; p = 0,97). Die präklinische Atemwegssicherung mit LT oder ET hatte ferner keine Auswirkung auf die Mortalität innerhalb der ersten 24 h (PSM-adjustierte HR = 1,02; 95 % KI 0,44–2,36; p = 0,96).
Schlussfolgerung
Der technisch einfacher zu handhabende Larynxtubus ist im direkten Vergleich zum Endotrachealtubus bei Patienten mit präklinischem Herz-Kreislauf-Stillstand mit einer vergleichbaren Krankenhausmortalität assoziiert. Diese retrospektive Studie ist ein Hinweis dafür, dass der LT nicht mit erhöhtem Risiko für diese Patienten einhergeht; größere, prospektiv-randomisierte Studien im Setting des bundesdeutschen Rettungsdienstsystems sind jedoch erforderlich.
Abstract
Background
Endotracheal (ET) intubation has been the gold standard in out-of-hospital airway management for a long time. Recent guidelines suggest an alternative airway management with supraglottic airway devices like the laryngeal tube (LT) especially for less experienced rescue personnel. However, scientific evidence on the prognostic impact of the laryngeal tube in the setting of cardiopulmonary resuscitation is limited.
Methods
We aimed to compare mortality outcomes in out-of-hospital cardiac arrest (OHCA) patients after preclinically initiated airway management with either ET or LT in a propensity score matched, single-center retrospective analysis.
Results
A total of 208 patients with OHCA were resuscitated and intubated with either ET (n = 160; 77%) or LT (n = 48; 23%) in the urban area of Frankfurt am Main, Germany, and treated thereafter on the intensive care unit of the University Hospital Frankfurt from 2006–2014. In-hospital mortality was 84% versus 85% in the ET and LT group (p = 0.86). No difference regarding in-hospital mortality has been observed between the two airway management techniques in univariate as well as in multivariate mortality analysis (HR = 0.98, 95% confidence interval [CI] 0.69–1.39; p = 0.92; adjusted HR = 1.01, 95% CI 0.76–1.56; p = 0.62). To adjust for potential confounders, propensity score matching was additionally performed resulting in a cohort of 120 matched patients in a 3:1 ratio (ET:LT). Again, survival to hospital discharge was comparable between the two patient groups (propensity-adjusted HR = 0.99, 95% CI 0.65–1.51, p = 0.97). Further, preclinical airway management with LT or ET showed no difference in mortality within first 24 h (propensity-adjusted HR = 1.02; 95% CI 0.44–2.36; p = 0.96).
Conclusion
Preclinical airway management with LT shows similar mortality outcomes in direct comparison to intubation with ET in OHCA patients. Further randomized studies are warranted.
This is a preview of subscription content, log in to check access.
Access options
Buy single article
Instant access to the full article PDF.
US$ 39.95
Price includes VAT for USA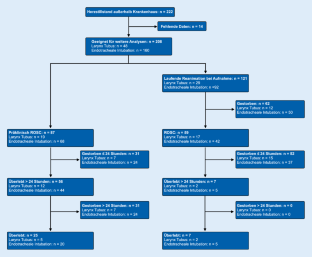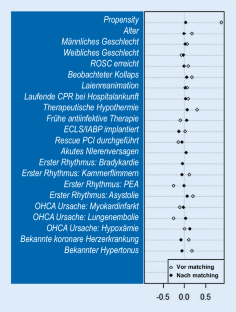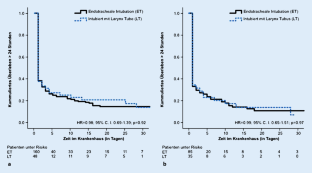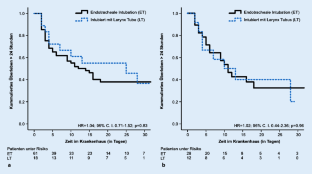 Abbreviations
ACLS:

Advanced cardiac life support

BLS:

Basic life support

BVM:

Maskenbeatmung

CPR:

Cardiopulmonary resuscitation

ECLS:

Extra-corporal cardiac life support (extra-korporale Unterstützungssysteme)

ET:

Endotrachealtubus

GCS:

Glasgow Coma Scale

IABP:

Intra-aortic ballon pump (Intraaortale Ballonpumpe)

ICU:

Intensive care unit (Intensivstation)

ILCOR:

International Liaison Committee on Resuscitation

KHK:

Koronare Herzerkrankung

LMA:

Laryngeal mask airway (Larynxmaske)

LT:

Larynxtubus

OHCA:

Out-of-hospital cardiac arrest

PCI:

Perkutane Koronarintervention

PEA:

Pulslose elektrische Aktivität

PSM:

Propensity-Score-Matching

ROSC:

Return of spontaneous circulation

SGA:

Supraglottische Atemwegssicherung

TTM:

Targeted temperature management (gezieltes Temperaturmanagement)
Literatur
1.

Monsieurs KG, Nolan JP, Bossaert LL, Greif R, Maconochie IK, Nikolaou NI (2015) European resuscitation council guidelines for resuscitation 2015. Section 1. Executive summary. Resuscitation 95:1–80

2.

Brouwer TF, Walker RG, Chapman FW, Koster RW (2015) Association between chest compression interruptions and clinical outcomes of ventricular fibrillation out-of-hospital cardiac arrest. Circulation 132:1030–1037

3.

Baskett P, Nolan J, Parr M (1996) Tidal volumes which are perceived to be adequate for resuscitation. Resuscitation 31:231–234

4.

Thierbach A, Piepho T, Wolcke B, Kuster S, Dick W (2004) Prehospital emergency airway management procedures. Success rates and complications. Anaesthesist 53:543–550

5.

Wiese CH, Bartels U, Bergmann A, Bergmann I, Bahr J, Graf BM (2008) Using a laryngeal tube during cardiac arrest reduces "no flow time" in a manikin study: a comparison between laryngeal tube and endotracheal tube. Wien Klin Wochenschr 120:217–223

6.

Schalk R, Byhahn C, Fausel F, Egner A, Oberndorfer D, Walcher F (2010) Out-of-hospital airway management by paramedics and emergency physicians using laryngeal tubes. Resuscitation 81:323–326

7.

Genzwuerker HV, Hilker T, Hohner E, Kuhnert-Frey B (2000) The laryngeal tube: a new adjunct for airway management. Prehosp Emerg Care 4:168–172

8.

Schalk R, Auhuber T, Haller O, Latasch L, Wetzel S, Weber CF (2012) Implementation of the laryngeal tube for prehospital airway management: training of 1,069 emergency physicians and paramedics. Anaesthesist 61:35–40

9.

Schalk R (2013) Der Larnyxtubus Suction-Ein Notfallkonzept! Allera-Verlag, Siershahn

10.

Schalk R, Engel S, Meininger D, Zacharowski K, Holzer L, Scheller B (2011) Disposable laryngeal tube suction: standard insertion technique versus two modified insertion techniques for patients with a simulated difficult airway. Resuscitation 82:199–202

11.

Schalk R, Scheller B, Habler OP, Meier J, Meininger D, Byhahn C (2008) Disposable laryngeal tube suction—a randomized comparison of two insertion techniques performed by novice users in anaesthetised patients. Resuscitation 76:364–368

12.

Schalk R, Seeger FH, Mutlak H, Schweigkofler U, Zacharowski K, Peter N (2014) Complications associated with the prehospital use of laryngeal tubes—A systematic analysis of risk factors and strategies for prevention. Resuscitation 85:1629–1632

13.

Dengler V, Wilde P, Byhahn C, Mack MG, Schalk R (2011) Prehospital airway management of laryngeal tubes. Should the laryngeal tube S with gastric drain tube be preferred in emergency medicine? Anaesthesist 60:135–138

14.

Hasegawa K, Hiraide A, Chang Y, Brown DF (2013) Association of prehospital advanced airway management with neurologic outcome and survival in patients with out-of-hospital cardiac arrest. JAMA 309:257–266

15.

Shin SD, Ahn KO, Song KJ, Park CB, Lee EJ (2012) Out-of-hospital airway management and cardiac arrest outcomes: a propensity score matched analysis. Resuscitation 83:313–319

16.

McMullan J, Gerecht R, Bonomo J, Robb R, McNally B, Donnelly J (2014) Airway management and out-of-hospital cardiac arrest outcome in the CARES registry. Resuscitation 85:617–622

17.

Wang HE, Szydlo D, Stouffer JA, Lin S, Carlson JN, Vaillancourt C (2012) Endotracheal intubation versus supraglottic airway insertion in out-of-hospital cardiac arrest. Resuscitation 83:1061–1066

18.

Benoit JL, Gerecht RB, Steuerwald MT, McMullan JT (2015) Endotracheal Intubation versus supraglottic airway placement in out-of-hospital cardiac arrest: a meta-analysis. Resuscitation 93:20–26

19.

Wang H, Schmicker RH, Daya MR, Stephens SW, Idris AH, Carlson JN, Colella MR, Herren H, Hansen M, Richmond NJ, Puyana JCJ, Auf der Heide TP, Gray RE, Gray PC, Verkest M, Owens PC, Brienza AM, Sternig KJ, May SJ, Sopko GR, Weisfeldt ML, Nichol G (2018) Effect of a strategy of initial laryngeal tube insertion vs Endotracheal Intubation on 72-hour survival in adults with out-of-hospital cardiac arrest: a randomized clinical trial. JAMA 320:769–778

20.

Benger JR, Kirby K, Black S, Brett SJ, Clout M, Lazaroo MJ, Nolan JP, Reeves BC, Robinson M, Scott LJ, Smartt H, South A, Stokes EA, Taylor J, Thomas M, Voss S, Wordsworth S, Rogers CA (2018) Effect of a strategy of a Supraglottic airway device vs tracheal Intubation during out-of-hospital cardiac arrest on functional outcome: the AIRWAYS-2 randomized clinical trial. JAMA 320:779–791

21.

Bernhard M, Mohr S, Weigand MA, Martin E, Walther A (2012) Developing the skill of endotracheal intubation: implication for emergency medicine. Acta Anaesthesiol Scand 56:619–623

22.

Auf der Heide TP, Sigurdsson G, Pirrallo RG, Yannopoulos D, McKnite S, Von Briesen C (2004) Hyperventilation-induced hypotension during cardiopulmonary resuscitation. Circulation 109:1960–1965

23.

Honold J, Hodrius J, Schwietz T, Bushoven P, Zeiher AM, Fichtlscherer S (2015) Aspiration and pneumonia risk after preclinical invasive resuscitation: Endotracheal intubation and supraglottic airway management with the laryngeal tube S. Med Klin Intensivmed Notfmed 110:526–533

24.

Salzgruber P, Datler P, Sterz F, Poppe M, Lobmeyr E, Keferböck M (2018) The impact of airway strategy on the patient outcome after out-of-hospital cardiac arrest: a propensity score matched analysis. Eur Heart J Acute Cardiovasc Care 7:423–431
Ethics declarations
Interessenkonflikt
J. W. Erath, A. Reichert, S. Büttner, H. Weiler, M. Vamos, B. von Jeinsen, S. Heyl, R. Schalk, H. Mutlak, A. M. Zeiher, S. Fichtlscherer und J. Honold geben an, dass kein Interessenkonflikt besteht.
Diese Studie wurde von der Ethikkommission des Universitätsklinikums Frankfurt der Johann-Wolfgang Goethe Universität gestattet (Geschäfts-Nr. 115/15) und nach den ethischen Leitlinien der Deklaration von Helsinki von 1975 durchgeführt.
Additional information
Redaktion
M. Buerke, Siegen
About this article
Cite this article
Erath, J.W., Reichert, A., Büttner, S. et al. Präklinisches Atemwegsmanagement mit Larynxtubus oder Endotrachealtubus bei präklinischem Herz-Kreislauf-Stillstand. Med Klin Intensivmed Notfmed 115, 213–221 (2020). https://doi.org/10.1007/s00063-019-0588-1
Received:

Revised:

Accepted:

Published:

Issue Date:
Schlüsselwörter
Außerklinischer Herz-Kreislauf-Stillstand

Larynxtubus

Endotrachealtubus

Atemweg

Plötzlicher Herztod
Keywords
Out-of-hospital cardiac arrest

Cardiopulmonary resuscitation

Laryngeal tube

Endotracheal tube

Airway