Abstract
Purpose
Assessment of the cochlear implant (CI) electrode array position using flat-detector computed tomography (FDCT) to test dependence of postoperative outcome on intracochlear electrode position.
Methods
A total of 102 patients implanted with 107 CIs underwent FDCT. Electrode position was rated as 1) scala tympani, 2) scala vestibuli, 3) scalar dislocation and 4) no deconvolution. Two independent neuroradiologists rated all image data sets twice and the scalar position was verified by a third neuroradiologist. Presurgical and postsurgical speech audiometry by the Freiburg monosyllabic test was used to evaluate auditory outcome after 6 months of speech rehabilitation.
Results
Electrode array position was assessed by FDCT in 107 CIs. Of the electrodes 60 were detected in the scala tympani, 21 in the scala vestibuli, 24 electrode arrays showed scalar dislocation and 2 electrodes were not placed in an intracochlear position. There was no significant difference in rehabilitation outcomes between scala tympani and scala vestibuli inserted patients. Rehabilitation was also possible in patients with dislocated electrodes.
Conclusion
The use of FDCT is a reliable diagnostic method to determine the position of the electrode array. In our study cohort, the electrode position had no significant impact on postoperative outcome except for non-deconvoluted electrode arrays.
This is a preview of subscription content, log in to check access.
Access options
Buy single article
Instant access to the full article PDF.
US$ 39.95
Price includes VAT for USA
Subscribe to journal
Immediate online access to all issues from 2019. Subscription will auto renew annually.
US$ 99
This is the net price. Taxes to be calculated in checkout.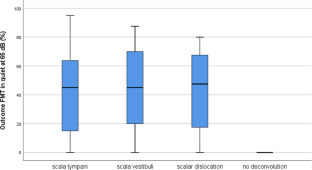 Abbreviations
CI:

Cochlear implant

FDCT:

Flat-detector computed tomography

FMT:

Freiburg monosyllabic test

IQR:

Interquartile range

MSCT:

Multi-slice computed tomography

MPR:

Multiplanar reconstruction

R:

Rater

SNHL:

Sensorineural hearing loss

ST:

Scala tympani

SV:

Scala vestibuli
References
1.

Zoellner F, Keidel WD. Transmission of hearing by electrical stimulation of the acoustic nerve. (preliminary report). Arch Ohren Nasen Kehlkopfheilkd. 1963;181:216–23.

2.

Lehnhardt E. Intracochlear placement of cochlear implant electrodes in soft surgery technique. HNO. 1993;41:356–9.

3.

Shepherd RK, Clark GM, Pyman BC, Webb RL. Banded intracochlear electrode array: evaluation of insertion trauma in human temporal bones. Ann Otol Rhinol Laryngol. 1985;94:55–9.

4.

Aschendorff A, Kromeier J, Klenzner T, Laszig R. Quality control after insertion of the nucleus contour and contour advance electrode in adults. Ear Hear. 2007;28(2 Suppl):75S-79S.

5.

Finley CC, Holden TA, Holden LK, Whiting BR, Chole RA, Neely GJ, Hullar TE, Skinner MW. Role of electrode placement as a contributor to variability in cochlear implant outcomes. Otol Neurotol. 2008;29:920–8.

6.

Bacciu S, Bacciu A, Pasanisi E, Vincenti V, Guida M, Barbot A, Berghenti T. Nucleus multichannel cochlear implantation in partially ossified cochleas using the Steenerson procedure. Otol Neurotol. 2002;23:341–5.

7.

Kiefer J, Weber A, Pfennigdorff T, von Ilberg C. Scala vestibuli insertion in cochlear implantation: a valuable alternative for cases with obstructed scala tympani. ORL J Otorhinolaryngol Relat Spec. 2000;62:251–6.

8.

Lin YS. Clinical outcomes of scala vestibuli cochlear implantation in children with partial labyrinthine ossification. Acta Otolaryngol. 2009;129:273–80.

9.

Lane JI, Witte RJ, Driscoll CLW, Shallop JK, Beatty CW, Primak AN. Scalar localization of the electrode array after cochlear implantation: clinical experience using 64-slice multidetector computed tomography. Otol Neurotol. 2007;28:658–62.

10.

Bartling SH, Gupta R, Torkos A, Dullin C, Eckhardt G, Lenarz T, Becker H, Stöver T. Flat-panel volume computed tomography for cochlear implant electrode array examination in isolated temporal bone specimens. Otol Neurotol. 2006;27:491–8.

11.

Kalender WA, Kyriakou Y. Flat-detector computed tomography (FD-CT). Eur Radiol. 2007;17:2767-79.

12.

Kennedy TA, Connell N, Szczykutowicz T, Schafer S, Royalty K, Nace S, Gartrell B, Gubbels S. Flat-panel CT for cochlear implant electrode imaging: comparison to multi-detector CT. Otol Neurotol. 2016;37:1646–53.

13.

Struffert T, Hertel V, Kyriakou Y, Krause J, Engelhorn T, Schick B, Iro H, Hornung J, Doerfler A. Imaging of cochlear implant electrode array with flat-detector CT and conventional multislice CT: comparison of image quality and radiation dose. Acta Otolaryngol. 2010;130:443–52.

14.

Landis JR, Koch GG. The measurement of observer agreement for categorical data. Biometrics. 1977;33:159-74.

15.

Neumann M, Aschendorff A, Schipper J, Laszig R, Klenzner T. The influence of insertion depth on the preservation of residual hearing after cochlear implantation. Laryngorhinootologie. 2005;84:113–6.

16.

Nordfalk KF, Rasmussen K, Hopp E, Greisiger R, Jablonski GE. Scalar position in cochlear implant surgery and outcome in residual hearing and the vestibular system. Int J Audiol. 2014;53:121–7.

17.

Adunka O, Kiefer J, Unkelbach MH, Radeloff A, Gstoettner W. Evaluating cochlear implant trauma to the scala vestibuli. Clin Otolaryngol. 2005;30:121–7.

18.

Aschendorff A, Klenzner T, Richter B, Kubalek R, Nagursky H, Laszig R. Evaluation of the HiFocus® electrode array with positioner in human temporal bones. J Laryngol Otol. 2003;117:527–31.
Ethics declarations
Conflict of interest
A. Stock, V. Bozzato, S.P. Kloska, A. Bozzato, U. Hoppe, J. Hornung, A. Dörfler and T. Struffert declare that they have no competing interests.
About this article
Cite this article
Stock, A., Bozzato, V., Kloska, S.P. et al. Evaluation After Cochlear Implant Surgery. Clin Neuroradiol (2020). https://doi.org/10.1007/s00062-020-00922-1
Received:

Accepted:

Published:
Keywords
Cochlear implantation

Deafness

Rehabilitation

Dyna-CT

Misplaced cochlear implant electrode array