Access options
Buy single article
Instant access to the full article PDF.
US$ 39.95
Tax calculation will be finalised during checkout.
Subscribe to journal
Immediate online access to all issues from 2019. Subscription will auto renew annually.
US$ 60.68
Tax calculation will be finalised during checkout.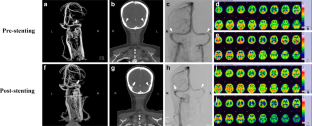 References
1.

De Simone R, Ranieri A, Bonavita V. Advancement in idiopathic intracranial hypertension pathogenesis: focus on sinus venous stenosis. Neurol Sci. 2010;31 Suppl 1:S33–9.

2.

Ding J, Zhou D, Geng T, Pan L, Ya J, Wang Z, Hu Y, Ding Y, Zhang X, Meng R. To predict visual deterioration according to the degree of Intracranial hypertension in patients with cerebral venous sinus thrombosis. Eur Neurol. 2018;80:28–33.

3.

Bai C, Xu Y, Zhou D, Ding J, Yang Q, Ding Y, Ji X, Meng R. The comparative analysis of non-thrombotic internal jugular vein stenosis and cerebral venous sinus stenosis. J Thromb Thrombolysis. 2019;48:61–7.

4.

Ahmed RM, Wilkinson M, Parker GD, Thurtell MJ, Macdonald J, McCluskey PJ, Allan R, Dunne V, Hanlon M, Owler BK, Halmagyi GM. Transverse sinus stenting for idiopathic intracranial hypertension: a review of 52 patients and of model predictions. AJNR Am J Neuroradiol. 2011;32:1408–14.

5.

Li K, Ren M, Meng R, Ding Y, Rajah GB, Wang F, Ji X. Efficacy of stenting in patients with cerebral venous sinus thrombosis-related cerebral venous sinus stenosis. J Neurointerv Surg. 2019;11:307–12.

6.

Staffen W, Schönauer U, Zauner H, Spindler I, Mair A, Iglseder B, Bernroider G, Ladurner G. Brain perfusion SPECT in patients with mild cognitive impairment and Alzheimer's disease: comparison of a semiquantitative and a visual evaluation. J Neural Transm (Vienna). 2006;113:195-203.

7.

Krausz Y, Bonne O, Marciano R, Yaffe S, Lerer B, Chisin R. Brain SPECT imaging of neuropsychiatric disorders. Eur J Radiol. 1996;21:183–7.

8.

Stevens SA, Thakore NJ, Lakin WD, Penar PL, Tranmer BI. A modeling study of idiopathic intracranial hypertension: etiology and diagnosis. Neurol Res. 2007;29:777–86.

9.

Zhou D, Ding J, Asmaro K, Pan L, Ya J, Yang Q, Fan C, Ding Y, Ji X, Meng R. Clinical characteristics and neuroimaging findings in internal jugular venous outflow disturbance. Thromb Haemost. 2019;119:308–18.

10.

Higgins JN, Cousins C, Owler BK, Sarkies N, Pickard JD. Idiopathic intracranial hypertension: 12 cases treated by venous sinus stenting. J Neurol Neurosurg Psychiatry. 2003;74:1662–6.
Acknowledgements
This study was sponsored by the National Key R&D Program (2017YFC1308401), the National Natural Science Foundation (81371289), and the Project of Beijing Municipal Top Talent for Healthy Work of China (2014-2-015). The authors would like to thank all patients and doctors who participated in this study for their cooperation.
Ethics declarations
Conflict of interest
J. Ding, J. Guan, X. Ji and R. Meng declare that they have no competing interests.
Ethical standards
Additional written informed consent was obtained from the patient in this study or the legal representatives for whom identifying information is included in this article.
Caption Electronic Supplementary Material
About this article
Cite this article
Ding, J., Guan, J., Ji, X. et al. Cerebral Venous Sinus Stenosis may Cause Intracranial Arterial Hypoperfusion. Clin Neuroradiol 30, 409–411 (2020). https://doi.org/10.1007/s00062-019-00833-w
Received:

Accepted:

Published:

Issue Date: