This is a preview of subscription content, log in to check access.
Access options
Buy single article
Instant access to the full article PDF.
US$ 39.95
Price includes VAT for USA
Subscribe to journal
Immediate online access to all issues from 2019. Subscription will auto renew annually.
US$ 99
This is the net price. Taxes to be calculated in checkout.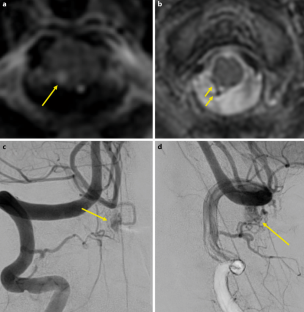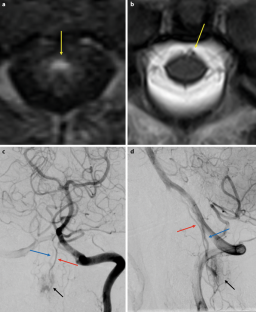 References
1.

Brinjikji W, Iyer VN, Yamaki V, Lanzino G, Cloft HJ, Thielen KR, Swanson KL, Wood CP. Neurovascular manifestations of hereditary hemorrhagic Telangiectasia: a consecutive series of 376 patients during 15 years. AJNR Am J Neuroradiol. 2016;37:1479–86.

2.

Brinjikji W, Nasr DM, Cloft HJ, Iyer VN, Lanzino G. Spinal arteriovenous fistulae in patients with hereditary hemorrhagic telangiectasia: a case report and systematic review of the literature. Interv Neuroradiol. 2016;22:354–61.

3.

Krings T, Kim H, Power S, Nelson J, Faughnan ME, Young WL, terBrugge KG; Brain Vascular Malformation Consortium HHT Investigator Group. Neurovascular manifestations in hereditary hemorrhagic telangiectasia: imaging features and genotype-phenotype correlations. AJNR Am J Neuroradiol. 2015;36:863–70.

4.

Kühnel T, Wirsching K, Wohlgemuth W, Chavan A, Evert K, Vielsmeier V. Hereditary hemorrhagic Telangiectasia. Otolaryngol Clin North Am. 2018;51:237–54.
Ethics declarations
Conflict of interest
W. Brinjikji, V. Iyer and G. Lanzino declare that they have no competing interests.
Ethical standards
This article does not contain any studies with human participants or animals performed by any of the authors. Consent was obtained from all patients identifiable from images or other information within the manuscript. In the case of underage patients, consent was obtained from a parent or legal guardian.
About this article
Cite this article
Brinjikji, W., Iyer, V. & Lanzino, G. Micro-Arteriovenous Malformations of the Spine in Hereditary Hemorrhagic Telangiectasia. Clin Neuroradiol 30, 395–398 (2020). https://doi.org/10.1007/s00062-019-00828-7
Received:

Accepted:

Published:

Issue Date: