Abstract
Background and Purpose
Endovascular treatment (EVT) and stereotaxic gamma-knife radiosurgery (GKRS) can both effectively treat cavernous sinus dural arteriovenous fistulas (CSDAVF). This study compared the prognostic factors and treatment effectiveness of GKRS and EVT for different CSDAVF types.
Methods
The charts of 200 patients undergoing GKRS and 105 patients undergoing EVT were reviewed for data on symptoms (e.g. orbital, cavernous, ocular, and cerebral). The CSDAVFs were classified into proliferative, restrictive, and late restrictive types. The prognostic factors for complete obliteration (CO) were evaluated in both the GKRS and EVT groups and the latent period to CO was measured. For statistical analysis χ2-tests were used to compare final CO rates for EVT and GKRS across the three CSDAVF types.
Results
The EVT and cavernous symptoms were significant independent predictors of CO. The CO rate after EVT (97.9%) was significantly higher than that after GKRS (63.5%) for restrictive CSDAVFs (P < 0.001) but not for proliferative or late restrictive types. In the GKRS group, cavernous symptoms (hazard ratio, HR: 0.557) and target volume (HR: 0.853) predicted CO, but only target volume remained significant in multivariate analysis. In the EVT group, the latent period to CO was shortest for restrictive CSDAVFs (3.2 ± 1.6 months, P = 0.05).
Conclusion
Angioarchitecture did not affect treatment outcomes. Cavernous symptoms were strongly associated with lower complete obliteration rates in the GKRS but not the EVT group. The EVT method remains the treatment of choice, especially for restrictive CSDAVFs; however, compared to EVT, GKRS had lower complication rates and similar therapeutic effects for proliferative type fistulas.
This is a preview of subscription content, log in to check access.
Access options
Buy single article
Instant access to the full article PDF.
US$ 39.95
Price includes VAT for USA
Subscribe to journal
Immediate online access to all issues from 2019. Subscription will auto renew annually.
US$ 99
This is the net price. Taxes to be calculated in checkout.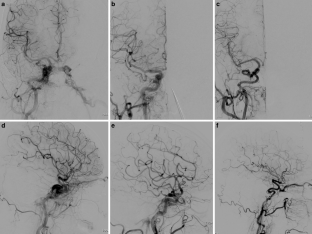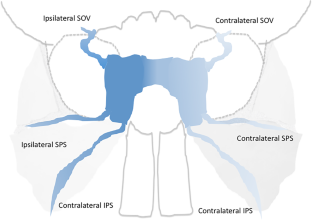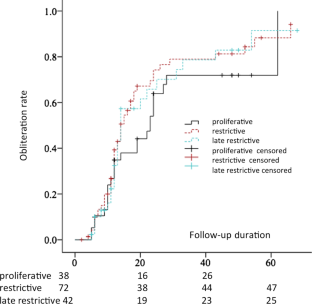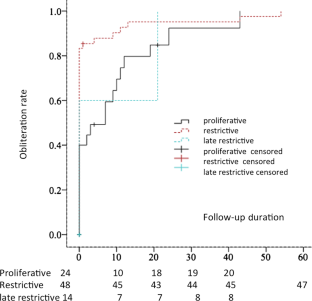 Abbreviations
CSDAVF:

Cavernous sinus dural arteriovenous fistula

CO:

Complete obliteration

EVT:

Endovascular treatment

GKRS:

Gamma knife radiosurgery

VOS:

Venous outflow score
References
1.

Al-Shahi R, Bhattacharya JJ, Currie DG, Papanastassiou V, Ritchie V, Roberts RC, Sellar RJ, Warlow CP. Prospective, population-based detection of intracranial vascular malformations in adults: the Scottish Intracranial Vascular Malformation Study (SIVMS). Stroke. 2003;34:1163–9.

2.

Kiyosue H, Hori Y, Okahara M, Tanoue S, Sagara Y, Matsumoto S, Nagatomi H, Mori H. Treatment of Intracranial dural arteriovenous fistulas: current strategies based on location and hemodynamics, and alternative techniques of transcatheter embolization. Radiographics. 2004;24:1637–53.

3.

Gross BA, Albuquerque FC, Moon K, McDougall CG. Evolution of treatment and a detailed analysis of occlusion, recurrence, and clinical outcomes in an endovascular library of 260 dural arteriovenous fistulas. J Neurosurg. 2017;126:1884–93.

4.

Reynolds MR, Lanzino G, Zipfel GJ. Intracranial dural Arteriovenous fistulae. Stroke. 2017;48:1424–31.

5.

Howard BM, Grossberg JA, Prater A, Cawley CM, Dion JE, Tong FC. Incompletely obliterated cranial arteriovenous fistulae are safely and effectively treated with adjuvant ε‑aminocaproic acid. J Neurointerv Surg. 2018;10:698–703.

6.

Meyers PM, Halbach VV, Dowd CF, Lempert TE, Malek AM, Phatouros CC, Lefler JE, Higashida RT. Dural carotid cavernous fistula: definitive endovascular management and long-term follow-up. Am J Ophthalmol. 2002;134:85–92.

7.

Suh DC, Lee JH, Kim SJ, Chung SJ, Choi CG, Kim HJ, Kim CJ, Kook M, Ahn HS, Kwon SU, Kim JS. New concept in cavernous sinus dural arteriovenous fistula: correlation with presenting symptom and venous drainage patterns. Stroke. 2005;36:1134–9.

8.

Lee RJ, Chen CF, Hsu SW, Lui CC, Kuo YL. Cerebellar hemorrhage and subsequent venous infarction followed by incomplete transvenous embolization of dural carotid cavernous fistulas: a rare complication. J Neurosurg. 2008;108:1245–8.

9.

Luo CB, Chang FC, Wang AG, Lin CJ, Guo WY, Ting TW. Transvenous coil embolization of cavernous sinus dural arteriovenous fistula on a revised classification. World Neurosurg. 2016;95:357–67.

10.

Chen CJ, Lee CC, Ding D, Starke RM, Chivukula S, Yen CP, Moosa S, Xu Z, Pan DH, Sheehan JP. Stereotactic radiosurgery for intracranial dural arteriovenous fistulas: a systematic review. J Neurosurg. 2015;122:353–62.

11.

Gemmete JJ, et al. Endovascular techniques in the treatment of carotid-cavernous fistulas. Philadelphia: Lippincott Williams & Wilkins; 2000.

12.

Tonetti DA, Gross BA, Jankowitz BT, Atcheson KM, Kano H, Monaco EA, Niranjan A, Lunsford LD. Stereotactic radiosurgery for dural arteriovenous fistulas without cortical venous reflux. World Neurosurg. 2017;107:371–5.

13.

Yang HC, Kano H, Kondziolka D, Niranjan A, Flickinger JC, Horowitz MB, Lubsfird LD. Stereotactic radiosurgery with or without embolization for intracranial dural arteriovenous fistulas. Neurosurgery. 2010;67(2010):1276–83. discussion 1284–5.

14.

Steiner L, Lindquist C, Adler JR, Torner JC, Alves W, Steiner M. Clinical outcome of radiosurgery for cerebral arteriovenous malformations. J Neurosurg. 1992;77:1–8.

15.

Wu HM, Pan DH, Chung WY, Guo WY, Liu KD, Shiau CY. Gamma Knife surgery for the management of intracranial dural arteriovenous fistulas. J Neurosurg. 2006;105(Suppl):43–51.

16.

Luo CB, Chang FC, Teng MM, Guo WY, Ting TW. Transvenous embolization of cavernous sinus dural arteriovenous fistula via angiographic occlusive inferior petrous sinus. J Chin Med Assoc. 2015;78:526–32.

17.

Biondi A, Milea D, Cognard C, Ricciardi GK, Bonneville F, van Effenterre R. Cavernous sinus dural fistulae treated by transvenous approach through the facial vein: report of seven cases and review of the literature. AJNR Am J Neuroradiol. 2003;24:1240–6.

18.

Yu SC, Cheng HK, Wong GK, Chan CM, Cheung JY, Poon WS. Transvenous embolization of dural carotid-cavernous fistulae with transfacial catheterization throught the superior ophthalmic vein. Neurosurgery. 2007;60:1032–7. discussion 1037–8.

19.

Jung KH, Kwon BJ, Chu K, Noh Y, Lee ST, Cho YD, Han MH, Roh JK. Clinical and angiographic factors related to the prognosis of cavernous sinus dural arteriovenous fistula. Neuroradiology. 2010;53:983–92.

20.

Young CS, Schwartz ML, O'Brien P, Ramaseshan R. Stereotactic radiotherapy for AVMs: the University of Toronto experience. Acta Neurochir Suppl (Wien). 1995;63:57–9.

21.

Ducruet AF, Albuquerque FC, Crowley RW, McDougall CG. The evolution of endovascular treatment of carotid cavernous fistulas: a single-center experience. World Neurosurg. 2013;80:538–48.

22.

Sasaki H, Nukui H, Kaneko M, Mitsuka S, Hosaka T, Kakizawa T, Kimura R, Nagaseki Y, Naganuma H. Long-term observations in cases with spontaneous carotid-cavernous fistulas. Acta Neurochir (Wien). 1988;90:117–20.

23.

Kurata A, Miyasaka Y, Kunii M, Nagai S, Ohmomo T, Morishima H, Fujii K, Kan S. The value of long-term clinical follow-up for cases of spontaneous carotid cavernous fistula. Acta Neurochir (Wien). 1998;140:65–72.

24.

Kobkitsuksakul C, Jiarakongmun P, Chanthanaphak E, Pongpech S. Radiographic evaluation and clinical implications of venous connections between dural arteriovenous fistula of the cavernous sinus and cerebellum and the Pontomedullary venous system. World Neurosurg. 2015;84:1112–6.

25.

Kim DJ, Kim DI, Suh SH, Kim J, Lee SK, Kim EY, Chung TS. Results of transvenous embolization of cavernous dural arteriovenous fistula: a single-center experience with emphasis on complications and management. AJNR Am J Neuroradiol. 2006;27:2078–82.

26.

Satomi J, Satoh K, Matsubara S, Nakajima N, Nagahiro S. Angiographic changes in venous drainage of cavernous sinus dural arteriovenous fistulae after palliative transarterial embolization or observational management: a proposed stage classification. Neurosurgery. 2005;56:494–502.

27.

Satomi J, van Dijk JM, Terbrugge KG, Willinsky RA, Wallace MC. Benign cranial dural arteriovenous fistulas: outcome of conservative management based on the natural history of the lesion. J Neurosurg. 2002;97:767–70.

28.

Liu HM, Wang YH, Chen YF, Cheng JS, Yip PK, Tu YK. Long-term clinical outcome of spontaneous carotid cavernous sinus fistulae supplied by dural branches of the internal carotid artery. Neuroradiology. 2001;43:1007–14.

29.

Tishler RB, Loeffler JS, Lunsford LD, Duma C, Alexander E 3rd, Kooy HM, Flickinger JC. Tolerance of cranial nerves of the cavernous sinus to radiosurgery. Int J Radiat Oncol Biol Phys. 1993;27:215–21.

30.

Wang J, Wu HC, Wang WW, Zhao HS, Dao RN, Liu WM, Zhou DZ, Wang HY, Du C. Trigeminal cardiac reflex caused by onyx embolization of intracranial dural arteriovenous fistula. Turk Neurosurg. 2016;26:325–30.

31.

Zhang X, Guo W, Shen R, Sun J, Yin J, Chen X, Gao L, Chen Z, Zhang Q. Combined use of Onyx and coils for transarterial balloon-assisted embolization of traumatic carotid-cavernous fistulas: a report of 16 cases with 17 fistulas. J Neurointerv Surg. 2016;8:1264–7.

32.

Cognard C, Januel AC, Silva NA Jr., Tall P. Endovascular treatment of intracranial dural arteriovenous fistulas with cortical venous drainage: new management using Onyx. AJNR Am J Neuroradiol. 2008;29:235–41.

33.

Ambekar S, Gaynor BG, Peterson EC, Elhammady MS. Long-term angiographic results of endovascularly "cured" intracranial dural arteriovenous fistulas. J Neurosurg. 2016;124:1123–7.

34.

Kiyosue H, Tanoue S, Okahara M, Yamashita M, Nagatomi H, Mori H. Recurrence of dural arteriovenous fistula in another location after selective transvenous coil embolization: report of two cases. AJNR Am J Neuroradiol. 2002;23:689–92.

35.

Uranishi R, Nakase H, Sakaki T. Expression of angiogenic growth factors in dural arteriovenous fistula. J Neurosurg. 1999;91:781–6.

36.

Hu YS, Lin CJ, Wu H‑M, Guo WY, Luo CB, Wu CC, Chung WY, Liu KD, Yang HC, Lee CC. Lateral sinus dural arteriovenous fistulas: sinovenous outflow restriction outweighs cortical venous reflux as a parameter associated with hemorrhage. Radiology. 2017;285:528–35.

37.

Lunsford LD, editor. Modern stereotactic neurosurgery. Boston: Martinus Nijhoff; 1988.

38.

Taeshineetanakul P, Krings T, Geibprasert S, Menezes R, Agid R, Terbrugge KG, Schwartz ML. Angioarchitecture determines obliteration rate after radiosurgery in brain arteriovenous malformations. Neurosurgery. 2012;71:1071–8. discussion 1079.
Acknowledgements
The authors thank Hsin-Yi Huang (Biostatistics Task Force, Taipei Veterans General Hospital) for statistical assistance, and Wallace Academic Editing for manuscript editing.
Funding
Funding
This study was funded by Taipei Veterans General Hospital (grant number: V107C-170, 023) and the Ministry of Science and Technology (grant number: MOST-106-2314-B-010-015-MY2, MOST-106-2314B-075-011).
Ethics declarations
Conflict of interest
H.-C. Yang, C.-J. Lin, C.-B. Luo, C.-C. Lee, H.-M. Wu, W.-Y. Guo, W.-Y. Chung and K.-D. Liu declare that they have no competing interests.
About this article
Cite this article
Yang, H., Lin, C., Luo, C. et al. Treatment Outcomes of Cavernous Sinus Dural Arteriovenous Fistulas: Comparison of Radiosurgery and Endovascular Embolisation. Clin Neuroradiol 30, 321–330 (2020). https://doi.org/10.1007/s00062-019-00787-z
Received:

Accepted:

Published:

Issue Date:
Keywords
Angioarchitecture

Arteriovenous fistula

Cavernous sinus

Endovascular treatment

Gamma knife