Abstract
Aim
Evaluation of a semiautomatic software algorithm for magnetic resonance imaging (MRI)-based assessment of cerebral metastases in cancer patients.
Material and Methods
Brain metastases (n = 131) in 38 patients, assessed by contrast-enhanced MRI, were retrospectively evaluated at two timepoints (baseline, follow-up) by two experienced neuroradiologists in a blinded manner. The response assessment in neuro-oncology (RANO) criteria for brain metastases (RANO-BM) were applied by means of a software (autoRANO-BM) as well as manually (manRANO-BM) at an interval of 3 weeks.
Results
The average diameter of metastases was 12.03 mm (SD ± 6.66 mm) for manRANO-BM and 13.97 mm (SD ± 7.76 mm) for autoRANO-BM. Diameter figures were higher when using semiautomatic measurements (median = 11.8 mm) as compared to the manual ones (median = 10.2 mm; p = 0.000). Correlation coefficients for intra-observer variability were 0.993 (autoRANO-BM) and 0.979 (manRANO-BM). The interobserver variability (R1/R2) was 0.936/0.965 for manRANO-BM and 0.989/0.998 for autoRANO-BM. A total of 19 lesions (15%) were classified differently when using semiautomatic measurements. In 14 cases with suspected disease progression by manRANO-BM a stable course was found according to autoRANO-BM.
Conclusion
Computerized measuring techniques can aid in the assessment of cerebral metastases by reducing examiner-dependent effects and may consequently result in a different classification according to RANO-BM criteria.
This is a preview of subscription content, log in to check access.
Access options
Buy single article
Instant access to the full article PDF.
US$ 39.95
Price includes VAT for USA
Subscribe to journal
Immediate online access to all issues from 2019. Subscription will auto renew annually.
US$ 99
This is the net price. Taxes to be calculated in checkout.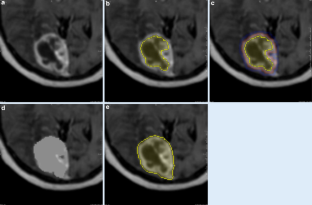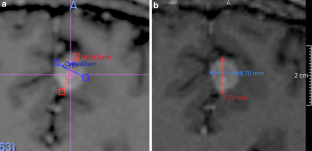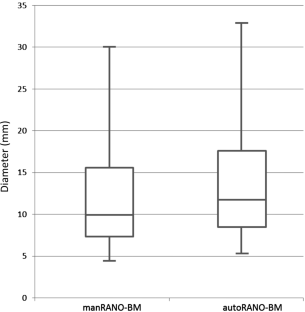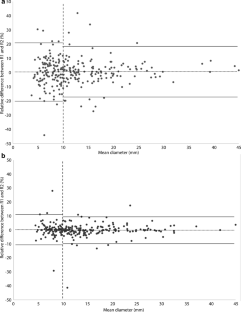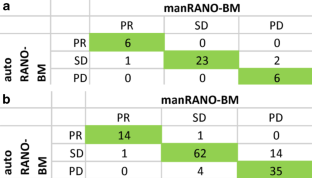 References
1.

Lin NU, Lee EQ, Aoyama H, Barani IJ, Barboriak DP, Baumert BG, Bendszus M, Brown PD, Camidge DR, Chang SM, Dancey J, de Vries EG, Gaspar LE, Harris GJ, Hodi FS, Kalkanis SN, Linskey ME, Macdonald DR, Margolin K, Mehta MP, Schiff D, Soffietti R, Suh JH, van den Bent MJ, Vogelbaum MA, Wen PY; Response Assessment in Neuro-Oncology (RANO) group. Response assessment criteria for brain metastases: Proposal from the RANO Group. Lancet Oncol. 2015;16:e270–8.

2.

Radbruch A, Bendszus M. Advanced MR imaging in neuro-oncology. Clin Neuroradiol. 2015;25(Suppl 2):143–9.

3.

Eisenhauer EA, Therasse P, Bogaerts J, Schwartz LH, Sargent D, Ford R, Dancey J, Arbuck S, Gwyther S, Mooney M, Rubinstein L, Shankar L, Dodd L, Kaplan R, Lacombe D, Verweij J. New response evaluation criteria in solid tumors: Revised RECIST guideline (version 1.1). Eur J Cancer. 2009;45:228–47.

4.

Suh JH. Stereotactic radiosurgery for the management of brain metastases. N Engl J Med. 2010;362:1119–27.

5.

Hein PA, Romano VC, Rogalla P, Klessen C, Lembcke A, Dicken V, Bornemann L, Bauknecht HC. Linear and volume measurements of pulmonary nodules at different CT dose levels—Intra scan and inter-scan analysis. Rofo. 2009;181:24–31.

6.

Hein PA, Romano VC, Rogalla P, Klessen C, Lembcke A, Bornemann L, Dicken V, Hamm B, Bauknecht HC. Variability of semi automated lung nodule volumetry on ultralow-dose CT: Comparison with nodule volumetry on standard-dose CT. J Digit Imaging. 2010;23:8–17.

7.

Bornemann L, Kuhnigk JM, Dicken V, Zidowitz S, Kuemmerlen B, Krass S, Peitgen HO, Wein BB, Schubert H, Shin HO, Wormanns D. Informatics in radiology (infoRAD): new tools for computer assistance in thoracic CT part 2. Therapy monitoring of pulmonary metastases. Radiographics. 2005;25:841–8.

8.

Kuhnigk JM, Dicken V, Bornemann L et al. Morphological segmentation and partial volume analysis for volumetry of solid pulmonary lesions in thoracic CT scans. IEEE Trans Med Imaging 2006;25(4):417–434

9.

Cohen J. A power primer. Psychological Bulletin. 1992;112:155–9.

10.

O JH, Lodge MA, Wahl RL. Practical PERCIST: A simplified guide to PET response criteria in solid tumors 1.0. Radiology. 2016;280:576–84.

11.

Takimoto CH. Commentary: Tumor growth, patient survival, and the search for the optimal phase II efficacy endpoint. Oncologist. 2008;13:1043–5.

12.

Shah GD, Kesari S, Xu R, Batchelor TT, O'Neill AM, Hochberg FH, Levy B, Bradshaw J, Wen PY. Comparison of linear and volumetric criteria in assessing tumor response in adult high-grade gliomas. Neuro Oncol. 2006;8:38-46.

13.

Klingelhöfer L, Mucha D, Geiger K, Koch R, von Kummer R. Prognostic value of conventional magnetic resonance imaging for adult patients with brain tumors. Clin Neuroradiol. 2015;25:281–9.

14.

Lee GS, Cho SJ, Kim JH, Park HK, Park SQ, Kim RS, Jang JC. Comparative analysis of efficacy and safety of multisession radiosurgery to single dose radiosurgery for metastatic brain tumors. Brain Tumor Res Treat. 2015;3:95–102.

15.

Da Silva AN, Nagayama K, Schlesinger D, Sheehan JP. Early brain tumor metastasis reduction following gamma knife surgery. J Neurosurg. 2009;110:547–52.

16.

Bauknecht HC, Romano VC, Rogalla P, Klingebiel R, Wolf C, Bornemann L, Hamm B, Hein PA. Intra- and interobserver variability of linear and volumetric measurements of brain metastases using contrast-enhanced magnetic resonance imaging. Invest Radiol. 2010;45:49–56.

17.

Vogel MN, Vonthein R, Schmücker S, Maksimovich O, Bethge W, Dicken V, Claussen CD, Horger M. Automated pulmonary nodule volumetry with an optimized algorithm. Accuracy at different slice thicknesses compared to unidimensional and bidimensional measurements. Rofo. 2008;180:791–7.

18.

Gahrmann R, van den Bent M, van der Holt B, Vernhout RM, Taal W, Vos M, de Groot JC, Beerepoot LV, Buter J, Flach ZH, Hanse M, Jasperse B, Smits M. Comparison of 2D (RANO) and volumetric methods for assessment of recurrent glioblastoma treated with bevacizumab—A report from the BELOB trial. Neuro Oncol. 2017;19:853-61.

19.

Fabel M, Wulff A, Heckel F, Bornemann L, Freitag-Wolf S, Heller M, Biederer J, Bolte H. Clinical lymph node staging—Influence of slice thickness and reconstruction kernel on volumetry and RECIST measurements. Eur J Radiol. 2012;81:3124–30.

20.

Huber T, Alber G, Bette S, Boeckh-Behrens T, Gempt J, Ringel F, Alberts E, Zimmer C, Bauer JS. Reliability of semi-automated segmentations in glioblastoma. Clin Neuroradiol. 2017;27:153–61.

21.

Marten K, Auer F, Schmidt S, Kohl G, Rummeny EJ, Engelke C. Inadequacy of manual measurements compared to automated CT volumetry in assessment of treatment response of pulmonary metastases using RECIST criteria. Eur Radiol. 2006;16:781–90.

22.

He L, Teng Y, Jin B, Zhao M, Yu P, Hu X, Zhang J, Li S, Gao Y, Liu Y. Initial partial response and stable disease according to RECIST indicate similar survival for chemotherapeutical patients with advanced non-small cell lung cancer. BMC Cancer. 2010;10:681.
Ethics declarations
Conflict of interest
H.-C. Bauknecht, R. Klingebiel, P. Hein, C. Wolf, L. Bornemann, E. Siebert and G. Bohner declare that they have no competing interests.
Ethical standards
This study has been approved by the ethics committee and has therefore been performed in accordance with the ethical standards laid down in the 1964 Declaration of Helsinki and its later amendments.
About this article
Cite this article
Bauknecht, H., Klingebiel, R., Hein, P. et al. Effect of MRI-based semiautomatic size-assessment in cerebral metastases on the RANO-BM classification. Clin Neuroradiol 30, 263–270 (2020). https://doi.org/10.1007/s00062-019-00785-1
Received:

Accepted:

Published:

Issue Date:
Keywords
Cerebral metastases

Semiautomatic measurement

RECIST

Response group

Radiooncological imaging