Abstract
Purpose
Among the different arterial accesses, the femoral access is the main approach for intraoperative angiography (IOA) performed in a prone position. Without a standardized protocol, however, the application of prone IOAs in intracranial arteriovenous malformation (AVM) or arteriovenous fistula (AVF) surgery remains limited by its procedural complexity. This study describes the detailed protocol for prone IOA through a transfemoral approach and highlights several refinements in preparing this procedure.
Methods
This study retrospectively reviewed the intracranial or high cervical AVM/AVF surgical cases in which both resection and IOA were performed in the prone or three-quarter prone position. Extended femoral sheath approaches and radiolucent head clamps were used in all cases. An aneurysm clip, serving as a localization landmark in IOA, was routinely placed within the surgical field. The IOA imaging, clinical impact of IOA, and complications related to the procedure were recorded.
Results
A total of six AVM and three AVF cases, operated on in the prone (n = 7) or three-quarter prone (n = 2) positions, were included. Multiple vessel injections were required in 66.7% of cases, and IOA was successfully performed in every intended vessel. All IOA images were adequate for interpretation, except for two cases in which the non-radiolucent component of the head clamp obscured the region of interest in the lateral views. Incomplete occlusion was identified in two patients, and the aneurysm clip provided precise guidance in localizing the residual nidus. Final IOA confirmed complete lesion removal in all cases, and there were no IOA-related complications.
Conclusion
Three key steps in setting-up a prone IOA procedure for intracranial AVM/AVF surgery are proposed: (1) utilize an extended femoral sheath approach, (2) establish a localization landmark with an aneurysm clip and (3) avoid possible image interference from the non-radiolucent component of the head clamp.
This is a preview of subscription content, log in to check access.
Access options
Buy single article
Instant access to the full article PDF.
US$ 39.95
Price includes VAT for USA
Subscribe to journal
Immediate online access to all issues from 2019. Subscription will auto renew annually.
US$ 99
This is the net price. Taxes to be calculated in checkout.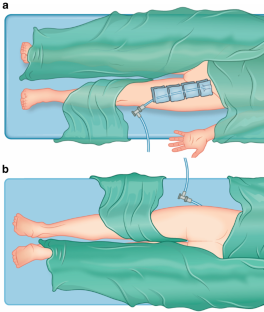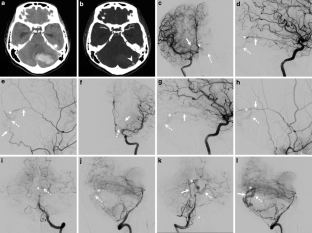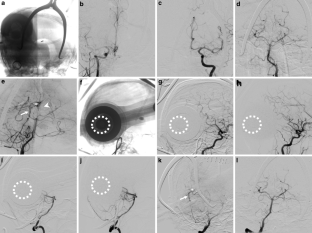 References
1.

Vitaz TW, Gaskill-Shipley M, Tomsick T, Tew JM Jr.. Utility, safety, and accuracy of intraoperative angiography in the surgical treatment of aneurysms and arteriovenous malformations. AJNR Am J Neuroradiol. 1999;20:1457–61.

2.

Lang SS, Eskioglu E, Mericle RA. Intraoperative angiography for neurovascular disease in the prone or three-quarter prone position. Surg Neurol. 2006;65:283–9. discussion 289.

3.

Nossek E, Chalif DJ, Buciuc R, Gandras EJ, Anderer EG, Insigna S, Dehdashti AR, Setton A. Intraoperative angiography for arteriovenous malformation resection in the prone and lateral positions, using upper extremity arterial access. Oper Neurosurg (Hagerstown). 2017;13:352–60.

4.

Kotowski M, Sarrafzadeh A, Schatlo B, Boex C, Narata AP, Pereira VM, Bijlenga P, Schaller K. Intraoperative angiography reloaded: a new hybrid operating theater for combined endovascular and surgical treatment of cerebral arteriovenous malformations: a pilot study on 25 patients. Acta Neurochir (Wien). 2013;155:2071–8.

5.

Pandey P, Steinberg GK, Westbroek EM, Dodd R, Do HM, Marks MP. Intraoperative angiography for cranial dural arteriovenous fistula. AJNR Am J Neuroradiol. 2011;32:1091–5.

6.

Yoon W, Kim H, Kim YW, Kim SR, Park IS. Usefulness and stability of intraoperative digital subtraction angiography using the transradial route in arteriovenous malformation surgery. World Neurosurg. 2018;111:e799–e805.

7.

Orru E, Sorte DE, Wolinsky JP, Jallo GI, Bydon A, Tamargo RJ, Gailloud P. Intraoperative spinal digital subtraction angiography: indications, technique, safety, and clinical impact. J Neurointerv Surg. 2017;9:601–7.

8.

Chalouhi N, Theofanis T, Jabbour P, Dumont AS, Fernando Gonzalez L, Starke RM, Dalyai RT, Hann S, Rosenwasser R, Tjoumakaris S. Safety and efficacy of intraoperative angiography in craniotomies for cerebral aneurysms and arteriovenous malformations: a review of 1093 consecutive cases. Neurosurgery. 2012;71:1162–9.

9.

Huang CT, Hsu SK, Su IC. Accurate localization of aneurysm neck margins in clipping of a carotid cave aneurysm using intraoperative dual-volume 3‑dimensional volume-rendering rotational angiography. World Neurosurg. 2017;101:812 e11:e14.

10.

Haranhalli N, Zeberg H, Lasala P, Altschul D. Radiolucent Skull Clamps for Intra-Operative Imaging: A Technical Note. Cureus. 2017;9:e1020.
Ethics declarations
Conflict of interest
C. Wang, S.-K. Hsu, C.-J. Chang, M.-H. Chen, C.-T. Huang, J.-S. Huang and I.-C. Su declare that they have no competing interests.
About this article
Cite this article
Wang, C., Hsu, S., Chang, C. et al. Transfemoral Approach for Intraoperative Angiography in the Prone or Three-quarter Prone Position. Clin Neuroradiol 30, 373–379 (2020). https://doi.org/10.1007/s00062-019-00783-3
Received:

Accepted:

Published:

Issue Date:
Keywords
Arteriovenous fistula

Arteriovenous malformation

Intraoperative localization

Non-supine position

Hybrid operating room