Abstract
Purpose
Non-traumatic acute subdural hematomas (SDH) are rare and have seldom been reported in ruptured brain arteriovenous malformations (BAVM). The aim of this study was to report the frequency of acute SDH in BAVM-related hemorrhage and to determine the relationship of SDHs with BAVM angioarchitectural features.
Methods
This was a retrospective monocentric study of patients admitted for BAVM rupture between 2003 and 2017. Patients with rupture complicating or closely following partial embolization procedures were excluded. Univariate followed by multivariate logistic regression analysis was used to determine factors significantly and independently associated with SDHs and distal flow-related aneurysms.
Results
A total of 181 patients with 188 BAVM ruptures admitted during the study period were included, eleven cases of acute SDH were identified (6%) and 2 cases of isolated SDH were found. The presence of a distal flow-related aneurysm was the only feature independently and significantly associated with SDH (odds ratio [OR] 8.1, 95% confidence interval, CI 1.9–34.5, P = 0.003). Distal flow-related aneurysms were associated with proximal flow-related aneurysms (OR 28, 95%CI 4.9–163.8, P < 0.001), were more frequent in infratentorial BAVMs (OR 3.7, 95%CI 1.3–10.2, P = 0.01) and more often found in cases of acute SDH (OR 16.9, 95%CI 3.6–79.6, P < 0.001) and subarachnoid hemorrhage (SAH) (OR 4.5, 95%CI 1.7–12.2, P = 0.003).
Conclusion
Ruptured BAVMs can rarely present with acute SDH and SDH in ruptured BAVMs are often associated with distal flow-related aneurysms. This finding may impact acute management of ruptured BAVMs with SDH by eliciting an emergent and thorough imaging work-up to identify distal flow-related aneurysm(s), in turn leading to treatment.
This is a preview of subscription content, log in to check access.
Access options
Buy single article
Instant access to the full article PDF.
US$ 39.95
Price includes VAT for USA
Subscribe to journal
Immediate online access to all issues from 2019. Subscription will auto renew annually.
US$ 99
This is the net price. Taxes to be calculated in checkout.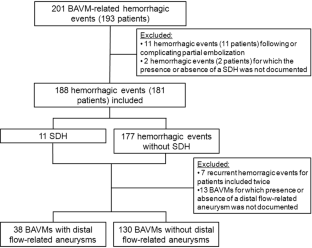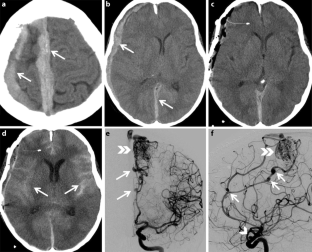 References
1.

Shotar E, Debarre M, Sourour NA, Di Maria F, Gabrieli J, Nouet A, Chiras J, Degos V, Clarençon F. Retrospective study of long-term outcome after brain arteriovenous malformation rupture: the RAP score. J Neurosurg. 2018;128:78–85.

2.

Cordonnier C, Al-Shahi Salman R, Bhattacharya JJ, Counsell CE, Papanastassiou V, Ritchie V, Roberts RC, Sellar RJ, Warlow C; SIVMS Collaborators. Differences between intracranial vascular malformation types in the characteristics of their presenting haemorrhages: prospective, population-based study. J Neurol Neurosurg Psychiatry. 2008;79:47–51.

3.

Datta NN, Chan KY, Kwok JC, Poon CY. Posterior fossa subdural hematoma due to ruptured arteriovenous malformation. Case report. Neurosurg Focus. 2000;8:ecp1.

4.

Choi HJ, Lee JI, Nam KH, Ko JK. Acute spontaneous subdural hematoma due to rupture of a tiny cortical arteriovenous malformation. J Korean Neurosurg Soc. 2015;58:547–9.

5.

Shotar E, Pistocchi S, Haffaf I, Bartolini B, Jacquens A, Nouet A, Chiras J, Degos V, Sourour NA, Clarençon F. Early rebleeding after brain arteriovenous malformation rupture, clinical impact and predictive factors: a monocentric retrospective cohort study. Cerebrovasc Dis. 2017;44:304–12.

6.

Beecher JS, Lyon K, Ban VS, Vance A, McDougall CM, Whitworth LA, White JA, Samson D, Batjer HH, Welch BG. Delayed treatment of ruptured brain AVMs: is it ok to wait? J Neurosurg. 2018;128:999–1005.

7.

Spetzler RF, Martin NA. A proposed grading system for arteriovenous malformations. J Neurosurg. 1986;65:476–83.

8.

Flores BC, Klinger DR, Rickert KL, Barnett SL, Welch BG, White JA, Batjer HH, Samson DS. Management of intracranial aneurysms associated with arteriovenous malformations. Neurosurg Focus. 2014;37:E11.

9.

Brennan PM, Kolias AG, Joannides AJ, Shapey J, Marcus HJ, Gregson BA, Grover PJ, Hutchinson PJ, Coulter IC; British Neurosurgical Trainee Research Collaborative. The management and outcome for patients with chronic subdural hematoma: a prospective, multicenter, observational cohort study in the United Kingdom. J Neurosurg. 2017;127:732–739.

10.

Adhiyaman V, Asghar M, Ganeshram KN, Bhowmick BK. Chronic subdural haematoma in the elderly. Postgrad Med J. 2002;78:71–5.

11.

Foelholm R, Waltimo O. Epidemiology of chronic subdural haematoma. Acta Neurochir (Wien). 1975;32:247–50.

12.

Kudo H, Kuwamura K, Izawa I, Sawa H, Tamaki N. Chronic subdural hematoma in elderly people: present status on Awaji Island and epidemiological prospect. Neurol Med Chir (Tokyo). 1992;32:207–9.

13.

de Aguiar GB, Veiga JC, Silva JM, Conti ML. Spontaneous acute subdural hematoma: A rare presentation of a dural intracranial fistula. J Clin Neurosci. 2016;25:159–60.

14.

Ishikawa E, Sugimoto K, Yanaka K, Ayuzawa S, Iguchi M, Moritake T, Kobayashi E, Nose T. Interhemispheric subdural hematoma caused by a ruptured internal carotid artery aneurysm: case report. Surg Neurol. 2000;54:82–6.

15.

King AB. Successful surgical treatment of an intracranial mycotic aneurysm complicated by a subdural hematoma. J Neurosurg. 1960;17:788–91.

16.

Stapf C, Mohr JP, Pile-Spellman J, Sciacca RR, Hartmann A, Schumacher HC, Mast H. Concurrent arterial aneurysms in brain arteriovenous malformations with haemorrhagic presentation. J Neurol Neurosurg Psychiatry. 2002;73:294–8.

17.

Choi JH, Mast H, Sciacca RR, Hartmann A, Khaw AV, Mohr JP, Sacco RL, Stapf C. Clinical outcome after first and recurrent hemorrhage in patients with untreated brain arteriovenous malformation. Stroke. 2006;37:1243–7.

18.

Brown RD Jr, Wiebers DO, Torner JC, O'Fallon WM. Frequency of intracranial hemorrhage as a presenting symptom and subtype analysis: a population-based study of intracranial vascular malformations in Olmsted Country, Minnesota. J Neurosurg. 1996;85:29–32.

19.

Hartmann A, Mast H, Mohr JP, Koennecke HC, Osipov A, Pile-Spellman J, Duong DH, Young WL. Morbidity of intracranial hemorrhage in patients with cerebral arteriovenous malformation. Stroke. 1998;29:931–4.

20.

Söderman M, Rodesch G, Lasjaunias P. Transdural blood supply to cerebral arteriovenous malformations adjacent to the dura mater. AJNR Am J Neuroradiol. 2002;23:1295–300.

21.

Meisel HJ, Mansmann U, Alvarez H, Rodesch G, Brock M, Lasjaunias P. Cerebral arteriovenous malformations and associated aneurysms: analysis of 305 cases from a series of 662 patients. Neurosurgery. 2000;46:793–800. discussion 800–802.

22.

Redekop G, TerBrugge K, Montanera W, Willinsky R. Arterial aneurysms associated with cerebral arteriovenous malformations: classification, incidence, and risk of hemorrhage. J Neurosurg. 1998;89:539–46.

23.

Platz J, Berkefeld J, Singer OC, Wolff R, Seifert V, Konczalla J, Güresir E. Frequency, risk of hemorrhage and treatment considerations for cerebral arteriovenous malformations with associated aneurysms. Acta Neurochir (Wien). 2014;156:2025-34.

24.

Kim EJ, Halim AX, Dowd CF, Lawton MT, Singh V, Bennett J, Young WL. The relationship of coexisting extranidal aneurysms to intracranial hemorrhage in patients harboring brain arteriovenous malformations. Neurosurgery. 2004;54:1349-57; discussion 1357-8.

25.

Clarençon F, Shotar E, Sourour NA. Comment on "Aneurysms Associated with Brain Arteriovenous Malformations.". AJNR Am J Neuroradiol. 2017;38(1):E1–E4. https://doi.org/10.3174/ajnr.A4966.

26.

Orning J, Amin-Hanjani S, Hamade Y, Du X, Hage ZA, Aletich V, Charbel F, Alaraj A. Increased prevalence and rupture status of feeder vessel aneurysms in posterior fossa arteriovenous malformations. J Neurointerv Surg. 2016;8:1021-4.

27.

Lv X, Wu Z, Li Y, Jiang C, Yang X, Zhang J. Cerebral arteriovenous malformations associated with flow-related and circle of Willis aneurysms. World Neurosurg. 2011;76:455–8.

28.

Illies T, Forkert ND, Saering D, Wenzel K, Ries T, Regelsberger J, Wegscheider K, Fiehler J. Persistent hemodynamic changes in ruptured brain arteriovenous malformations. Stroke. 2012;43:2910–5.

29.

Shakur SF, Amin-Hanjani S, Mostafa H, Charbel FT, Alaraj A. Hemodynamic characteristics of cerebral arteriovenous malformation feeder vessels with and without aneurysms. Stroke. 2015;46:1997–9.

30.

Signorelli F, Gory B, Pelissou-Guyotat I, Guyotat J, Riva R, Dailler F, Turjman F. Ruptured brain arteriovenous malformations associated with aneurysms: safety and efficacy of selective embolization in the acute phase of hemorrhage. Neuroradiology. 2014;56:763–9.

31.

Piotin M, Ross IB, Weill A, Kothimbakam R, Moret J. Intracranial arterial aneurysms associated with arteriovenous malformations: endovascular treatment. Radiology. 2001;220:506–13.
Funding
This research did not receive any specific grant from funding agencies in the public, commercial, or not-for-profit sectors.
Ethics declarations
Conflict of interest
E. Shotar, N.-A. Sourour, K. Premat, I. Haffaf, S. Ghazanfari, A. Jacquens, A. Nouet, S. Lenck, J. Chiras, V. Degos and F. Clarençon declare that they have no competing interests.
About this article
Cite this article
Shotar, E., Sourour, N., Premat, K. et al. Acute Subdural Hematomas in Ruptured Brain Arteriovenous Malformations: Association with Distal Flow-Related Aneurysms. Clin Neuroradiol 30, 305–312 (2020). https://doi.org/10.1007/s00062-019-00771-7
Received:

Accepted:

Published:

Issue Date:
Keywords
Arteriovenous malformation

Aneurysm

Hemorrhage

Stroke

Subdural