Abstract
Purpose
The brain imaging findings in children with neurological complications associated with influenza A infections are presented and analyzed and pathological imaging changes including atypical intracerebral hemorrhages in these patients are discussed.
Methods
Neuroimaging findings in six children with influenza encephalopathy following influenza A infection between 2012–2017 were retrospectively investigated. Of these five underwent magnetic resonance imaging (MRI) and one computed tomography (CT). Gene analysis was performed in two cases with acute necrotizing encephalitis of childhood (ANEC).
Results
The MRI findings of one child were concordant with mild encephalopathy with a reversible splenial lesion (MERS); this patient recovered but remained aphasic. In two cases MRI showed typical bilateral thalamic lesions as a feature of ANEC; genetic testing facilitated the diagnosis in one case. One of the patients died, the other showed little improvement. The remaining three patients had multiple diffuse cerebral hemorrhages predominantly affecting the supratentorial white matter after influenza A infection complicated by pneumonia, rhabdomyolysis and sepsis requiring extracorporeal membrane oxygenation (ECMO).
Conclusion
Neurological complications in children associated with influenza A infection may include MERS and ANEC. Additionally, atypical disseminated intracerebral hemorrhages as a complication of influenza A infection is reported.
This is a preview of subscription content, log in to check access.
Access options
Buy single article
Instant access to the full article PDF.
US$ 39.95
Price includes VAT for USA
Subscribe to journal
Immediate online access to all issues from 2019. Subscription will auto renew annually.
US$ 99
This is the net price. Taxes to be calculated in checkout.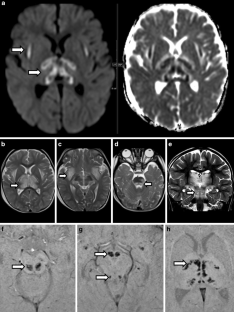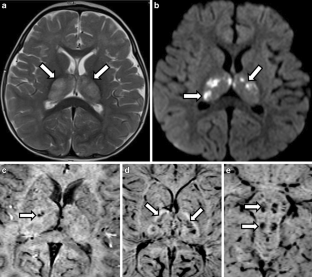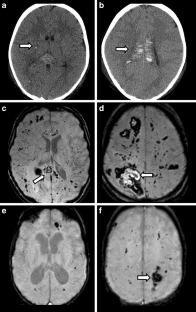 References
1.

Ekstrand JJ, Herbener A, Rawlings J, Turney B, Ampofo K, Korgenski EK, Bonkowsky JL. Heightened neurologic complications in children with pandemic H1N1 influenza. Ann Neurol. 2010;68:762–6.

2.

Mizuguchi M. Acute necrotizing encephalopathy of childhood: a novel form of acute encephalopathy prevalent in Japan and Taiwan. Brain Dev. 1997;19:81–92.

3.

Porto L, Lanfermann H, Möller-Hartmann W, Jacobi G, Zanella F. Acute necrotising encephalopathy of childhood after exanthema subitum outside Japan or Taiwan. Neuroradiology. 1999;41:732–4.

4.

Wong AM, Simon EM, Zimmerman RA, Wang HS, Toh CH, Ng SH. Acute necrotizing encephalopathy of childhood: correlation of MR findings and clinical outcome. AJNR Am J Neuroradiol. 2006;27:1919–23.

5.

Ishida Y, Kawashima H, Morichi S, Yamanaka G, Okumura A, Nakagawa S, Morishima T. Brain magnetic resonance imaging in acute phase of pandemic influenza A (H1N1) 2009-associated encephalopathy in children. Neuropediatrics. 2015;46:20–5.

6.

Ka A, Britton P, Troedson C, Webster R, Procopis P, Ging J, Chua YW, Buckmaster A, Wood N, Jones C, Dale RC. Mild encephalopathy with reversible splenial lesion: an important differential of encephalitis. Eur J Paediatr Neurol. 2015;19:377–82.

7.

Bulakbasi N, Kocaoglu M, Tayfun C, Ucoz T. Transient splenial lesion of the corpus callosum in clinically mild influenza-associated encephalitis/encephalopathy. AJNR Am J Neuroradiol. 2006;27:1983–6.

8.

Kim JH, Kim IO, Lim MK, Park MS, Choi CG, Kim HW, Kim JE, Choi SJ, Koh YH, Yang DM, Choo SW, Chung MJ, Yoon HK, Goo HW, Lee M. Acute necrotizing encephalopathy in Korean infants and children: imaging findings and diverse clinical outcome. Korean J Radiol. 2004;5:171–7.

9.

Yoshikawa H, Yamazaki S, Watanabe T, Abe T. Study of influenza-associated encephalitis/encephalopathy in children during the 1997 to 2001 influenza seasons. J Child Neurol. 2001;16:885–90.

10.

Neilson DE, Adams MD, Orr CM, Schelling DK, Eiben RM, Kerr DS, Anderson J, Bassuk AG, Bye AM, Childs AM, Clarke A, Crow YJ, Di Rocco M, Dohna-Schwake C, Dueckers G, Fasano AE, Gika AD, Gionnis D, Gorman MP, Grattan-Smith PJ, Hackenberg A, Kuster A, Lentschig MG, Lopez-Laso E, Marco EJ, Mastroyianni S, Perrier J, Schmitt-Mechelke T, Servidei S, Skardoutsou A, Uldall P, van der Knaap MS, Goglin KC, Tefft DL, Aubin C, de Jager P, Hafler D, Warman ML. Infection-triggered familial or recurrent cases of acute necrotizing encephalopathy caused by mutations in a component of the nuclear pore, RANBP2. Am J Hum Genet. 2009;84:44–51.

11.

Zeng H, Quinet S, Huang W, Gan Y, Han C, He Y, Wang Y. Clinical and MRI features of neurological complications after influenza A (H1N1) infection in critically ill children. Pediatr Radiol. 2013;43:1182–9.

12.

Xiujuan W, Wei W, Wei P, Limin W, Kangding L, Hong-Liang Z. Acute necrotizing encephalopathy: an underrecognized clinicoradiologic disorder. Mediators Inflamm. 2015; https://doi.org/10.1155/2015/792578.

13.

Albayram S, Bilgi Z, Selcuk H, Selcuk D, Cam H, Koçer N, Islak C. Diffusion-weighted MR imaging findings of acute necrotizing encephalopathy. AJNR Am J Neuroradiol. 2004;25:792–7.

14.

Chow FC, Edlow BL, Frosch MP, Copen WA, Greer DM. Outcome in patients with H1N1 influenza and cerebrovascular injury treated with extracorporeal membrane oxygenation. Neurocrit Care. 2011;15:156–60.

15.

Takanashi J, Barkovich AJ, Yamaguchi K, Kohno Y. Influenza-associated encephalitis/encephalopathy with a reversible lesion in the splenium of the corpus callosum: a case report and literature review. AJNR Am J Neuroradiol. 2004;25:798–802.

16.

Takanashi J. Two newly proposed infectious encephalitis/encephalopathy syndromes. Brain Dev. 2009;31:521–8.

17.

Takanashi J, Tada H, Maeda M, Suzuki M, Terada H, Barkovich AJ. Encephalopathy with a reversible splenial lesion is associated with hyponatremia. Brain Dev. 2009;31:217–20.

18.

Chen WX, Liu HS, Yang SD, Zeng SH, Gao YY, Du ZH, Li XJ, Lin HS, Liang HC, Mai JN. Reversible splenial lesion syndrome in children: retrospective study and summary of case series. Brain Dev. 2016;38:915–27.
Ethics declarations
Conflict of interest
M. Dadak, R. Pul, H. Lanfermann, H. Hartmann, U. Hehr, F. Donnerstag, D. Michels and A.B. Tryc declare that they have no competing interests
Additional information
The authors M. Dadak and R. Pul contributed equally to the manuscript.
About this article
Cite this article
Dadak, M., Pul, R., Lanfermann, H. et al. Varying Patterns of CNS Imaging in Influenza A Encephalopathy in Childhood. Clin Neuroradiol 30, 243–249 (2020). https://doi.org/10.1007/s00062-018-0756-3
Received:

Accepted:

Published:

Issue Date:
Keywords
Acute necrotizing encephalitis of childhood

Mild encephalopathy with a reversible splenial lesion

Atypical hemorrhage